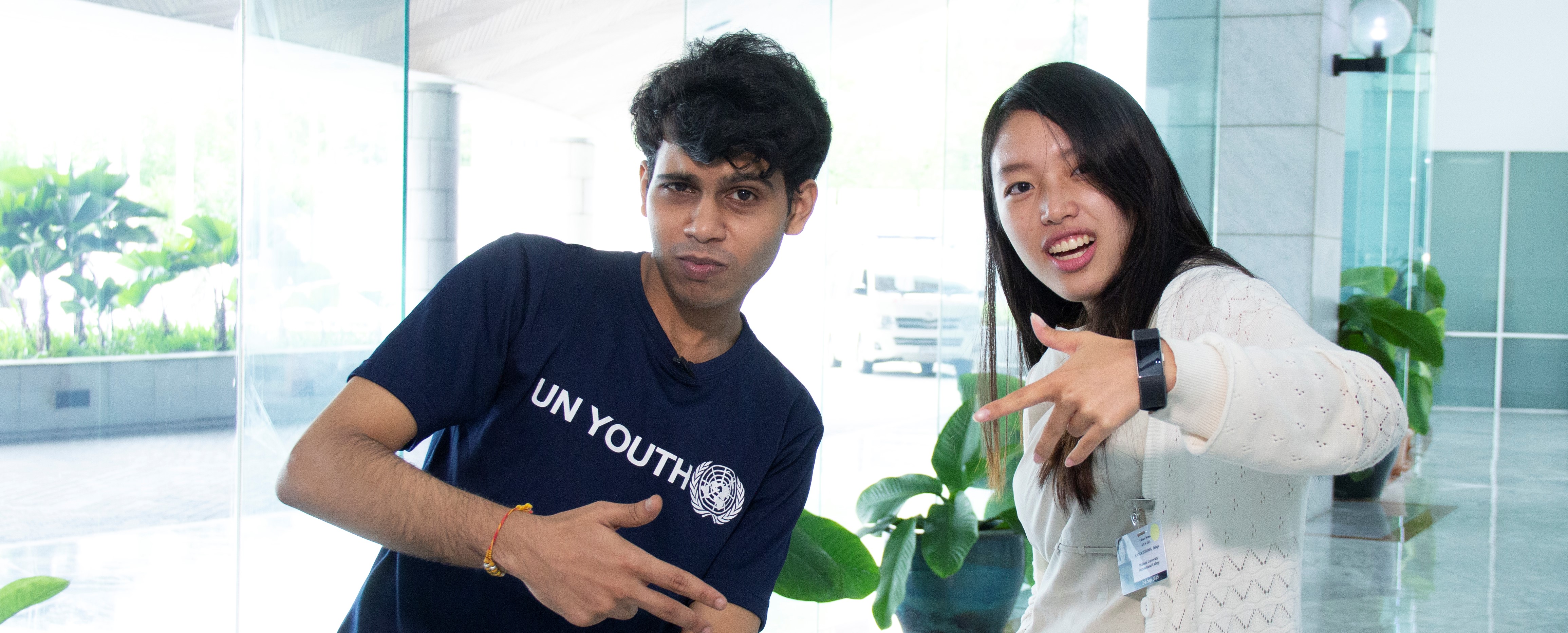 The Youth4Climate initiative celebrates the power of young people and inspires them to join together to take on the climate challenge.
Global citizens under-30 are inheriting a hotter, more unpredictable climate that has enormous implications for the future. But they also have the power to change the course of history at the polls - and the energy, drive, and creative force to carry out any mandate they deem essential.
Connect4Climate uses competitions to raise awareness about climate change and engage youth worldwide in the climate change conversation. Connect4Climate's successful competitions include the Africa competition, Voices4Climate, iChange, Action4Climate, and Film4Climate Global Video Competition.
Inspiring youth to engage in the climate discussion
Today's generation is the first generation to feel the impacts of climate change and the last that can do something about it. A flotilla of partners has been working together to promote young people around the world to support climate action and implement solutions. This is a year of climate action, and we need to move from agreements to implementation and transition to a resilient low-carbon future.
This coordinated media effort is a commitment to educating, engaging, and raising the voice of youth in support of climate action. In order to create a compellingpresence during this defining moment in climate history, we need your help! The #Youth4Climate social media campaign is an open discussion for all to join in the youth call for climate action and to show their leadership in addressing the climate challenges and opportunities. We are excited to join forces and support young people, giving them a voice and an opportunity. We know the solutions are here and are committed to working together to build a resilient and climate-friendly world. Join us! #Youth4Climate.
Connect4Climate joined a network of partners to help young people around the world engage in the COP21 UNFCCC climate talks, which took place in Paris from November 30 to December 11, 2015. The coalition supported youth climate messages with the hashtag #Youth4Climate. The online conversation continued through 2016 and beyond.
Why does climate change education matter?
As the United Nations Framework Convention on Climate Change says in Article 6, education contributes to the solutions being developed to respond to the challenges and opportunities presented by climate change.
The solutions to climate change are also the paths to a safer, healthier, cleaner and more prosperous future for all. To see this and to understand what needs to be done requires a sharp and sustained focus on education, training and public awareness in all countries and at all levels of government, society, and enterprise.

  Key points on why climate change education matters:


​  Long-term, independent records from weather stations, satellites, ocean buoys, tide gauges, and many other data sources all confirm that our nation, like the rest of the world, is warming. Scientists who study climate change confirm that these observations are consistent with significant changes in Earth's climatic trends. (U.S. National Climate Assessment, 2014)

​

​  Over the 21st century, climate scientists expect Earth's temperature to continue increasing, very likely more than it did during the 20th century. Two anticipated results are rising global sea level and increasing frequency and intensity of heat waves, droughts, and floods. These changes will affect almost every aspect of human society, including economic prosperity, human and environmental health, and national security. (USGCRP Climate Literacy, 2009)

​

​  Climate change will bring economic and environmental challenges as well as opportunities, and citizens who have an understanding of climate science will be better prepared to respond to both. (USGCRP Climate Literacy, 2009)

​

​  Society needs citizens who understand the climate system and know how to apply that knowledge in their careers and their engagement as active members of their communities. (USGCRP Climate Literacy, 2009)

​

​  Climate change will continue to be a significant element of public discourse. Understanding the essential principles of climate science will enable all people to assess news stories and contribute to their everyday conversations with informed citizens. (USGCRP Climate Literacy, 2009)