"Do you guys know what a floppy disk is?" One of my senior colleagues asked her younger co-workers over lunch at work recently. Their quizzical looks answered her question.
Understandable. People of my generation do not depend on floppy disks. It is tough for us to appreciate why it was impossible to use the landline and the Internet simultaneously. Memories of our family computer – a bulky deskbound computer that would heat up minutes after we'd switched it on – are tucked in the fringes of our minds. 
Perhaps twenty years from now we will be asking similar questions – on our progress in mitigating climate change.
Why Did You Guys Throw Waste Away Without a Second Thought?
In 2039, waste – neither data nor oil – is the new gold. Similar to major oil companies expanding their portfolios by acquiring green energy firms, mining conglomerates are rushing to invest in urban mining. Sewage is sought after as material for syngas, a mixture of hydrogen, carbon monoxide, and carbon dioxide. Syngas can serve as both an immediate source of fuel and an intermediary to other sources of fuel. Moreover, syngas has been proven to be a cleaner source of fuel. And just as how Impossible Burgers started to gain traction twenty years ago, people are embracing the concept of their clothes being made out of recycled plastic. 
All of this is thanks to technological advancements and increased economies of scale. 
We may have had these ideas twenty years ago in 2019, but the cost of such technology limited us. This is nothing new. Singapore had the idea of recycling water on a mass scale in the seventies. It only materialized  thirty years later in 2003, when the technology required was reliable and affordable enough to scale NEWater production.  
Given the technological and economic constraints back then, achieving water recycling in thirty years can be considered impressive. Now that we have a deeper recognition of the value of waste, we are taking aggressive steps to make our 2039 economy completely circular.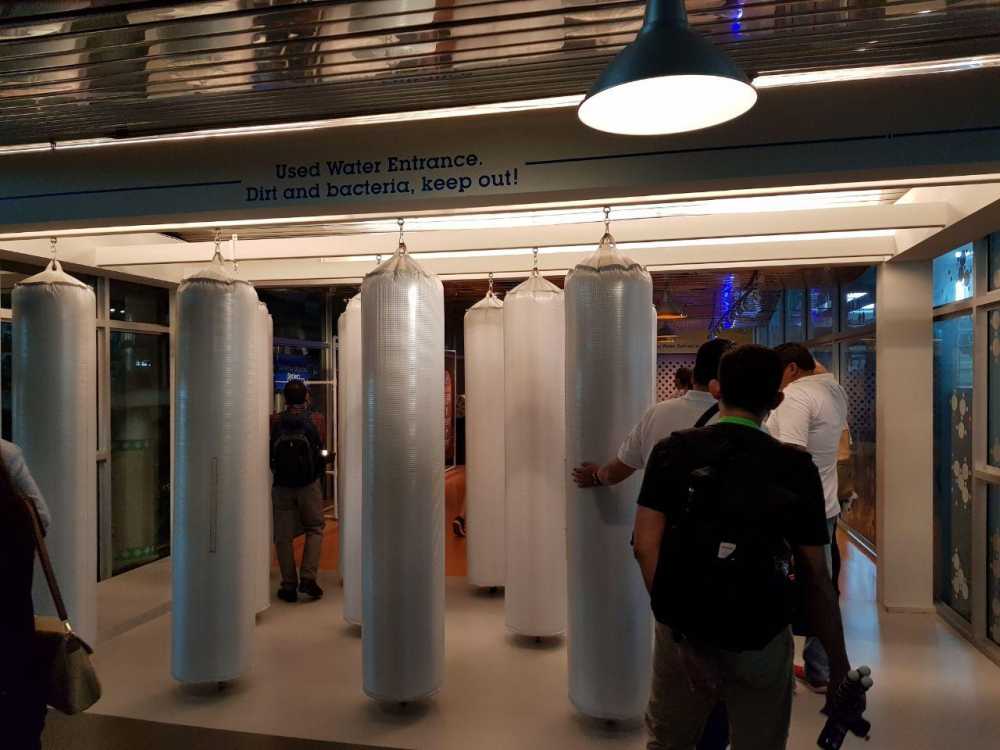 An exhibit simulating microfiltration in water treatment at the NEWater Visitor's Centre.
Why Weren't Integrated Waste Management Facilities (IWMFs) Commonplace?
Syngas is a highlight product of waste treatment (the exact term is gasification) in IWMFs, one-stop hubs that reincarnate the different types of waste that we produce. Compared to traditional waste management plants, IWMFs are recognized to be more energy efficient and land optimising. Given that syngas is an energy source, integrated waste management facilities double as waste-to-energy facilities. 
These are everywhere in 2039. In other words, whatever is flushed down the toilet, whatever leftover food that was thrown away a few hours ago ends up as electricity powering washing machines and refrigerators. In a few hours, not a few days. 
IWMFs started out as centralized facilities, aimed at treating waste produced at the city level. Waste citywide was transported across the city to centralized IWMFs in Deep Tunnel Sewage Systems (DTSS), an equivalent of highways for waste. The idea of decentralized IWMFs came later, when stakeholders realized that it costs less to transport waste across a shorter distance and treat waste on a localized scale. Today, decentralized IWMFs are found in every district, and are responsible for generating energy for each district. They can also be found at commercial sites that are known to generate huge amounts of waste, such as shopping centers. While centralized IWMFs are more applicable for industrial purposes today, decentralized IWMFs are more prominent and relevant to our daily lives.
Hence, IWMFs then and now are analogous to first generation IBM computers vs. Macbooks. Both the former and the latter started out as centralized devices, evolving to decentralized, cheaper, ubiquitous and space-optimizing devices along the way.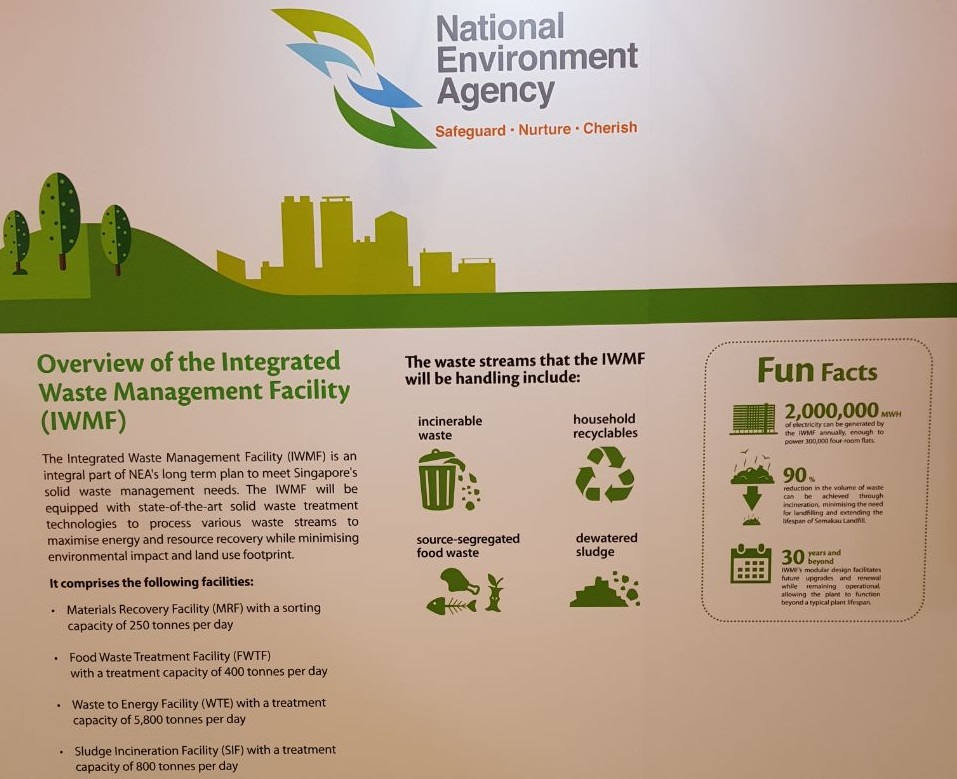 An overview of Singapore's centralized Integrated Waste Management Facility (IWMF) that accounts for various forms of waste.The first phase will be complete in 2024.
While investment backing and technological advances played key roles, it is important to note that the collection of waste entering IWMFs still needed to undergo some form of sorting before being fully utilized. Considering the sheer amount of waste produced each day, it was more cost-effective to have enforcement in place to drive the public and businesses to sort their waste. 
Unfortunately, we were only starting to get serious about waste management in 2019 (it can be troublesome to sort waste, we know). One facet of Singapore's Zero Waste Masterplan that launched in 2019 mandated that developers of new premises that were expected to be large food-waste generators set aside space for food-waste treatment systems from 2021, and treat such waste on-site from 2024. There were also plans made for campaigns to educate the public on recycling, with enforcement to kick in if necessary.
Meanwhile, we were also starting to experiment with decentralized IWMFs. During the Ecosperity Forum held in 2019, electrical company SP Group signed an agreement with Gardens by the Bay to collaborate on a two-year pilot project that aimed to tap the waste generated within the park and use it to generate the energy needed to run the tourist attraction. Gardens by the Bay was recognized for its sustainability mechanisms, which made it a suitable place to pilot this project.
How Did We Make the Shift to the Cleaner Sources of Energy We Use Today?
We employ a multi-pronged approach. Oil companies are motivated to stay relevant by diversifying their portfolios and investing in green energy. Meanwhile, we decentralize energy production, giving households and businesses the means to produce their own electricity by harnessing greener energy. We are considering encouraging peer to peer (P2P), or even consumer to consumer (C2C) trade of electricity. This is plausible considering the decreasing costs of production of green energy.
During the Innovate4Climate Forum held in Singapore in 2019, Steven Schofield, Senior Adviser on Energy and Climate Policy at Shell remarked that Shell is "not an oil company, but an energy company". Indeed, Shell had a vision of becoming the world's "the largest electricity power company in the world in the early 2030s", as quoted from Maarten Wetselaar, director of Shell's integrated gas and new-energies unit, in a televised interview with Bloomberg in March 2019.
In addition, Karen Muhksyan, Head of the Department for Territorial Development and Environmental Issues of Armenia, shared in 2019 that the Armenian government was using a loan program to encourage consumers to install solar panels so they could generate their own electricity. Moreover, consumers could sell surplus electricity to the Electric Networks of Armenia, a state-managed electrical company.
When the big players act, that's the time for smaller stakeholders to take a leaf out of their books before they lose relevance in the market. To all the businesses in 2019, you know what to do.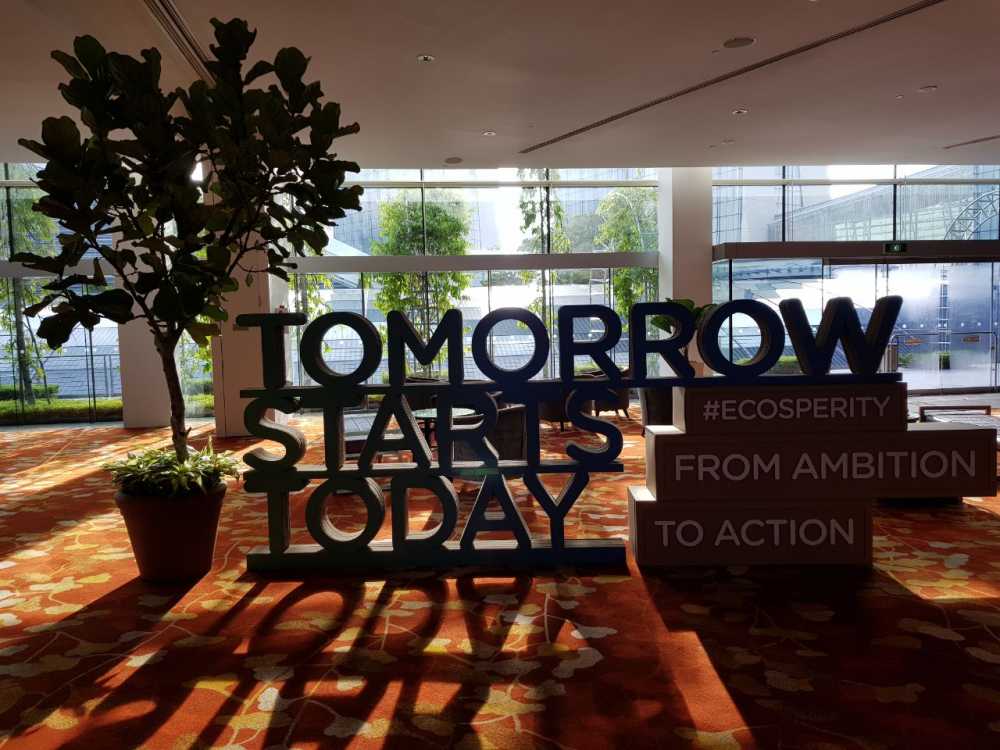 Our actions today determine our future.
The Final Word: Back to 2019
Given the Paris Agreement's emphasis on innovative financial mechanisms and technological advancements and in our quest to make our planet a sustainable one, twenty years from now we may find ourselves looking back at how we used to live in the same way we look at modems currently. 
And that is something I look forward to.
Joyce Gao, reporting from the #YouthTakeover team at Innovate4Climate in Singapore. Joyce will soon be entering her Junior year as a student at the Wee Kim Wee School of Communication and Information under Nanyang Technological University in Singapore.