Last week, D&AD, a longstanding arbiter of international talent in the advertising sector, announced the winners of this year's New Blood Awards, which celebrate exceptional young voices with the power to shape the world for the better, during a special Instagram Story Awards Ceremony. These included the winning respondents to Connect4Climate's "Power Sustainable Lives" brief, which asked students for their most creative ad campaign concepts that could inspire meaningful behavior change towards a sustainable lifestyle.
For each brief, a distinguished jury determined which submissions would be awarded a prestigious New Blood Pencil. Wood Pencils were given to a shortlist of the best responses to each brief; submissions that went further to nail the judging criteria—relevance, execution, and creativity—won Graphite Pencils; and the coveted Yellow Pencils were awarded to concepts of outstanding merit that excelled across all judging criteria and demonstrated potential for widespread impact. All New Blood Pencil winners get a guaranteed place in the D&AD Annual, an invite to the New Blood Awards Ceremony, access to exclusive scholarship and funding opportunities, and the chance to apply for New Blood Academy, a creative bootcamp that catapults young creatives into the industry.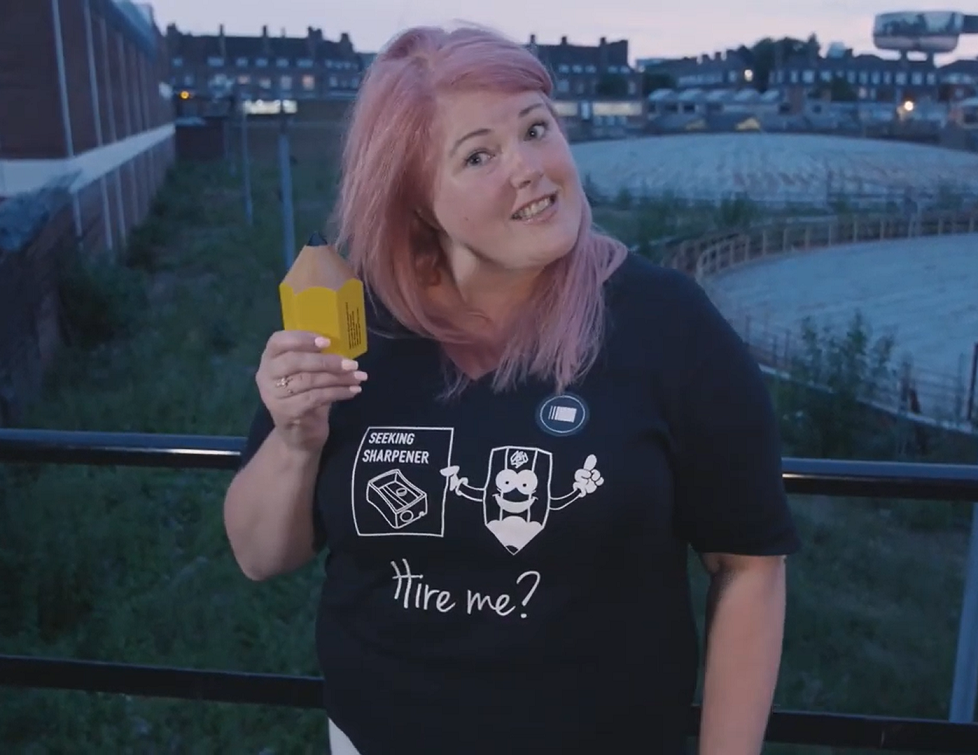 At the New Blood Awards, pencils are prestigious! (Image from last year's ceremony)
Connect4Climate's challenge was downloaded almost 18,000 times, and from those 18,000 downloads, roughly 200 complete submissions resulted amid these trying times. We are excited to congratulate the students who aced our "Power Sustainable Lives" brief.  The 11 winners came from all over the world, offering an impressive breadth of approaches to sustainability as well as varied strategies for implementing them. Let's take a moment to appreciate these #Youth4Climate leaders and their innovative ideas:
BlackOut - Yellow Pencil
BlackOut is a mobile phone app pitched by Australian creatives Madison Chan and Rachel Holt as a means of empowering those who feel powerless amid the bushfires this year to reduce their own contributions to global warming in a simple but effective way.
The BlackOut app runs in the background once downloaded, managing the phone's data usage so as to minimize its carbon footprint and encouraging the user to proactively cut back on data consumption themselves. One gigabyte of data corresponds to 27 kg of CO2 emissions, so smart data management benefits both us and our planet.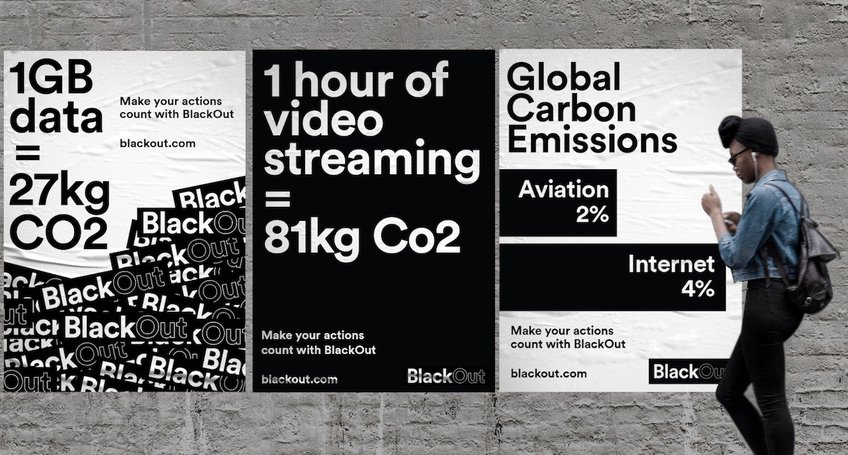 Less Than Three - Wood Pencil
The guiding principle of the Less Than Three team—made up of Miami Ad School Mumbai students Shikhar Bafna, Vaishnavi Rai, and Adila Fataliyeva—is reducing waste wherever possible in our day-to-day lives. Specifically, they homed in on ice cubes: Many of us fill our glasses with them, yet only 3 are needed to fully chill a beverage. Seeing as how the production of ice in the US generates thousands of tons of carbon emissions, this is definitely an area where we can stand to improve.
Their answer? Custom-made ice machines that dole out exactly three cubes for every drink, targeting college towns where consumption of soft drinks is most widespread.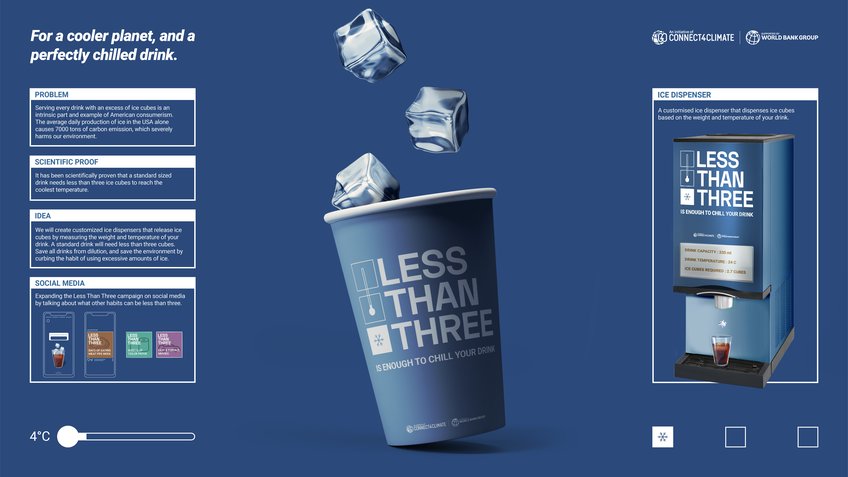 Odds&Friends - Yellow Pencil
Also tackling kitchen waste was the Odds&Friends team from Germany, composed of Franziska Engel, Viviana Reckert, Johannes Englmann and Robert Heiser. They developed their concept in response to the alarming statistic that one third of all food produced on Earth is thrown away without being eaten, with much of that waste attributable to young people.
Odds&Friends offers a win-win solution: an app where young people can share what leftovers they've got in their fridge and arrange social meetups to cook together. Not only does this offer young people an opportunity to help their planet, it also opens up the possibility of making new friends!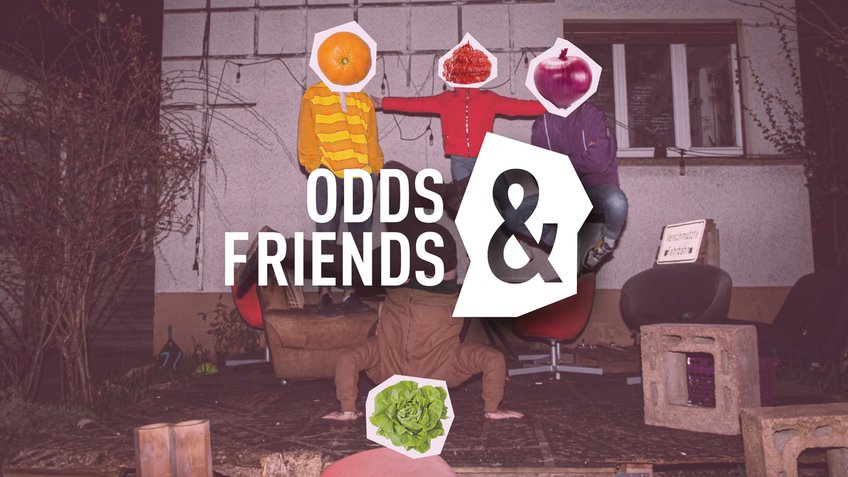 Fart for Future - Yellow Pencil
Bringing a bit of comedy to the table was another German team, Fart for Future, composed of Laura Wieder, Denise Goldmann, and Benjamin Lion. Their guiding thesis? That humans should be the ones farting, not cows, who are notorious generators of atmospheric methane. A single cow emits 115 liters of gas every day, so why not shift to plant-based diets, eat more beans, and do more of the farting ourselves?
To spread this playful but valuable message, Fart for Future relies on eye-catching green whoopie cushions, awareness-raising pranks, and celebrity endorsements.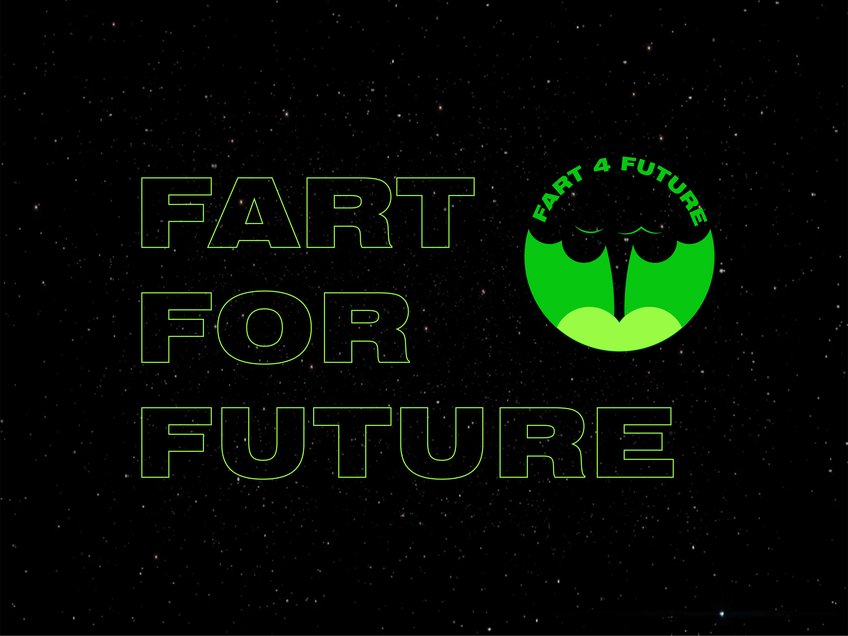 Green Definition - Wood Pencil
Green Definition, helmed by Oliver Feinel and Dean Shein in the UK, aims to lessen the massive carbon footprint of worldwide video streaming, which on its own accounts for fully 1% of CO2 emissions. Their idea? Partner with streaming services all over the globe to make young internet users realize that not everything has to be HD for them to enjoy it.
Viewing videos in 480p—standard definition—takes 80% less energy, and for the most part they'll still look perfectly good on your mobile phone screen. A dedicated "Green Definition" button on the leading video platforms promises to save bigtime on wasteful data usage.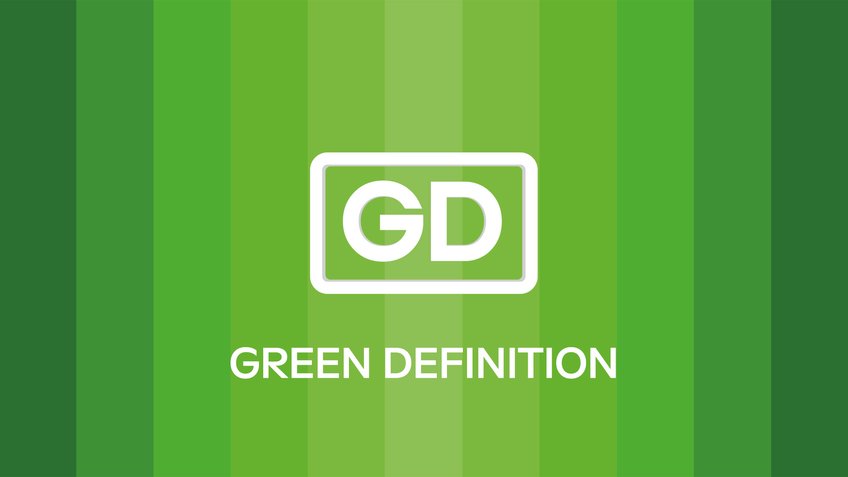 #ReOOTD - Wood Pencil
Conceived by Nithika Romy, a student at India's National Institute of Fashion Technology, #ReOOTD aims to overhaul the fast fashion ethos of Instagram influencers and replace it with messages of sustainability and reuse. Riffing on the popular "Outfit of the Day" hashtag #OOTD, #ReOOTD is all about rewearing and resharing.
To change mindsets on Instagram and make sustainable fashion choices cool, #ReOOTD is creating custom Instagram sticker sets featuring green-colored, climate-positive slogans such as "Make It Last" and "On Repeat." The movement will enlist the help of Insta fashionistas like Komal Pandey to reduce waste and promote positivity.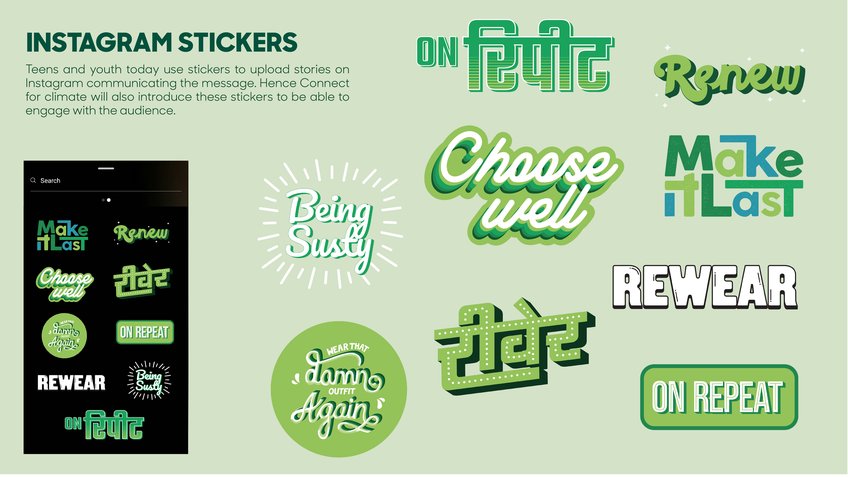 PL*STIC - Wood Pencil
PL*STIC, the brainchild of the UK's Tom Downey, aims to call attention to the tremendous harm plastic does to the environment through provocative "censorship" of plastic materials in online video content. PL*STIC will enlist influencers on YouTube, Instagram and elsewhere to pixelate all single-use plastic products appearing on screen in their videos, making a statement and promoting discourse in comment sections everywhere.
As a follow-up to this initiative, PL*STIC plans to launch Expires End, a campaign calling attention to the extremely long periods for which plastic products endure in the Earth once discarded.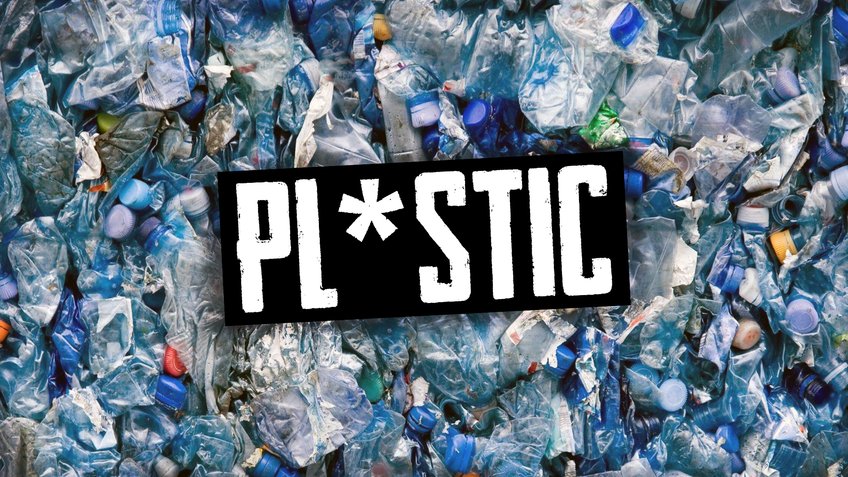 Plastic Expiry Date - Yellow Pencil
Another New Blood Award winner, Plastic Expiry Date, delved deeper with this plastic expiry concept. Made up of Gagandeep Jhuti and Joseph Foale-Groves, Plastic Expiry Date uses eye-catching, easy-to-read stickers on plastic-packaged products to call attention to how long the plastic will be around. Often, these "expiry dates" are more than 500 years into the future, and so serve as stark reminders of why single-use plastics should be avoided at all costs.
Plastic Expiry Date aims to broaden the reach of this "sticker activism" by sending the stickers to prominent TV personalities and online influencers, sparking online conversation on the need to reduce plastic consumption and recycle whenever possible.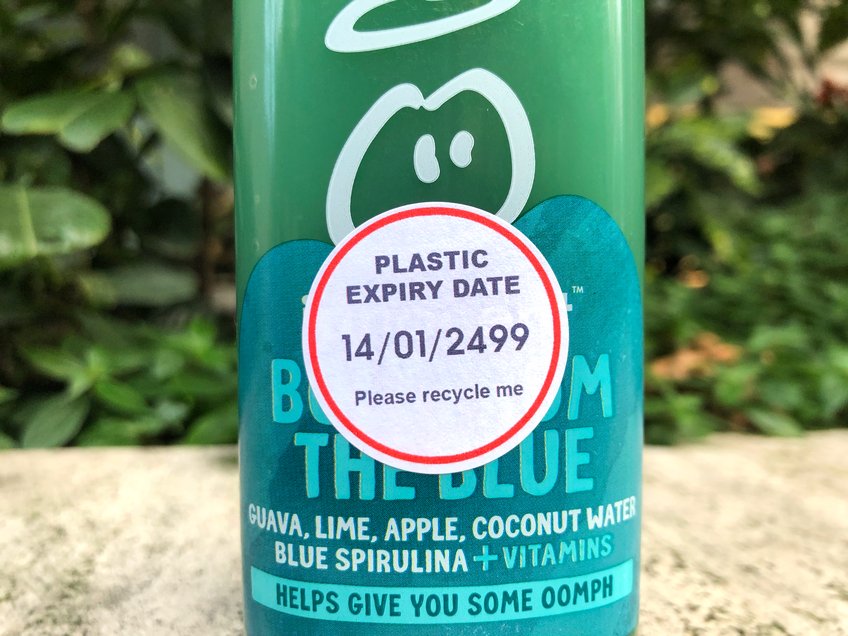 EDEN - Wood Pencil
Noting that the flowers we give our loved ones on Valentine's Day come at a great cost to the environment, the Danish team behind EDEN, Oskar Klingenberg and Jonathan Fjord, came up with a novel idea: Why not avoid all the refrigeration and transport costs the flower industry is known for and instead give the special people in your life real live flowers in digital form?
EDEN gives users the chance to select real flowers from a digital library and send livestreams of the blooms to their loved ones with custom text overlays and other personal touches. The giftee will enjoy exclusive access to the chosen flower for 5 days, after which time it will become available for additional shares and downloads by others. This will keep Valentine's Day special while also making it sustainable.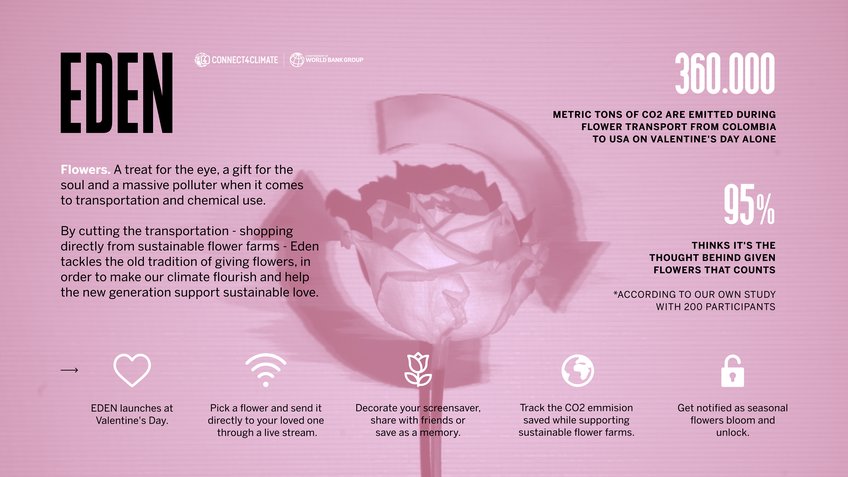 Doers Campaign - Graphite Pencil
Envisioned by Karen Shek of the UK's Duncan of Jordanstone College of Art & Design, the Doers Campaign revolves around a virtual "Doers card," a payment method linked directly with your debit card that keeps track of your carbon footprint with each product you buy and each transportation expense you cover. The Doers card keeps you updated on how sustainable your spending is and offers helpful suggestions on how to improve.
The Doers Campaign also actively incentivizes you to spend in an eco-smart way, as you earn rewards points for every climate-conscious choice you make and can parlay those points into discounts on goods at participating sustainable retailers.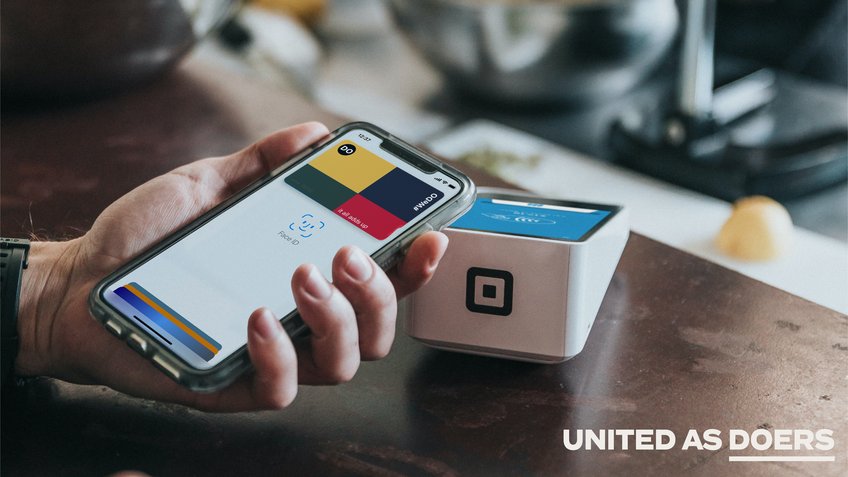 Drop the Joss - Wood Pencil
Last but not least is Drop the Joss, a concept submitted by Quynh Tran and Seine Kongruangkit of Miami Ad School Berlin. Drop the Joss was conceived as a sustainable alternative to the time-honored Asian tradition of burning joss paper to ward off hungry spirits during the Hungry Ghost Festival, which occurs each year in the seventh month of the Chinese lunar calendar. The smoke from all this burning pollutes the air and contributes to climate change, so Drop the Joss cleverly moves the tradition to the realm of the digital.
The crux of Drop the Joss is an augmented reality Instagram overlay which will allow observers of the Hungry Ghost festival to approximate the ritual of burning joss on their phones without doing any real damage to the planet. Users will be able to cast different virtual items into the virtual flames while grounding themselves in a real-world setting. The project is the perfect blend of respect for tradition and respect for the environment.
Although the ceremony and accompanying festival—which offers contestants tutorials and interaction with renowned professionals—had to move online this year, the occasion was still brimming with creativity and talent, giving C4C many ideas as to how young people entering the advertising industry can serve as crucial allies in the quest to persuade people to stand up for a sustainable future.