We will never end poverty if we don't tackle climate change
 Jim Yong Kim, World Bank Group President
The Action4Climate competition challenged filmmakers to raise awareness of climate change, share experiences and inspire action by creating a video documentary.
The response was overwhelming. More than 230 videos from 70 countries were submitted, bringing to life the serious consequences of climate change across the world and highlighting the actions taken by local communities to tackle it.
Watch the shortlisted films on Vimeo.
The Winning Videos
The Trail Of A Tale (1st prize, 18-35 years)
A Video By Gonçalo Tocha, Portugal
A letter from the future is written to our recent past, telling us how the world ´it turned out right´.

It follows the trail of someone that left words written, words of change, of simple change. In this near future, the images of our world are the same, but the value of words can be very different.
GLOBAL WARNING (2nd prize, 18-35 years)
A Video By Dobrin Kashavelov, 
Bulgaria/Philippines
A documentary about the super typhoon Yolanda - Haiyan which hit the Philippines on Nov 8th 2013
Snows Of The Nile (3rd prize, 18-35 years)
A Video By Nathan Dappen, 
USA / Uganda
Uganda's Rwenzori Mountains rise 5000m from the heart of Africa. At their summits are some of Earth's only equatorial glaciers. But these "Mountains of the Moon," whose existence caused a sensation in Europe when they were first climbed in 1906, are changing fast. Snows of the Nile follows two scientist/photographers on an ambitious expedition to document the disappearance of Africa's last tropical glaciers.
The Violin Player (1st prize, 14-17 years)
A Video By Francina Ramos, Benjamin Braceras, 
Argentina
It's an animation movie about a violinist playing at a theater and when he close his eyes he find the entire world melting. After a crazy play he open his eyes over an unexpected reality.
Facing The Flood (2nd prize, 14-17 years)
A Video By Constantin Huet, 
Switzerland
The situation in the south of the Greenlandic Ice Cap is deteriorating. A global warming of the earth seems to threaten this area more than anywhere else in the world. Recorded temperatures have begun to fluctuate, and native inhabitants find their culture beginning to sink, below rising sea levels. As is the case for the inhabitants of the Maldivian islands, innocents who presently suffer the consequences of our pollution. At this rate, our future generations will have to face the flood.
It's Easy If You Try (3rd prize, 14-17 years)
A Video By Zura Tegerashvili, 
Georgia
What is the problem with climate change and how we can solve it...
Balud (Jury Special Award)
A Video By Panx Solajes, 
Philippines
Balud is a Filipino dialect word for "waves."

This short experimental film is a response to Typhoon Yolanda (International name: Haiyan), which swallowed my hometown Tacloban city last November, 2013. This film dedicated to family, friends and fellowmen who were lost on its wake, and to those who are still fighting for survival and for new beginnings.
Pachamama (People's Choice Award)
A Video By Andressa Nowasyk, Luiza Stalder, Mauricio Iwaoka & Thiaggo Castro, 
Brazil
This documentary discusses the effects of global warming in São Carlos, a city in the state of São Paulo, Brazil. We follow Adinalsa, a farmer affected by the extreme heat of summer.
Tinau (My Mother) (Connect4Climate Special Prize)
A Video By Victoria Burns, 
Kiribati
Scientists predict that Kiribati - a remote Island Republic in the Central Pacific - could be lost to rising sea levels in the next 50 years. As a result a whole nation faces an uncertain future. 'Tinau' is an intimate family portrait of a Kiribatese mother now settled in the UK and the ties that bind her to her former disappearing homeland.
The Change (Connect4Climate Special Prize)
A Video By Ha Uyen, Huong Tra, Quang Dung, Quang Phuc, 
Vietnam
Danang, like many other cities in Central Vietnam, is highly vulnerable to climate change. In particular, typhoon and flood and their recently unpredictable patterns have caused severe impacts on the people's lives, especially the youth. This short film tells 2 interweaving stories of 2 youths in Danang whose lives and career orientations have been tremendously affected by the impacts of climate change.
230 entries. 70 countries.
From Sub-Saharan drought to floods in Southeast Asia and typhoon damage in the Philippines, the effects of climate change can be devastating. But as these personal documentaries show, communities from all corners of the globe are coming together with hope and energy to face up to the overriding issue of our time.
Action4Climate in Times Square
Two massive displays on Times Square. One thirty second showreel of climate change documentaries created by young filmmakers, played non-stop to millions between 22nd and 29th July 2014. Brought to you by Connect4Climate and MTV Voices.
The Competition
Young, aspiring filmmakers were invited to produce and submit a short documentary on climate change, considering these issues: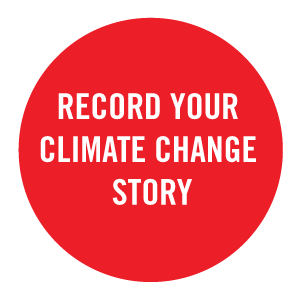 How are you tackling climate change in your community?
What climate solutions have you identified?
What needs to be done to solve the climate challenge?
The contest was open to young filmmakers from all over the world, as individuals or teams of up to five, in two age groups: 14-17 and 18-35. The deadline for submissions was April 1st 2014, with winners announced on October 30th 2014.
The Prizes
As well as sharing their climate change stories with the world, entrants had the chance to see their winning documentary shown at major film festivals and featured on the new MTV Voices Platform.
Winners Age 14-17
First Prize: Video Equipment and Editing Software

Second Prize: Editing Software

Third Prize: Tablet
Winners Age 18-35
First Prize: USD 15,000

Second Prize: USD 10,000

Third Prize: USD 5,000
The Jury
Award-winning film directors and producers, along with representatives from international organizations, will select the Action4Climate winning entries.
Bernardo Bertolucci, President of the Jury
Director of The Last Emperor, Stealing Beauty, and The Dreamers
"There is no doubt the Earth is in danger. I am looking forward with many other people to see testimonies about the climate changes."
Atom Egoyan
Director of Exotica, The Sweet Hereafter, and Chloe
"I am here to really talk about this amazing project, because it is a call to arms to filmmakers to use their skills as storytellers. To tell one of the most important stories of our time, which is about climate change."
Fernando Meirelles
Director of City of God and The Constant Gardener.
"As we know, climate change is the biggest challenge humankind will face in the next century and what has to be done to mitigate the effects of climate change must start with us, from bottom to top."
Mika Kaurismaki
Director of L.A. Without a Map, Mama Africa, and North Road.
"We human beings are very likely the cause of this global warming. This will destroy our planet, slowly but surely, unless we do something."
Pablo Trapero
Director of Carancho and White Elephant.
"We all know and suffer from the fact that the climate is changing. It is no longer a theory or a hypothesis: it is a fact."
Wim Wenders
Director of Buena Vista Social Club and The Soul of a Man.
"To combat climate change is one of the major tasks of our generation."
Your Messages
Kehkashan Basu, Global Coordinator for Children and Youth UNEP & Founder President Green Hope UAE. Kehkashan was awarded the International Children's Peace Prize at The Hague, the Netherlands. 
Live from Global Citizen 2015 Earth Day
Global Citizen 2015 Earth Day came during a pivotal time to protect the planet and ensure that world leaders address key issues facing the next generation. Timed to coincide with the spring meetings of the World Bank Group and the International Monetary Fund, Global Citizen 2015 Earth Day brought together global policymakers, finance ministers, environment and development NGOs, industry executives and high-profile artists.
It was a day to remember! 
The team at Connect4Climate soared from the energy produced by the leaders, entertainers, visionaries, concerned citizens, and fans who attended Global Citizen 2015 Earth Day. Click on the photo to go through a visual exploration of Global Citizen 2015 Earth Day highlights.
View from audience during Action4Climate celebration. Photo credit: Max Edkins
Terms and Conditions
The World Bank Group and its officers, agents, employees, and content providers (referred to below as "The World Bank Group" or "we" or "us" or "our") maintain this web site and/or any related site (such as a related mobile application) that links to these World Bank Group Terms and Conditions (the "Site") as part of efforts to provide broad public access to information. We encourage you to use the World Bank Group information and data it contains (the "Materials") as well as communications tools designed to facilitate this use. Your access to and use of the Site, the Materials, those communications tools, and any new tools made available by us that alter or improve your use of the Site or the Materials are subject to these World Bank Group Terms and Conditions, as well as any documents expressly incorporated by reference herein (collectively these "Terms and Conditions").
Please read these Terms and Conditions carefully before you start to use the Site. By using the Site, you accept and agree to be bound and abide by these Terms and Conditions and our  Privacy Policy. If you do not want to agree to these Terms and Conditions or the Privacy Policy, you must not access or use the Site. 
For some of the Materials, such as the Datasets listed in The World Bank Data Catalog or the Publications made available in the Open Knowledge Repository. The World Bank Group has additional specific terms of use, all of which are hereby incorporated by reference. Those specific terms of use are available on the pages through which the relevant Materials are accessible, and are also collected here:
http://www.worldbank.org/terms-of-use-datasets
http://www.worldbank.org/terms-of-use-okr
Please read more about the "Terms and Conditions" on the World Bank Group's website.
Privacy Policy
I. Introduction
Your privacy on the Internet is of the utmost importance to us. Because we gather certain types of information about the users of the World Bank's sites and services, we want to ensure that you fully understand the terms and conditions surrounding the capture and use of that information. This privacy statement discloses what information we gather and how we use it. This privacy policy applies to all World Bank sites - that is all sites within the "worldbank.org" domain name.
II. What Information Does the World Bank Collect?
Personal information

If you register for an email newsletter, buy a book, post to a blog or join a discussion group, you may be asked for information that helps to identify you, such as your name, email address, and organization. The information you are asked to provide is used for technical and customer administration of the site only and is not shared with third parties.



If you have ordered a publication or made other purchases online, the Bank uses a contractual fulfillment vendor to process and ship orders, and a credit card processing service to bill users. These companies do not retain, share, store or use identification information for any secondary purposes. These parties are not allowed to use such information except for the purpose of providing these services.
Non-personally identifiable information

The World Bank has and will continue to contract with third-party vendors to track and analyze information about the usage of World Bank sites. This information is gathered so that the World Bank can better understand the usage of its sites and improve and develop them. None of this information can be used to identify individual site visitors. All vendors that the Bank works with have their own privacy policies that include clauses that they will not share Bank data with third parties unless specifically requested to do so by the Bank or as directed by law. All data collected by third party vendors is owned by the World Bank, and the World Bank will not share, sell, distribute or rent this information to anyone.
Only summaries of visitors' behavior are produced. Examples of this type of information include statistics on most popular and least popular pages. The information collected cannot be traced back to a particular individual.



The purpose of this data collection is so that the World Bank can better understand the preferences of its visitors and improve its site and services. This information is never connected with any personal information you supply to us if you register on our website.
Use of cookies and web beacons 

When you register for one of our services, the World Bank sets a cookie, a small bit of code stored on your computer's hard drive that enables you to manage your subscriptions and online profile. By setting this cookie, the World Bank will remember you the next time you visit and won't have to bother you by asking questions you have already answered (like address information). 
You are always free to decline cookies if your browser permits, although in that case you may not be able to use certain features on the site and may be required to re-enter information more frequently to use certain services on the website.
IP Addresses

In addition, the World Bank also records your IP address, which is the Internet address of your computer, and information such as your browser type and operating system. This information helps us learn about the geographical distribution of our website visitors and the technology they use to access our site.
Children's privacy

The World Bank operates Youthink!, a website that provides information on global issues that matter to today's youth.
To participate in the discussion forums, users are required to disclose their name and email address. This information is not used for commercial purposes, is not shared with third parties and is only used for site administration. Parents have the right to request removal of any personal information provided by their children. To remove information about their children from Bank systems, parents can send an email to the feedback@worldbank.orgwith the full name and age of the child, where the child is registered, and a statement that the sender is the child's parent or legal guardian.
III. What If I Don't Want to Share My Information?
Registering on our site is optional. If you choose not to register or provide personal information, you can still use the World Bank's web site. However, you will not be able to purchase items or receive email newsletters.



If you register for a newsletter, post to a blog, or contribute to a forum, consultation, or conference the Bank will not share, sell, distribute or rent your information to anyone. On an occasional basis, and with your specific authorization, the Bank may share your mailing address information if you enter into a transaction on our Publications. Your information will only be shared if you indicate that you would like to receive information from UN agencies, multilateral banks or international organizations. Your e-mail address will never be shared with any outside party for marketing purposes and will be kept strictly confidential.
IV. Security
The World Bank Group employs a range of technologies to protect the information maintained on our systems from loss, misuse, unauthorized access or disclosure, alteration, or destruction.
V. How to Contact Us
If you have any questions or concerns about the World Bank Privacy Policy, please contact us.
Glossary
Cookie: A cookie is a small amount of data, which often includes an anonymous unique identifier that is sent to your browser from a website's computers and stored on your computer's hard drive. Each web site can send its own cookie to your browser if your browser's preferences allow it, but (to protect your privacy) your browser only permits a website to access the cookies it has already sent to you, not the cookies sent to you by other sites. Once the user has closed the browser the cookie will no longer be accessed during that session.
Demographic Information: This may include your gender, age, postal code, interests, and other information you provide to us voluntarily. We use this information to provide you with personalized services and to analyze trends to ensure the information provided by the sites meets your needs. For example, we could offer personalized News or reminders about upcoming events if you tell us which programs and topics you're interested in.
IP Address: When your web browser or email application requests a web page or email from another computer on the Internet, it automatically gives that computer the address where it should send the information. This is called your computer's "IP address." (IP stands for "Internet protocol.") For many users accessing the Internet from a dial-up Internet service provider (ISP), the IP address will be different every time you log on. The World Bank does this to learn about the geographical make-up of its web site traffic.
Web Beacons: Also known as "clear gifs," "web bugs" or "pixel tags," these are tiny graphics with a unique identifier, similar in function to cookies, and are used to allow us to count users who have visited certain pages and to help determine the effectiveness of promotional or advertising campaigns. When used in HTML-formatted email messages, web beacons can tell the sender whether and when the email has been opened. In contrast to cookies, which are stored on a user's computer hard drive, web beacons are embedded invisibly on Web pages.
Updated: June 2013
Permanent URL for this page: http://go.worldbank.org/FIKABS7U10