An artist, an activist, and a tireless force, N'Djamena-born filmmaker Aché Ahmat Moustapha has devoted her life to chronicling and sharing impactful stories from across the communities of Chad. She was a leading contributor to Portraits of Chadian Women, a book documenting the lives of 100 disparate subjects, and founded the FETCOUM film festival to spark creativity and collaboration among up-and-coming storytellers in the region. Recognizing the import of her work, French president Emmanuel Macron in 2019 appointed her to his Presidential Council on Africa.
Most recently, Aché has worked as a mentor with the Resilient Foundation's 8billion initiative, supported jointly by Connect4Climate and PROGREEN's Sahel Landscape Restoration Program. This initiative equips young people to tell their own stories, offering hands-on instruction from established mentors like Aché to give rising filmmakers the training they need to effectively capture the impacts of climate change in their communities as well as the community response.
In her mentor role, Aché hosted a series of workshops giving participating Chadian youth invaluable guidance on camera operation, film editing, and narrative conventions in film. "I was very impressed by their motivation, commitment, and involvement," she reflects. "One could see and feel their thirst for learning, and especially their passion for fighting for a noble cause." To complete their course of study, the young filmmakers worked together on a pair of impactful documentary shorts.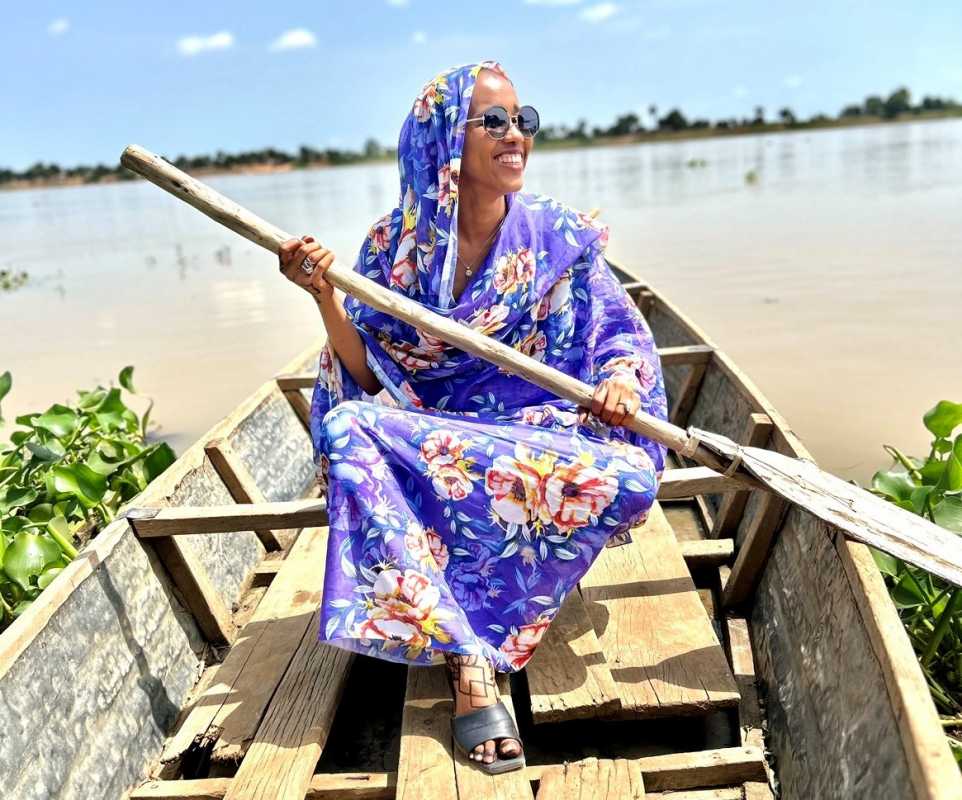 Activist and 8billion mentor Aché Ahmat Moustapha.
The first, Pour elles et la planète (For the Women and the Planet), follows mononymous activist/entrepreneur Zara as she travels between communities educating local youth on climate change and showing them how they can take environmental action. At once empowering women and helping the environment through her work spreading sustainable menstruation hygiene, Zara is a model of determination in the face of adversity and a leading light in Chad's youth climate movement.
The second short, Une seconde vie (A Second Life), tells the story of a conscientious young decorator named Mbaidiguim Benjamin, who picks up waste around his community and upcycles it into both practical necessities — like trash cans — and original works of art to inspire others.
Resilient will distribute the two films widely within the region, arranging community screenings that will serve both to showcase the young filmmakers' work and to inspire others to pick up a camera themselves and follow suit. The films will also be uploaded to the WaterBear YouTube channel for international public access.
Aché gets hands-on with her filmmakers-in-training.
Aché took a dynamic, interactive approach with her instruction, giving her pupils ample time with the equipment to develop a tactile intuition for filmmaking. "The film and audiovisual trainings," she says, "were an opportunity for the youth to express themselves, and in turn to spotlight everyday heroes in the age of climate change." She is delighted to note that "some of the trained youth now aspire to a career in media, while others already have subsequent projects in mind."
Aché herself got more out of the experience than she bargained for. A chance encounter between her and Hamid Hissene, who works in Chad's Ministry of Environment, Fisheries, and Sustainable Development, led to fruitful dialogue on 8billion and the empowering potential of filmmaking. Hissene passed her name on to Deputy Director Mahamat Massane Idriss, who ended up providing vital support to the making of the documentaries. Aché even presented her work to Aziz Mahamat Saleh, Minister of Communication for the Chadian government.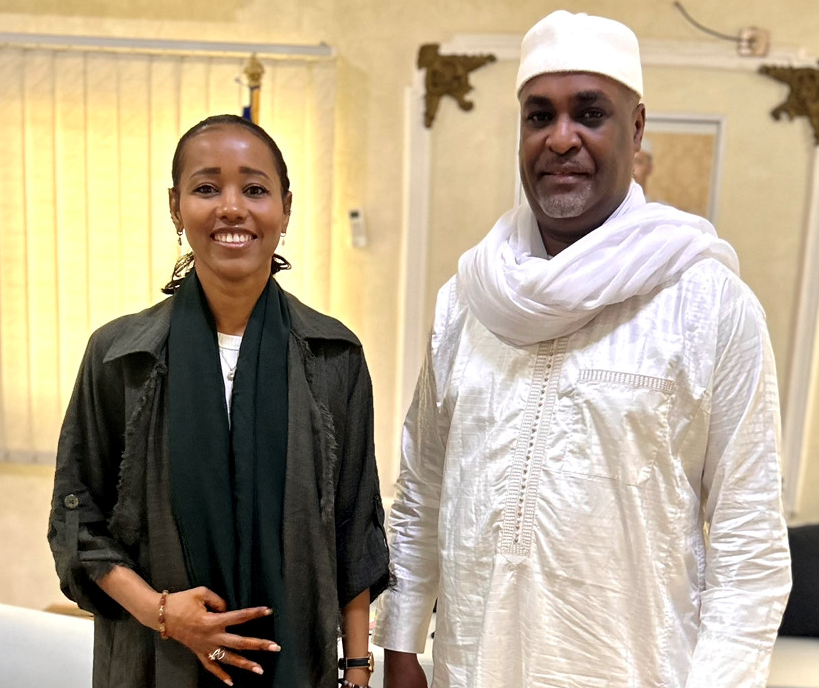 Aché connects with Chadian Communications Minister Aziz Mahamat Saleh.
Now, Aché is hopeful that these films and similar youth-led projects will make their way to this year's COP28 climate conference, where they will serve as a vital reminder of the power of young people to tell compelling narratives and drive meaningful change. Beyond COP, she is excited to continue finding synergies with the goals of the Chadian government to ensure that youth perspectives will always be elevated, amplified, and acted upon moving forward.
Due to low literacy levels, "those we aim to reach are sometimes unable to read a report on the alarming situation we live in," Aché notes. "But they can watch, understand, and discuss a striking film." When it comes to communicating the stakes of the climate crisis and moving people to act, cinema, she finds, holds a special power. "This is an essential step in our mission," she says: "using cinema to change mindsets and engage everyone in facing the fight against climate change."
Banner photograph by Andrea Borgarello for TerrAfrica/World Bank. Other images courtesy of Aché Ahmat Moustapha.