The team at Connect4Climate is still soaring from the energy produced by the leaders, entertainers, visionaries, concerned citizens, and fans who attended Global Citizen 2015 Earth Day.
The highlight for us happened around 5:00 p.m. when actor and United Nations Goodwill Ambassador Don Cheadle took the stage and introduced Connect4Climate program manager Lucia Grenna. With the Washington Monument in the background, Grenna paid tribute to the winners of the Action4Climate competition, a global initiative in which young people from more than 70 countries submitted their visions of climate change. A panel of award-winning directors, lead by Bernardo Bertulucci, judged the contest that attracted more than 230 entries. This was truly a proud moment for Grenna, and the rest of the team at Connect4Climate, to salute young voices who are articulating what climate change means to them.
Grenna then turned the stage over to Monica Ord, the producer and visionary behind the film Chloe & Theo, which we premiered two nights ago at the World Bank Group headquarters. The big screens that flanked the stage showed a clip of the moving film, that features an Inuit traveling from his tiny hometown in the Canadian Arctic to New York City with a message from his elders: Our world is melting. Help us.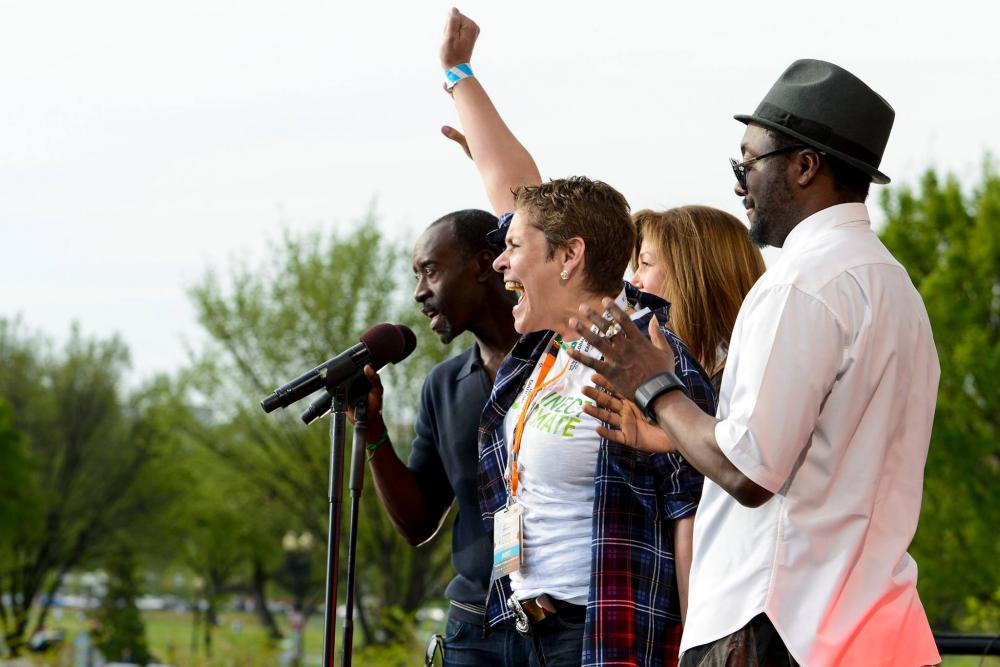 Lucia Grenna and Monica Ord on stage with Will.i.am and Don Cheadle. Photo Credit: Leigh Vogel
Organized by the Earth Day Network and the Global Poverty Project, Global Citzen 2015 Earth Day, a massive tribute to the 45th anniversary of Earth Day, celebrated on the National Mall in Washington, D.C., brought awareness to the combined plights of global poverty and climate change, and introduced ideas to tackle both. Throughout the day, rock groups Train, No Doubt, My Morning Jacket, Fall Out Boy and singers Mary J. Blige, Coldplay front man, Chris Martin, and Usher (who performed a 20 minute set with a broken foot and a crutch) took turns energizing the crowd of an estimated 270,000 people. Hosts Will.i.am and Soledad O'Brien kept the star-packed event, which began at 11:00 a.m. and lasted until nearly 8:00 p.m.The sun beat down through blue skies, temperatures soared to 80 degrees F, and the pollen count was pronounced "high," but sunburns and sniffles did nothing to dampen the spirit of the day.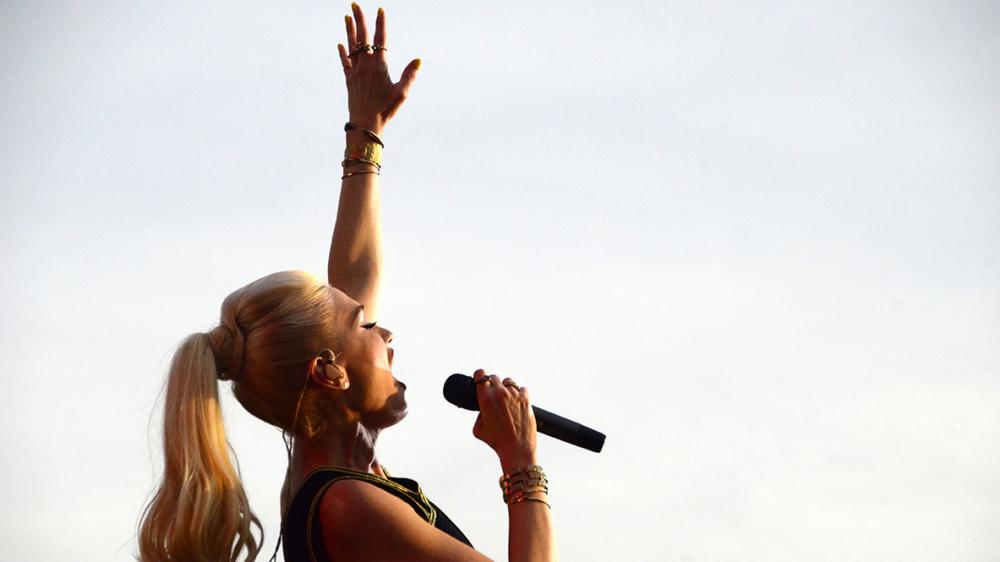 Gwen Stefani takes to the stage with No Doubt. Photo Credit: Max Thabiso Edkins
The stage was also the scene of commitments by world leaders. USAID announced they would commit $126 million to help rebuild West African heathcare systems that were devastated by Ebola. Earth Day Network, one of the organizers of Global Citizen 2015 Earth Day, and Robio, the developers of the Angry Birds video game, announced they would create a new version of the game that deals with climate change. Toyota announced their "gamechanger," a hydrogen fuel cell car, called the Mirai, which produces only water, not exhaust.
Prior to the announcement, Cheadle visited Connect4Climate's big tent, called the Alcantara Magic Garden - Connect4Climate pavilion. As soon as Cheadle descended from his golf cart, Grenna fastened a green silk Fashion4Climate bracelet around his wrist, a reminder that many different industries can take part in greening the planet.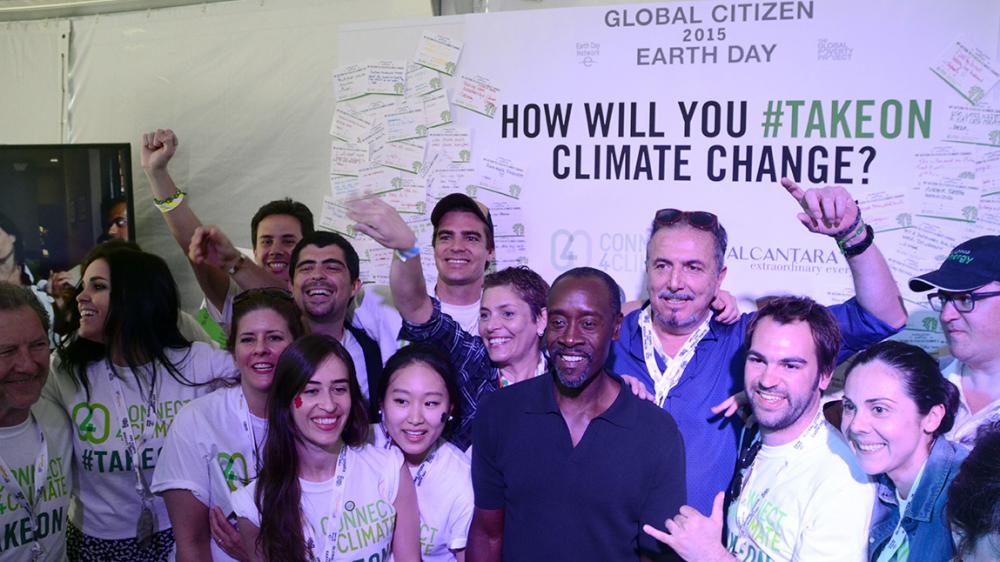 Don Cheadle visits the Connect4Climate team in the Alcantara Magic Garden. Photo Credit: Max Thabiso Edkins
That afternoon, Connect4Climate and Earth Day Network organized a roundtable that brought together a diverse group of business leaders, nonprofit heads, and recognizable names to discuss best practices from their various backgrounds. With the soulful vocals of Mary J. Blige drifting into the tent and across the roundtable, the participants grappled with bringing "unusual suspects" into the climate change conversation, climate change as a moral issue, and emphasizing the profitability of sustainable technology.
"The next social movement will be for the right to clean air and water," said the Reverend Canon Sally Grover Bingham, founder and president of The Regeneration Project. "I think we're getting there," she added.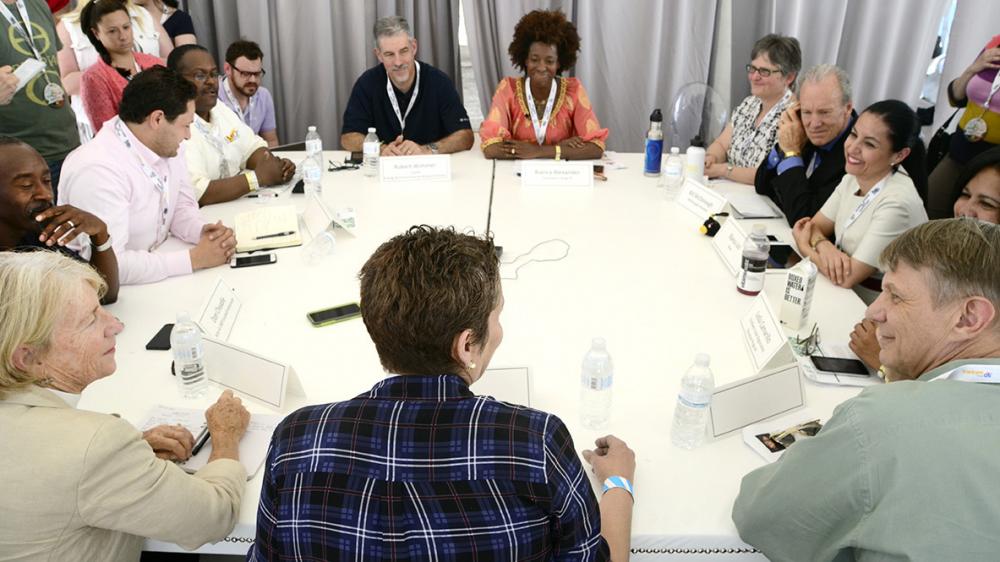 Engaging roundtable discussion on climate change communication. Photo Credit: Max Thabiso Edkins
"Social media has revolutionized the world not because we can communicate to millions, but because millions can communicate with us," said Grenna. "To most people, climate change is not about science, but a reality of the way they live. It's about walking an extra mile for water in some African countries. It's about the floods in Bangladesh. It's about drought in California. We never use the scientific formula H20 when we talk about water. We use plain words. Why don't we do that with climate change issues?"
"Even when people don't know anything about climate change, when you really drill down and talk to people about what concerns them, with no agenda, you break down barriers," said Don Cheadle, who was a special correspondent in The Years Of Living Dangerously, where he profiled a community in Plainview, Texas, that lost their livelihoods due to drought.  "People don't need to adopt an entire way of life. If we can't bring people under the big tent, we can still find ways to talk with them." 
The roundtable participants also included Ahad Ashkar, Founder and CEO of the Hult Prize; Lydia Camarilla, Southwest Voter Reigstration Education Project (SVREP); Blanca Juti, Chief Brand Officer at Rovio; William McDonough, Chief Executive of McDonough Innovation and recognized leader of sustainable development; Gregory T. Moore, Executive Director at NAACP National Voter Fund; Piers Sellers, Acting Director of the Earth Sciences Division at NASA/GSFC; Dr. Catherine Thomasson, Executive Director of Physicians for Social Responsibility; and Robert R. Wimmer, Director of Energy & Environmental Research Group, Toyota Motor North America.  Bianca Alexander, Creative Director and Host of Conscious Living TV, moderated the discussion.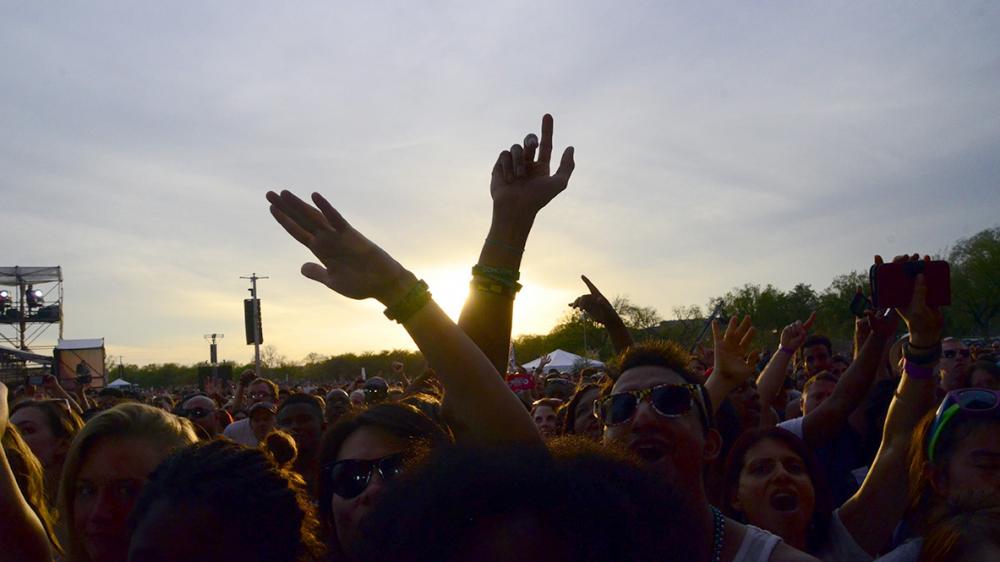 According to some estimates there were some 270000 people in attendance. Photo Credit: Max Thabiso Edkins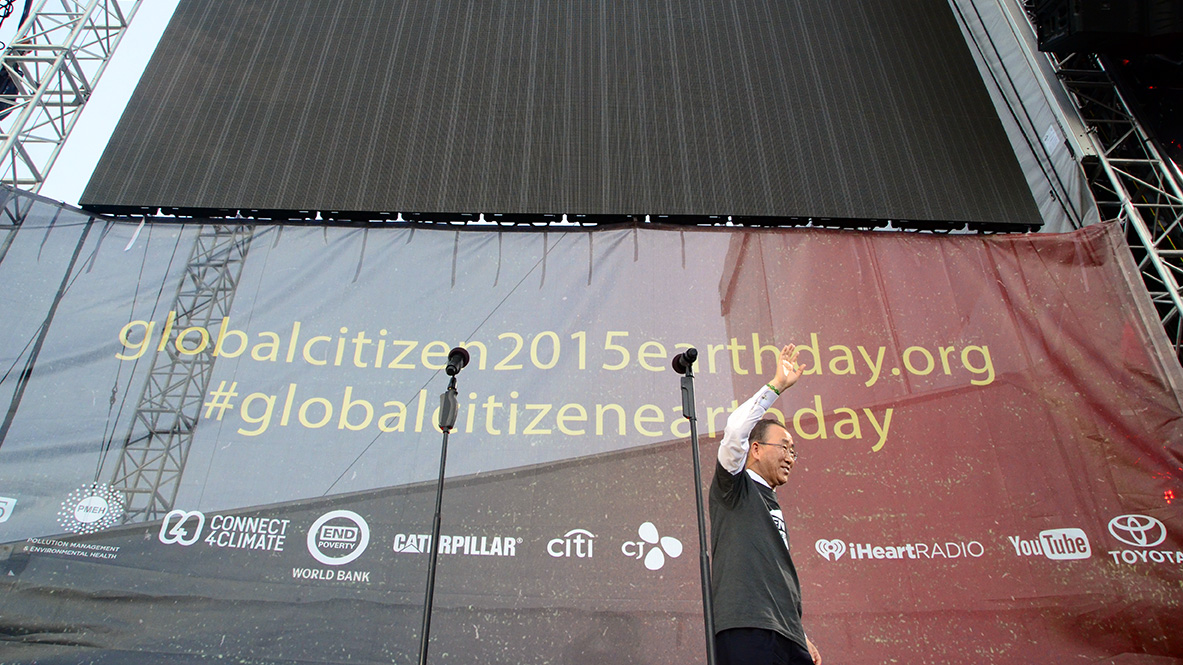 Ban Ki-moon shows his support for climate action by wearing the Fashion4Climate bracelet telling the audience that we are the last generation to tackle climate change. Photo Credit: Max Thabiso Edkins