Connect4Climate organized
two panels
on September 21 for a
climate-themed day
. Panel 1 focused on the "
Uniting for Climate Action
"
#Uniting4Climate campaign
and featured Minister
Inia Seruiratu
from Fiji;
DG Ingrid Hoven
from Germany and
DG Francesco La Camera
from Italy.
Max Edkins,
Climate Change Expert, Connect4climate, moderated the session and discussion ranged across the Uniting for Climate Action campaign; the Fijian presidency of COP23; government efforts in Germany and Italy to undertake climate action and bring about solutions.
Please click here to watch the full version video of Panel 1
The second panel focused on the role of the Climate Champions and planned to encourage more synergy in the lead up to COP 23. Moderated by John Roome, Senior Director of the Climate Change Group at the World Bank, the panel included Minister Inia Seruiratu from Fiji's High-Level Climate Champion for COP23, and Feike Sijbesma, Climate Champion at the World Bank.
Please click here to watch the full version video of Panel 2
We are uniting…uniting for climate…climate action! 
Coming out of the week a new
#Uniting4Climate
video was produced to instigate people all over the world (18+) to participate in the Connect4Climate's most recent global initiative - 
#Uniting4Climate VR/360-video pitch competition
.
Are you #Uniting4Climate? 
Submit
your climate story now!
Celebrating #All4TheGreen Instagram Photo Competition Blue Prize
The Blue Prize was awarded in June to Probal Rashid, from Bangladesh, by the World Bank's Water Global Practice to the best photo with the theme of 'water.' The prize was for the winner to visit the UN General Assembly (UNGA) meetings and document certain events. Probal's photo of a 9-year-old girl in Bangladesh, collecting rainwater to drink was the winner. Probal took numerous photos at UNGA throughout the week, many of which are being used in the Connect4Climate's Flickr album.
Watch the video on YouTube
Can Businesses Address Climate Change Effectively?
In the evening of September 21, Connect4Climate partnered with CO2Logic to co-host a Business For Climate Action event at Flanders House in the New York Times building. The meeting was oversubscribed and full to the brim to hear representatives of the IFC, Citibank, Timberland and the Smallholder Farmers Alliance in Haiti to discuss how business can affect climate change effectively.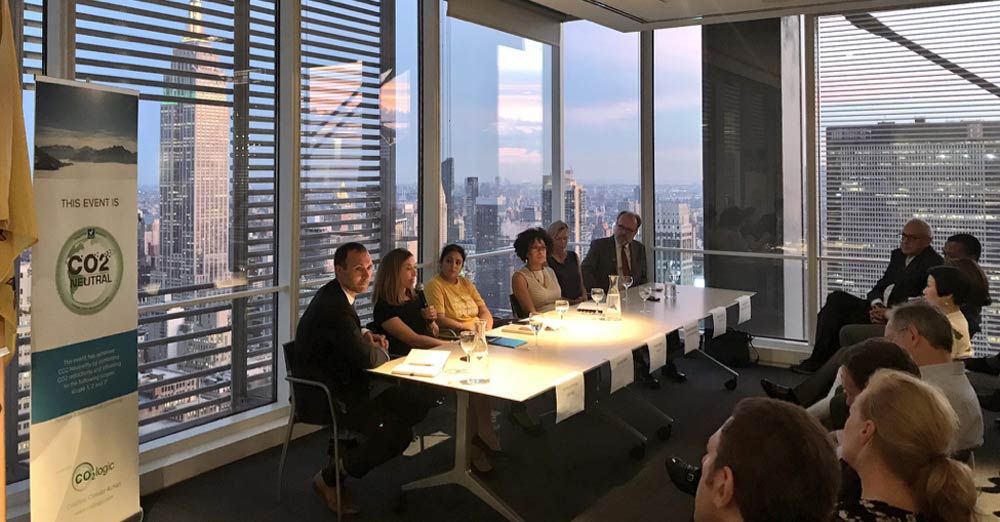 Connect4Climate started the evening off with an overview of "
Uniting for Climate Action
" and the Connect4Climate's program on greening industries and arranged for
Marcene Broadwater
, Global Head, Climate Strategy and Business Development at the IFC to participate.
The other panelists were
Arnaud Brohé
, CEO US at CO2logic,
Hugh Locke
, President and co-founder, Smallholder Farmers Alliance in Haiti,
Coleen Vien
, Sustainability Director at Timberland and
Davida Heller
, Head of Sustainable Finance, Global Financial Services, Citibank.
Aman Singh
, Editor-in-Chief,
Futerra
, moderated the session.
More multimedia content (YouTube playlists):