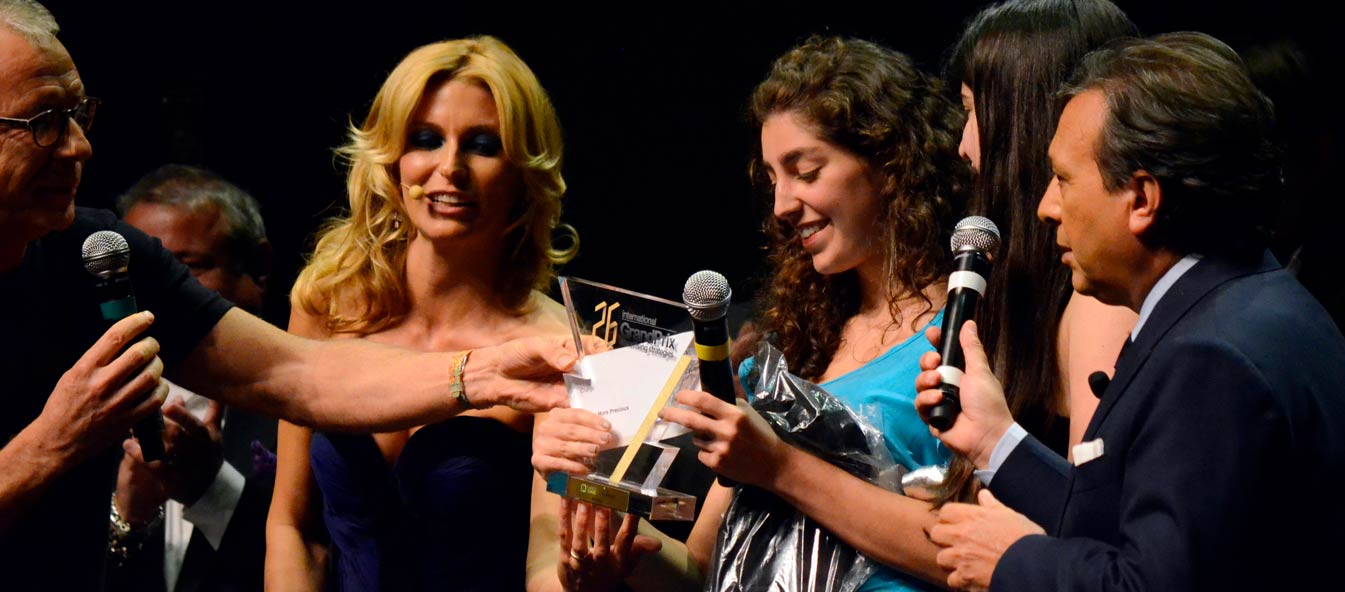 After receiving 248 entries from students studying at 165 universities located in 66 different countries, the iChange independent panel of judges took on the difficult task of selecting five finalists to attend the 2013 GrandPrix Advertising Strategies event in Milan on May 29th. The audience of the GrandPrix Strategies voted live to select one video as the grand prize winner, the creators of which received a €5000 scholarship! Stay tuned for our video upload on the event and recap the awards ceremony on Twitter with the hashtag #iChange.
Download the press release and view pictures from the event. Without further ado, the finalists of the iChange competition are...
iChange Grand Prize Winner
  "What's More Precious?" by Nadia Asfour, Selina Chaouki, and Elias El Hage, Lebanese American University
A young woman comes home to her boyfriend and finds that he is saving water...with a twist.
iChange Finalists
  "Simple things you can do to help the Earth" by Mathilde Sahlen and Ulrikke Nordseth, Oslo National Academy of the Arts
A short animated movie about small things everyone can do to help slow down global warming. If everyone does a little we'll achieve a lot!
  "The Tap" by Rolando Berry, The Mahindra United World College of India
We always look for the one who will get the sword out of the stone. What we never get to realize is that this is everyone's job, and can only be done together as a whole.
 "Climate for Change" by Connor Botkin and Marco Arena, University of East Anglia
What if we saw climate change as an opportunity to transform and improve our lifestyle? Whether it is pushing for cleaner energy or limiting practices that lead to the destruction of our precious forests, through individual action and the collective effort we can act for a healthier, more sustainable future.
  "Global Warning" by Nadia Morghen and Marco A. Piccinini, Centro Sperimentale di Cinematografia - Sede Lombardia
iChange Video Submissions
The entire Connect4Climate staff is grateful to all of the teams that entered the iChange competition. We would like to thank each of you for the hard work and initiative you showed by creating moving, humorous and inspiring films to encourage climate action worldwide. Below are your video submissions in a playlist.
Panel of Judges
We also would like to extend our thanks to the iChange panel of judges. Your hard work and dedication have made the iChange competition possible. The iChange jury includes: 

  Donald Ranvaud, Producer - iChange Jury President

  Rachel Kyte, Vice President for Sustainable Development, World Bank Group

  Don Edkins, Executive Producer, Why Poverty?

  David Forrest, Producer, Completion Bond

  Freddy Paul Grunert, CEO, Selph2 

  Sandy Lieberson, Producer, Film Studies Professor

  Hamish McAlpine, Producer & Distributor

  Peter Mettler, Film Director & Cinematographer

  Rick Rockwell, Director - Internationational Media, American University School of Communication

  Luciano Stella, Producer, Distributor

  Alberto Contri, President, Pubblicità Progresso & Lombardy Film Commission

  Gianluca Favro, Country Manager - Italy, DLB Group Worldwide

  Nicolò Bongiorno, Director & Screenwriter

  Herve de Clerck, Founder, AdForm & Dream-Leader, ACT Responsible

  Mario Zanone Poma, President, Mediocredito Italy

  Ugo Nespolo, President, National Cinema Museum of Torino

  Piero Chiambretti, Actor

  Greta Scacchi, Actress