The Sport4Climate initiative capitalizes on the universality of sport to unite athletes and fans alike in support of a sustainable future.
Athletes and sports professionals have a uniquely intimate relationship with the climate. To train or compete, skiers and snowboarders need snow. Bicyclists and soccer players need good weather. Runners and surfers require particular conditions for training. This is why so many athletes are signing on to spread the word about climate change, and advocating that governments, business leaders, and everyday global citizens act now.
Banner image courtesy of Tom Perry.
A Track Record of Inspiring Climate Action
Sport reaches billions of people in an emotional way, by raising passions, interest and imagination. Sport can influence human behavior and provide an outlet for letting off steam. It can encourage social cohesion—bringing communities together often across ethnic, religious and social divides. And it often reflects our relationship with the natural world, with our environment.
Sport4Climate came into its own in the summer of 2016 as Connect4Climate Ambassador Fernando Meirelles was directing the Opening and Closing Ceremonies of the Rio Olympics and focused the festivities on climate. "Climate change and the depletion of natural resources need our attention and the Olympics Opening Ceremony is a wonderful opportunity to shed light on this subject."
Connect4Climate joined forces with Forum Das Americas for a symposium at the start of the Olympics for which a group of athletes endorsed the need for speedy climate action and finishing with the launch of the 1.5C campaign with the tagline "The record we must not break" by another Connect4Climate Ambassador, Brazilian pro-surfer Marina Warneck.
It was, however, none other than Pope Francis, a fervent soccer fan, who kicked Sport4Climate off in 2014 when he hosted the Match for Peace in Rome, at which Connect4Climate distributed awareness leaflets among the fans.
In the ensuing years, Sport4Climate joined forces with marathon runners, cyclists, mountain bike enthusiasts, more soccer players, windsurfers and other athletes, as well as international organizations such as FIFA and trade groups including the Green Sports Alliance, to help give voice to the many in the sporting world who want to take action on climate.
The emergence of Formula E auto racing and the vital research it undertakes to help finesse battery power and advance electric mobility technology matched Connect4Climate's championing of new forms of energy and clean mobility, and so Sport4Climate has helped promote the valuable work Formula E is doing by increasing the sport's visibility and supporting the documentary film "And We Go Green."
For Surfrider Foundation Europe's 2019 Ocean Pavilion, an event aimed at driving home the importance of protecting our natural marine resources ahead of August's G7 Summit in Biarritz, France, Connect4Climate joined forces with surfers Victoria Vergara, Conor Maguire, Mike Lay, Roberto D'Amico, and Arthur Bourbon for a climate-positive "Let's Ride This Wave Together" campaign.
Sport4Climate is also putting its support behind a new sport, FXC Fireball, a breathtakingly fast all-gender ball court sport rapidly gaining support around the world (while taking care to keep COVID-compliant). Fireball is all about selflessness and collective action, and it aims to foster a sustainable mindset among both players and fans.
Next up, #Sport4Climate will also be a competition! As part of the 2021 D&AD New Blood Awards, Connect4Climate is challenging advertising students around the world to come up with a campaign to promote Sport4Climate, especially among the fans.
In 2018 the United Nations Climate Change Commission (UNFCCC) strongly endorsed the importance of Sport4Climate by entering into important agreement with the International Olympic Committee (IOC), the World Association Football Federation, FIFA, and six other sports institutions, for a Sports for Climate Action Framework.
"With its global reach, universal appeal and the power to inspire and influence millions of people around the globe, sport is uniquely placed to drive global climate action and encourage crowds to join in" noted Prince Albert II, chair of the IOC's Sustainability and Legacy Commission.
This was a significant call to action which Sport4Climate wholeheartedly endorses, and with your support aims to build on by creating networks of influencers throughout the world of sport to energetically root for sustainability. Join the team!
Sport4Climate Champions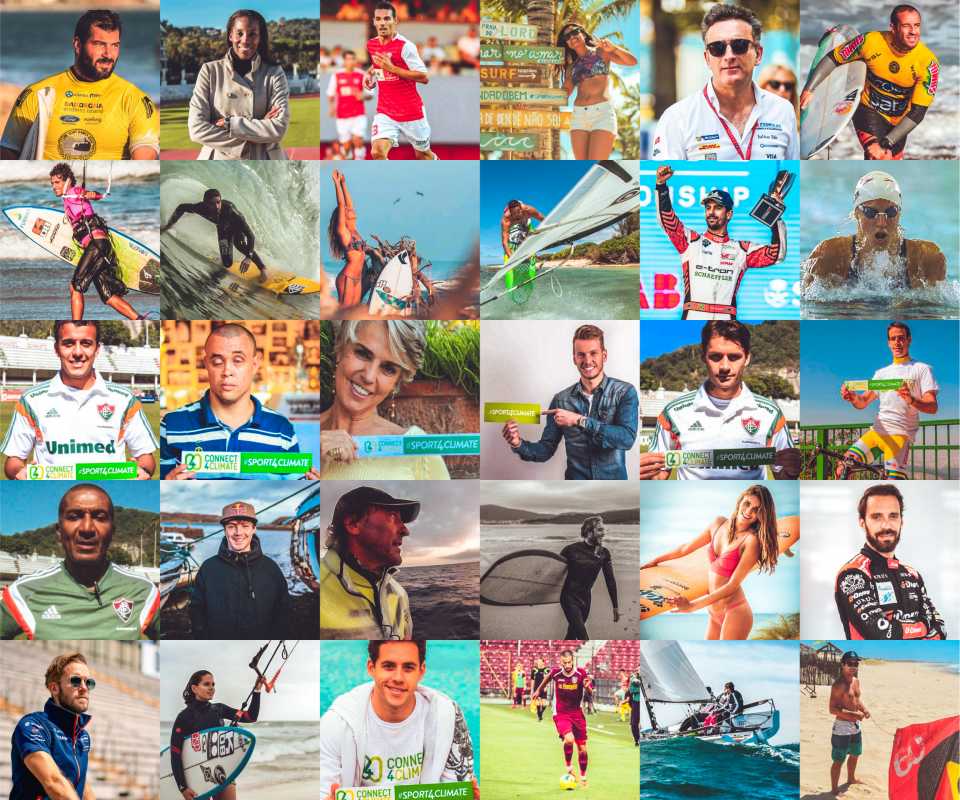 #Sport4Climate brings together athletes from all disciplines to push as a united front for climate action at the individual and national levels.
"Connect4Climate is an amazing project to encourage and open people's eyes to our planet's sustainability issue. I feel honored to be able to be part of this project, and to support the cause for a cleaner and healthier planet." -Filippe Ferreira, kitesurfer
"I would like to see all Olympic athletes #Uniting4Climate because climate change affects all of us. We need to do more to protect our oceans for the future generations." -Allison Wagner, Olympic Medalist swimmer and former World Record-holder
"We, football players, ask all the nations in the world to make clean energy available, because Fluminense plays clean." -Rafael Sobis, footballer, Fluminense FC
"I pledge to lead by example and adopt a sustainable lifestyle; learn more about climate change and teach others how to tackle it with environmental solutions." -Marina Werneck, pro surfer, Brazil