The Film4Climate initiative is dedicated to greening the silver screen.
Established as a natural follow-up to the extraordinary success of our Action4Climate documentary film competition, Film4Climate is a global campaign committed to developing a concrete plan to mitigate the environmental impact of film production as well as raising awareness about climate change through cinema.
Our initiative to green the film industry has a dual purpose: To reduce the environmental impact of film production - making a movie, especially a blockbuster, produces massive amounts of greenhouse gas emissions; and to spread climate change messages through cinema. Messages are woven into an engrossing story on the big screen changes minds, and hearts. The objective is two-fold:

  Unify the film industry under one globally recognized standard for sustainable productions

  Develop a global commitment from industry signatories who pledge to meet the standard, reduce the environmental impact, and participate in encouraging climate change awareness and action
Already counting on the support of over 160 film industry organizations, the Film4Climate campaign has held workshops with producers and directors at the Palm Springs, Chicago, Cannes, Guadalajara, Venice, and Reykjavik film festivals. It has also organized screenings and discussion of climate-conscious films at many other relevant venues, including the World Bank Group Headquarters.
Context
Born as a natural follow-up to the success of the Action4Climate competition, the Film4Climate global campaign spearheaded by the World Bank Group's Connect4Climate initiative is a commitment to develop a concrete plan to mitigate the environmental impact of film production as well as raise awareness about climate change through cinema.
Film4Climate was devised during the Greening the Silver Screen climate change workshop with Oscar-nominated film directors held at the Palm Springs International Film Festival Director's Retreat in January 2014. Organized in partnership with the Annenberg Retreat at Sunnylands, the 3-hour workshop was led by Connect4Climate Program Manager Lucia Grenna together with Marc Forster, renowned director of hit movies as The Kite Runner and World War Z and committed climate change activist. The conversation focused on the role of cinema in raising climate awareness and highlighted the need to explore further ways for the industry to address climate change.

In early 2014, Connect4Climate established a successful partnership with Sony Picture Television's multi-platform entertainment network Crackle and the Fluminense Federal University (UFF) in Niterói, Rio de Janeiro, to launch the Cinema Green Project, a series of five short films airing on April 22nd exclusively on Crackle's platforms in Brazil. At the Berlinale, February 2015, Connect4Climate announced its intention to launch the Film4Climate initiative.
Film4Climate was officially launched in March 2015 at the Guadalajara International Film Festival. The discussion ignited concrete proposals for actions to reduce the environmental impact of film productions and to raise awareness about climate change through films, including the first "Film4Climate declaration" prepared and endorsed by a committee of Film4Climate representatives.
After successful events and discussions at Cannes and other major film festivals around the world, last December we presented our Film4Climate Charter at the historic United Nations Conference on Climate Change COP21 as an example of how an industry can make a serious commitment to tackling climate change.
Why Film?
Cinema plays a fundamental role in directing massive attention to social issues and shifts in thinking. Recall Erin Brockovich, Hotel Rwanda, Blood Diamond, or Syriana. Films can also mobilize people to demand to change themselves. Think Norma Rae and Philadelphia.
Just as important, the film and entertainment production industry employs millions and traditionally consumes vast amounts of energy and resources with productions around the world. We think it's time for a global creative and influential alliance to tackle the climate crisis.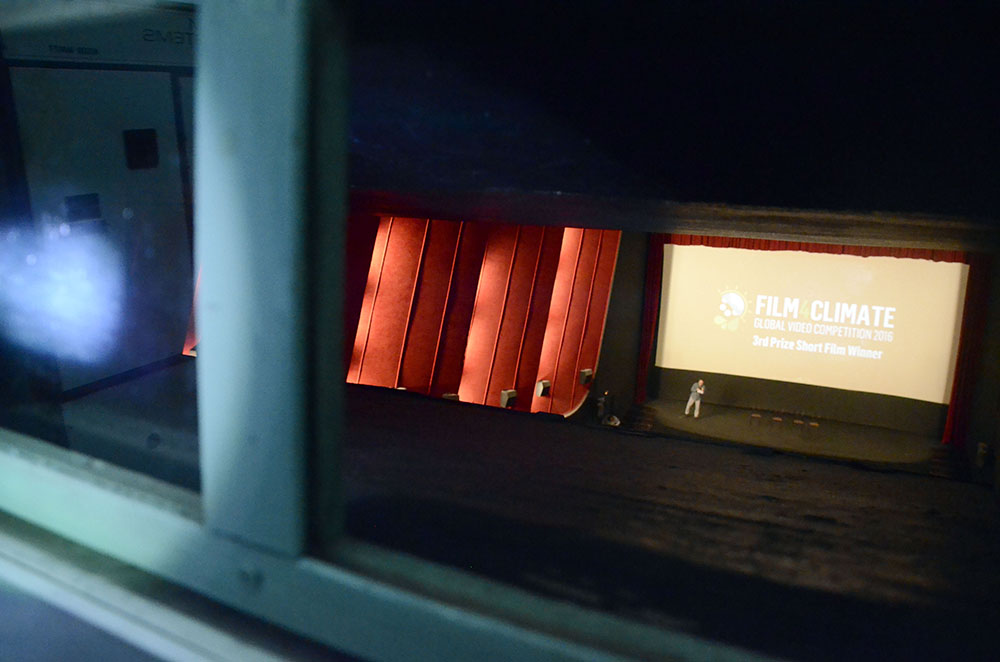 Photo Credits: Max Thabiso Edkins / Connect4Climate
Film4Climate Partners
Over 160 organizations from all over the world have already joined our knowledge partnership program in support of greening the film industry, and the number is growing fast. 
The Film4Climate knowledge partnership's goal is for partners to work together and share their experience, knowledge, tools, and best practices to achieve a more sustainable film industry and encourage greater climate awareness. Partners can be as active and engaged as they want, or simply endorse the scope and goals of the initiative.
Download the latest list of partner (updated December 2015).
Action4Climate Competition
The Action4Climate short documentary competition received more than 230 films from youth representing 70 countries around the world. Their stories show a new world of climate impacts, solutions and actions to address one of our generation's most significant challenges.
Watch the inspiring winning entries on Action4Climate.
Film4Climate Global Video Competition 2016
Connect4Climate received 860 inspiring climate change solutions stories on video from young people of 155 countries that raised their voices through the Film4Climate Global Video Competition showing that it is possible to take on climate change. We genuinely believe that young people can alter the course of history and Connect4Climate is exceptionally proud to be their platform, by helping them transform the planet. As so we are truly pleased to award them for their incredible work, creativity, and time invested solving climate change.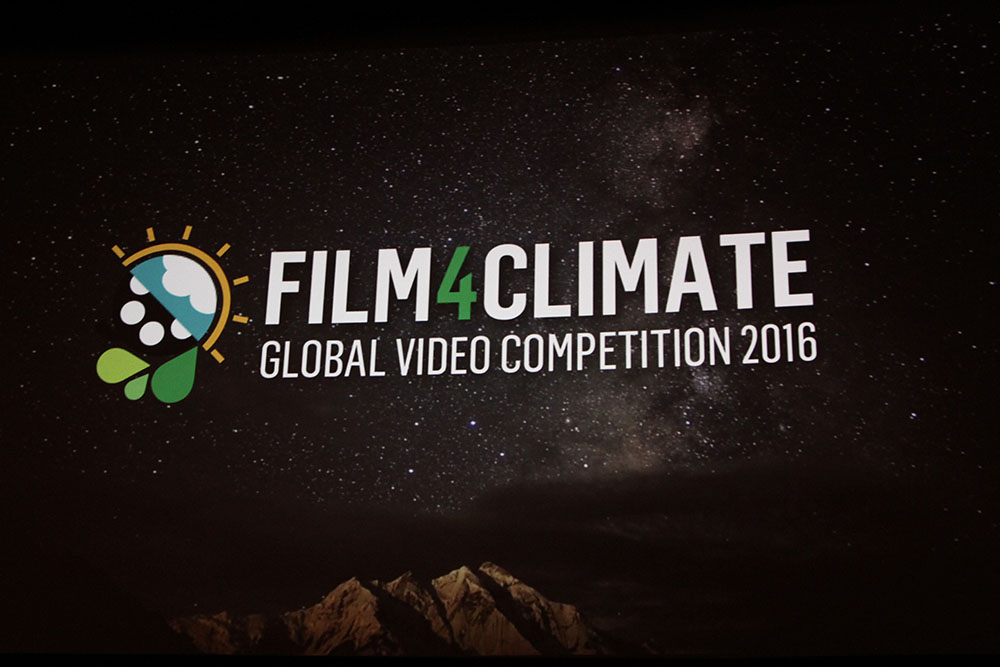 Photo Credit: Eric Mann
The winners were announced at the United Nations Climate Conference (COP22) at a day celebrating the power of youth, cinema and the creative industries to generate climate action and tackle climate change.
Watch here all winning entries.
Meet the Film4Climate filmmakers
Youth from around the Planet submitted their Film4Climate stories in a global call for climate action. Emotional, powerful, solutions-orientated films to inspire individuals, organizations and world leaders to take action on climate change, and build a greener future.
Who are these young filmmakers? What inspired them to tell a story on this global issue and share it with the world? To better understand their background, willing, and expectations, Connect4Climate presents you a series of interviews with some of the Film4Climate Global Video Competition winners.