165 video pitch submissions from 55 countries. Virtual Reality is a new medium that is still unfamiliar to many and so we are very pleased to get such a substantial volume of entries from a wealth of diverse backgrounds and age groups.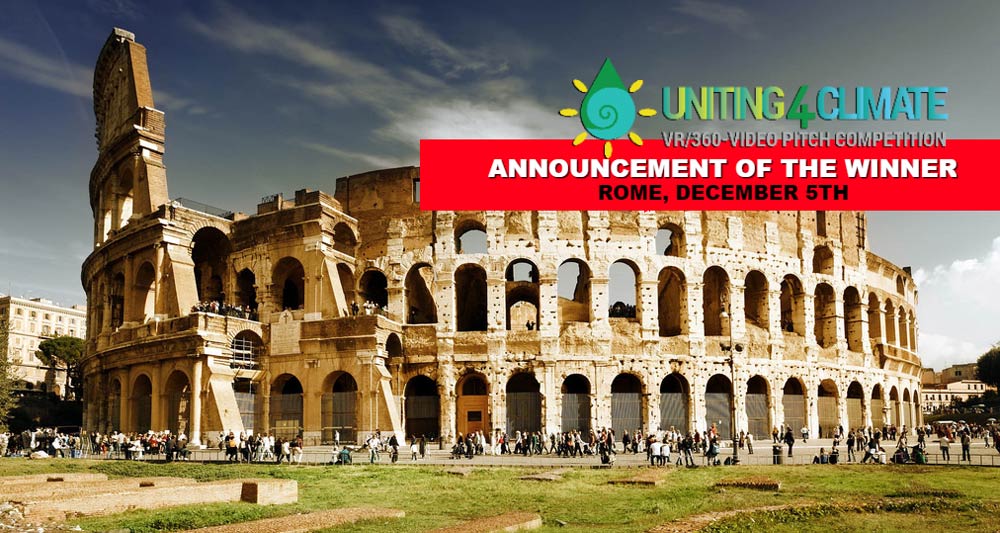 Follow LIVE on the Connect4Climate Facebook  


Connect4Climate is delighted to give a chance to everyone to share their climate stories and messages with #Uniting4Climate by adopting new, inclusive trends to communicate climate change on a global scale. We would like to thank all the participants who clearly put in a lot of time and thought into their VR pitch proposals. The submissions will now be assessed by a distinguished jury of preeminent directors, artists, activists, and political leaders.
The aim was to enable the broadest possible international participation for creative people with a passionate interest in climate change action and solutions, but also an appetite for exploring the VR production experience.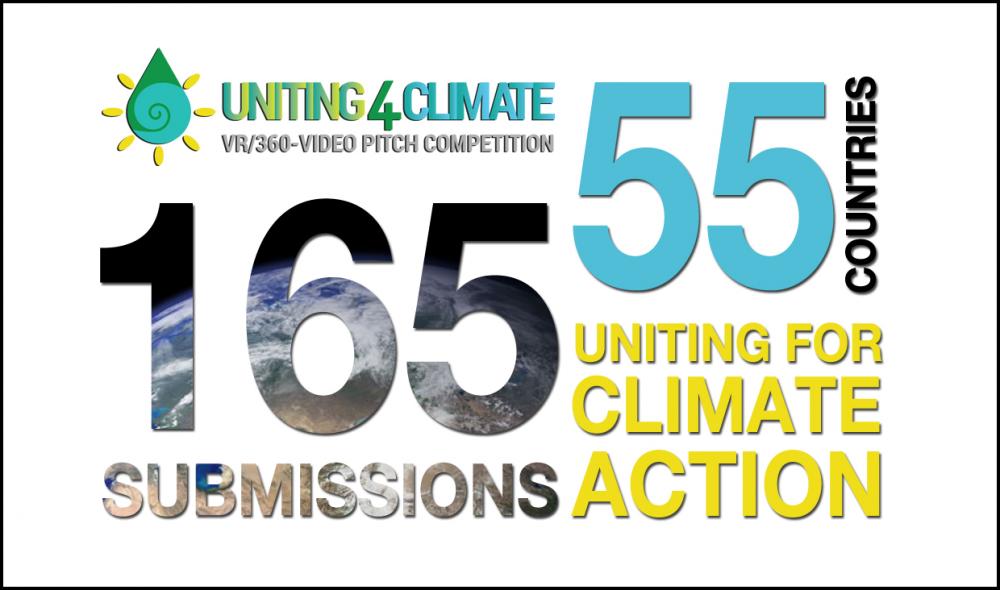 Virtual Reality is becoming the exciting new technology, and Connect4Climate has aimed to play a decisive role in developing compelling, inspiring ways to take on climate change. Competitions like #Uniting4Climate featuring cutting-edge technology platforms and devices are a clear sign of how communication on climate change has evolved to engage with a broader, diversified audience. VR has the power to put spectators right into different environments and situations by merely being immersed in a 360-degree video showcased right before our eyes.  Actualities such as extreme poverty, refugee crises, and climate change impacts experienced by many in communities around the world, can now become now more realistic to all. People can see through their eyes what is to live in such extreme realities. It can be game-changing. Here also could be the needed trigger to get people to take action, get out of their comfort zone, and make thoughtful actions and responses whether at work, in the polls, or through their daily routines.
"Virtual reality creates a form of empathy. It has a more dramatic effect. Virtual reality is very good at giving the sense of scale, of how big the problem is. It humanizes numbers. It is not storytelling. It is story living
," 
Gabo Arora
, VR creator and Creative Director at
Lightshed
, and also a jury member of the Uniting4Climate VR Competition, stated during the
webinar on the power of VR to tackle climate change
, live-streamed at the
Connect4Climate Facebook page
.
Prestigious film festivals have now put VR in the spotlight. This year's
Venice Film Festival
featured a VR island in where people could watch an array of VR videos while comfortably seated on soft, swivel chairs. In fact, Connect4Climate
unveiled
the Uniting4Climate Virtual Reality Competition in Venice taking into account the impact VR may have on the creative industries.
Some insights about the Uniting4Climate competition
Out of the 165 video pitch submissions, 40% were sent in by female participants and 60% by male participants. Average age is 35 years old. Regarding world regions, Connect4Climate received the most submissions from Europe and Central Asia (27%), then followed by Latin America and Caribbean (24%). Third on the list is Sub-Saharan Africa with a total of 24 submissions (15%) followed by North America (14%), East Asia and Pacific (8%), South Asia (8%), and MENA region (4%). The data makes it clear climate change affects everyone regardless gender, age, social status, or region.
The Uniting4Climate VR/360-Video Pitch Competition will give a chance to the lucky winner to put their idea into production, and perhaps to realize a dream! Stay tuned!
Meet the finalists

Connect4Climate is delighted to unveil the Uniting4Climate VR/360-video Pitch Competition finalists:


​  Ancient Trees
VR/360 video proposal: Immersive 360 documentaries have a unique ability to transport an audience and evoke emotion in a more profound way than any other medium. 
The first time our director stood at the base of a massive 1000 year old tree, a wave of awe-struck silence washed over her. The power of standing in the presence of something living on this earth for so long is humbling, and puts a lot of things into perspective. 
The idea behind this documentary is to transport people to areas of the world where they may never be able to travel to experience the feeling of standing in the presence of these incredible trees and surrounding forests. 
This will be followed by sharply contrasting scenes where the viewer will then find themselves standing in the midst of mass deforestation. The ending will be footage of people around the world planting different trees in their respective countries. There will be no words, only music. Ideally it will be accompanied by an original score.  
We have already begun filming and are looking for a partner organisation to work with. One of our team members already travels widely in North America and Europe for work and will handle all necessary shoots in the US and European countries with a ZCam S1. Another team member has just set off on a world tour and will be making time on her route to capture footage in other countries in Asia and Africa, so the logistics are entirely feasible. All of the post production will be done in the UK. 
Our goal is to foster a deeper respect for nature in people, to highlight the impact of rampant overconsumption, to make people question their own daily consumption habits, and to provoke an emotional reaction that might inspire them to take action.


​  Choices - Meet Your Footprint
VR/360 video proposal: Years ago, while visiting Copenhagen, I happened upon a gigantic 10m-wide balloon set up by an environmental group to show the actual volume of one ton of C02, the approximate GHG emissions created by one round-trip flight from Europe to the US. 
The sheer size of the balloon shocked me—  I knew that flying was bad for the environment but to see it illustrated in such a concrete way made an impression on me that lasts until this day and still influences my behaviour.
Now, one of VR content's greatest strengths over traditional media is that it doesn't hide its subjects behind a frame, it places viewers face-to-face with them in a very tangible, life-sized, and realistic way.  As such VR is an excellent tool for helping people visualise the the enormous, and mostly hidden, impacts that their choices have on our environment.
Our idea for the Uniting4Climate VR/360 Video is to put viewers into the shoes of someone making a  series of everyday consumption decisions, from buying a new shirt, to ordering a meal in a restaurant, to planning their next vacation, and show them the environmental footprint of the options they are considering: the water use, the biodiversity loss, and finally the GHG emissions. 
Should I have a hamburger or a chicken burger? The answer will become obvious as the viewer is virtually transported from the restaurant they are sitting in to a field showing just how much arable land is needed to produce each of these meals. To further drive the point home, the viewer will be confronted with a life-sized objects representing the volume of the the C02 emissions for their choices. For further impact,we could illustrate the impact in terms of per capita carbon budgets of those in less developed countries.  Going to the Japan for Christmas?  That will create the GHG equivalent of a resident of Bhutan living for a year, as visualised in a VR time-lapse.
We are experienced VR creators (
www.rhrn.ch
), and have a good idea of what works in VR as how to make it happen. We'd love to collaborate with you to turn this vision into reality.


​  Climate-VR
VR/360 video proposal: When designing this proposal, I continually asked myself: How can we use virtual-reality (VR) to communicate the urgency of climate change as effectively as possible? How can we ensure that by using VR, we are creating lasting engagement with climate change and motivating action? How can we promote positive social values, whilst 'Uniting4Climate'?
My name is Niall and for this competition I have developed 'Climate-VR' – a new 360/VR experience that pushes the boundaries of climate change engagement to a new level.
I am a Ph.D. researcher, specialising in the psychology of communicating climate change. My research is all about understanding how we can boost public engagement with climate change by understanding narratives, images and psychological principles.
What I have come to realise is that we have often failed to communicate climate change in ways that resonate with different types of audiences. Communicators typically rely on ineffective messages, framing climate change as an environmental disaster, very distant from everyday concerns (think polar bears and melting ice caps). These types of messages might work for some people, but generally they are easily deflected and can decrease motivation to act.
This is why I am proposing Climate-VR – an experience of climate change, unlike any other. Climate-VR is unique in that it is personalised to each viewer, offering a powerful, beautiful and immersive experience of climate change, based around real-life aspirations and the power of human stories.
Through four different stories, Climate VR is tailored to the 'values' of each viewer. It connects climate change with what we really care about. To promote positive actions, viewers are prompted to pledge three simple behaviours to mitigate climate change. Afterwards, further engagement is fostered though discussion and educational activities.
Climate-VR can be developed quickly and simply, according to whatever budget is possible. It is flexible, as it can be refined to more basic elements, or developed further, enhancing it's capacity for tailoring and personalisation. I have also developed strategies for marketing, to ensure Climate-VR reaches a truly wide audience.
Furthermore, if produced, I will incorporate Climate-VR into my on-going research, in order to investigate its power to change actions and attitudes, through scientific testing.
Together, I believe this proposal offers a new, powerful approach to climate change communication, which could promote large-scale engagement with climate change.
I urge you to support Climate VR.


​  Eco-friendly habits: everyday, everyone
VR/360 video proposal: The world is facing a serious challenge in climate change. However, the drivers of climate change are extremely complex, and no single action or solution can resolve the issue.
To have real impact, it is important to unite globally and drive the kind of multiplicative change that can only come from lasting, behavioral changes on a massive scale. Our proposal therefore is not focused on any single action but on driving behavioral change in our everyday lives by creating awareness of the impact of our daily actions and choices on the environment.
We propose an informational, immersive and interactive Virtual Reality experience that enables a viewer to traverse a series of spaces, just as they would during their daily lives – a bathroom, a kitchen, a dining room, a car, an office building, a restaurant, a grocery store etc. However, in each space that they enter, they will have the ability to make choices by interacting with objects in that space and learning about the environmental impact of those objects and their choices.
For example, by interacting with a toilet paper roll in a bathroom, the viewer would realize that almost 27,000 trees are wiped out a day worldwide due to flushing down toilet paper. Or by interacting with a sausage at a restaurant table, the viewer would realize that a single pig farm generates the same amount of raw waste as a city of 12,000 people.Not only will the viewer be informed of the environmental impact of each choice, they will be able to view a running "environmental score" based on the choices they make. At the end of the video, the overall environmental impact of their choices will be displayed.
When we wake up in the morning, we do not think about whether we need to brush our teeth. We do it because it's a habit. Similarly, no person on the planet should have to think about making eco-friendly lifestyle choices. Choosing eco-friendly products, optimizing the use of electricity and water, disposing products responsibility – all of these actions should become habits. Only then, can we drive the kind of multiplicative impact that is needed to affect real change.
We believe our Virtual Reality experience will be effective in achieving this goal because it is fun, informative, immersive, interactive, and can be distributed widely at conferences, online and on the Oculus and HTC stores.


​ 
Facing the Front Lines
VR/360 video proposal:
Through immersive cross-cultural storytelling, Facing the Front Lines will transport audiences around the world to spend a day in the life of local climate activists endeavoring to unite their communities for conservation and climate change adaptation. 
The Team 
International field educator Matt Colaciello will team up with established VR directors Fifer Garbesi, Martin Edström, and Tasha Van Zandt to create three 8- to 10-minute pilot episodes, one with each director. Colaciello's longstanding collaborative partnerships with local communities around the world, and his ability to speak many of their languages, will provide a uniquely personal point of departure for each production. 
Content 
In Indonesia, the first episode will focus on the human implications of coral bleaching, mangrove loss, and sea level rise by immersing audiences in the world of Nusi Mursi, an environmental journalist from Wakatobi National Park. Her work to bring together her region's coral reef-dependent indigenous people, her island's youth, and marine park officials exemplifies the challenges and benefits of uniting communities for climate action through locally produced media. 
In the Himalayan region of Ladakh, the second episode will explore how glacial recession and water scarcity are driving local innovations in environmental engineering—and the challenge of getting those innovations to the most vulnerable communities. It will take audiences on the journey of professional hockey player Chamba Tsetan as he returns to his parched village to work with the community to implement a newly developed method for building artificial glaciers. 
In the Brazilian Amazon, the third episode will delve into how deforestation and unprecedented droughts are moving indigenous communities and local governments to forge historically unusual partnerships. The episode will follow Francisca Arará, head of Acre's indigenous educators association, as she navigates civil society and government to build local and international partnerships to keep her community's rainforests standing. 
Audience and Outreach 
Facing the Front Lines will appeal to anyone interested in human stories of local-level climate action but will be geared specifically towards educators and students. Each episode will be accompanied by links that provide social and scientific context. Our hope is to bring the series to secondary schools, universities, and climate change events around the world. 
Let's Do This! 
Together, our team, Connect4Climate, and Vulcan Productions can create what we hope will be the beginning of an ongoing VR series that inspires audiences to face the front lines of climate change arm in arm with their fellow human beings.


​ 
 Food Waste and Climate Change
VR/360 video proposal:
 In a VR journey let's follow the life of a "roll of bread", from the day is baked to the day it is disposed.
The USDA's Economic Research Service estimates that in the United States alone food waste is estimated at between 30-40 percent of the food supply. In 2010 this corresponded to the staggering amounts of 133 billion pounds and $161 billion worth of food. The rest of the world if following suit. 
Food waste has far-reaching impacts on climate change:
- A ton of food that could have helped feed families in need is sent to landfills. 
- Food needs energy to be produced, refrigerated and cooked
- Meat is the food that produces the most green gases
- The land, water, labor, energy used in producing, processing, transporting, preparing, storing, etc generate impacts on the environment that do endanger the planet.
- Food waste, quickly generates methane, helping to make landfills the third largest source of methane in the United States. 
By experiencing the food waste in VR people will hopefully learn to be more conscious of the problem and will start act differently.


​  Marine Conservation through Experiential Learning
VR/360 video proposal: Background: Environmental education is becoming increasingly crucial for changing a student's commitment, motivation and behaviour towards becoming a partner in sustainable development. It is difficult to drive change as students feel that environmental issues are not relevant to their immediate lives. Students have rarely experienced nature, out in the wild, so how can they be expected to feel for and work towards its betterment. Schools do attempt to introduce the relevancy of environmental issues in different ways but most of these issues are taught in class rooms so they fail miserably. Moreover, awareness alone, does not lead to any change in behavior for environmental conservation. This will only happen if children experience nature. Experiential learning through the use of 'place based' strategies help children bond with nature and it is the most effective way to pursue environmental education. While the strategy of experiential learning has been proven to be extremely successful especially to ensure that students work towards the healing of the planet, it proves difficult, especially in India. Taking students on field trips or even outdoors is extremely difficult due to logistical, safety and cost related issues. Especially in marine related learnings, underwater ecosystems can never be experienced through mere visits to the beach. Experiential learning is completely missing in marine biology and marine conservation. Therefore, there is a total apathy and neglect in protecting marine ecosystems. Through this project we envisage an innovative approach to bridge the gap in experiential learning for marine related experiences. 
Project Concept: CERE (my NGO) proposes to design a unique learning experience for students to interact with and learn about marine ecosystems in a real life 'place based' situation. This undersea experience would be created through technological advancements like virtual reality. Mobile buses would be fitted with devices capable to creating a virtual reality that would allow groups of school students to travel to the depths of the sea. It would help them better understand the concepts of Climate Change, Global warming, the effects of pollution on marine flora and fauna and their role as proactive citizens to help protect marine ecosystems. These educational buses would travel across districts in India bringing to school doorsteps an experiential learning of marine ecosystems. It would not only create in students a sense of awe and wonder about marine life but help them build strategies to help protect it.


​ 
North Pole - The Last Frontier of Climate Change
VR/360 video proposal: The 2nd North Pole expedition of the the World Arctic Fund, an NGO from Berlin, sets sail in Summer 2018. On board the 2 ships will be a crew of over 30 people with scientists, volunteers and journalists conducting and covering the experiments of the 4-week journey.
This 360° film would create an immersive experience, allowing people worldwide to become part of the expedition, to see the beautiful and precious ecosystem and its threats.
In VR, you see first hand why the Arctic is so important for climate change, because changes in the Arctic occur first and strongest before appearing in the rest of the world. The viewer becomes an explorer and scientist himself both above and below the water, guided by a narrator.
On the VR journey, the viewer can choose himself where to go thanks to a branched storytelling narrative. The film will cover topics like plastic and nuclear pollution, the melting of the ice and the resulting rise in sea water level, as well as the acidification and reduction in marine flora and fauna. Yet, it will also feature the positive sides to inspire viewers and show ways in which we can and already are trying to clean and restore the ocean and its marina flora and fauna.
A large media outreach supported by leading media partners and over 60 worldwide partners will ensure many people experience the expedition and the 360° video. Partners include the Jean-Michel Cousteaus Ocean Futures Society, the Bianca Jagger Human Rights Foundation, the British Antarctic Survey, the Nuclear Age Peace Foundation, and many renowned universities.
Call to actions will supplement the campaign to make the project stand out. With this project, we want to combine 360° documentary footage about tackling climate change with an interactive VR experience, in which the users become players and can take action deep down in the sea beds. Not only is that an area where no 360° camera can go, but the VR Experience puts the user in an active role to explore the marine flora and fauna and to learn about the influence of climate change and pollution by e.g. microplastic on the marine food chain.
Research shows that interaction in VR enables people to understand matters more deeply because they experience them for themselves. Therefore, we think this combination will have a big impact. The VR experience is already available as a first demo.


​ 
Oasis
VR/360 video proposal:
 SUMMARY  For us, this is something we feel passionate about. Aside from raising awareness of the freshwater resources, we think it's crucial to introduce practical ways to save water. Optimally each presented solution would be linked to external sites to encourage to act today. 
STORYLINE 
A bee(the viewer in 360) is given a quest by the queen: the hive needs special pollen to survive.We learn it is only found in red flowers in Namaqualand (an area in the Western Cape). The bee flies towards the sky showing us an aerial view of rooftops of dry farmlands and empty riverbeds, searching for the flowers. Where it used to be water, is now dry.
We hear the echo of the queen bee's voice. The sun is high in the sky. Struggling over one last hill, the bee flies over a dry urban area. Surprisingly, one house in the town has a lush garden. We fly down to drink from the bird bath and rest. The garden is beautiful and full of red flowers. 
We see a family living a normal life saving preserving water at the same time. At this point, the viewer can select a family members to explore specific ways they save water. The viewer first decides to follow the father preparing meal using minimal water. Later the son is adjusting the rain tank on the roof before taking shower. At th he daughter washes a dress in the garden. She hangs it on the line and takes the basin to her mother. The mother is gardening and she pours the soapy water on the flowers.
After getting the pollen the bee raises above the neighbourhood becoming green one house at a time. Then it turns to fly home towards the hive, another symbol of community spirit.
In the experience viewer can choose the prefered storyline or in social media platform the storyline is pre-selected based on available data. Each solution has a call for action link to start the change now!


​ 
Off-Grid Integrated Farming
VR/360 video proposal: Off-Grid Integrated Farming Unit
10;25 SOLUTIONS  has developed a fully integrated farming module that will generate small scale off-grid energy using biomass and at the same time produce crops purely organically for food security and income generation in rural communities. The off-grid mini biomass plant will generate 10KW of electricity which would support a 4hectare farm, power at least 30 homes and also provide electricity to small scale businesses in the community. The energy plant will also provide clean cooking solutions that will improve the cooking conditions of women, it will be smokeless, friendly to the environment, will cook 90% faster than the conventional wood fire. As a result of usage, low income households will be able to save time/finance thereby generating extra income and at the same time, reduce activities of deforestation. The bio-mass plant will be used on the farm to power water pumps, move water through irrigation lines, cool internal cold storage areas and support the charging of auxiliary needs.
This off-grid integrated farm will localize food production, cut off dependency on rain-fed agriculture which too often limits growing seasons. By introducing greenhouses and open field production, we will extend the growing season and better support different kinds of crops throughout the year, thereby increasing food sufficiency for the host and neighbouring rural communities.  Clean water will also be supplied to the community as part of the project.
This project will bridge the "poverty" gap by providing appropriate technologies and training that can help the resilience of communities, increase and stabilize their farm productivity, increase the availability of healthy nutritious crops, provide low costing agricultural commodities and through increased production, boost the income levels, while stimulating economic growth of these communities. Our crops and animals will be grown purely organically, no GMO, no steroids, no chemicals, no growth hormones, making sure we supply healthy and fresh crops to our customers in a consistent, timely and affordable manner. In the long run, a Wi-Fi installation will also turn the project into a connectivity hub, enabling local communities to connect online and have better access to information and contribute directly to local jobs and economic development. Our online presence will make it possible for anybody to order our commodities from anywhere in Nigeria and have it delivered to them in the comfort of their homes.


​ 
The Great Polish Forest
VR/360 video proposal: 
You don't have to go far to realize the impacts of climate change. We read about sea level rise from Bangladesh to Brazil, with difficulties of understanding the impact for us at home. Home for me is Europe - home to beautiful fields, lands and striking forests.
My beloved Europe, a continent with about 50 countries and each country having its own language, culture and nature; a union set up with the aim of ending the frequent and bloody wars between neighbors. Why do we need a reminder of all this, pitching a VR story about the unity for climate change? Because every local story, ties into the big picture of a global problem. This includes the international efforts to tackle climate change, through robust policy-making at home.
I want to focus on the unity of people from all the different countries, that devote their love and passion to combating climate change. In the spotlight Europe's last primeval forest, the Bialowieza in Poland. Covering a total area of 141,885 hectares. The forest is a Unesco World Hermitage site, a relic of ancient woodlands, at the border of Poland and Belarus. Bialowieza Forest is an irreplaceable area for biodiversity conservation, due in particular to its size, protection status, and undisturbed nature. Want to see a bison and a Syrian woodpecker? Or climb ancient trees with activists, and get inspired to act on a local level? Or feel part of a community and experience hope because you learn the value of problem solving in your own region? Then follow me, scientists, and environmentalists from all over the world into the magnificent forest of Bialowieza.
Immerse into meadows, wetlands and river corridors. Figure out how you can help to protect the UNSECO heritage site, that is in danger due to new polish government policies. The EU ordered that all logging in the forest, which is home to protected habitats and species, be immediately suspended. Despite all the efforts, the polish environment ministry is allowing the cut down of large swathes of trees. They say they are protecting the forest from the infestation of the bark beetles - but ecologists say the government is acting in the interest of the logging industry. 
Deforestation has a huge impact on our climate. Considering COP24 takes place in Katowice, Poland, where my family is from, this an opportunity to inspire local action on a global stage.


​ 
The Thin Green Line
VR/360 video proposal: SYNOPSIS
Israelis, Palestinians, and Jordanians come together to overcome the region's fresh water crisis - a challenge exacerbated by climate change that can increase social tensions and spark conflict - and lead  their communities on a path of cooperation, creating an opportunity for peace.
WATER IS LIFE
The Middle East is one of the most water stressed regions in the world. Water scarcity interacts with other socio-political factors bringing even greater instability to the region. 
Ground zero is the River Jordan, the shared holy waterway for Christians, Muslims and Jews. 
NARRATIVE GUIDES
Gidon (Israeli), Nadeer (Palestinian), and Munqeth (Jordanian) are working together with EcoPeace to overcome the challenges posed by the crisis. VR immerses us into this trinity of hope, faith, and trust as our characters poetically tell their story.
LOVE THY NEIGHBOR
If we understand our neighbor, we won't fear them. If we don't fear them, we will dialogue and find common cause. VR creates a vehicle for empathy as our protagonists espouse more commonalities than differences.
We will also bear witness to the shared suffering. A UN Study says The Gaza Strip may be "uninhabitable" by 2020. Jordan has absorbed 1.5 million Syrians displaced in the country, all guzzling water and stressing social systems. 
COOPERATION 
The River Jordan has historically been a cultural exchange between peoples and ideas. The heritage of that interaction is at the heart of our protagonists roadmap for a resilient society.
They have established a "Peace Island" and a "Green Line" between the West Bank and Israel, creating mutual beneficial clean water and sewage services. They are calling for mayors to honor peace agreements, fighting for protection from river and groundwater pollution, reducing the inequities of environmental degradation, and creating solidarity in water and energy security. 
EcoPeace aims to create a renewable energy-clean water nexus. As demand increases, there will be a need for desalination plants which are energy intensive, and thus a need for solar and wind solutions, like the Al-Khafji plant in Saudi Arabia. Jordan is leading, recently launching the largest solar plant in the world at Zaatari refugee camp.
A BETTER FUTURE
40% of the world's population live in water-stressed areas, with that figure predicted to rise to 65% by 2025. Our protagonists are a beacon of hope and a model for cooperation not just between Israel, Jordan, and the Palestinian territories – but for the world.


​  Two Wheels into the Future
VR/360 video proposal: In my 360 video, I will show the zero emissions commute of a dutch resident complete with bike lanes, bike intersections, and the largest bicycle parkade in the world! 
I chose the bicycle as the topic because it is something that every person can do and often enjoys doing. With this simplicity will come increased participation as people feel that it is within their grasp to make this small shift in their life. By showing a lifestyle in another country where cycling is the norm we show that not only is it beneficial, but it's also easy to do. 
The video focuses on a European example but I would like to emphasize in some way the value a bicycle can bring to those in developing countries as a means of transportation when cars are unaffordable or unavailable.  
Technically we will shoot the entire video is one take with the 360 camera mounted to the top of a helmet filmed as a "day in the life" style.


​ 
Uniting for Climate Change Solutions
VR/360 video proposal:
 The video will open up on a 360 drone flight over devastated areas of the Caribbean, ground zero for the recent effects of climate change. The viewer is taken to a rural neighborhood where a home is encountered, destroyed by the hurricane.  
We learn that agriculture contributes to climate change by anthropogenic emissions of greenhouse gases, and by the conversion of non-agricultural land (e.g., forests) into agricultural land.  Agriculture, forestry and land-use change contributed around 20 to 25% to global annual emissions.
We join the collaborative efforts of Garden Pool and IICA (Inter-American Institute for Cooperation on Agriculture) as they begin in agricultural recovery efforts in the Caribbean.  We  view a 360 3D rendering of the Climate Smart Urban Farm that increases productivity more than tenfold utilizing rain collection, solar power, water recycling, hurricane resilient design, and other easy to scale and replicate methods.
This video can be produced quickly since our team is in the caribbean currently working on these agricultural recovery efforts. Our team is also equipped with available 3D Renderings & 360 video cameras. Garden Pool's video submission about the Climate Smart Farm will have great impact on the audience because we provide a tangible, proven solution to the issues of  food security and the climate problems that arise from traditional large scale agriculture. 
Video production will consist of  inexpensive drones and handheld cameras  to take the viewer  to the devastation zones. The use of 3D renderings will also be employed in virtual reality.
By bringing viewers to the devastation virtually, it will give the viewers an understanding the impact of climate change we can then present our solution, the Climate Smart Farm.  Current agricultural techniques contribute significantly to climate change.  We will show viewers how we can reduce the agricultural carbon footprint by providing a sustainable farm.  We do this by multiplying yields, collecting and using water much more efficiently, utilizing solar power, and removing harmful pesticides and fertilizers.
This video will highlight Garden Pool and IICA's efforts in the Caribbean to produce long term food security while reducing its impact. Garden Pool and IICA uniting for climate action.  The viewers will feel inspired by the positive change we can all achieve together in a low carbon, resilient future!


​ 
X-Ray Fashion VR
VR/360 video proposal:
Our world's resources cannot keep up with consumers' demands, amongst others, garment production for the fashion industry. Being inspired by the documentary 'The True Cost', we wish to create a VR installation that takes the audience on a journey through the lifespan of garment production, consumption and disposal with the devastating consequences. This is an x-ray investigation of the fashion industry.
The experience will be narrated by a woman, working in a sweatshop factory. She will act as a reliable source with knowledge about the entire garment production and the consequences of consumer habits. The story will start at a fashion catwalk, where models present glamorous clothing. Here, the narrator will appear for the first time, where she will introduce herself and lead you on the journey of garment production. You start in a cotton field, witnessing large amounts of pesticides being sprayed on the crops. The story takes you to a river with water completely contaminated with toxins from dyeing clothes. Afterwards, inside the factory, the narrator presents her workstation and explains the limited quality of life and everyday risk of entering the unsecure buildings.
Next you will be standing in a Western shopping mall, in a timelapse, demonstrating fast-fashion. Through these means, the audience will be informed about second-hand stores. Statistics show that only 10% of all donated clothes will be rebought, whereas the excess will be distributed around the world. Most of it will have its final destination in Africa's landfills, creating mountains of hand-me-down textile, cotton too poor for reuse. You will be centered amongst the hills that will take 200 years to degrade while unleashing poisonous fumes into the atmosphere. Lastly, you return to the fashion show, subjectively with a different perception of clothing than that from the first glance.
The installation will consist of different grounds in order to provoke an immersive feeling of being present in the different scenes; stable ground, earth, water and clothes. Being the second largest industrial polluter in the world, the fashion industry is not respecting the planetary or the human work labour boundaries. We believe it is absolutely crucial to convey this message to a broad audience to address this issue. VR has the ability to not only inform, but also make the audience see and feel the different stages and consequences of garment production of the fashion industry. This is a tool towards changing consumer habits.