Film4Climate's clarion call for change in the film industry is embodied in the initiative's International Charter, launched in 2016 after extensive consultation and partnerships with film festivals, film commissions, producers, and other advocacy groups such as EcoProd, PGA Green, Green Film Shooting, and Cine-Regio.
Established in 2013, Film4Climate is driven by a twofold mission: empower visual storytellers to inspire climate action through their onscreen art, and encourage the entertainment industry to adopt sustainable filmmaking practices during production. 
Understanding that powerful storytelling on both big and small screens can spark meaningful social change, Film4Climate seeks to harness the interconnectedness offered by today's evolving digital multimedia landscape to turn global audiences into climate champions.
In 2019, Film4Climate's mandate was bolstered when Connect4Climate (C4C) partner Green Spark built on Film4Climate's previous work to launch the Creative Industries Pact for Sustainable Action, exhorting those in the creative industries to align with the UN Sustainable Development Goals and the Paris Agreement.
Through long-standing partnerships with the Cannes and Venice International Film Festivals as well as Latin American festivals such as Ventana Sur, Planet On and Guadalajara, C4C has established first-of-their-kind Film4Climate sections and collaborated on workshops and programming that have put the topics of climate and sustainability on the radar of celebrated filmmakers, production companies, and film commissions from around the world. 
Aligned with C4C's work on youth, Film4Climate has also encouraged up-and-coming storytellers to explore climate-related subject matter by hosting sustainability-minded contests with the likes of Bernardo Bertolucci, Wim Wenders and Louie Psihoyos making up the distinguished juries that chose the winners. The Action4Climate film competition of 2014 was followed by the Film4Climate Global Video Competition of 2016, the #Uniting4Climate VR Pitch Competition in 2017, and the Post-Production Award competition in partnership with Laser Film from 2018-19. The winner of the VR pitch competition, X-Ray Fashion, was subsequently produced in collaboration with Vulcan Productions. An immersive and rousing exposé on the dark side of fast fashion, the experience premiered at the 2018 Venice Film Festival and has been touring the world in years since.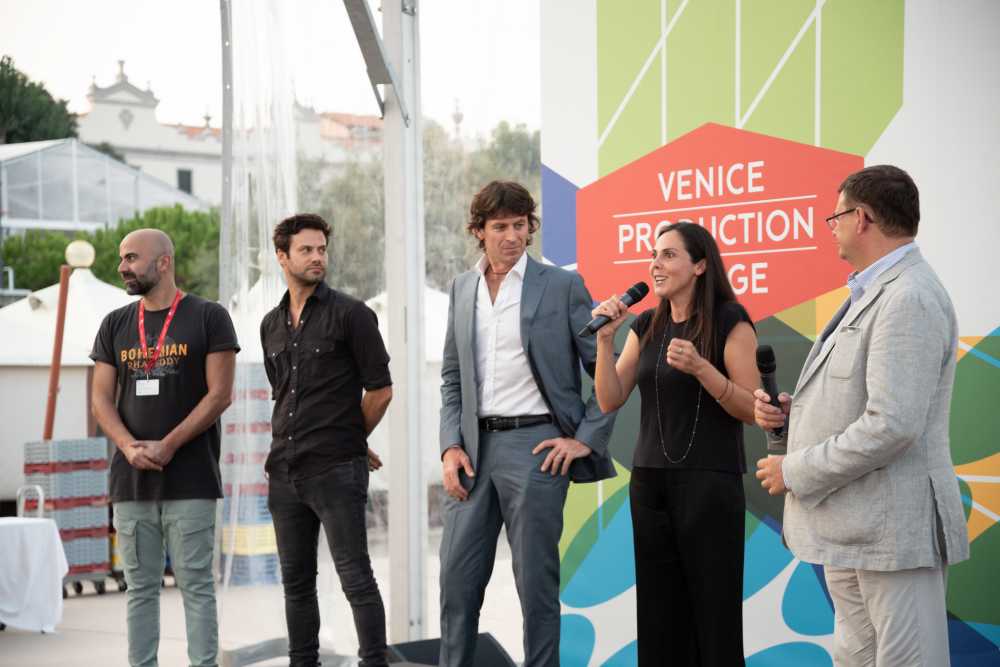 Film4Climate has long supported films that offer unique perspectives on climate issues and solutions, including Youth Unstoppable, which chronicles the rise of the global youth climate movement and is now available to stream at no cost on WaterBear Network. Slater Jewell-Kemker, who started making Youth Unstoppable when she was only fifteen, will be using her decade of experience in documentary filmmaking to mentor young storytellers across the Global South through upcoming interactive workshops.
Another feature documentary that Film4Climate supported was Jared P. Scott's recent The Great Green Wall, which follows beloved Malian singer Inna Modja on a musical journey across Africa's Sahel region. With Oscar-nominee Fernando Meirelles on board as executive producer, the film was produced by Make Waves in association with the UN Convention to Combat Desertification to raise awareness of, and support for, the ambitious vision to grow an 8,000-kilometer wall of green across the width of the African continent.
Music videos present another engaging format with which to both advocate and entertain, and Film4Climate has enlisted competition winners from Trinidad to Kenya to rise to this challenge. TS1 from Nairobi created a powerful video that played in Times Square, reinventing Eminem's "Not Afraid" to rally audiences to climate action.
Recognizing the importance of broadening and deepening onscreen climate storytelling, Film4Climate strives to champion filmmaking across the Global South, where climate impacts are hitting hardest and calls for action are the loudest. The digitization of the silver screen and accompanying rise in streaming capabilities means cinema is more accessible, and more widely enjoyed, now than ever before. In the years to come, C4C aims to broaden the scope of Film4Climate to activate audiences around the world and partner with major production companies and producers across regions to lower the industry's carbon emissions globally.
Film4Climate looks forward to continuing to harness the impressive reach of movies, TV and new forms of visual storytelling across screens of all sizes to catalyze productive climate discussion, meaningful action, and lasting behavior change.