November 7, 2016 (All day) to November 18, 2016 (All day)

The twenty-second session of the Conference of the Parties (COP 22) and the twelfth session of the Conference of the Parties serving as the meeting of the Parties to the Kyoto Protocol (CMP 12) will be held in Bab Ighli, Marrakech, Morocco from 7-18 November 2016.
Take a look at Connect4Climate's activities and events at COP22, were we kick off with a screening of the Film4Climate trailer.
November 8
10:00 - 11:00, Fes Room - Climate Change Studio, Blue Zone - Global Climate Action Launch Event: global action towards achievements of NDCs: Screening the Film4Climate trailer as global youth call for climate action
November 10
13:15 - 14:45, UNFCCC Young and Future Generations Day, High-Level Intergenerational Enquiry: Connect4Climate youth climate champions and Film4Climate winners participate on a panel with Patricia Espinosa, UNFCCC Executive Secretary, highlighting the Youth4Climate initiative  which aims to empower young people to accelerate climate action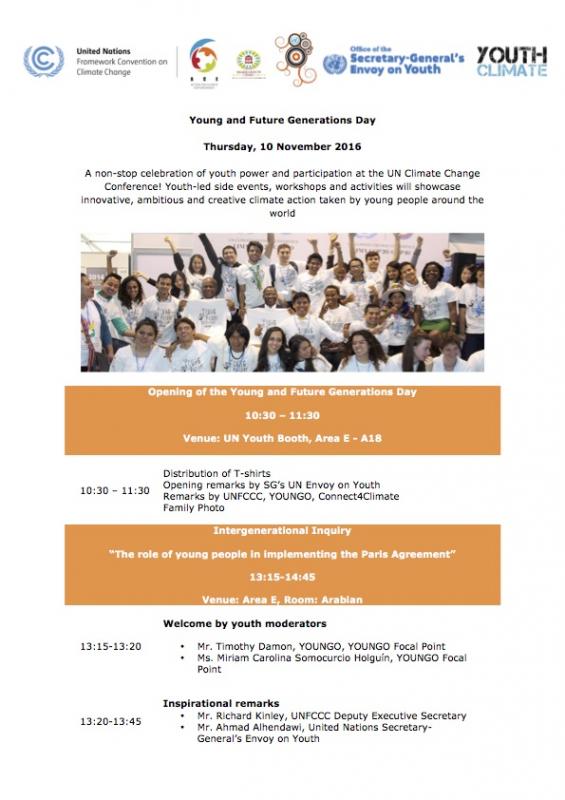 13:30 - 16:00: Cities and Human Settlements: Buildings Short presentation of the concrete application and impact of the CURB tool to a set of cities. Organized by ICLEI, FMDV
18:00 - 19:00, ICLEI Cities Pavilion: The event is a 1-hour long session on low carbon planning and the CURB tool. Representatives from SECO, the WB, C40 Cities, and Cities Alliance will present.
18:00 - 20:00, Youth Award Ceremony for UNFCCC Global Youth Video, Film4Climate Global Video Competition, and Minecraft Challenge finalists - see more here.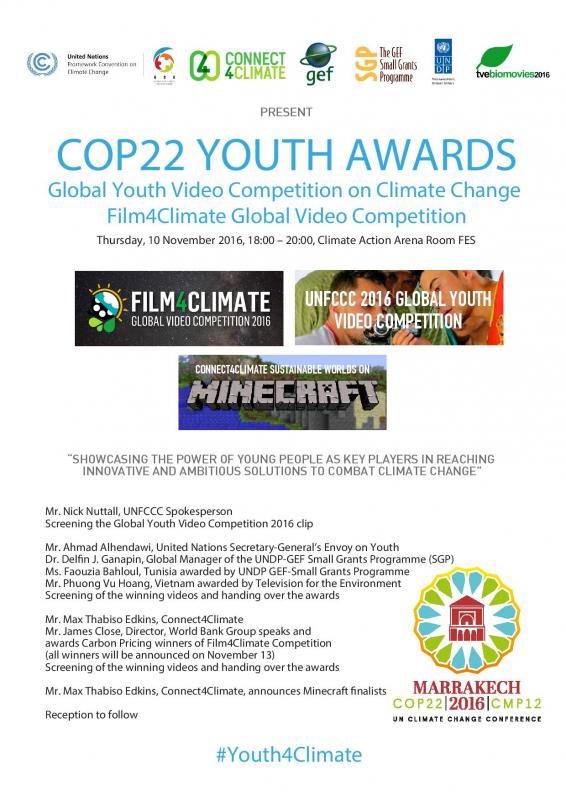 November 12
All Day: Formul E race in Marrakech
14:00 - 17:00, China Pavilion: Climate Change Communication. Lucia Grenna presents the Connect4Climate Program as Engaging the Creative Industry for Climate Action
14:30 - 17:00, Ksar Char Bagh Palace: Carbon pricing, NDCs and Post-Paris Agreement. CPLC Led Session in Global Climate Finance Action Summit
November 13
10:00 - 18:00, "Film4Climate: Empowering Global Climate Action" - A day-long event dedicated to celebrating the power of youth voices, cinema and the creative industries to tackle climate change and effect positive change, in partnership with Kingdom of Morocco's Ministry for Environment. The day will feature a special screening of Leonardo DiCaprio's newly released climate change documentary "Before the Flood", as well as the Global World Premier of National Geographic's "Years of Living Dangerously – Fueling the Fire" (featuring Arnold Schwarzenegger and Gisele Bündchen) and a special World Preview of energy documentary "Power", which illustrates comprehensively our energy choices going forward.  Each showing will be followed by a discussion with experts in the field. The highlight is the Film4Climate Awards Ceremony to announce the winners.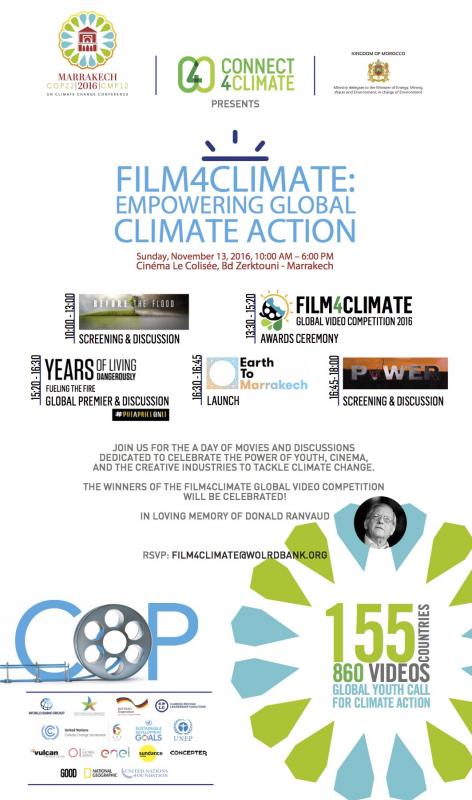 Film4Climate Jury members and film directors Fernando Meirelles (City of God, The Constant Gardener, and the Rio Olympics Opening Ceremony), Farida Benlyazid (Women's Wiles, A Door to the Sky), Mika Kaurismaki (The Girl King, Road North, House of Branching Love) and actor Christopher Lambert  (Highlander, Greystoke) will participate in the day's discussions and congratulate the Film4Climate winners. 
See the full program and flyer here.
19:00, Climate Champions Dinner: Minister El Haite announces Film4Climate Special Award for the MENA region
November 14
9:30 - 10:00, SDG Digital Media Zone (Green Zone): Film4Climate panel in the as part of Earth To Marrakech
Film4Climate Press Conference with Jury members and winners (Blue Zone) 
17:00 - 18:30, "Roundtable: Sustainability Starts with Education" (Green Zone): Connect4Climate's manager, Lucia Grenna participates in this roundtable to present the outcomes of education-related activities, including the #Teach4Climate Back-to-School campaign and the Sport4Climate #105C campaign during the Olympics, and launch the Global Climate Literacy Partnership.
Education is key to prepare societies for global change. It plays a critical role in achieving Sustainable Development Goals and putting into practice the global agreement on climate change.
The critical role of education in climate change response was further recognized at the Paris Climate Conference COP 21. In the Paris Climate Agreement involving delegates from 195 countries, the Article on education was the first to be accepted. It states that "parties shall cooperate in taking measures…to enhance climate change education, training, public awareness, public participation and public access to information…."
See more about the event and the full program of the roundtable discussion here.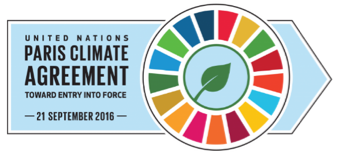 All Day: Sustainable Innovation Forum led by UNEP

November 15
9:30 - 10:00, SDG Digital Media Zone (Green Zone): Film4Climate panel in the as part of Earth To Marrakech
12:30-2:00pm IETA Business Hub – Blue Zone: Carbon Pricing: Driving Ambition and Action COP22 Leadership Event
This high-level event will take stock of the progress already made, showcase individual action and leadership, and bring up new voices and ambition to address climate change through a market-based approaches. Event is open to partners, but seating is limited to first come, first served.
15:00 - 18:00, Urban Climate Action: Building Resilient Cities in a Changing WorldFMDV and World Bank to host event on investing in resilience, CityStrength (diagnostic framework for urban resilience), and CURB.
All Day: Sustainable Innovation Forum led by UNEP

November 16
9:30 - 10:00, SDG Digital Media Zone (Green Zone): Film4Climate panel in the as part of Earth To Marrakech
All Day, Global Landscapes Forum: Showcase Film4Climate videos
18:30 - 20:30, Momentum for Change Showcase event: Highlighting climate solutions in action and presenting the youth call for solutions through Film4Climate
20:00, "Light to Live" Concert: Led by Akon the concert will be a call for climate action with a segment on Film4Climate