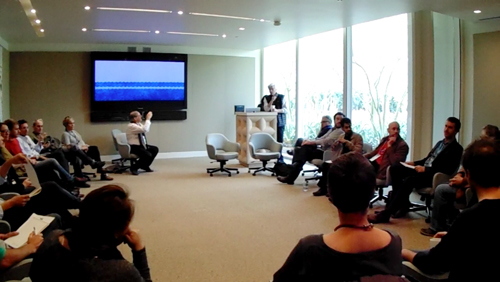 While much of the United States was experiencing some of the coldest weather ever known in early January, fifteen international film directors got together in the balmy desert air of Palm Springs, California for frank and illuminating discussions on one of the most significant subjects of our time: climate change. 
The creative minds of the film industry are much needed to help focus the immediate attention of the general public on this issue and to drive action forward. The group responded to the challenge with renowned director and concerned environmentalist Marc Forster (World War Z, Monster's Ball, Kite Runner) leading discussion. "We need to connect on an emotional level with people who do not relate their personal actions to the global outcome," Marc reminded the group.
In collaboration with the Annenberg Retreat at Sunnylands, the Palm Springs International Film Festival (PSIFF) hosts an annual Filmmakers Forum that brings together an exciting mix of both highly experienced and talented emerging film directors from all over the world to discuss their work. They agreed to extend the forum by a half day for the filmmakers to participate in discussion about ways in which they could address issues of climate change.
The filmmakers represented a broad range of countries and talent, including five directors who had directed their country's Oscar submission for best foreign language film. With participants from Hungary, Iceland, Italy, Morocco, New Zealand, The Philippines, Slovenia, Singapore, Canada and the US, each with different experiences of climate change, the event emphasized how complex the issue is and how diverse the responses need to be.
Helen du Toit, Artistic Director of the Palm Springs International Film Festival, confirmed the necessity for a wider debate. "In a recent article in the NY Times I was shocked to read that while 77% of Americans believe Aliens have landed on earth, only 44% believe that people cause climate change! Clearly we all need to work together to raise awareness of the very real damage that we are collectively doing to the planet. We also need to learn how to reduce our own carbon footprint and to share that information as broadly as possible so that we all do what we can reverse this dangerous trend."
The session was co-hosted by Connect4Climate, an initiative of the World Bank, the Italian Ministry of Environment and the Global Environment Facility dedicated to forming a coalition of people from all walks of life in a global movement to take action on climate change.
"We realized the importance of tapping into the creative minds of international film directors to find innovative and positive ways to mobilize the general public and convey scientific data in an easily accessible way" noted Lucia Grenna, Program Manager and Founder of Connect4Climate.
A video message to the participants from World Bank Vice President for Climate Change, Rachel Kyte, also underlined how important storytelling can be in moving people and driving action on climate change and that the World Bank can help provide the evidence and data to support the story.
By the end of the discussion, the group had come up with a Declaration as to how the film industry can help spread understanding of the risks of climate change and encourage action in all quarters."Climate change is a real issue, it's a real problem. But we can do something about it," proclaimed film director Anthony Chen from Singapore.
"My life like everybody else's life is greatly impacted by climate change. We're just experiencing the polar vortex and I think there's a lot of things all of us can do in our daily lives. But as filmmakers we also have a voice and it's very important to add our voice to the current of change," added director Wiebke von Carolsfeld from Canada.
The Declaration is an important first step towards creating a global network of members of the film industry committed to bringing climate change issues to the fore both in their industry and with viewers. The hope is this will help create an environment for action on climate change and changes of behavior among the general public similar, for example, to the effect achieved with responses to the HIV-Aids virus and smoking habits in the last two decades.
The filmmakers also praised Connect4Climate's initiative in launching Action4Climate, a global video documentary competition for 14 – 35 year old film makers to tell their own stories related to climate change  and welcomed the establishment of a distinguished jury of veteran directors such as Bernardo Bertolucci, Wim Wenders, Mira Nair, Atom Egoyan, Walter Salles, Fernando Meirelles  and Mika Kaurismaki to join Marc Forster in reviewing  the submissions.
Entries to the competition can be posted at though the Facebook App at www.Action4Climate.org.