#All4TheGreen was a set of public initiatives organized in collaboration with civic, cultural and academic organizations, environmental consortiums and associations, as well as dozens of companies to support the appeal for an economy that highlights efficiency saving and the re-use of resources. Open to all, #All4TheGreen week at the end of May 2017 in Bologna, Italy, featured more than 80 events - conferences, concerts, exhibitions, and film projections - to connect the G7 Environment Meetings being held under the auspices of the G7 Italian presidency to a global audience. As a result of the initiative, citizens had the chance to engage in environmental protection activities, generating debate, exchange of ideas and, above all, an aggregation of opinion and action.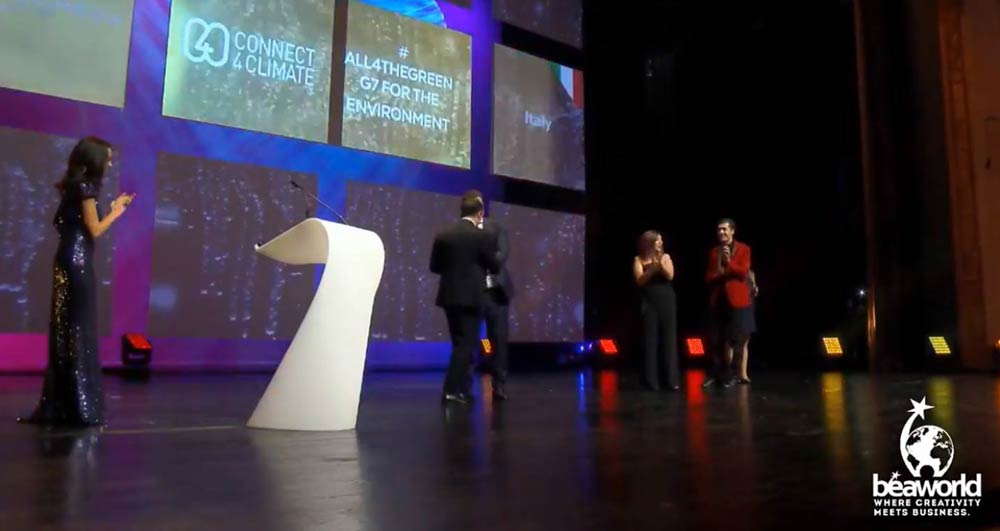 The prize is a significant recognition for the integrated communication agency founded 16 years ago in Rome by Alberto Cassone, Giovanni Cassone, and Enrico Conforti. Since then, Alphaomega has organized events, initiatives, and projects around the world for dozens of institutions and companies, and has more than 80 employees and consultants worldwide. The prize also recognizes Alphaomega's competence regarding sustainability.
The award is
dedicated to the memory of Lucia Grenna
, founder of the Connect4Climate program and soul of the All4TheGreen initiative, following her
premature death
in June. "On this occasion of deep satisfaction for our team, let us remember a unique woman who gave us her greatest support. A special thank you to Minister Gian Luca Galletti and his communication team," Alberto Cassone, partner of Alphaomega, said.
"Alphaomega expresses its utmost gratitude to the BEA World Festival 2017 jury for its presentation of a Festival that reviews the best creative proposals from around the world," he added.
BEA World - International Festival of Events and Live Communications is an international competition for communication agencies from Europe, Russia, the United States, Canada, China, the United Arab Emirates, and Qatar.