It is with a heavy heart that Connect4Climate announces the passing of its founder and leading light, Lucia Grenna. Lucia passed peacefully in her sleep on June 15, 2017, well before her time. We remember her for her leadership and extraordinary ability to motivate people to take on some of the greatest challenges of our time, not least climate change.
With her extensive experience in development communication, Lucia realized that communication for climate action would be key to advancing the climate movement, promoting the solutions necessary and motivating the political leadership needed to build a low-carbon, resilient and sustainable future. She made it her mission to build a social movement for climate action by raising awareness of the impact of climate change and promoting the solutions for addressing it. She worked with partners across the globe to reach the greatest audience possible, especially young people.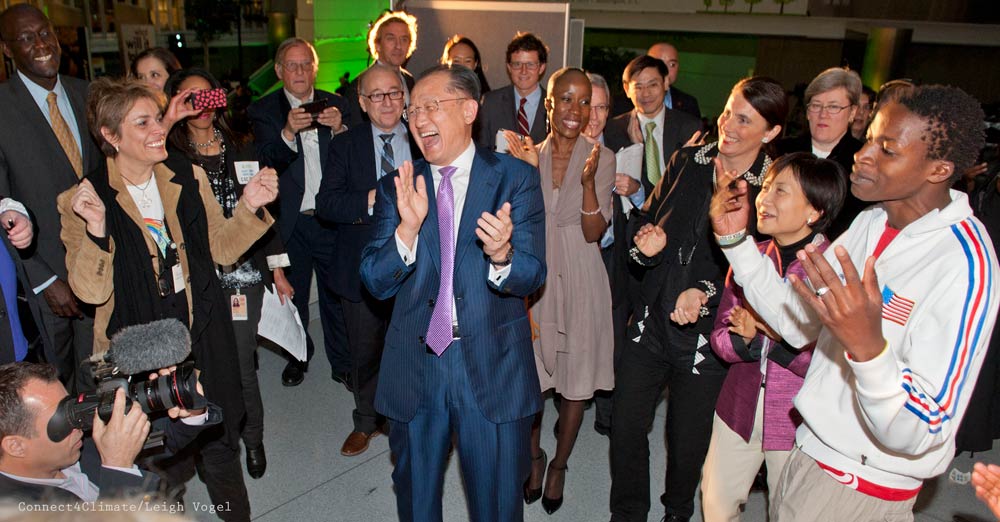 World Bank President Jim Yong Kim's speech is taken over by a flash mob presentation - choreographed by University of Maryland School of Theatre, Dance & Performance Studies - during the Connect4Climate: Right Here, Right Now event on March 1, 2013, at The World Bank.
In 2009 she convinced the World Bank and the Italian Ministry of Environment that climate communication was critical and well worth supporting and established the Communication for Climate Change Multi-Donor Trust Fund of the World Bank Group. In 2011 the flagship global partnership program Connect4Climate was born. It quickly took hold, gathering half a million Facebook followers and forging ties with leaders in popular culture – including music, film and fashion icons – to reach the generations of the future while at the same time helping scientists, politicians, and administrators raise awareness and prompt action.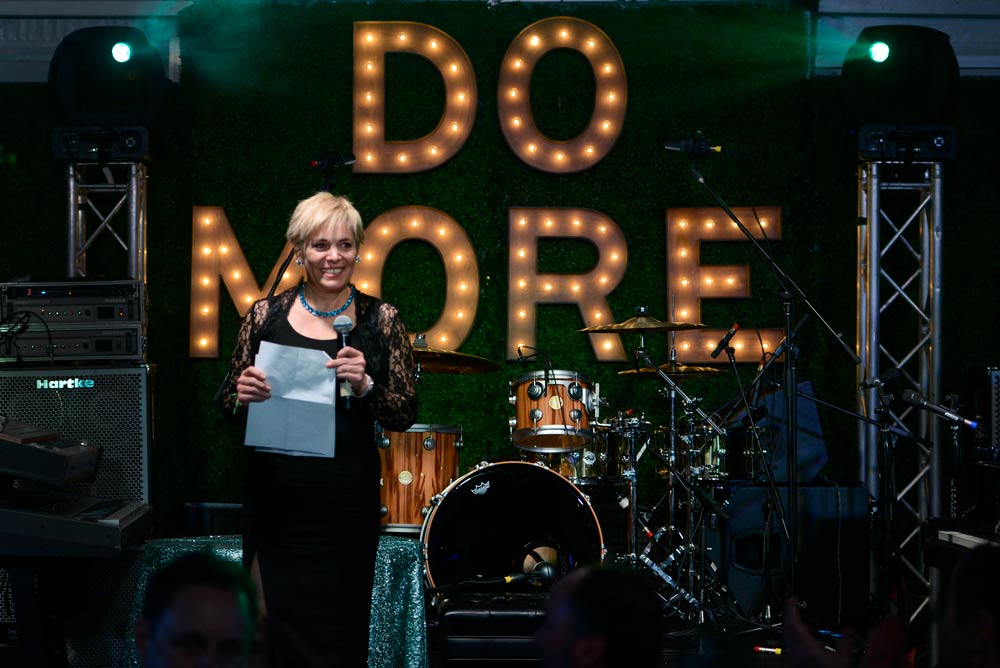 The World Bank Group's Connect4Climate global partnership program received a Green Oscar, a special recognition for its public outreach, youth engagement and advocacy work with creative industries.
Lucia was a unique and influential presence who could mix with anyone, anywhere, gain their attention and advance proposals for seemingly impossible, but magnificent and celebratory initiatives. Who but Lucia could have brought together an unusual group of partners to orchestrate the projection of massive climate-related images on the front of the Vatican, reminding a worldwide audience of our responsibility to protecting the Planet? We remember her for "making the impossible possible."
Have you seen our beautiful photos of the #FiatLux event? Take a look: https://t.co/mowQlPOhdW #OurCommonHome pic.twitter.com/CNrJXqWdNr

— Connect4Climate (@Connect4Climate) December 9, 2015
In His eyes the powerful message of hope for #OurCommonHome that we share with brothers and sisters - regardless of faith or borders pic.twitter.com/cwA7DuUxBZ

— lucia grenna (@LuciaGrenna) February 8, 2017
For Lucia and the Connect4Climate program, the operative word has been to 'connect'. This sentiment was Lucia through and through. She was passionate about finding ways for people and organizations to interact together and did her utmost to create and grow lasting connections. Connect4Climate now interacts with hundreds of partners, reaches millions online and engages with global audiences through competitions, events, and education to support the movement for climate action and to end poverty. 
.@PierceBrosnan in #Bologna during @g7 to promote Keely Shaye Smith's amazing documentary #PoisoningParadise #All4TheGreen #ActOnClimate pic.twitter.com/WSkCX6Qin4

— lucia grenna (@LuciaGrenna) June 11, 2017
Lucia's ideas would never stay on paper but would lead to tangible outcomes that engaged partners and energized audiences worldwide. She was a leader driven to find the most impactful communications, and in doing so inspired and advocated for a sustainable development pathway.
As Lucia would always say, "let's get busy and make this happen!"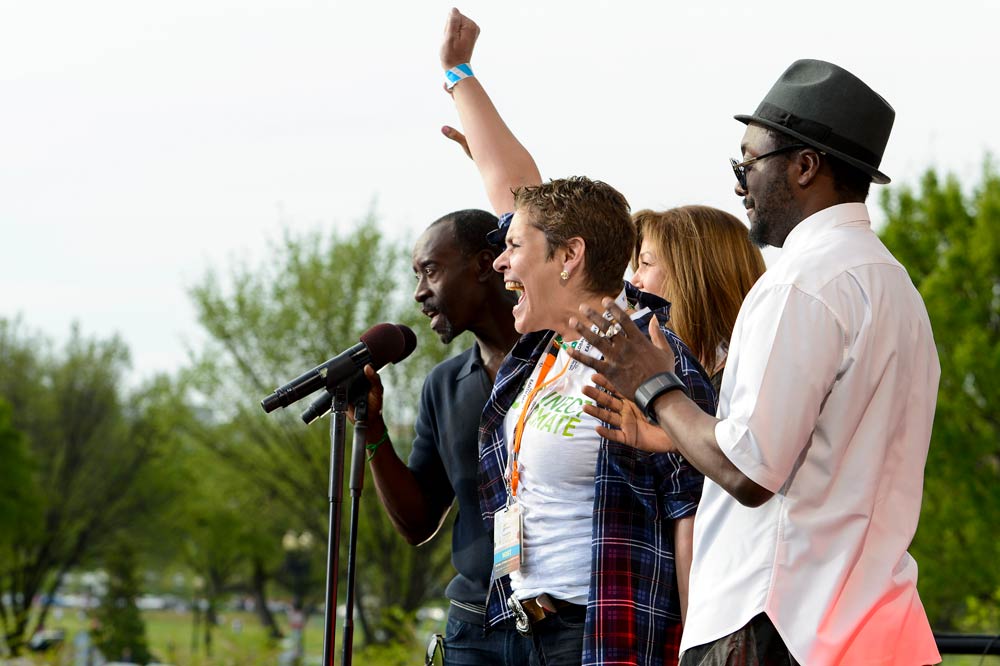 Lucia Grenna with Will.I.Am, Don Cheadle, and Kathleen Rogers, Earth Day Network, on the National Mall in Washington, D.C., for the Global Citizen 2015 Earth Day event.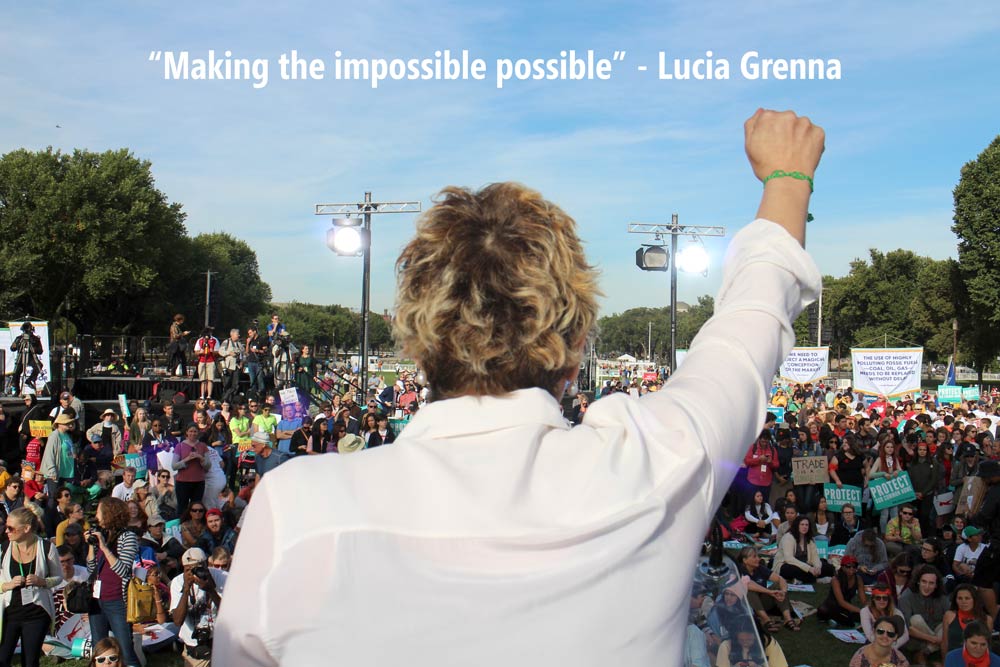 The funeral took place on Saturday, July 1st, at 4:30 PM at the "Cattedrale di Santa Maria Assunta" in Rieti, Italy. Further details on this page.
Lucia recently visited her hometown of Rieti and the nearby villages affected by the earthquake that devastated Italy last summer and was trying to find ways to help.
In lieu of flowers, please feel free to make a charitable contribution to the project "CASA FU­TURO" supporting local residents. The project is coordinated by the Caritas of Rieti and is dedicated to the implementation of new development plans in the area affected by the earthquake (including the town of Antrodoco, very dear to Lucia) with a particular attention to the environment and sustainable tourism.
Donations in memory of Lucia can be made to the following international account:
IT 43 P 02 00 81460 600000 5208129
UNICREDIT BANCA DI ROMA
CARITAS DIOCESANA DI RIETI
Hashtag: #Love4Lucia