"2018 promises to be one of the most important years on the IPCC history. The IPCC report on the impacts of 1.5C of global warming will be the major scientific input for the climate discussion."
The IPCC has been instrumental in advancing climate action by
presenting the scientific evidence on climate change
. To celebrate such a rich history and discuss the role of science for climate action the
All4TheGreen – Mobilizing Climate Science
series of events was organized by the
Connect4Climate
program of the
World Bank Group
and the
Italian Ministry for Environment, Land and Sea
.  

Hoesung Lee, Chair, Intergovernmental Panel on Climate Change (IPCC). Photo Credit: Connect4Climate
At the oldest university in Europe,
Hoesung Lee
revealed that the IPCC's Sixth Assessment Report will differ from the previous assessments by propounding a "
scientifically robust and clear link between climate action and economic development
." While the Sixth Assessment study is not due for publication until 2019 much of the discussion on the day focused on achieving the targets of the
Paris Climate Change Agreement
, to pursue efforts to limit the temperature increase to 1.5 degrees Celsius, and the interlinkage between climate action and achieving the Sustainable Development Goals.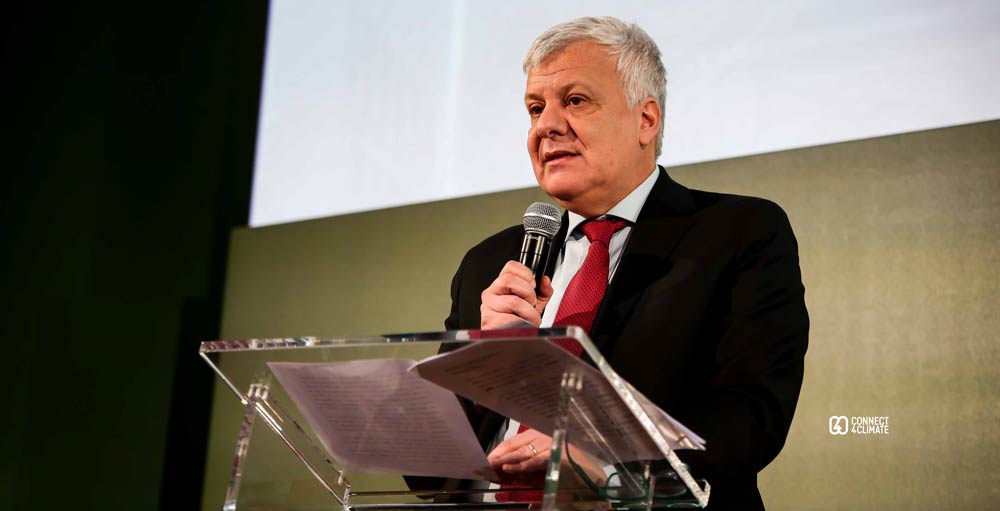 Gian Luca Galletti, Italian Minister of Environment, Land and Sea. Photo Credit: Connect4Climate
To a capacity audience of students, academics, thought-leaders, government, civil society and business representatives, Italian Minister of Environment, Land and Sea, Gian Luca Galletti, highlighted the All4TheGreen message:

"The environment is the center of the dialogue. Either we save it or we lose everything."
Ibrahim Thiaw
, deputy executive director of
UNEP
and assistant Secretary-General of the United Nations, emphasized that "
as climate change continues to galvanize it threatens the most fundamental human rights
," thereby linking climate impacts to exacerbating poverty and enhancing climate-induced migration. "
Climate change is putting pressure on the resources, and creating conflicts
," he elaborated, encouraging global leaders act: "
World leaders can make life-changing decisions and those will be remembered
."
Discussants painted a clear picture, that climate impacts are being felt more often and are increasing in severity, and that more needs to be done to transition to a low-carbon resilient future. Public awareness of climate science and the need to act to reduce greenhouse gas emissions and build resilient societies was presented as a necessary pre-requisite for global leaders to enhance their climate commitments. According to the speakers there is an urgent need to immediately reduce carbon emissions, change the way we produce food and use it, educate for climate solutions, create technology for carbon disposal, protect the oceans from plastics and other waste, and enhance environmental services to build a green future. 
Climate action is urgent. "
There is no time to waste
" emphasized
Deo Saran
, Fiji Ambassador and Special Envoy to the
UNFCCC
, who also emphasized the need for unity as symbolized by the slogan of
COP23: Uniting for Climate Action – Further Faster Together
. To address climate change, immediate collaborative action between governments, businesses, cities, academia and civil society is needed to achieve the Paris Agreement goals.
"Yes, we can. We can achieve the Paris Agreement target of 1.5 degrees Celsius," noted Myles Allen, professor of the University of Oxford, but it will take a huge accelerated global effort and will also require carbon-uptake solutions to be deployed at scale. "The fossil fuel industry is a tenth of the global economy. If they had to, they could solve the climate problem. Instead they're privatizing profit and socializing risk," Allen emphasized.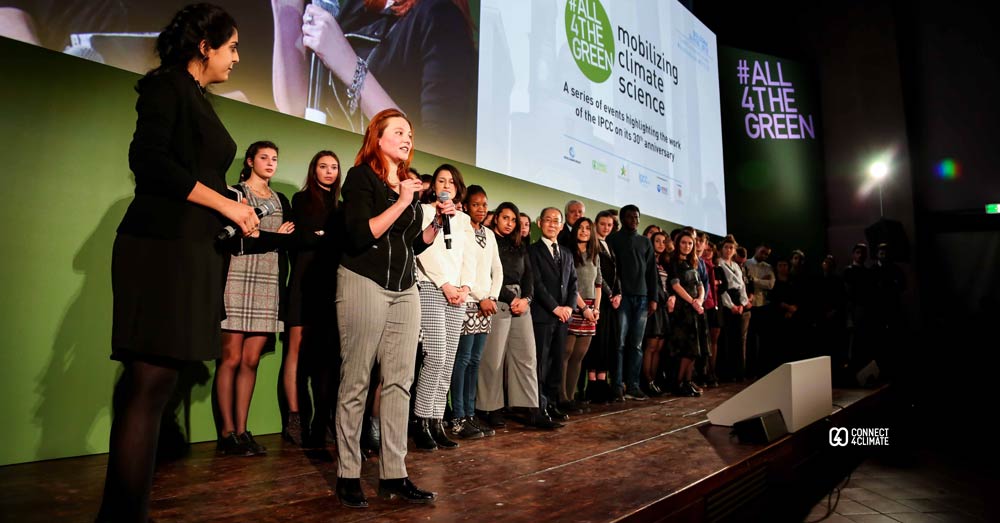 A group of young people stressed the need to take on climate change. Photo Credit: Connect4Climate
To close the day's discussions a diverse group of young people mainly from developing countries took the stage with a message for sustainable peace: "For me there is nothing scarier than scientific data. How do we combat climate everywhere?" one young person emphasized in an emotionally-laden speech:

"We need to unite to address climate change and make sure those affected do not pay the bill. Pure reports will not be enough." 
In closing Abdullah Mokssit, from IPCC, advised, "let's transform climate change into climate opportunity," a recommendation supported by Giulia Braga, Connect4Climate program manager, who believes that "climate change is an issue but also an opportunity for present and future generations."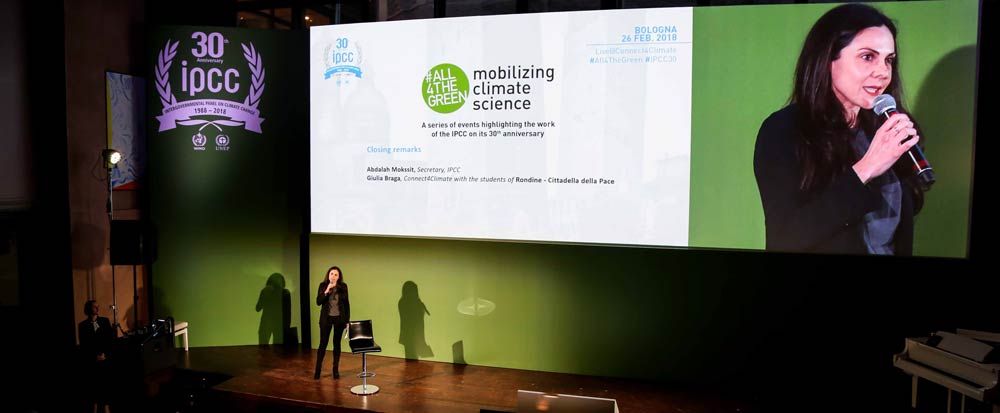 Giulia Braga, Connect4Climate program manager. Photo Credit: Connect4Climate
All4theGreen – Mobilizing Climate Science concluded with a live concert of world-famous piano improviser Danilo Rea and artist Alex Braga to showcase how artificial intelligence can also be key to achieve the Sustainable Development Goals. "Technology is the only way to get us where we cannot get alone", Alex Braga noted, before transforming the stage into a visual and musical show that unscored the emotionally-laden day and reverberated the message the we all need to be for the green, to build a low-carbon and resilient future. Climate science is at the heart of all climate action. Thank you and happy birthday to the IPCC. 
Artistic Performance "Cracking Danilo Rea" - Full Concert

Film4Climate announces partnership with the Cineteca of Bologna - Film director Fernando Solanas presents "Viaje a Los Pueblos Fumigados" 
In the lead up to the discussions on February 26th, the Cinema Lumière opened its doors on February 24th to the Argentinian filmmaker Fernando Solanas, who traveled to Bologna to present his new documentary "Viaje a Los Pueblos Fumigados" (A Journey to the Fumigated Towns), a portrait showcasing the consequences of genetically modified food. 
"This movie shows that climate change does not respect ideology or color", recalled Fernando Solanas in a filled room where he discussed the messages of the documentary, the consequences of climate change in Argentina and his work as a film director.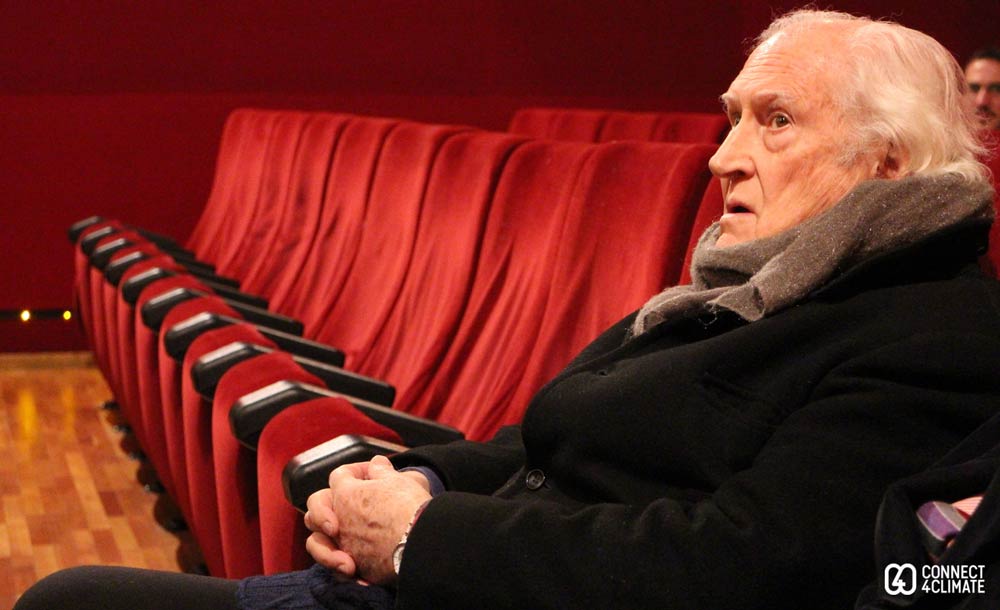 Director Fernando Solanas. Photo Credit: Paula Alves Silva / Connect4Climate
The screening of "Viaje a Los Pueblos Fumigados" was the result of a partnership with the
Fondazione Cineteca di Bologna
as part of Connect4Climate's
Film4Climate
initiative. The partnership intends to
create a program of climate and environmental-related movies to be screened in Bologna
during the internationally acclaimed "
Sotto le Stelle del Cinema
" program in beautiful Piazza Maggiore.
Did you miss the event? Take a look at the photo album on Flickr
All4TheGreen: Mobilizing Climate Science on Twitter
"2018 presents to be one of the most important years on the @IPCC_CH history. The IPCC report on the impacts of 1.5C of #globalwarming will be the major scientific input for the climate discussion" Hoesung Lee, IPCC Chair #IPCC30 #All4TheGreen pic.twitter.com/hsw3hflqic

— Connect4Climate (@Connect4Climate) February 26, 2018
"The environment is the center of the dialogue. Either we save it or we lose it all" - @glgalletti @minambienteIT #IPCC30 #All4TheGreen pic.twitter.com/wpGg5dU3Uf

— Connect4Climate (@Connect4Climate) February 26, 2018
"As #climatechange continues to galvanize it threats the most fundamental human rights. Climate change is putting pressure on the resources, creating conflicts. World leaders can make life change decisions and those will be remembered" - @ibrahimthiaw @UNEP #All4TheGreen #IPCC30 pic.twitter.com/6sWmVP5Tnj

— Connect4Climate (@Connect4Climate) February 26, 2018
It's time to move from the dramatic side to the #climate solutions" @WBG_Climate Comms Adviser Elisabeth Mealey at #All4TheGreen #IPCC30 pic.twitter.com/hPMMa5tpcN

— Connect4Climate (@Connect4Climate) February 26, 2018
"#ClimateChange is an issue but also an opportunity for present and future generations" - @giuliacamillabr @Connect4Climate program manager #all4thegreen #ipcc30 pic.twitter.com/z0hQDEGPM8

— Connect4Climate (@Connect4Climate) February 26, 2018
.@anna_arzhanova presents the 'Blue Helmets of the Sea' >> "Plastic is an ecological disaster. It is not possible to protect the planet without everyone's efforts." #All4TheGreen #IPCC30 pic.twitter.com/UNpTQChJIN

— Connect4Climate (@Connect4Climate) February 26, 2018
Here's a sneak peak of the scenario at #all4thegreen in the impressive @UniboMagazine room! Watch the event LIVE on @Connect4Climate Facebook page: https://t.co/18bcgDA22Q #all4thegreen #IPCC30 pic.twitter.com/IHoc3Ksvt7

— Connect4Climate (@Connect4Climate) February 26, 2018
"If we start reducing the #CO2 emissions now we have a great chance of meeting the #ParisAgreement goals! This is the generation who's going to define the climate outcomes" - Myles Allen @UniofOxford #All4TheGreen #IPCC30 pic.twitter.com/2UlApk5MXh

— Connect4Climate (@Connect4Climate) February 26, 2018
"We're running out of time. And whatever we're doing we're not doing enough and we're not doing it fast enough. We don't realize how serious this is" - Zitouni Oulddada @FAOclimate #All4TheGreen #ipcc30 pic.twitter.com/PZXMzwJyG7

— Connect4Climate (@Connect4Climate) February 26, 2018
"We're running out of time. And whatever we're doing we're not doing enough and we're not doing it fast enough. We don't realize how serious this is" - Zitouni Oulddada @FAOclimate #All4TheGreen #ipcc30 pic.twitter.com/PZXMzwJyG7

— Connect4Climate (@Connect4Climate) February 26, 2018
"Food is a limited resource. We have to push our policy makers but I don't think that's enough. There's a lack in environmental education" - @andrea_segre @Fondazione_Mach #All4TheGreen #IPCC30 pic.twitter.com/UffWpCu2Nj

— Connect4Climate (@Connect4Climate) February 26, 2018
"We do not need the coal industry" says @ccarraro_unive. Listen why! #All4TheGreen #ipcc30 pic.twitter.com/N99aB91Ei9

— Connect4Climate (@Connect4Climate) February 26, 2018
"I believe we won't meet the #parisagreement degree goal. I think we will be over 2 degrees Celsius when talking about the ocean" - Nadia Pinard JCOMM #saveouroceans #all4thegreen #ipcc30 pic.twitter.com/r6G691HiZX

— Connect4Climate (@Connect4Climate) February 26, 2018
"Technology is the only way to get us where we can not get alone" - @alexbraga610 #all4thegreen #ipcc30 pic.twitter.com/1kxqoYxE8v

— Connect4Climate (@Connect4Climate) February 26, 2018
"We don't enough money or resources to be at the forefront to fight #climatechange but we want to inspire people to believe and act" - students from conflict areas share their story at the #All4TheGreen stage. Watch LIVE! #IPCC30 pic.twitter.com/9DLU1uAjQ3

— Connect4Climate (@Connect4Climate) February 26, 2018
"We don't enough money or resources to be at the forefront to fight #climatechange but we want to inspire people to believe and act" - students from conflict areas share their story at the #All4TheGreen stage. Watch LIVE! #IPCC30 pic.twitter.com/9DLU1uAjQ3

— Connect4Climate (@Connect4Climate) February 26, 2018
.@giuliabraga @connect4climate program manager about to be interviewed at @RaiNews about the #All4TheGreen!



Join us tomorrow LIVE at https://t.co/bnYFUtY3ty and watch inspiring climate conversations! #IPCC30 pic.twitter.com/Nqoyhx4UBj

— Connect4Climate (@Connect4Climate) February 25, 2018
"This movie shows that #climatechange does not respect ideology or color", says @fernandosolanas, director of the film "Viaje a los Pueblos Fumigados" now being screened at #All4TheGreen in #Bologna. #IPCC30 pic.twitter.com/G9KDQ95xPZ

— Connect4Climate (@Connect4Climate) February 24, 2018
It's time to leave #Bologna!



Thanks to all of you that joined the #All4TheGreen to celebrate @IPCC_CH 30 anniversary & discuss how we can mobilize climate science. You can recap all the discussions on @Connect4Climate Facebook page: https://t.co/18bcgDA22Q #IPCC30 pic.twitter.com/D49QDsLf3f

— Connect4Climate (@Connect4Climate) February 27, 2018