During an intensive sociology course over winter break, thirty students from U.S. colleges and universities took part in a workshop organized by the Connect4Climate group at the World Bank headquarters. The students came from many disciplines, and from all over the world. Few had any kind of a background in climate change issues. Here are some of their impressions of Connect4Climates mission and, in particular, the Sport4Climate initiative. The workshop occured on January 15 2015 to celebrate the launch of Action/2015, a global movement of thousands of organizations, coalitions and partnerships that reflect the diversity of injustice, inequalities, poverty and climate change all over the world.
By Yuxin Liu, Xian, China - Montgomery College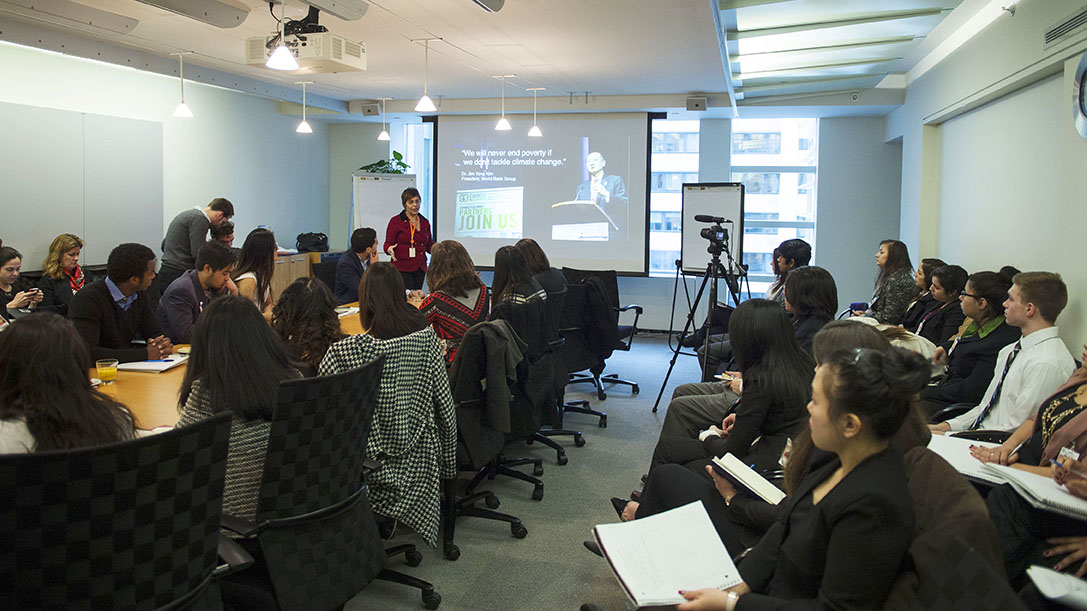 Lucia Grenna, Manager of Conenct4Climate, explains the roles of individuals in addressing the climate challenge. Credit: Leigh Vogel
"We will never end poverty if we dont tackle climate change", says the Jim Yong Kim, the President of the World Bank.
Attending a workshop with such an invigorating topic has inspired me a great deal as well as made me curious about the connections between poverty and the environment. As a chemical engineering student, one of my main goals is to be able to contribution to innovations in renewable energies in order to eliminate emissions, recycle eco-wastes, and help to create a green and sustainable environment for everyone.
@Connect4Climate
During the workshop, Max Edkins of the Connect4Climate program explained the overview concepts of climate change, a series of results from global warming caused by todays industrialized societys extravagant exploitation of the natural resources. If the global temperature continues to increase as todays rate, we will soon need a boat for each house! According to Intergovernmental Panel on Climate Change (IPCC), the temperature would rise 4 degrees Celsius and sea level will increase by a meter in the next 80 years. When extreme weather comes, poor people would be trapped because they lack the resources to protect them; yet ironically, they are producing the least pollution.
Therefore, the World Bank Group created a platform that aims to unite youth, athletes, and other global industries to communicate about tackling climate change. Using social media, students like us from different nations can talk to each other through Connect4Climate, creating ways of raising global awareness. Athletes spend a great deal of their time in nature; its their work environment. The environment to athletes is like greenhouse to flowers. If we could connect influential athletes with future generations, we will soon be able expand such a network and change the worlds outlook.
#Sport4Climate
I had an idea to categorize different athletes and sports by symbolical colors so they could share the messages of a particular environment. For example, athletes who play winter sports such as skiing, snowboarding, and hockey could represent white and be devoted to raising awareness about what is happening in the polar regions and the endangered animals that live there. Athletes who play water sports such as swimming, canoeing, and kayaking could represent blue and advocate against water pollution. Ground sports like gulf, soccer, running, and cycling would be green and communicate what happens when droughts and other high temperatures dry out the soil.
By Carmen Casado, Madrid, Spain - Montgomery College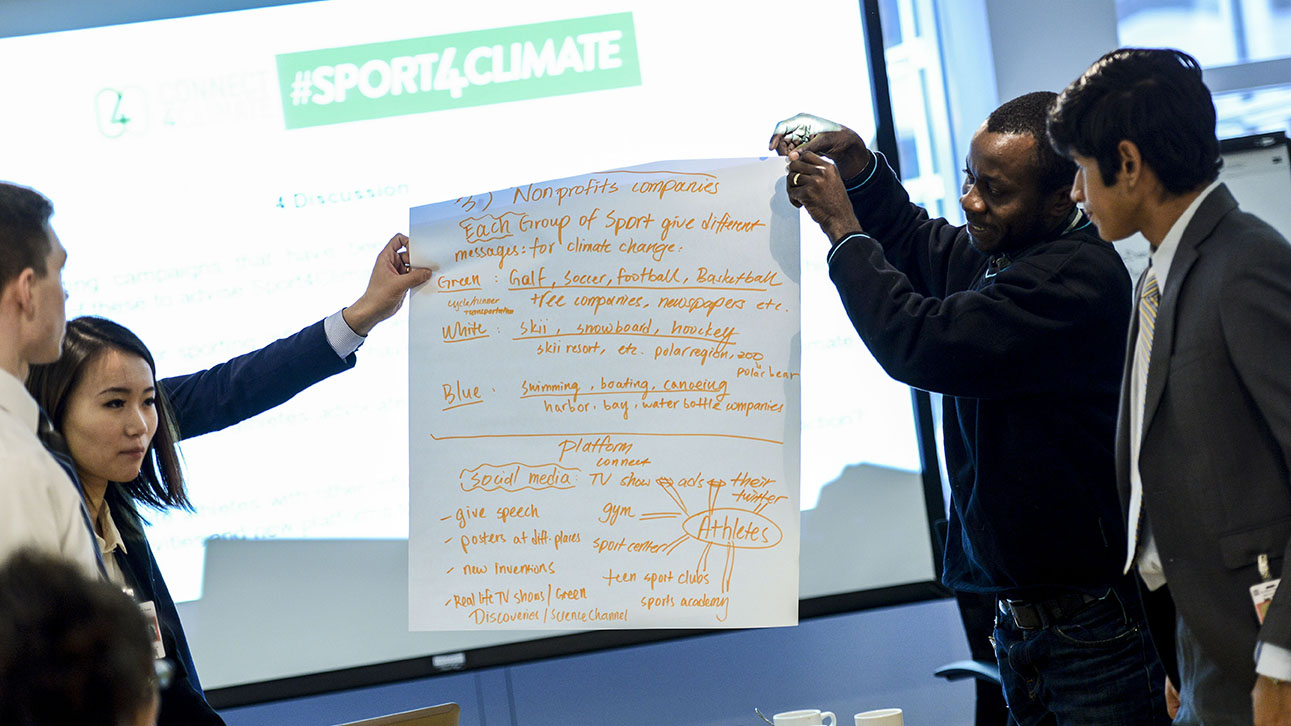 Montgomery students discuss strategies to enhance the Sport4Climate initiative of Connect4Climate. Credit: Leigh Vogel
On January 15th, 2015 my sociology class was invited to a meeting at the World Bank to discuss one of their projects, Sport4Climate. As the name suggests, the project is focused on how sport can help alleviate climate change. I was excited about the event, but when I mentioned it to several friends, they looked confused, asking "What connection does sport have with climate change?"
For me, the answer is simple: sport is universal, which means it can generate worldwide support towards a healthy planet.
There are many problems in this world, but the one that we all need to band together on is climate change. We desperately need to change our attitude toward the environment and make two stands. First, we have to adapt to the planet getting warmer. Secondly, we must reduce the negative environmental impact we are creating. The World Bank Groups Connect4Climate group is supporting both, and they know that young people play an essential role in confronting climate change, so they encourage us to take action.
Currently, sport causes damage to the environment. For example, the maintenance of golf courses produces a serious impact due to the use of water, pesticides and chemical fertilizers. The United Nations estimates that these fields use 2.5 million gallons of clean water a day that could be otherwise used by at least 4.7 million people. On the other hand, as it was mentioned during our workshop, sport is also a victim. Activities have also been affected by the melting of snow, the warming waters, and the increasing temperatures.  For example, by 2082 only 6 of the current 19 hosting sites of the Winter Olympics will be able to host the events again due to warming temperatures.
The Connect4Climate team explained that certain athletes are taking a stand. Athletes such as Norberto Neto, ACF Fiorentina goalkeeper, and Thiago Pereira, Brazilian Olympic swimmer have already pledged their support to the Sport4Climate pledge to make this planet a better place, and are encouraging the rest of us to follow suit. 
The Connect4Climate group made it clear that they were interested in outside opinions and ideas, too. After listening to presentation from Connect4Climate project members Max Edkins, Walid Norris, and Lucia Grenna, and Vice President and Special Envoy for Climate Change at the World Bank, Rachel Kyte, we got into discussion groups. We talked about who are the major sporting influences and what new platforms could be effective for the cause.
We young people are the future.
We must be aware that we are responsible for a great deal of change. We need motivation, something that Sport4Climate project is trying to incite. While sports have a major impact on the environment, there are things we can do in our daily lives to help better the planet. Little actions, like taking shorter showers, recycling, or taking public transportation can help, no matter how small they are. Change is not only done by sports teams or large companies, it is made when, one by one, people come together. Even if it seems insignificant, changing your lifestyle is essential: the more people that live environmentally-friendly lives, the more effect each of us has. Therefore, I encourage you to take action. It is our planet, and it is our lives.
By Fiorella Rayme, Lima, Peru - Montgomery College
Students brainstorm messages needed for climate action. Credit: Leigh Vogel
My family and I recently starting recycling more. But we are just one family. What other families? Are they recycling too? I dont think one family, without the help of other families, can really make a difference.
I have been hearing about climate change ever since elementary school, especially when I started school in the United States. That was when I really started to become aware of it and how we should help fight it. Ive come to the conclusion that if I had not moved to the United States and started school here, I would have probably not have been aware of global climate change. When I used to go to school in Peru in third grade, I didnt even know what global warming was.
But In my sociology class, I learned that climate change does not only impact developing countries, but also the underdeveloped ones. The poverty in those countries is a major contributor to climate change as well. Since everyone does not have the same educational opportunities, it is difficult for some to learn, or even worry, about certain problem.
My professor, Dr.Sibilski, made us focus on the importance of being aware of global warming. How could we change that and make everyone aware? What if sport were involved? Sport is something everyone plays - from the rich to the poor, someone will always have at least a ball and use it to play soccer. This is the focus of Sport4Climate program. Everyone has a hero, and in many cases its a celebrity sport player. If these heroes set an example by doing something to improve our planet, then their fans would like to follow and do the same.
The Connect4Climate Workshop was a great opportunity for us to showcase our  thoughts about climate change as well as learning the consequences of what really causes it. One of the speakers, Rachel Kyte, Vice President and Envoy for Climate Change at the World Bank, was able to tell us more about how the release of CO2 is the greatest impact on the climate and that government and politics plays a big part in our ability to combat it. Not having enough resources to help out ones county makes it harder to keep it safe from natural disasters, which will increase if nothing is done about it.
I also learned that the top two countries that release the most carbon dioxide are China and the United States. Is this why I didnt know about climate change until I started school in the US? Could it be that countries who are causing the most harm are the ones trying to redeem themselves for it by having their people help out?
Tackling climate change will take unity. Spreading the word about global warming and its effects would make people think twice about throwing their water bottle in the waste bin instead of taking the time to take it to the recycling bin. In addition to that, having someone lead by example, like a famous sport player who is recognized around the world, could help unite people who want to follow upon their lead.
My family and I are not making a difference by being the only ones recycling in our neighborhood. There is no such thing as making a difference by oneself. To tackle a major problem like climate change we need to unite with others. Working together is when we are really going to start making a difference, and keep the planet safe and clean for the next generations to come.
By Emile El Ghandour, Rio de Janeiro, Brazil - Montgomery College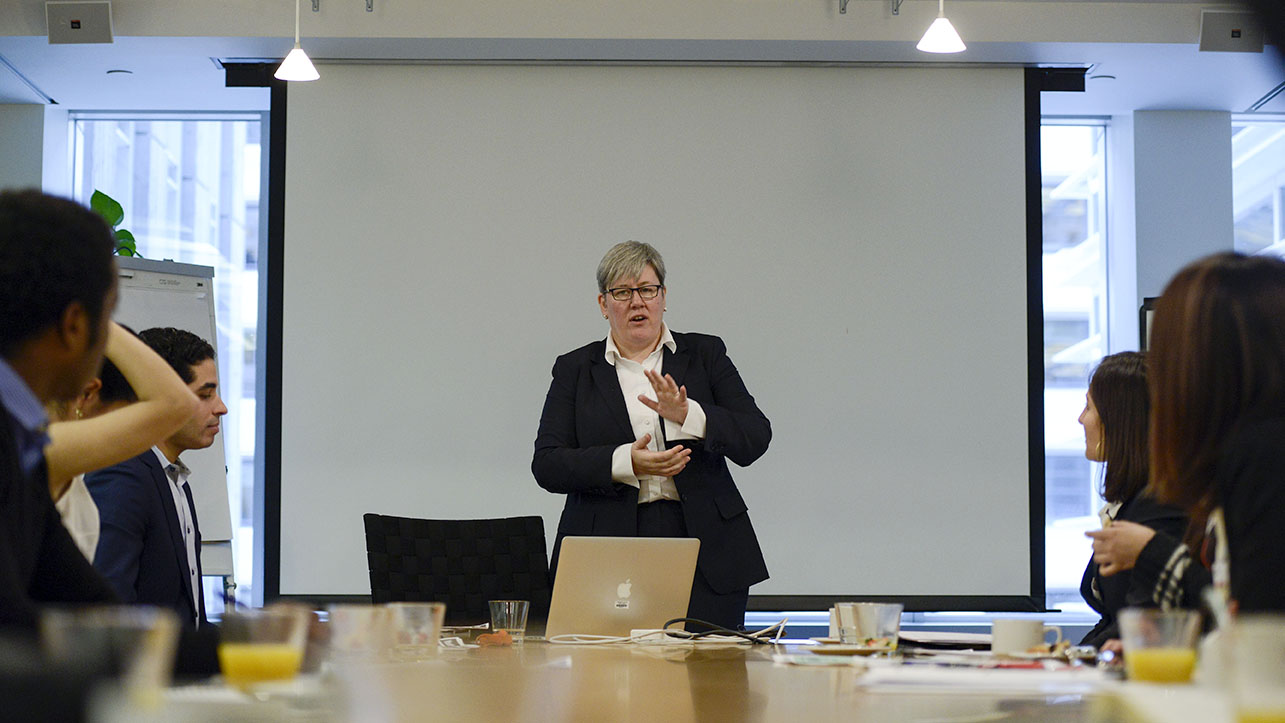 Rachel Kyte, Vice President and Envoy for Climate Change at the World Bank addresses the students. Credit: Leigh Vogel
Scientists have informed the world about climate change. We listen, but wait for someone else to take action. Most of us are too busy and comfortable with our lives to do anything about it. We see that extreme weather has intensified. Evolution, industrialization, and greed are a deadly combination for our climate, as we strive to be better than our mates and have more and more material things. We should think about what issues are affecting us now but will especially affect the generations yet to come. Will there be a healthy and clean environment for them? What will we do with all these material "things" if we can't live a healthy life?   
Sport heroes are great role models and ambassadors for the climate change cause. They live a healthy life, and never give up trying until they finish what they started. If we all adapt their mentality, perseverance, teamwork attitude and discipline, we can stand up for those who can't and change the future of our planet. Athletes say that Olympic success is more then the glory of victory. If we succeed in stopping or controlling climate change, our glory will be incredible.
Dr. Sibilski said "Having the tools is not enough. Use them". Now that we have the knowledge and are connected to this cause I hope to be able to bring awareness to others, one at a time.
"If we don't address climate, we don't address poverty", Lucia Grenna, Connect4Climates program manager, told us. She gave opinions on what the world needs to do to help. We need to adapt to a greener way of life by reducing greenhouse gas emission, preventing deforestation and building carbon free cities. I also met Rachel Kyte, Vice President and envoy for climate change at the World Bank, whose knowledge and confidence on the subject is amazing. Among the many things she shared with us, she told us about gas flaring and how it wastes energy resources that could be used to support economic growth but it mainly contributes to climate change by releasing millions of tons of CO2 to the atmosphere.
Being at the Connect4Climate Workshop has enlighten and strengthen my beliefs and desire to help, I understand now that change will come; one person is all that it takes to make a difference. I have been vegan for over 10 years and have done it for sympathy for animals but lately I had doubted my choice. After the workshop I am sure. I am vegan to help the planet and have a clean environment for my family. I will lower my carbon footprint and support Connect4Climate. You can make a difference too.
By Adriana Sedjeu, Washington, D.C. - Montgomery College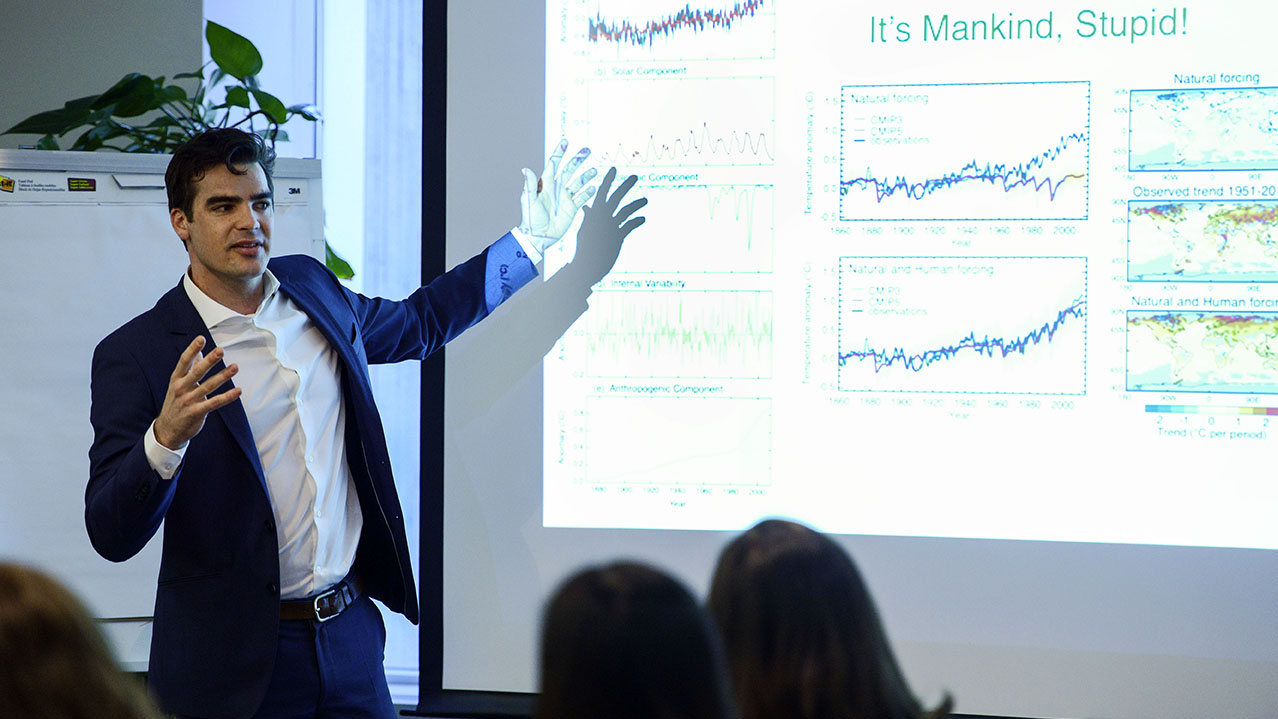 Max Thabiso Edkins explains the science of climate change to students. Credit: Leigh Vogel
As I headed for the conference room for our Connect4Climate Workshop, I was curious. I knew the World Banks main focus was aiding developing countries, and I understood that Connect4Climate was a global community that takes on climate change, yet I did not know what to expect from this seminar. Little did I know I was heading for an educational and enriching experience that would change my perspective on issues we face as a global community.
We all know the earths ice is melting and that sea levels are rising, but not many know that NASA confirmed 2014 was the hottest year on record since the 19th century. If thats not global warming I dont know what is. Max Edkins, of the Connect4Climate team, explained that there are naturally occurring changes in climate, like El Nino or volcanic activity, but the reason behind the global warming observed in the last 100 years or so is human activity. We emit greenhouse gases, more and more every year, and if we do not change our ways, the earth will be four degrees Celsius warmer by 2100.
Mr. Edkins then shared possible actions to take: removing fossil fuel subsidies, accelerating renewable energy, preventing deforestation, building livable low-carbon cities, and implementing climate-smart agriculture. During his lecture, I was fortunate enough to be sitting by a representative of the German Corporation who explained to me what the Global Environment Fund (GEF) is and who they are. She explained there are many conventions held to help fund projects for the environment, specifically for endangered animal species.
Professor Grenna told us about multiple programs that Connect4Climate created or was involved with that I found inspiring: the Lego city project and working with the fashion industry during Milano Fashion Week. The most impressive speaker was Rachel Kyte. She really took the time to explain what climate change is and the pressing consequences. I never knew how much gas flaring there was in the US, or that methane sped up the damage of carbon dioxide to our atmosphere. She also shed light on how developing countries, like Ethiopia, live climate change first hand and how these nations have the necessary natural resources, but lack the funding and the engineering to fight the effects of global warming.
We were also asked to form three teams and brainstorm ideas for Connect4Climates Sport4Climate initiative. We suggested reaching out to entire teams of athletes instead of just one to promote unity and teamwork; color coding sports and reaching out to organizations that could relate to them (blue for swimming or rowing, green for soccer or football, white for skiing or snowboarding); and publicizing athletes or campaigns they are involved with (like Shaquille ONeal and Toys for Tots).
Later, we went around the room explaining what type of social media our generation used and why. I was surprised to learn through a couple of classmates that China and Armenia have their own versions of Facebook. The final portion of the conference consisted of an interview, in which we shared our action plan for 2015 both in English and in our mother tongue. I stated in French and in English that my action plan was to reduce my water waste and recycle more.
I left the World Bank with exciting food for thought and a new perspective. I had always been aware of climate change, but never to this extent. I also knew humans had to change their way of living in order to keep our planet healthy, but I never fully realized how destructive the ripple effects were.
Understanding Climate Change