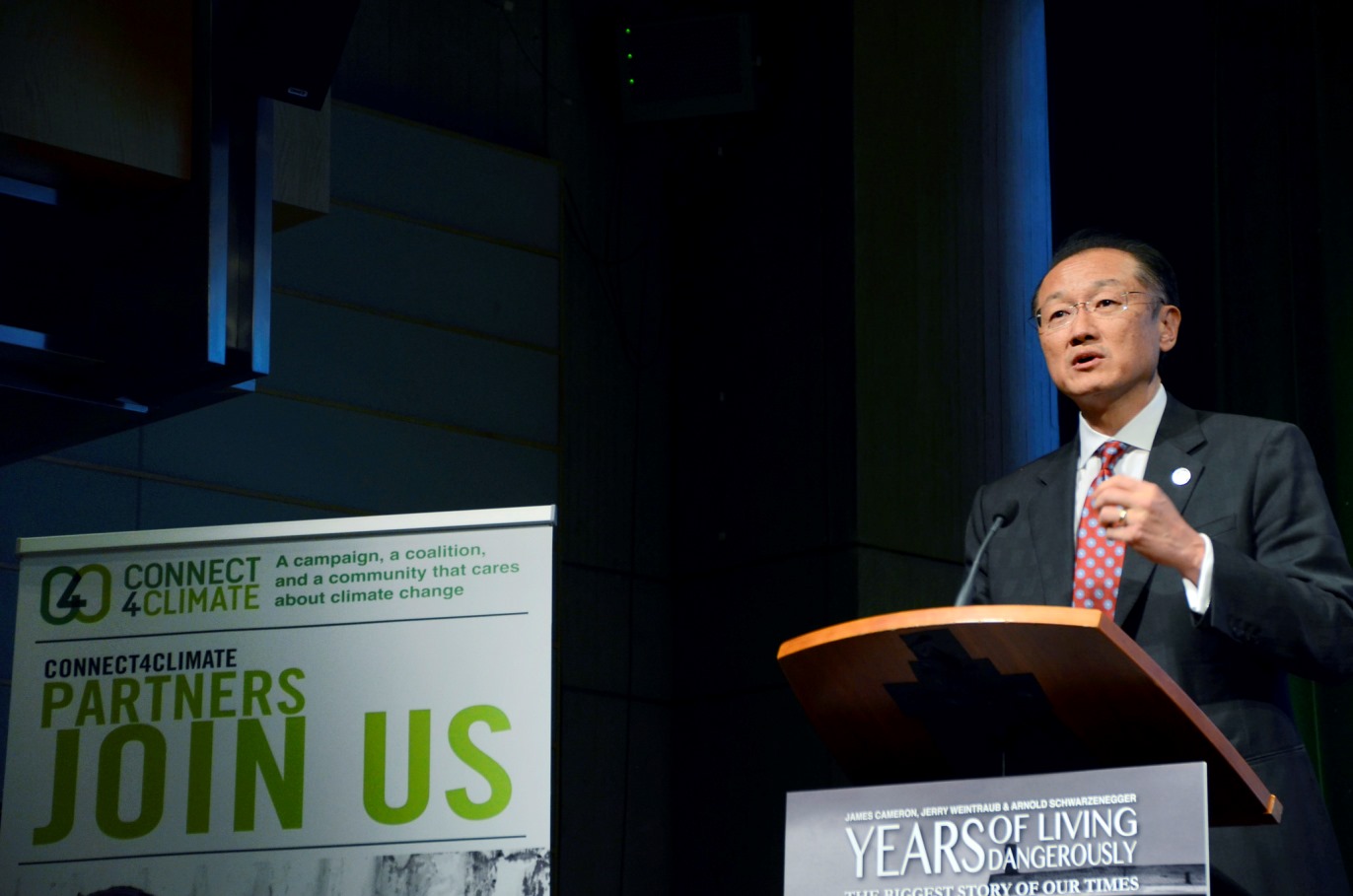 Would you like to see Harrison Ford cuddling an orangutan orphaned by deforestation? Meet a scientist who studies ocean warming on Christmas Island? Or understand how drought helped cause today's heart-rending human disaster in Syria?
These are among the stories told in Years of Living Dangerously, a brilliantly innovative new television series about climate change that previewed April 10 at World Bank headquarters in Washington, DC before an overflow audience of more than 700.
The series makes climate change easily understandable by focusing on how it has adversely affected the lives of ordinary people. Through their experiences, audiences gain "a sense of the magnitude of the stakes, a visceral connection to what climate change means for real people individually," said Daniel R. Abbasi, one of the series' executive producers
Hollywood filmmaker James Cameron, another executive producer of the series, sent a pre-recorded video message to the audience in which he said that Years of Living Dangerously demonstrates how "climate change is very real and that it's happening right now, and that it's affecting all people everywhere."
The exclusive screening of highlights from the nine-part series was organized by Connect4Climate, the World Bank's outreach for raising awareness about climate change. The program airs weekly on the cable channel Showtime from now through early June.
"I hope the stories here will be a wake-up call," World Bank Group President Jim Yong Kim said in remarks opening the event. Kim said he has made attention to climate change a top priority for the Bank because "we knew that if we didn't tackle the issue of climate change we would never meet" the bank's twin targets of ending extreme poverty by 2030 and boosting shared prosperity.
Kim appealed to the international community to do more to deal with climate change. "We still don't have a global plan that is equal to the challenge," he said, although "we at the World Bank Group have been working very hard to put some of the pieces of that plan together."
In his video message, Cameron commended Kim for his "courage and leadership" in highlighting the link between ending extreme poverty and addressing climate change. He also thanked "the dedicated team" at Connect4Climate for organizing the screening and helping put climate change on the international agenda.
Before the film was shown, World Bank Vice President and Special Envoy for Climate Change Rachel Kyte led a discussion with two of the film's stars, Conservation International Executive Vice President and Senior Scientist M. Sanjayan, and New York Times columnist and author Thomas Friedman.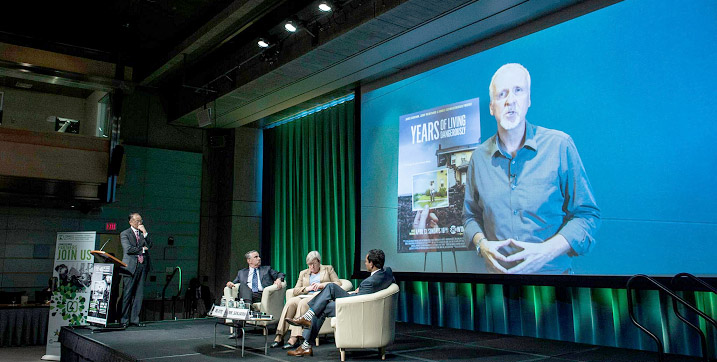 James Cameron addresses launch attendees and Jim Kim, Thomas Friedman, Rachel Kyte and M Sanjayan via video message. Photo: Leigh Vogel
Albert Gore's film, An Inconvenient Truth, "was one man giving a lecture to millions," Friedman said. But by telling the stories of real people around the world, Years of Living Dangerously "is the millions giving a lecture to the world."
Friedman, who interviewed Syrian farmers about the loss of their livelihoods because of drought and how that helped drive them into conflict with their government,  decried those who still deny man-made climate change. Time spent on such debate is time lost on mitigating climate change, which is a real necessity, he noted, because by 2050 the earth will be home to 9.6 billion people, according to the latest United Nations estimate.
By then, said Friedman, "you don't need to have any climate debate [because] we're going to burn up, choke up, heat up and smoke up this planet faster than anyone can possibly imagine."
Sanjayan, who visits Christmas Island in the series, said he initially turned down a request to be in the film because he was afraid that climate change is too technical "to make good television" and "people wouldn't watch it."
But the program's creators convinced him that by filming real people and showing real impacts, climate change becomes a reality that people can connect to and understand. It is important, he added, to have messengers of climate change "who can relate to the people of the planet."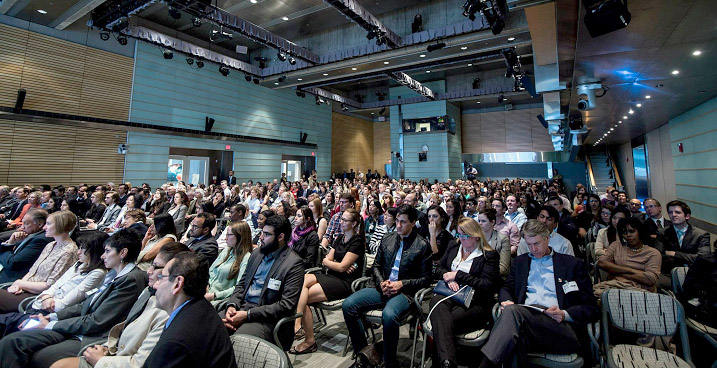 About 700 people joined the launch. Photo: Leigh Vogel
Bank President Kim told the audience that when he talks about low-carbon policies and reducing fossil fuel subsidies with finance ministers from poorer countries that are being hurt by climate change, "what they keep saying is, 'Why is it that we have to bear the brunt of a problem that we have very little role in creating?' This is a very difficult conversation."
It is a difficult conversation because the world's biggest polluters are countries with the largest and richest economies, including the United States. This is why US Senator Sheldon Whitehouse, who attended the Years of Living Dangerously premiere, is urging US corporate leaders to do more to put climate change on the agenda of the US Congress.
"The problem is in America," Whitehouse, a Democrat who represents the state of Rhode Island, said in an interview. "The political tipping point could be reached if America's corporate leadership which already has the right policies on climate change would integrate their message a little bit more clearly so that it penetrates" the minds of his fellow politicians.
One part of the series deals with the political battles over what to do about climate change.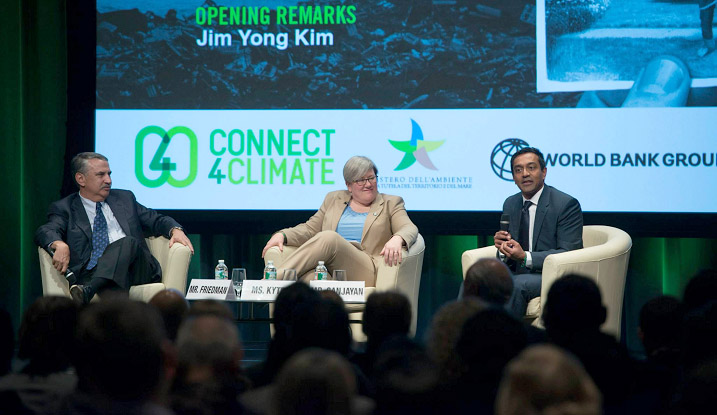 Thomas Friedman, Rachel Kyte and M Sanjayan on the panel. Photo: Leigh Vogel
Reviews of the series from audience members were positive. "It was really strong….it had a strong wake-up call for people," said Kristina Velhagen, who works in communications with the Climate Investment Fund. "I think it can reach a broader audience."
Frances Yator, who lives in Maryland, said she found the film "really informative" because "it brought up topics I hadn't heard of before." She also appreciated, she added, how the program made a connection between social and climate issues.
Abbasi said he and his fellow producers hope that their program will "ignite a conversation" both in the United States and elsewhere. "We want people to take a fresh look [at the issue of climate change], to talk about it, and ultimately we'd like to see people reaching out directly to their elected officials and saying we need action [and] we need it urgently."
He urged viewers to visit the program's website, where they will find a page devoted to ways that people take action on climate change.
For, as Cameron said in his video message, "These are the years of living dangerously. The world is in danger. We are accountable, and we need to take action."