It's a unique feeling when you have the sense that you are witnessing an historic moment.
That's how I felt as I was standing on the sidelines of the Olympic Stadium in Rome on September 1st 2014, attending the first Interreligious Match for Peace. 
Connect4Climate and The World Bank recognize that poverty is inextricably linked to climate change, with the poorest being the most affected: scarcity of water, food and natural resources will lead entire regions to higher risk of conflicts. That's a fact. An inter-faith dialogue on lasting peace, expressed through the Match for Peace therefore becomes vitally important.
One of the main purposes of C4C is to bring climate change to "unusual" audiences, to broaden the scope of this crucial challenge and raise awareness among people who generally have no idea of what our civilization will face in the future if we do not intervene.
That night, I was in a stadium with sixty thousand football lovers, standing in complete silence while Pope Francis delivered a powerful speech on the power of sport as a catalyst for tolerance and respect among people of different religions and cultures:
"Discrimination is a form of contempt, and you with this game today, will say 'no' to any discrimination. Religions, in particular, are called to be a vehicle for peace and never for hate, because in God's name we must always bring only love. Religion and sport, enacted in this authentic way, can collaborate and offer all of society eloquent signs of that new era in which nations 'will not raise sword against another.' On this highly unusual and significant occasion that is the contest tonight, I want to deliver to you all this message. Open your hearts wide as brothers to brothers! This is one of the secrets of life: to broaden the hearts of brothers to brothers, and is also the most profound and authentic dimension of sport."
Behind me, just a few feet away, were Diego Armando Maradona, Javier Zanetti, Roberto Baggio, Gigi Buffon and Andrea Pirlo (to name a few). All of them were standing still, listening to Pope Francis' words, wearing expressions I had rarely seen on their faces, despite having watched them in countless matches on TV.
I could see that they were proud, empowered and truly committed to their new roles as global ambassadors for Peace.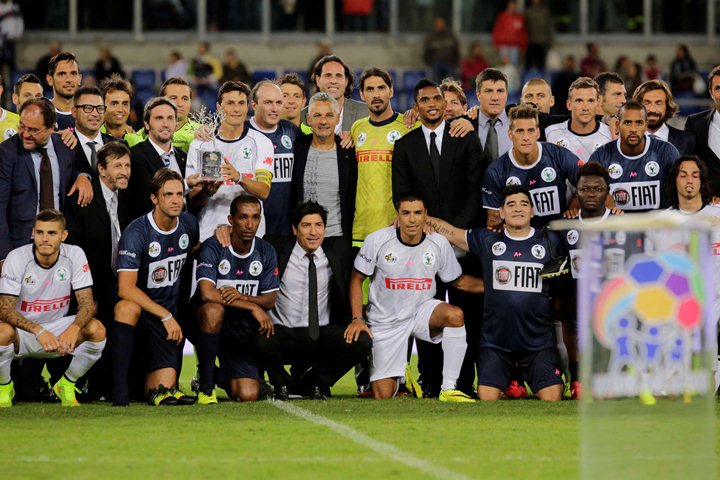 Match for Peace participants pose with an olive branch trophy, symbolizing a commitment to peace. Photo: TVN Media Group
Now, try not to call this an "unusual" audience.
When the match started, it felt like a sport fan's dream with the most memorable players in recent football history all together on the pitch.
People couldn't believe their eyes (and neither could I), when Maradona delivered a delightful lobbed pass to Baggio, who scored gracefully against Italian goalkeeper Francesco Toldo.
While I was recovering from the emotion of that moment (in case you hadn't figured it out, YES, I am a football fanatic), C4C's banners were being displayed all around the stadium. Our campaigns, our initiatives, were ready to be checked out, posted and retweeted by a new and untapped audience.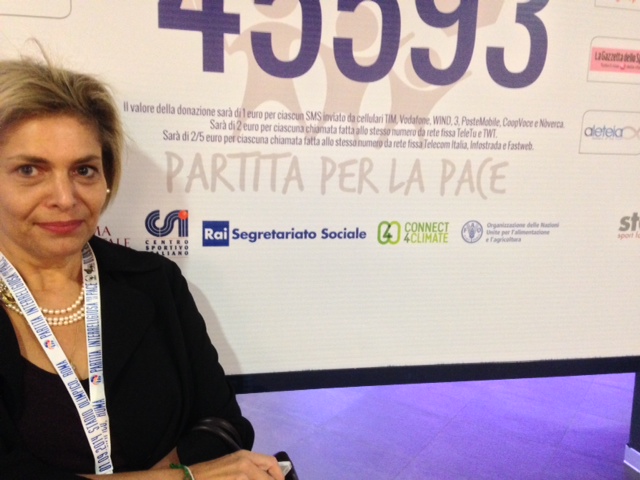 Lucia Grenna, Connect4Climate Program Manager, standing next to one of the C4C logos displayed at the Olympic Stadium.
That made me realize once again the huge role that sport can play in raising awareness of important issues, of which climate change is one.
Let's face it. Footballers are today's rock stars, and can massively influence millions of fans around the globe through their actions. Many of them are becoming aware that they're more than football players and are fully embracing their new status as social influencers, supporting and advocating for crucial global causes.
In this context, it's not a surprise that the Argentinian football sensation, Lionel Messi, supported and campaigned actively for WWF's Earth Hour initiative. The legendary Italian player Roberto Baggio was awarded the title of "Man of Peace" from the Nobel Peace Prize Laureates in 2010 and he's a longtime global ambassador for FAO, actively campaigning for food security. There's even a sustainable farmer among the Match for Peace players. Andrea Pirlo, the Italian World Cup champion, owns a sustainable farm in the countryside of Lombardy.
These are just a few examples that lead the Connect4Climate team to believe that the time is ripe to seek greater involvement from the sports community in taking a stand against climate change. It is for this reason that we recently launched #Sport4Climate, a global communication initiative that showcases the ways in which the international sports community is ready to play a significant role in bringing people together to address climate change. Athletes from around the world are joining us to advocate for increased action, speaking out to encourage their fans to act too.
Sadly, like all good things in life, this beautiful evening also had to come to a conclusion. No one in the stadium wanted it to end. Everyone was aware that what they had witnessed that night was much more than 90 minutes of pure football delight. It was a testament to tolerance, as well as a demonstration of respect for that most important of values: peace – a value which mankind around the globe should embrace and share.
We invite you to do your part in addressing climate change and advocating for global peace. Join the discussion with #sport4climate and #matchforpeace.

A spectacular bicycle kick during Match for Peace. Photo: TVN Media Group