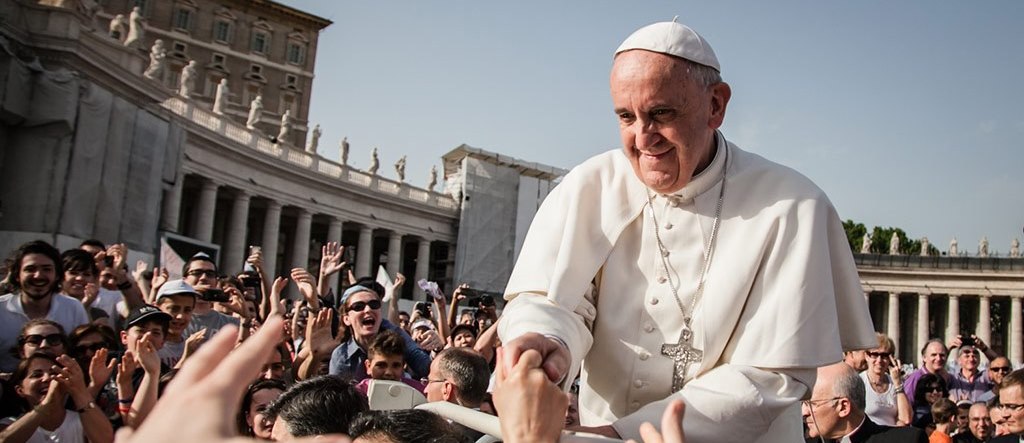 Today the Pope presented his Encyclical Letter "Laudato Si (Be Praised), On the Care of Our Common Home". It's an open letter to shape Catholic teaching globally about humanity's universal responsibility to "care for our common home" and tackle the root causes of the greatest interlinked challenges of our time: climate change and poverty. The Encyclical builds on Francis' previous statements on the "clear, definitive and ineluctable ethical imperative to act" in order to protect the environment.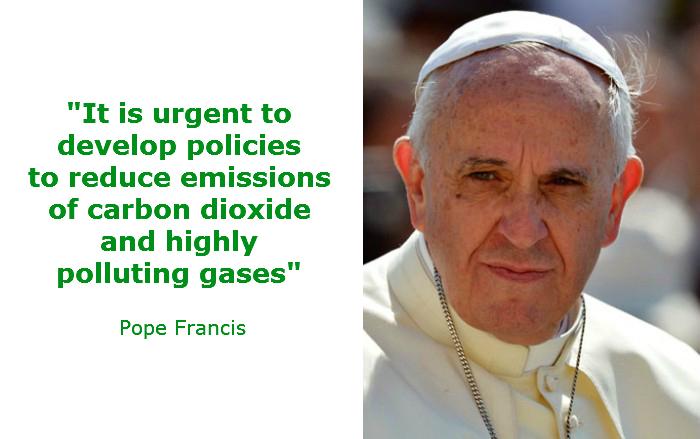 The vision that Francis outlined in the 184-page encyclical is sweeping in ambition and scope: He described a relentless exploitation and destruction of the environment, for which he blamed apathy, the reckless pursuit of profits, excessive faith in technology and political shortsightedness. The most vulnerable victims are the world's poorest people, he declared, who are being dislocated and disregarded.
"The climate is a common good, belonging to all and meant for all. At the global level, it is a complex system linked to many of the essential conditions for human life. A very solid scientific consensus indicates that we are presently witnessing a disturbing warming of the climatic system. In recent decades this warming has been accompanied by a constant rise in the sea level and, it would appear, by an increase of extreme weather events, even if a scientifically determinable cause cannot be assigned to each particular phenomenon. Humanity is called to recognize the need for changes of lifestyle, production and consumption, in order to combat this warming or at least the human causes which produce or aggravate it."

"Climate change is a global problem with grave implications: environmental, social, economic, political and for the distribution of goods. It represents one of the principal challenges facing humanity in our day. Its worst impact will probably be felt by developing countries in coming decades. Many of the poor live in areas particularly affected by phenomena related to warming, and their means of subsistence are largely dependent on natural reserves and ecosystemic services such as agriculture, fishing and forestry."

- From Pope Francis' Encyclical Letter
Download the Encyclical in Different Languages
Key Messages
Pope Francis' Encyclical is a definitive moral case for action on climate change. It is a teaching document that acknowledges, and stands in solidarity with the overwhelming scientific consensus, and vocalises what all know to be true: fossil fuels and unchecked exploitation of the natural world are irreversibly damaging our common home. Taking action on climate change and empowering poor countries to develop sustainably is both morally and economically right.
The Pope's Encyclical calls for an urgent moral response to a reality established by robust scientific evidence. It does not speculate on the causes of climate change itself. Pope Francis is doing his job as a moral leader, calling for the protection of vulnerable people and proper stewardship of "our common home", the earth. He appropriately labels acts risking the integrity of our planet as "sins", provides the environmental movement with a boost of moral support, and condemns indifference, denialism and obstructionism.
His Holiness is calling for all of us, not just Catholics, to care for people and the planet. The encyclical on ecology draws from the deep well of Church teaching on these issues to lay out the moral imperative of tackling the root causes of the greatest interlinked challenges of our time: climate change and poverty. The Pope is adding his voice to a global choir of leaders from all walks of life who are demanding action, calling for an end of fossil fuels, a future powered by renewables, and a strong climate deal in Paris. 
Jim Kim's support
The World Bank says the pope's encyclical is a "stark reminder" of the link between climate change and poverty.
World Bank President Jim Yong Kim says climate change impacts, "including the increased frequency of extreme weather events, are most devastating for the unacceptably high number of people today living in extreme poverty."
He says that over the past 30 years weather-related disasters killed more than 2.5 million people and resulted in almost $4 trillion in damage.
"As the effects of climate change worsen, we know that escaping poverty will become even more difficult," he said. "Climate change also poses a direct risk to the hard-earned development gains over past decades."