New York, NY--Marion Cotillard took time out of her packed, project-filled schedule to talk to a group of strangers about one of her passions – educating people about our planet's changing temperature.  The French actress, who won an Oscar for her portrayal of singer Edith Piaf in La Vie en Rose, is clearly passionate about the planet.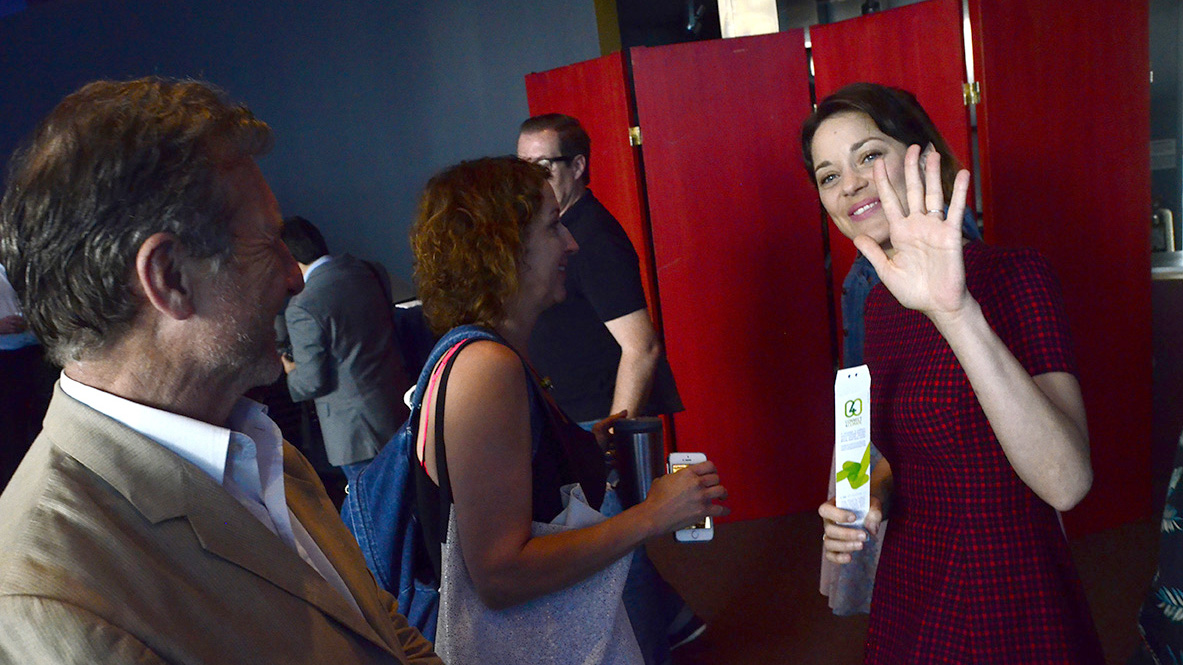 French actress Marion Cotillard (shown here with a Connect4Climate bracelet) shows her support for the "Ice and Sky" project, a brainchild of Oscar-winning director Luc Jacquet, when he announced the details of his latest climate change education effort. Cotillard voiced the English-language animated feature in Ice and Sky, which details decades of research on climate change in Antarctica.  "Ignorance can be a crime," Cotillard said to the audience. Photo credit: Max Edkins
"We need to raise awareness because we are super smart animals," Cotillard told a crowded room at the Alliance Française. "We can destroy, and we are very good at it. But we can also create, and we are very good at that, too. Collaborating with people like Luc is already the beginning of the solution."
"Luc" is Luc Jacquet, the man sitting in a director's chair next to her at the French Institute Alliance Française. Jacquet, the Oscar-winning director of March of the Penguins (2006), was in New York announcing his latest effort—Ice and Sky, a multi-tiered media project—produced through his nonprofit, Wild Touch. Part of the project includes an animated story about glaciologist Claude Lorius, one of the first scientist to discover and discuss that the planet's temperature is rising. Cotillard narrated the English version of the film. The story is available on the website for free.
Youth Expeditions to the Arctic
Along with a website that offers lesson plans for educators—the material is verified by top climate researchers—Jacquet also wants to bring to train a younger generation to help tell the story of our planet's rising temperatures.
In October, his nonprofit, Wild-Touch, will train youth ambassadors, around ages 14 – 21, to tell climate stories as they see them on a ten day trip aboard a research vessel in Greenland. The young people will learn and use the media most interesting to them – the written word, film, social media, or video. Jacquet hopes to help launch the next generation of filmmakers.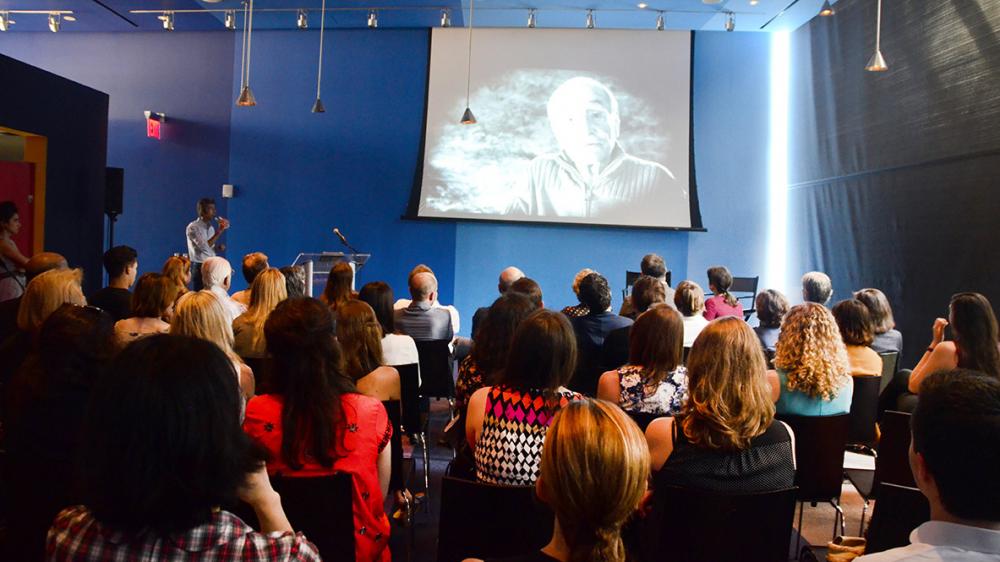 Wild Touch present their climate info videos with Claude Lorius and narrated by Marion Cotillard. Photo credit: Max Edkins
Antarctica Again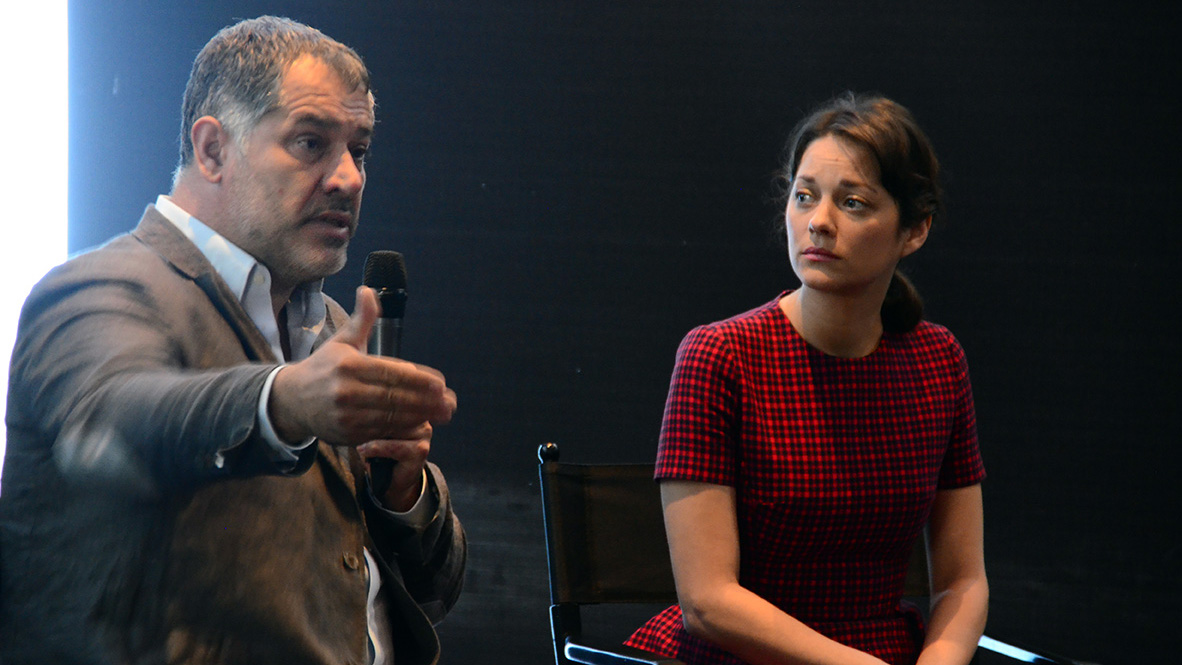 "What is important for me regarding global warming is to find a way to send very positive messages," said Jacquet about his "Ice and Sky" project. It's important to break the walls between science, teachers, art, and children. And important to empower children to claim their own destinies for themselves." Photo credit: Max Edkins
Jacquet himself will busy himself while the project gets underway. "We are going back to the land of March of the Penguins and bear testimony about what is happening now." For three months, Jacquet along with wildlife photographers Laurent Ballesta and Vincent Munier, and filmmaker Jerome Bouvier will document the effect global warming has on the southern continent's most popular residents—the Emperor penguins.  Their work will be shown daily in a real-time art exhibit during "COP21", the United Nations Conference on Climate Change to be held in Paris from November 30 – December 11.
"We have to save this nature," Jacquet said. "I want our children to be able to film these penguins in 20 years."
Jacquet also recently premiered his documentary-style film, Ice and the Sky, about Lorius's remarkable career, including rare archival footage of sixty years of Antarctic expeditions. The film brings to life the great age of exploration with Lorius and his fellow pioneers as they make break-through discoveries in Antarctica, a continent barely explored at the time.  The film was selected to close the renowned Cannes Film Festival, a coveted spot. Lorius receiving a standing ovation nearly ten minutes long.