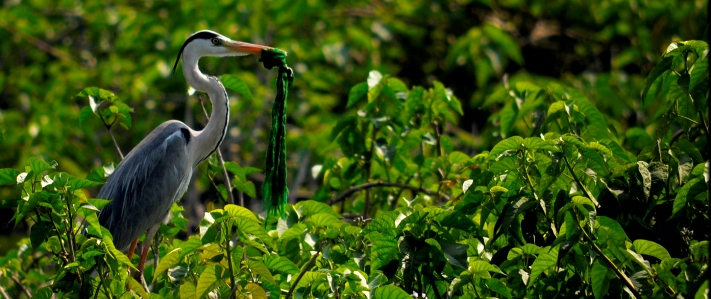 Cittadinanzattiva (Active Citizenship), an Italian nonprofit devoted to civic participation, organized the "SpreK.O. - Cittadinanza in Festa 2014" festival from May 2-4, to promote sustainable choices and raise awareness of waste issues. Earthday Italia and Connect4Climate partnered with Cittadinanzattiva for the event, which drew an estimated 1,000 visitors.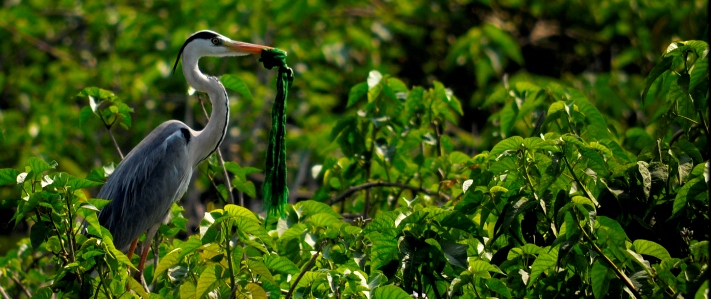 Photo: A grey heron holds a discarded nylon rope in its bill. Photo: Ashutosh Mahajan
Online discussion
The day before the festival, Connect4Climate organized a live web discussion on waste management issues on The Guardian's Global Development Professionals Network. The two-hour Q&A session featured a panel of 10 experts, including John Morton, Senior Urban Environment Specialist at the World Bank, and Delphine Arri, Environment Specialist at the International Finance Corporation.
The online discussion drew a significant audience, with members posting 178 comments on a variety of solutions to waste. John Morton recognized the importance of monetary incentives to motivate people to improve recycling. David Jones from the Plastic Oceans Foundation added two great examples:
"In Dahab in the Sinai, no tin is on the ground because the locals understand their value and recycle them… In Germany, every PET bottle is worth 40 cents for recycling."
David Jones also raised the point that plastic production accounts for 88% of the world's oil reserves, and about 150 million tonnes of plastic waste is thrown away annually after just one use. In his opinion, to tackle waste effectively our throwaway lifestyle would have to change. John Morton highlighted effective examples for reducing consumption, including a plastic bag ban in Latin America, or the Styrofoam ban in the U.S.
Highlights from the online discussion were used to fuel panel discussions at Cittadinanza in Festa. The festival's core theme, knocking out waste, was used as a thread to explore a variety of sustainability challenges.
Food waste
A panel discussion on May 2nd, highlighted that the average Italian throws away 76 kg of edible food each year, 42% of it at home. At the same time, food production is being constrained by rapid urbanization: over the past 3 years 720 km² of Italian land has been paved over, equivalent to the surface area of Milan, Bologna, Florence, Naples and Palermo combined. The social cost of the carbon dioxide emissions generated by this construction has been estimated at 130 million Euros, and it was estimated to have cost the Italian economy 90 million Euros in imported food that could no longer be grown locally.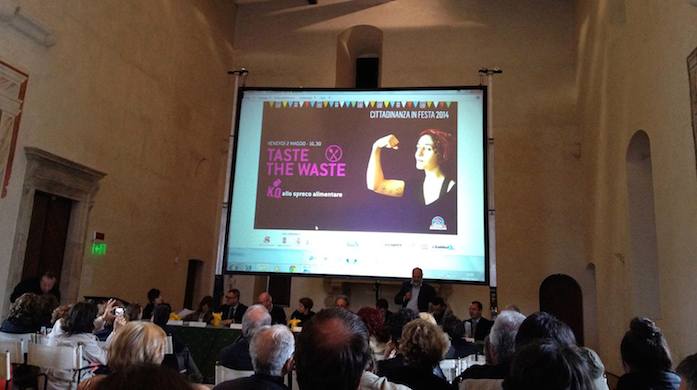 Riccardo Valentini opens the panel discussion on knocking out food waste. 
On the food waste panel Michele Bruni of Enterprise Projects Ventures, stressed the need for technology to overcome shrinking agricultural land. Beatrice Costa of Action Aid Italia highlighted the results achieved through pilot programs in schools, which teach youth to not to waste food. The Italian Minister of Health, Beatrice Lorenzin, emphasized the need to find uses for food that is still healthy but no longer meets retail standards.
Riccardo Valentini, a board member of the Intergovernmental Panel on Climate Change, highlighted the challenge of feeding 7 billion people, the current global population. He advocated including consumers in creating sustainable solutions.
Environmental Waste
A May 3rd panel discussion focused on Environmental Waste. Marco Frey, President of Cittandinzattiva opened the panel and emphasized the need for citizens to own the waste challenge, as businesses are responding to changing consumer demands.
Every day, the world's population generates enough waste to fill over fourteen large soccer stadiums from top to bottom, more than 3.5 million tonnes. Walid Norris from Connect4Climate highlighted that if waste management trends continue, landfilled food waste is predicted to increase world methane emissions from 31 million to 43 million tonnes, a significant jump for the potent greenhouse gas.
Specific solutions discussed included innovation in consumer products, citing companies like Fater achieving zero waste in their production process and designing fully recyclable products. Similarly Giorgio Arienti highlighted that citizens can now take simple steps to recycle almost every electronic product they buy.
Rokia Traoré awarded as Global Leader
At the event Rokia Traoré, recognized as one of Africa's most innovative singers and songwriters, was formally recognized as a new Connect4Climate Global Leader for her commitment and dedication to supporting climate change action around the world. She performed selections from her newest album, "Beautiful Africa."

Antonio Guadioso, Walid Norris, Rokia Traoré, and Alessandro Cusso on stage as Rokia receives the Global Leader award. Photo: Luca Liccione / Cittadinanzattiva
Other events at the festival included book presentations, an electric bicycle tour, theatrical performances and music concerts. As part of Cittadinanzattiva's campaign SpreK.O, or Knocking out Waste, there were also workshops and labs aimed at teaching citizens, especially youth and children, about how to reduce food waste, solid waste and waste in the healthcare system.
SpreK.O. - Cittadinanza in Festa 2014 is an encouraging example of citizens coming together to take ownership of the climate challenge and address it with creative solutions.