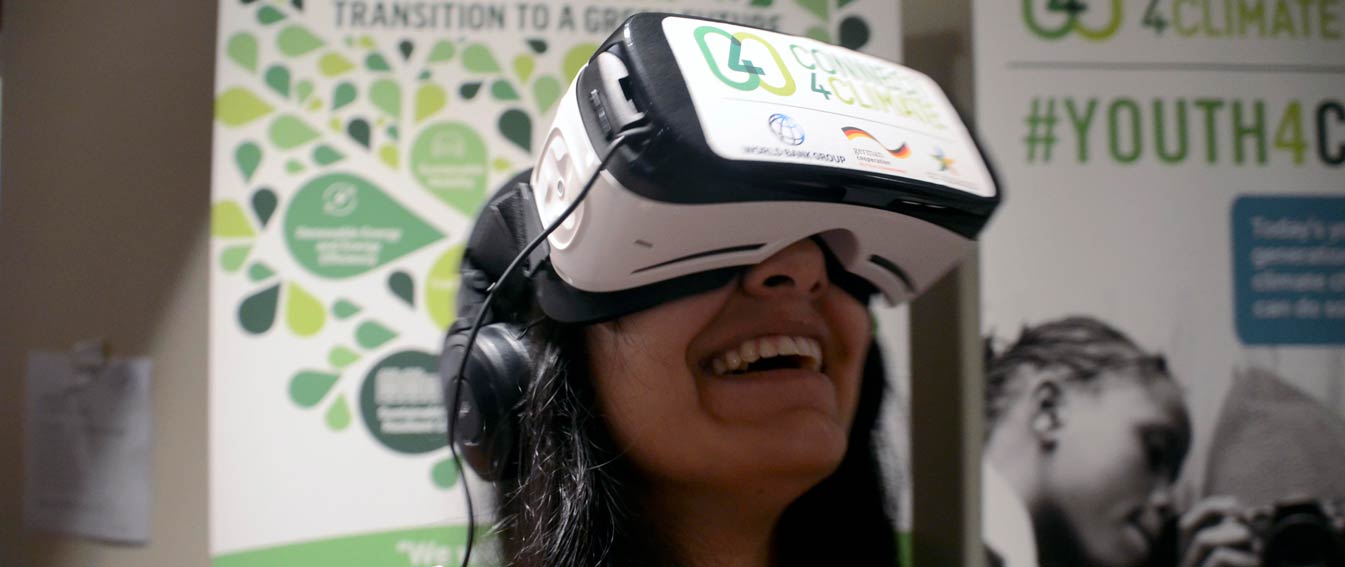 A new genre of audiovisual experience,
Virtual Reality (VR)
is now set to become a major player in the entertainment and communications industry, and it is a medium that can prove very useful to climate change and sustainable development communications. The simple placement of a 360-degree camera in certain development situations allows practitioners in the field to share an on-site experience directly with colleagues, management, and indeed sponsors. "The Price of Conflict, the Prospect of Peace" produced about Mindanao in the Philippines has for example, proved extremely useful for World Bank Task Team leaders and a similar VR experience about the plight of small island states is now being produced in Fiji, and will be unveiled at the United Nations Climate Change Conference (
COP23
) in November.
Virtual reality
enables the viewer to become more 'immersed' in the subject matter
than still images or traditional video. In the past few years, a number of virtual reality projects such as the UN's "
Clouds over Sidra
" about Syrian refugees in Jordan, have not only had significant success illustrating development situations in both documentary and story format – giving the viewer an 'all round' feel for the ongoing experience of particular characters and the reality of their situation, but the makers have found that
donations to fund appeals for refugees have tripled after screenings
.
"Clouds over Sidra:" The Zaatari Refugee Camp is home to 130,000 Syrians fleeing violence and war. Children make up half the camp's population. This is the story of Sidra, a 12-year old girl who has spent the last 18 months in Zaatari. Creators: Gabo Arora + Chris Milk
Elliott Steinberg, the Director of The Saul Zaentz Foundation, introduced the main session speaking passionately about the constant need for re-invention in both art and life, and the importance of embracing the latest technology available to maintain the cornerstones of communication – empathy and connectivity. "The rules of the 20th century no longer exist; there is a need to re-invent to be successful." For him, the school responds to the need to give space for everyone to succeed – 'to encourage truly free enterprise.'
Gabo Arora
, one of the judges for
Connect4Climate's VR competition
picked up on the
empathy and connectivity theme
and how Virtual Reality can continue to amplify these needs whereas the plethora of images available to us today and the sensational nature of many of them has numbed our viewing senses into passivity. For him,
VR can revive our sensibilities
and as viewers of his piece "Clouds over Sidra" about a Syrian refugee camp in Jordan told him, "
it makes the people so alive and the activities so real
".  
Jessica Brillhart, former Creative Director of Google's VR division and another member of Connect4Climate's jury, went on to explore the viewing nature of Virtual Reality and how it is a whole experience, not restricted by a frame but more to do with "points of interest" that are all around us. – 'world to world, not frame to frame". For her, the viewing experience is more like a dance than the relatively passive reception of sensory information.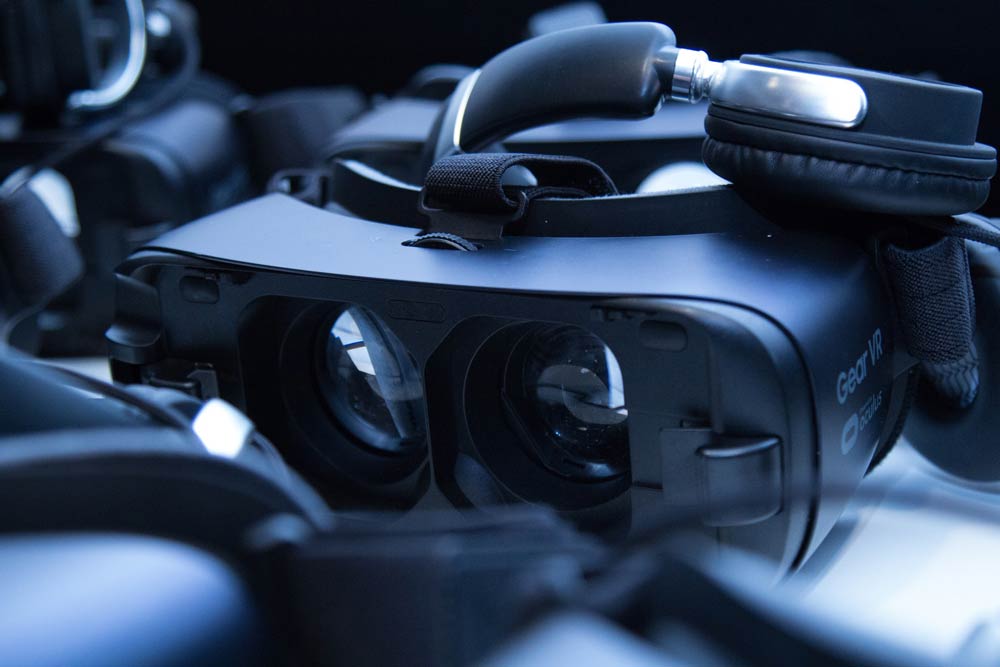 Barry Pousman
, a founding member of
Discovery VR
, described various
medical and social uses of VR to effect behavior change
, including the work on deforestation at the Virtual Human Interaction Lab at Stanford University - a use that could easily be applied to climate change as a whole, and research on the use of virtual walking at Duke University to help paraplegics return to upright movement.
Caroline Zink
of
John Hopkins Medical School
and the
Lieber Institute for Brain Development
also explained how
VR was being used to assist mental illness evaluation and treatment
.
Igal Nassima from Istanbul describes himself as a curator and anthropologist since he sees VR playing big roles in both storing and translating massive amounts of information both efficiently and quickly and providing the user with all-around answers. Currently, this is being used mostly in gaming, but as indicators of further uses, he has developed a virtual dating system and collated fashion information for a mixed reality catwalk presentation – situations that benefit from having information from numerous sources accessible in 'real' form at the same time.
Graham Sack
is a producer working with the
New York Times VR
unit who is using the explosion of narrative forms and the way
VR can bring different perspectives together to create new dramatic and visual dialogs
. Focused on the computational approaches to storytelling, his latest production is an adaptation of George Saunders best-selling novel, Lincoln on the Bardo, but he also was responsible for a VR experience of solar power produced for the Rockefeller Foundation.
The final presentation of the day was made by
Yelena Rachitsky
, the Executive Producer of Experiences at
Oculus
, one of the leading VR houses bought recently by Facebook for $2bn and working on inculcating VR into all informational and artistic disciplines. Yelena is also on the jury for the Sundance Film Festival New Frontier Program for VR productions. She described how the industry has been very much a rollercoaster during its formative years, but that
it is now ironing out
and will take its place very forcefully over the next decades as both an informational and entertainment force.
From the presentations made and people present it is clear that not only is it timely to be staging a VR competition now, but that the medium will become incredibly influential in a number of spheres in the near future and can be a valuable tool for both assessing and combatting climate change.
The
Connect4Climate Virtual Reality Competition
is designed as a virtual reality pitch, with the goal of encouraging contributions from a broad a range of creative people over the age of 18 with a strong personal interest in portraying climate change solutions and climate action.
There is no need to be an expert filmmaker
. The competition asks just for
ideas formatted on a storyboard and illustrated by a standard video sample
. The intention is to
encourage and enable entries from all walks of life
to enter just an idea that they feel will work in and benefit from the virtual reality medium. The winner or winners chosen by the jury will then be offered the chance to
realize their concept
with the assistance of an established virtual reality production house.

Jurists for the competition include distinguished practitioners from the creative industries, the field of development and from the government to help choose the final winner/s. Other members of the competition jury already include director Louie Psihoyos (The Cove, Racing Extinction); Italy's Minister for the Environment, Land and Sea, Gian Luca Galletti; Founder, President and Chief Executive of the Bianca Jagger Human Rights Foundation, Bianca Jagger; Conservationist and Filmmaker, Susan Rockefeller; General Manager and Creative Director of Microsoft co-founder Paul G. Allen's Vulcan Productions, Carole Tomko; Fiji's Minister for Agriculture, Rural & Maritime Development and National Disaster Management and COP23 High-Level Climate Champion, Inia Seruiratu; VR director and founder of Lightshed, Gabo Arora (Clouds Over Sidra, The Last Goodbye); actress Greta Scacchi; Google's principal filmmaker for virtual reality, Jessica Brillhart, and award-winning cinematographer, director and producer, Louis Schwartzberg (Moving Art: Waterfalls, Mysteries of the Unseen World).