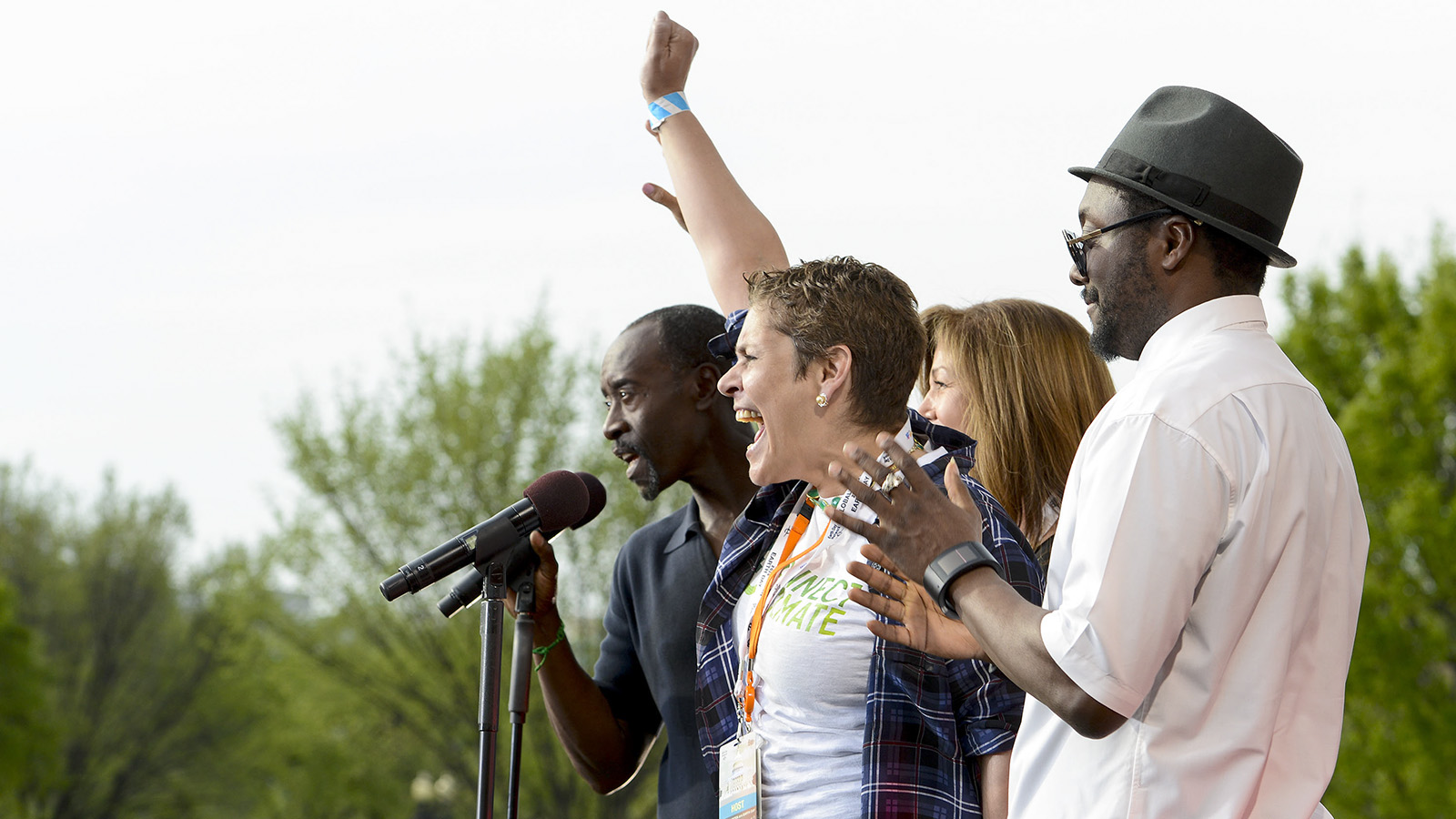 Below we will take you through a visual exploration of Global Citizen 2015 Earth Day highlights.
A Day to Remember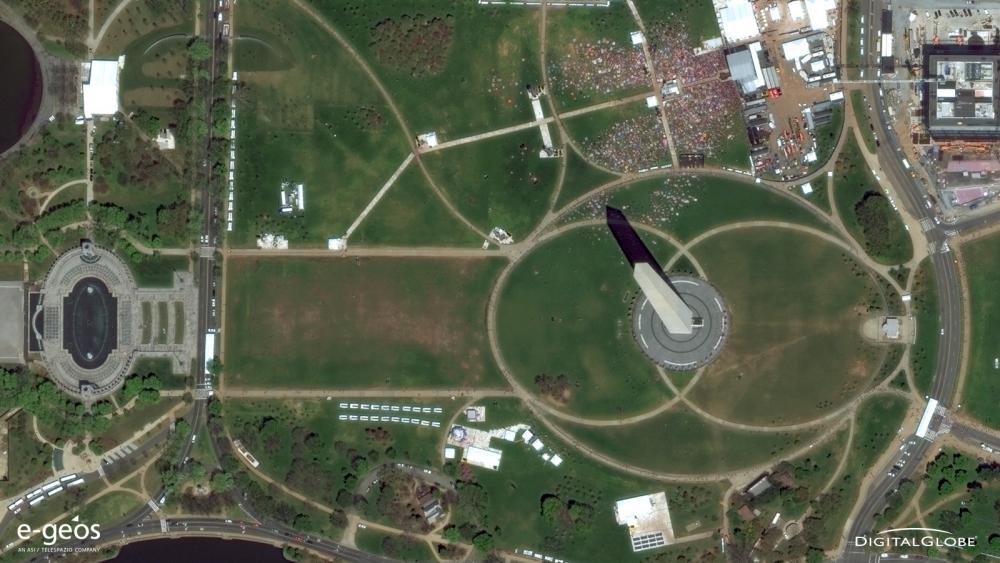 Already more than 50,000 people arrived by the Washignton Monument in the morning. At the end of the day there were more than 270,000. Photo credit: e-GEOS / DigitalGlobe
It's the morning of April 18, and Connect4Climate is celebrating Global Citizen 2015 Earth Day. World leaders, corporate executives, innovative minds, high-profile artists, and interested citizens from all corners of the world are descending on the National Mall, in Washington, D.C. to commemorate the 45th anniversary of Earth Day.
Pay Attention!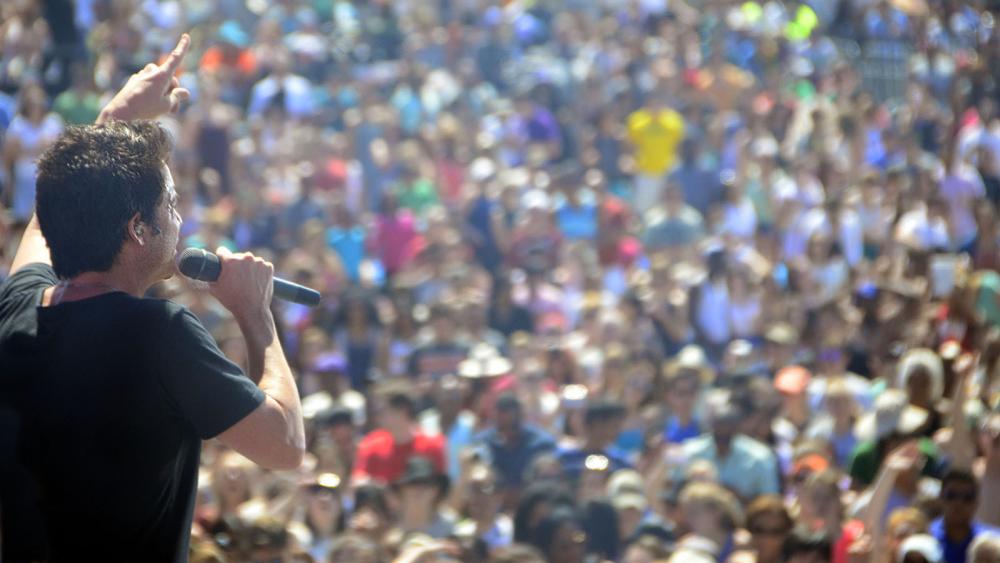 Patrick Monahan, lead singer of the band Train, who performed at the event. Photo credit: Max Thabiso Edkins
Organized by the Earth Day Network and the Global Poverty Project, with support of a number of partners including Connect4Climate, Global Citizen 2015 Earth Day brings serious attention to the combined plights of global poverty and climate change—and introduces ideas to take on both.
Open for Business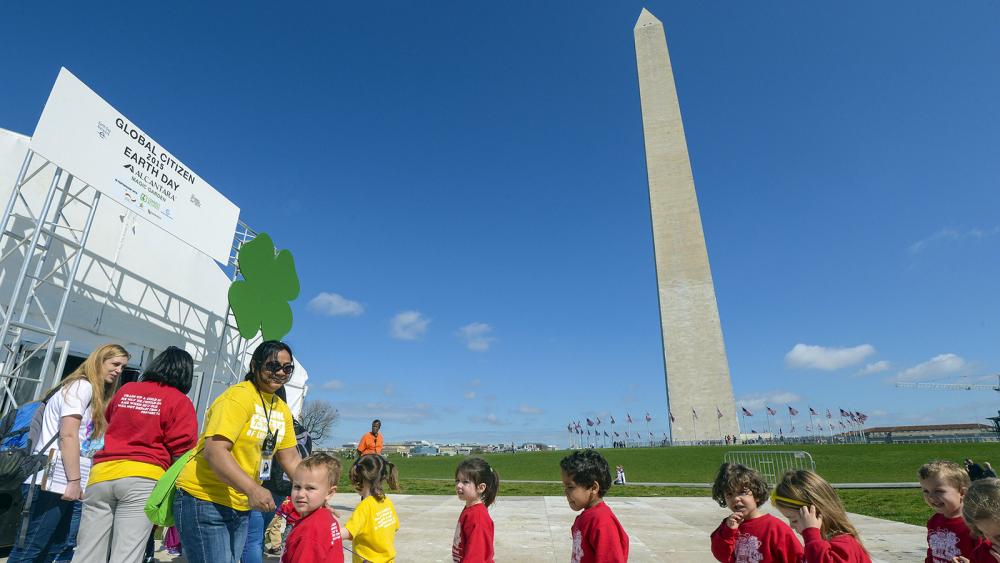 School kids enter the Alcantara Magic Garden-Connect4Climate pavilion. Photo credit: Leigh Vogel
On the morning of April 17, groups of local school children walked through the doors of the Alcantara Magic Garden-Connect4Climate pavilion, where they learned about climate change and were challenged to make commitments to help. The tent showcased some of Connect4Climate's initiatives, including Action4Climate, a video competition that challenges  young filmmakers to tell their climate stories; Film4Climate, an effort to green the film industry one movie at a time; Sport4Climate, a campaign that harnesses the influence of athletes and sports figures; and Fashion4Climate, an initiative that uses a bracelet to initiate conversations about climate change.
A First: Solar Panels on the Mall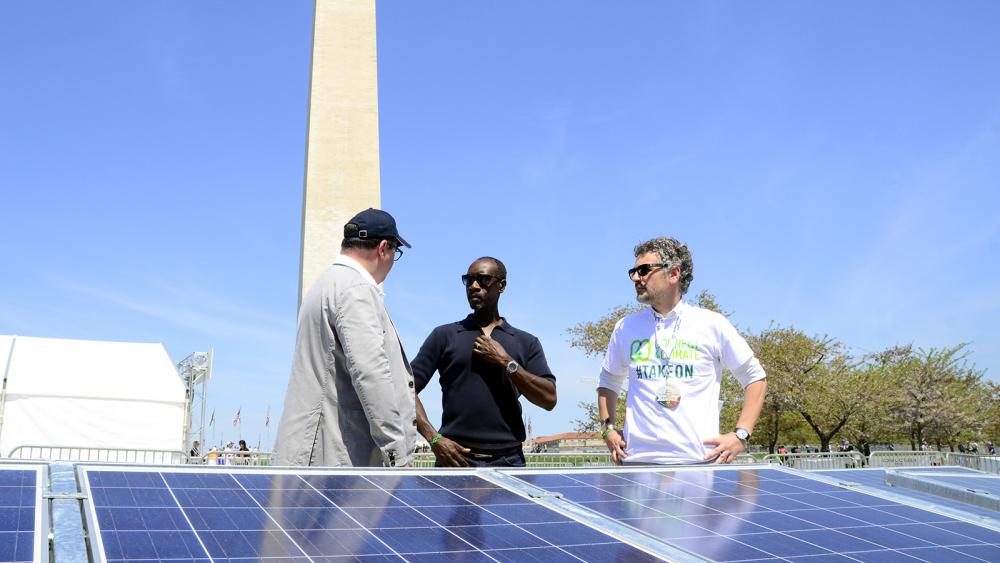 Pictured here, l to r: Fabrizio Zago, CEO of Building Energy, S.p.A, actor/activist Don Cheadle, and Andrea Braccialarghe, Vice President, Business Development. Photo credit: Max Thabiso Edkins
Our colleagues from Building Energy, one of our partners for Global Citizen 2015 Earth Day, arrived in Washington this week, ready to build the first-ever solar field on the National Mall, the power source of our Alcantara Magic Garden-Connect4Climate Pavilion. That's right. Instead of using fossil fuels to light the overhead lights and electrify our computers, this Earth Day attraction was powered by the sun. The 3,000 square feet solar field—that's about as big as a basketball court—lies right by the Washington Monument, a wonderful juxtaposition of symbols that remind us both of history and the future.
Star Power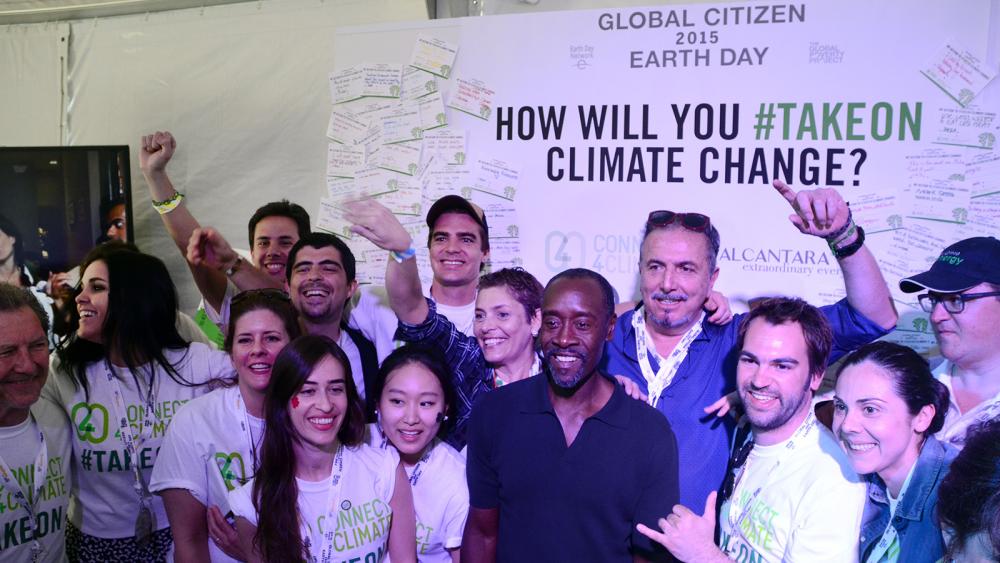 Don Cheadle with the Connect4Climate team. Photo credit: Max Boykoff
Actor and United Nations Environmental Program ambassador Don Cheadle visited the pavilion and strolled through the solar panel farm.
Imagining Possibilities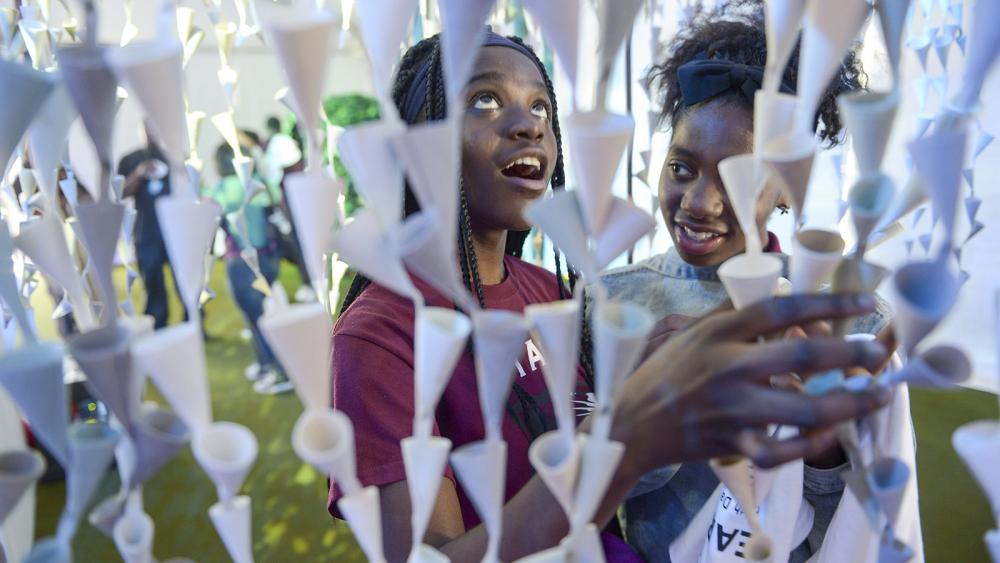 Kids in the Alcantara Magic Garden-Connect4Climate Pavilion. Photo credit: Leigh Vogel
Inside the Alcantara Magic Garden-Connect4Climate Pavilion, school children experience "raindrops" made from Alcantara. Materials made from environmentally-responsible companies aren't always beautiful, but Alcantara is. It's a suede-like material made by a carbon-neutral company of the same name, comes in all colors and textures and, when combined with the vision of a renowned architect, becomes a magical place for kids, and kids at heart.
School Children Visit—and Learn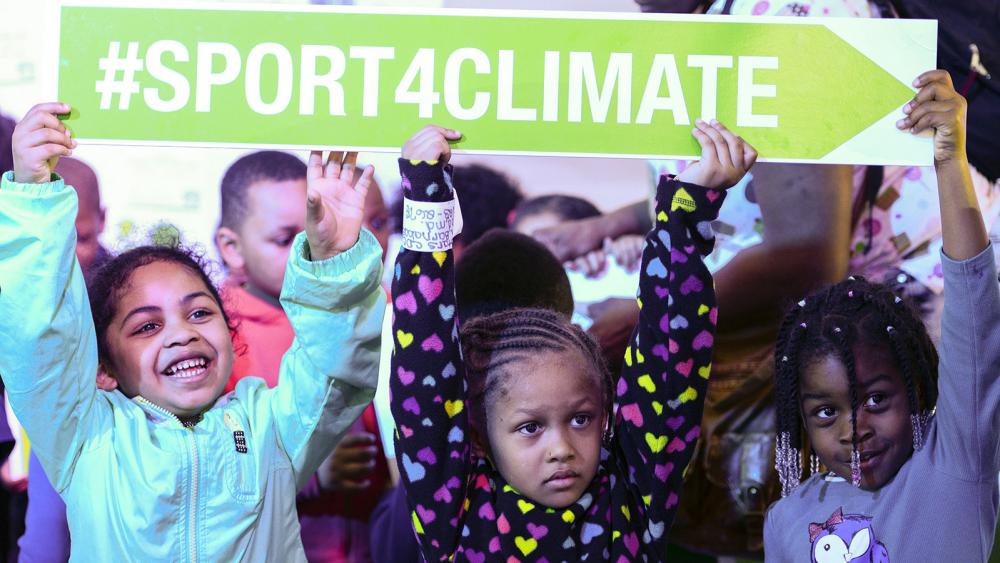 Kids hold up a #Sport4Climate sign at the Photo-station in the pavilion. Photo credit: Leigh Vogel
Some of the smallest visitors to the Alcantara Magic Garden-Connect4Climate pavilion had big questions about climate change. "What if you stop eating cheese? Will that help the planet?"asked one girl from Annunciation Catholic School, one of the many school groups from the Washington, D.C. area that visited the pavilion. "The decisions you make about the food you eat have an impact the planet," said Max Boykoff, professor at the Center for Science and Technology Policy at the University of Colorado, Boulder, and Connect4Climate advisor. "What kinds of foods contribute to the warming of the planet?" he challenged. "Meat!" someone screamed. Correct.
Committing to Climate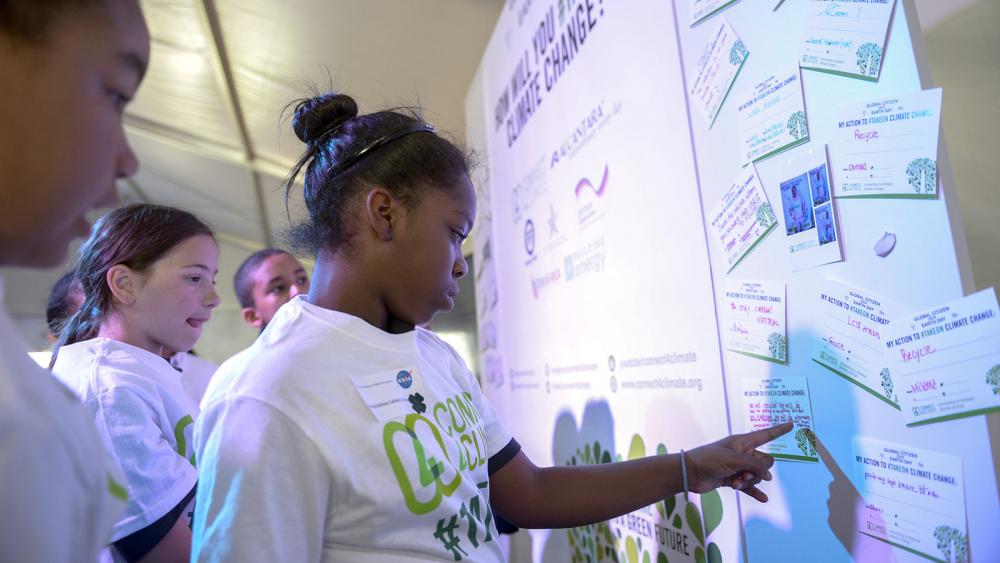 School children inspect climate messages. Photo credit: Leigh Vogel
The ideas kept coming—and we posted them to our giant #TakeOn board. Save water! Turn off the lights! Recycle! Walk more! Some kids had bigger ideas: Marisa wants to go vegan. Andy is working to eat less meat, which takes more energy to produce, and agitate to end the capitalist system. Ava wants to plant more trees. Josh wants to become an environmental journalist. Abbey wants a compost at her high school. And Jess says she won't be satisfied changing lightbulbs, riding her bike or recycling; she will demand better leadership and fight oppression.
Gather Around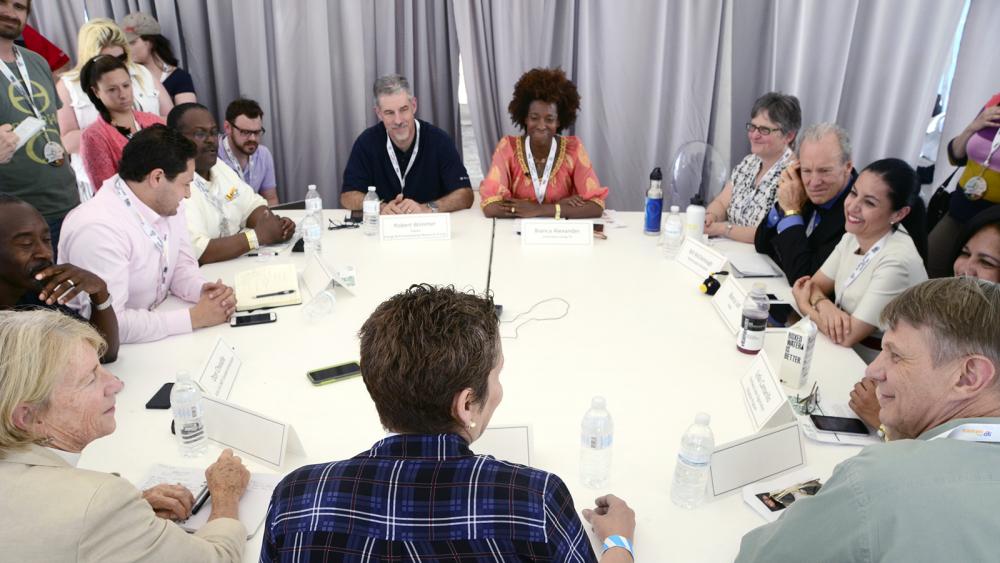 Communicating Climate Change Roundtable. Photo credit: Max Thabiso Edkins
That afternoon, Connect4Climate and the Earth Day Network organized a roundtable that brought together a diverse group of business leaders, nonprofit heads, and recognizable names to discuss best practices from their various backgrounds. With the soulful vocals of Mary J. Blige drifting into the tent, the participants grappled with bringing "unusual suspects" into the climate change conversation, looking at climate change as a moral issue, and emphasizing the profitability of sustainable technology.
A Voice with Moral Authority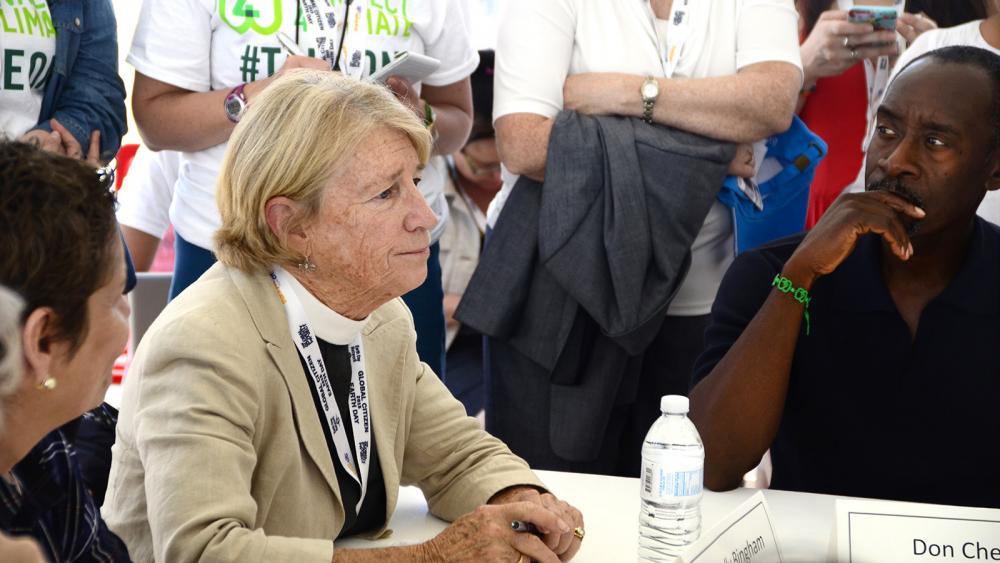 Canon Sally Grover Bingham and Don Cheadle at the Roundtable. Photo credit: Max Thabiso Edkins
"The next social movement will be for the right to clean air and water," said the Reverend Canon Sally Grover Bingham, founder and president of The Regeneration Project, during the roundtable discussion. "I think we're getting there," she added. Actor/Activist Don Cheadle sits on Bingham's left side.
Straight Talk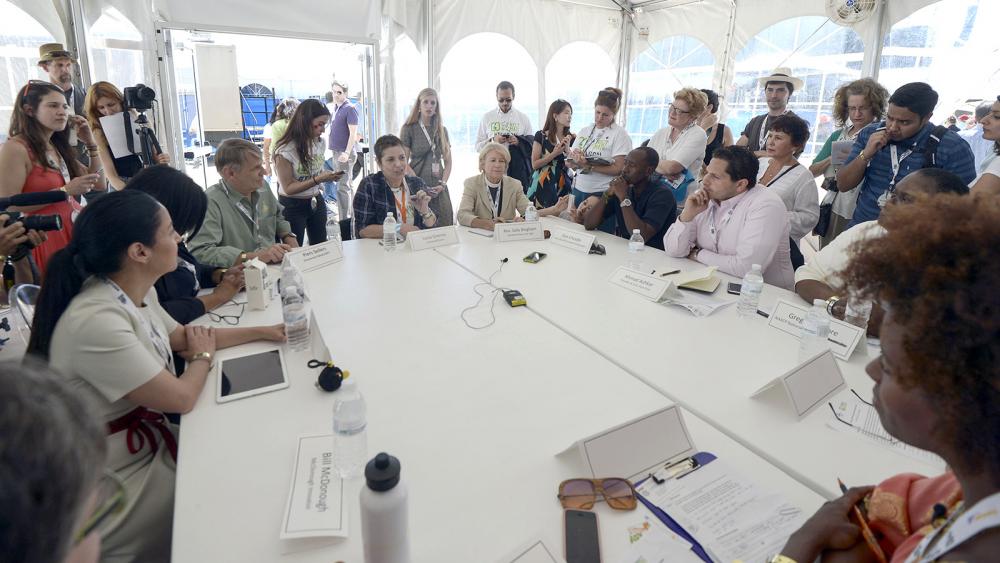 Lucia Grenna speaks at the Climate Communication Roundtable. Photo credit: Leigh Vogel
"Social media has revolutionized the world not because we can communicate to millions, but because millions can communicate with us," said Connect4Climate program manager Lucia Grenna. "To most people, climate change is not about science, but a reality of the way they live. It's about walking an extra mile for water in some African countries. It's about the floods in Bangladesh. It's about drought in California. We never use the scientific formula H20 when we talk about water. We use plain words. Why don't we do that with climate change issues?"
Show of Support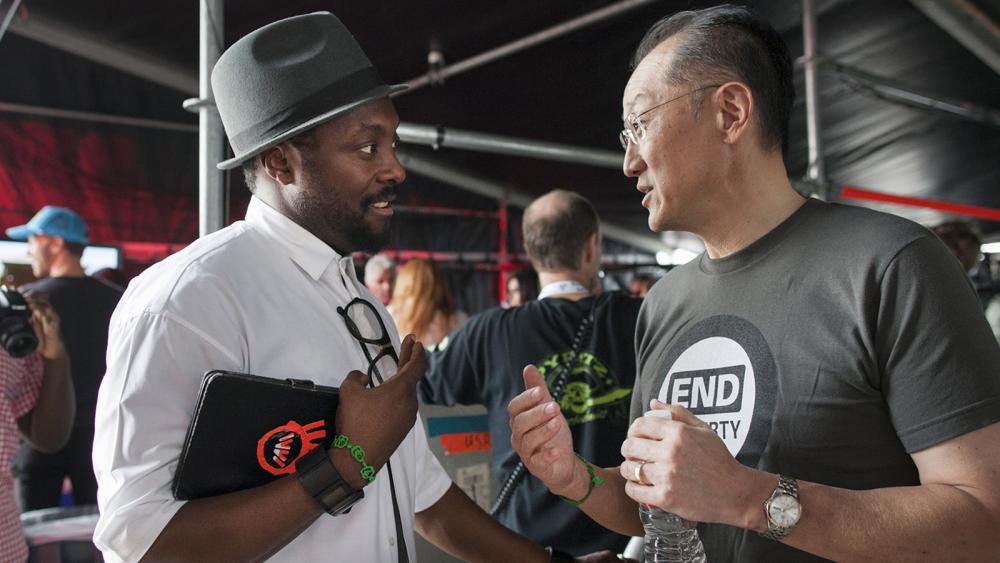 Jim Kim with WIll.i.am backstage at Global Citizen 2015 Earth Day. Photo credit: Simone McCourtie
Celebrities and world leaders gather on the main stage, taking turns showing their support for achievement made and the work yet to be done to reverse climate change and end extreme poverty. "Each person must do their part," said World Bank Group Jim Y. Kim. "We need engineers and entrepreneurs, we need doctors, we need lawyers, artists, teachers, we need students and activists—we need YOU. We are the first generation in human history with the opportunity to end extreme poverty."
Both world leader and entertainer wore the green silk Connect4Climate bracelet to show their support for climate action.
High Energy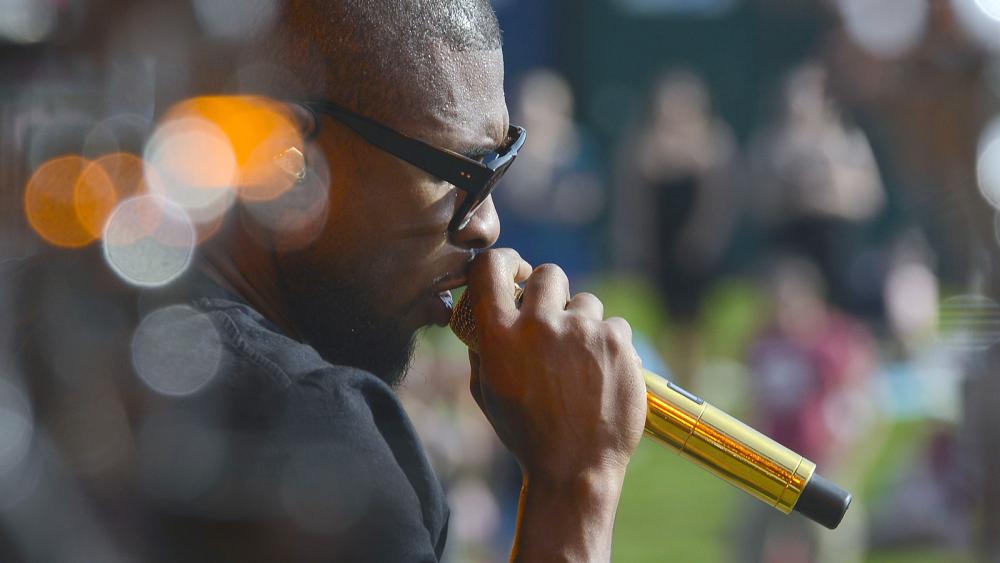 Usher on stage. Photo credit: Leigh Vogel
Usher performed a 20 minute set with a broken foot and a crutch, showed no signs of injury as he revved up the crowd of an estimated 270,000
Packed Stage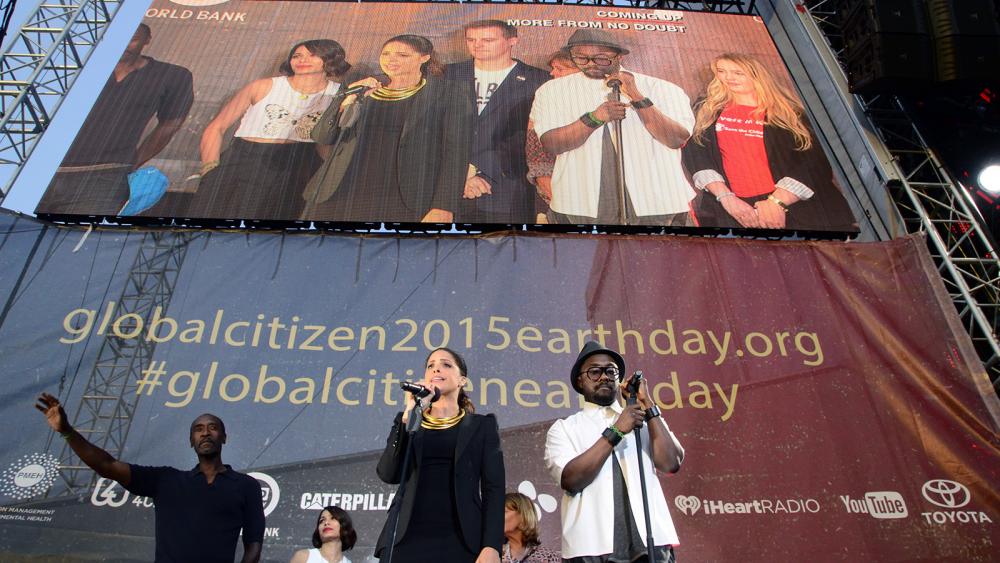 Will.i.am and Soledad O'Brien with others on stage. Photo credit: Max Thabiso Edkins
Hosts Will.i.am and Soledad O'Brien kept the star-packed event, which began at 11:00 a.m. and lasted until nearly 8:00 p.m.
The Voice from the United Nations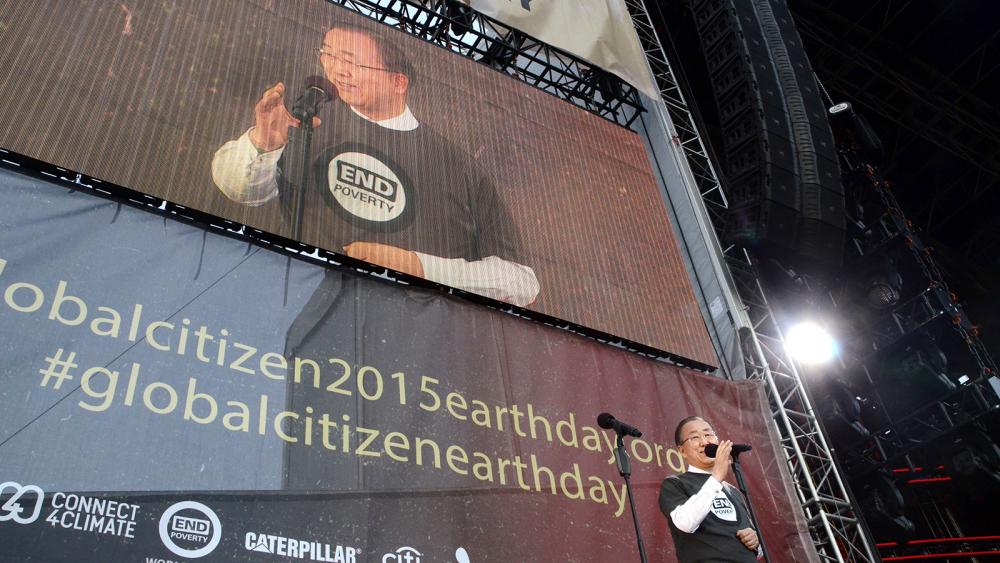 Ban Ki-moon, Secretary General of the United Nations. Photo credit: Max Thabiso Edkins
"2015 is the time for global action. You have the power, your generation can change, your generation can make a difference," said United Nations Secretary General Ban Ki-moon. "Be a global citizen: bring your energy, bring your passion, bring your compassion to make this world sustainable and prosperous."
33 Commitments for 2 Global Challenges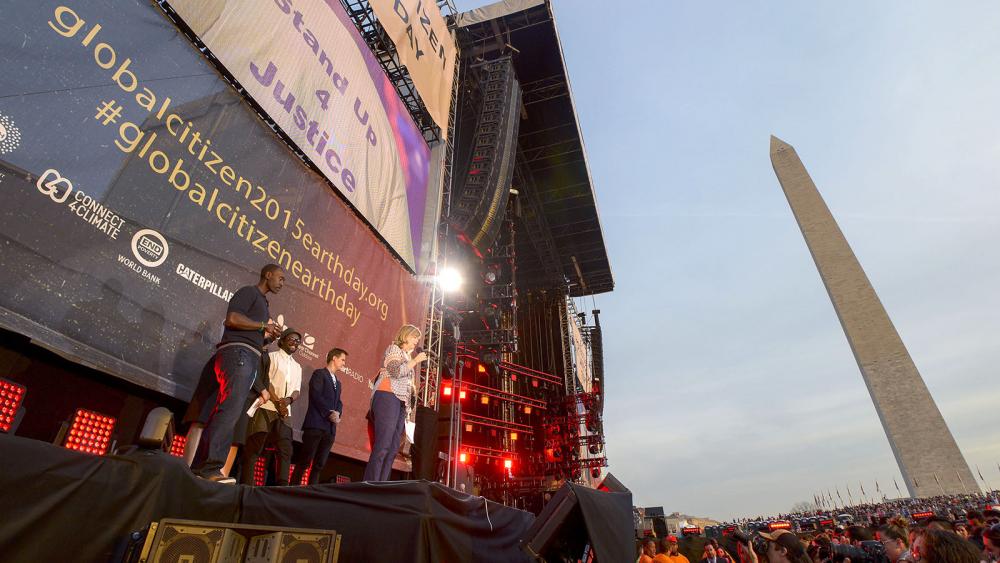 Kathleen Rogers, President of Earth Day Network, at the microphone. Photo credit: Leigh Vogel
Global policymakers, heads of NGOs, and industry executives made a total of 33 commitments to ending extreme poverty and tackling climate change, two mounting problems that are inextricably linked. "Whether it's the big migrations we expect to see or soil depletion or emptying the oceans, loss of species, loss of timberland — all these things are creating poverty at the same time that they are also creating climate change issues," said Kathleen Rogers, President of Earth Day Network.
Making the Connection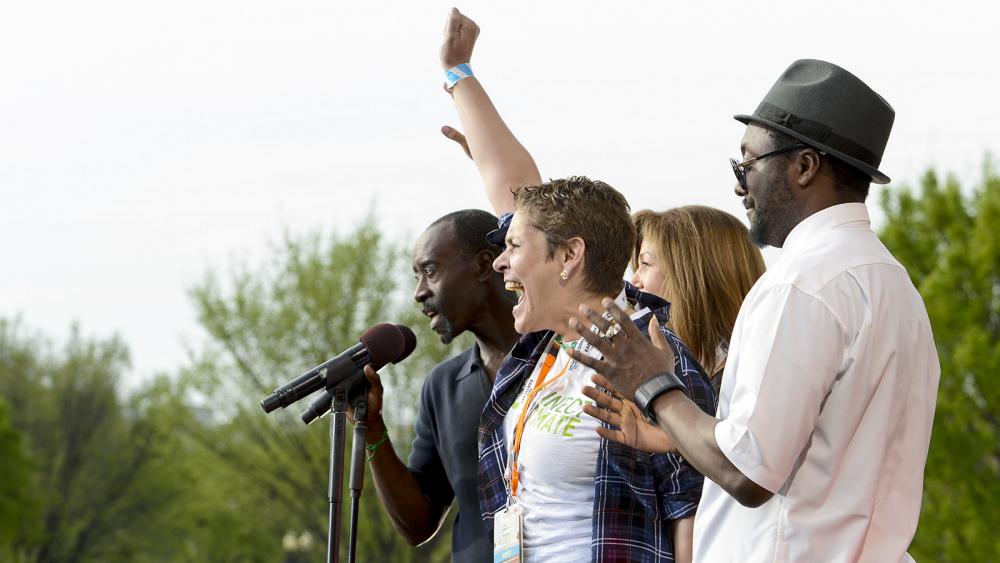 Don Cheadle, Lucia Grenna, Monica Ord and Will.i.am. Photo credit: Leigh Vogel
The highlight for us at Connect4Climate happened around 5:00 p.m. when actor and United Nations Goodwill Ambassador Don Cheadle took the stage and introduced Connect4Climate Program Manager Lucia Grenna (with armed raised). With the Washington Monument in the background, Grenna paid a rousing tribute to the winners of the Action4Climate competition.
Action4Climate on Screen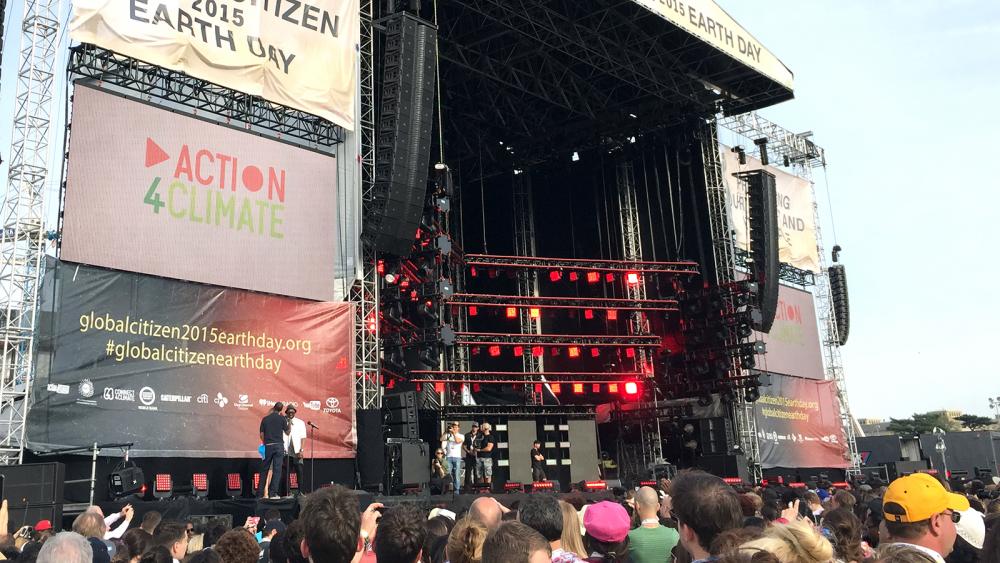 View from audience during Action4Climate celebration. Photo credit: Max Thabiso Edkins
Action4Climate is a global competition in which young people from more than 70 countries submitted their visions of climate change to a panel of award-winning directors, lead by Bernardo Bertolucci. The contest attracted more than 230 entries. Bringing local stories told by young voices who are articulating what climate change means to them to a global crowd was truly a proud moment for Grenna, and the rest of the team at Connect4Climate.
Theo's Message for Climate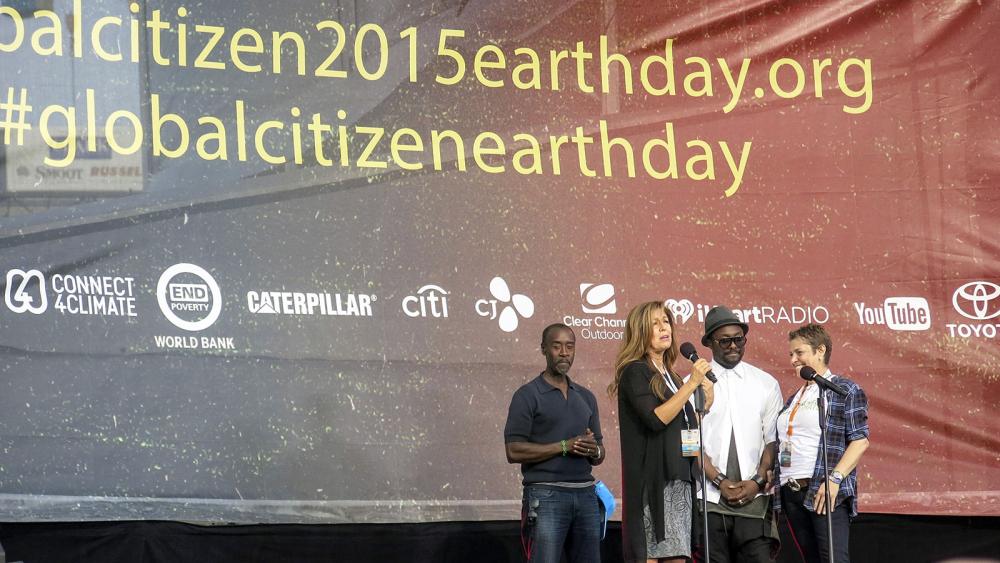 Monica Ord speaks for climate action. Photo credit: Leigh Vogel
Grenna then turned the stage over to Monica Ord, the producer and visionary behind the film Chloe & Theo, which we premiered on April 15 the World Bank Group headquarters. The big screens that flanked the stage showed a clip of the moving film that features an Inuit traveling from his tiny hometown in the Canadian Arctic to New York City with a message from his elders: Our world is melting. Help us.
Hands Up!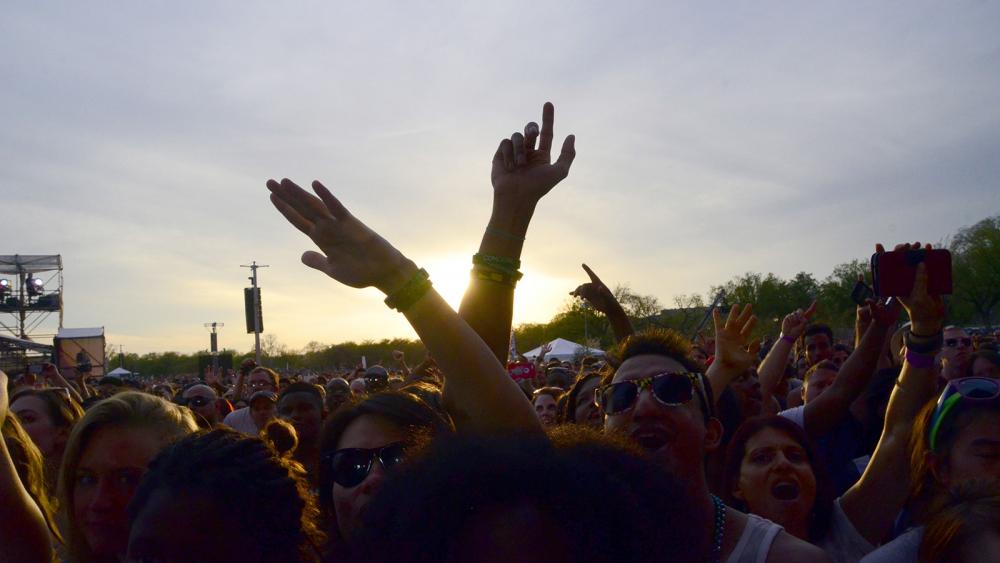 An energized crowd. Photo credit: Max Thabiso Edkins
More than a quarter of a million people flocked to the Mall to take part in Global Citizen 2015 Earth Day; more than two million watched the event on YouTube.
No Doubt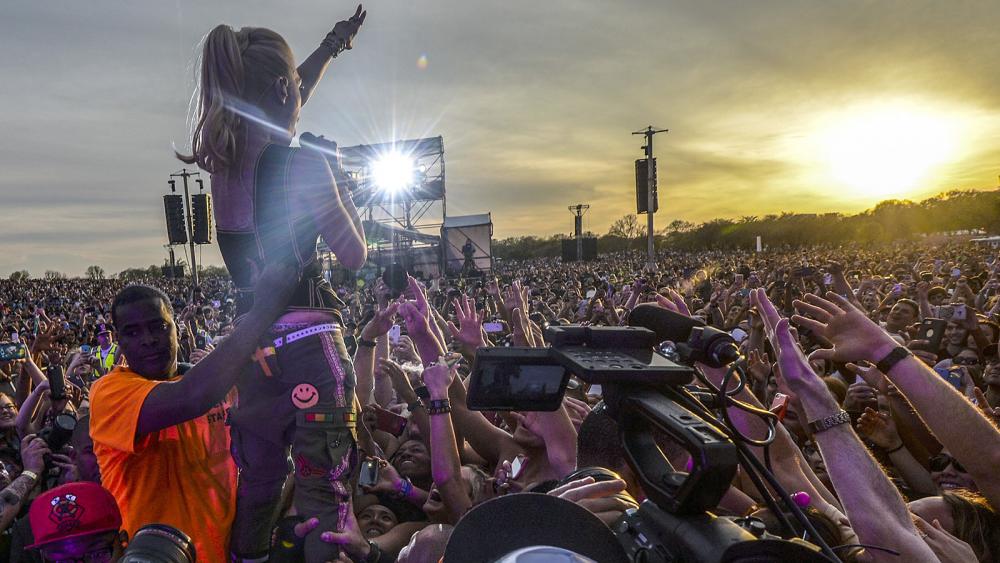 Gwen Stefani embraces the crowd. Photo credit: Leigh Vogel
Gwen Stefani reunites with No Doubt for a crowd-rousing set of the band's most popular songs. Performances by Usher, Fall Out Boy, Mary J. Blige, Train, My Morning Jacket, Common, D'Banj, Fally Ipupa, Vixx, Roy Kim, and Martin Garrix also celebrated Earth Day and brought attention to the combined challenges of extreme poverty and climate change.
Flying High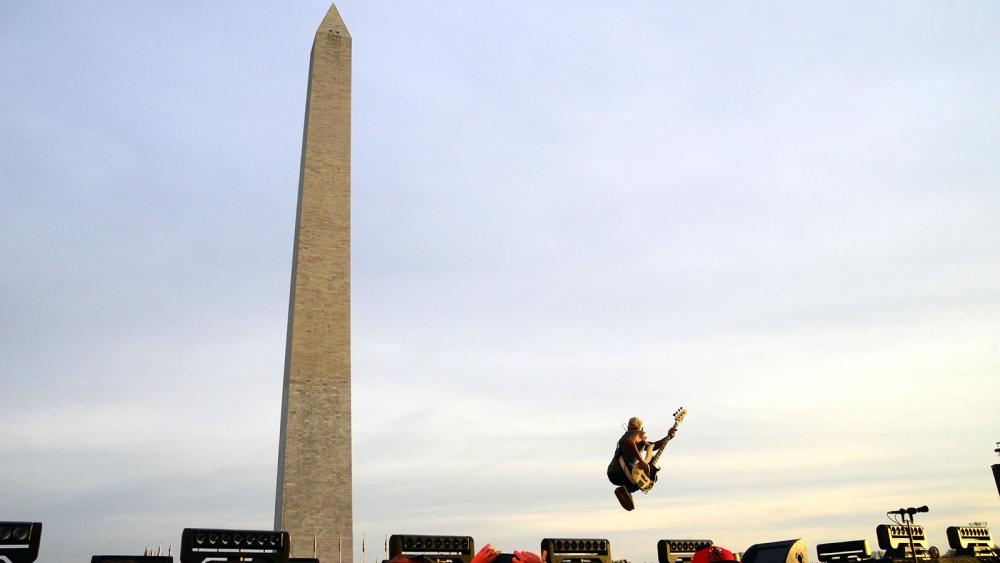 Tony Kanal, No Doubt, "In Flight". Photo credit: Max Thabiso Edkins
Bass guitarist of No Doubt Tony Kanal soars above the crowd. The sun beat down through blue skies, temperatures soared to 80 degrees F, and the pollen count was pronounced "high," but sunburns and sniffles did nothing to dampen the spirit of the day.
Looking Beyond

Message to the world. Photo credit: Max Thabiso Edkins
Though extreme poverty and climate change received massive attention over the weekend, much work remains. Connect4Climate vows to keep talking about climate change in a way that resonate with people and empowers them to act. We promise to keep creating projects and initiatives that keep young people involved in the story of our planet. Our work goes on.