There are 26 million homes in the United Kingdom. Together they contribute 27% of the UK's carbon emissions, making the housing sector a vital part of the goverment's committment to an 80% reduction in carbon emissions by 2050.
Since 2007, the award-winning SuperHomes network has promoted the benefits of eco refurbishment using free Open Days. Pioneering owners of some of the UK's most energy efficient homes host free tours and Q&A's each September. SuperHomes are older homes that have been refurbished for greater comfort, lower bills and at least 60% fewer carbon emissions.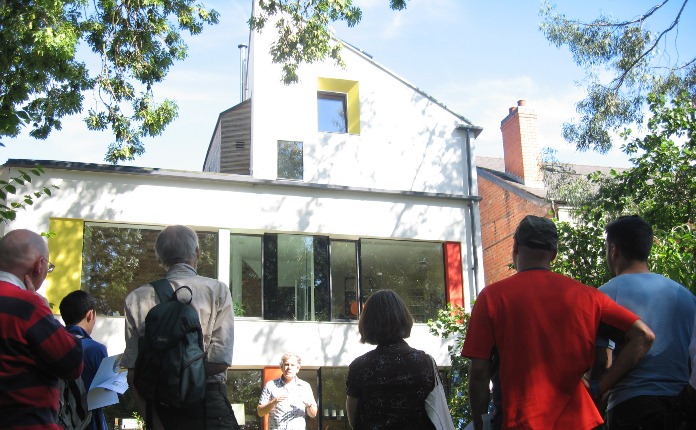 Visitors at a modern SuperHome in Birmingham
Currently there are over 180 registered SuperHomes in the UK and over 70,000 people have visited one. The aim is to inspire visitors to take action to green their own homes, by providing actionable ideas, such as improving insulation, installing alternative heating sources or producing their own renewable energy. The network hopes to register 500 SuperHomes by 2020 and attract 2 million visitors.
It is estimated that as many as 80% of all UK homes that will be in standing in 2050 have already been built. Of particular concern are the 7 million solid wall properties, most of which are difficult to heat. To meet its target of an 80% reduction in carbon emissions by 2050, the UK should be refurbishing 600,000 homes a year. At the current rate of change it will take over 500 years to refurbish these homes.
Jurgen Huber, who recently joined the network says:
"My house is now 100% carbon neutral. Along with my wife and two children, we use and generate 3300 kWh of electricity. We have no gas connection so we cook with the most energy efficient induction cooker, we heat water with an electric instantaneous water heater, and we heat rooms with a highly air source heat pump and electric underfloor heating. This is only possible because we insulated the house to a very high standard."
Huber explains that the first phase of his home renovation was done on a budget of £4000. This paid for all insulation materials, the air source heat pump, an induction cooker, and LED lighting. The PV solar panels added afterwards cost £12,000 and were financed with a bank loan. In 8 years Huber may make a bit of money but that's secondary. He wanted to prove that anyone can have a retrofitted energy neutral house on a tight budget.
"The result is that we've a very comfortable home that can be quickly heated or cooled at very little cost. At the same time we've maintained the 1920s period character of the property which is something we love."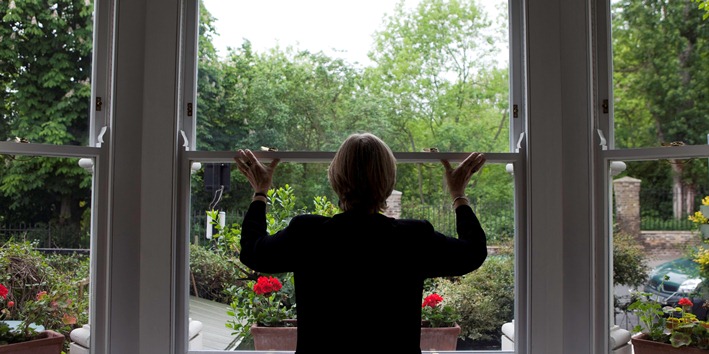 Double-glazed sash windows at a SuperHome
Huber's testimonial is a good example of how the SuperHomes network harnesses the enthusiasm of pioneering households to demonstrate the benefits of switching to low energy living.
The network's open days help visitors gain the confidence to green their own homes. Free tours and Q&A sessions allow visitors to find out more about both the benefits and the challenges involved in refurbishing an older home.
Find out more about SuperHomes' September Open Days. 
SuperHomes is a National Energy Foundation (NEF) project. NEF is an independent charity working to improve the use of energy in buildings.
White Roofs is an Action4Climate documentary about another initiative to reduce household emissions, the White Roof Project in New York. Entered by Matt Dunne.