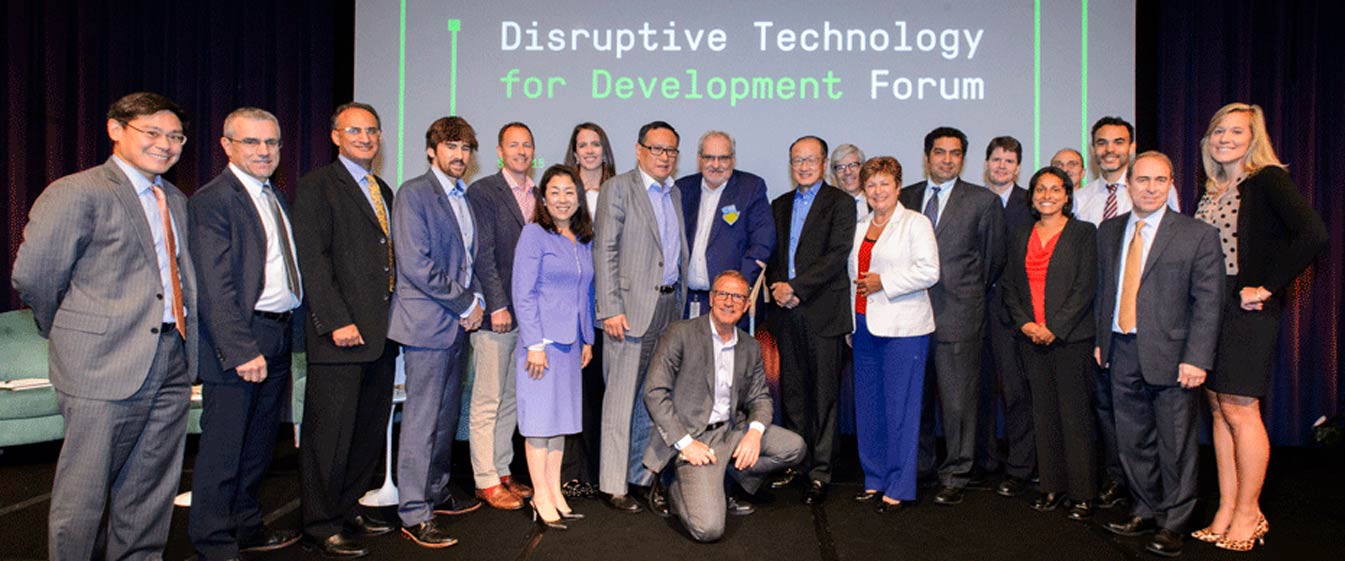 In an open forum on September 15 leaders and colleagues from across the World Bank Group came together for a three-hour open discussion on the urgency of harnessing the power of disruptive technology for development.
President Jim Yong Kim, World Bank CEO Kristalina Georgieva, IFC CEO Philippe Le Houérou, MIGA CEO Keiko Honda and Managing Director and WBG Chief Administrative Officer Shaolin Yang joined moderator Mark Thompson on the Preston Auditorium stage in Washington, DC, and shared what they think the World Bank Group's role should be helping countries take advantage of technology for development. Over 1,400 staff in over 100 locations watched the event live online.

"A lot of great things are going on inside the World Bank Group," Kim said, also acknowledging that "we need to admit that we're not where we want to be, or where we should be." The president encouraged staff to seek possibilities to move technological innovation into practice. He said everyone in the institution should be asking how disruptive technology can be used for the poor, a theme echoed throughout the forum by various presenters and leaders.
"How do we embrace all this and how do we move it forward?" asked Le Houérou. "We need the private sector, we also need blended finance … At the end of the day, it's private entrepreneurs that move the needle," he said.
Throughout the fast-moving event colleagues and senior leaders from across the group came on stage in turn, sharing in "lightning talk" format innovative practical applications. Topics included: development in the age of technological disruption; building foundational elements for digital economies; technology in action; and the opportunity for global Bank Group leadership in the technology space.
From the power of big data to create efficient transportation systems in Haiti to innovative digital identification solutions in India, staff gave tangible examples of how the World Bank Group creates opportunities through technology while also highlighting the need for the institution to adapt to keep pace with technological change.
"This can be a new leaf we turn and it depends on each and every one of us to make it happen," CEO Georgieva said. "The people in the most fragile circumstances are not going to see help if we don't embrace technology."
Banner photo credits: World Bank