Hack4Climate
and
Connect4Climate
have announced a partnership.
Nick Beglinger
, Initiator of Hack4Climate: "W
e are very grateful for the support we receive from Connect4Climate, a World Bank global partnership program. The synergies and our common ground are obvious, and we are really looking forward to mutual #ClimateAction
!"
Max T. Edkins, Acting Manager at Connect4Climate: "We are delighted to support Hack4Climate, a really cool, relevant and timeline innovation initiative. We are taking the Uniting4Climate communication campaign to the COP23 – The campaign is to highlight unity in support of climate solutions –   and we are so excited to unite with such an inspiring initiative and support with our convening power. We look forward to specific interaction at COP23 already."
Hack4Climate is a
four-day Climate/Blockchain hackathon
event. Its objective is to mobilise the 'blockchain'/DLT (Distributed Ledger Technology) community for #ClimateAction, assuring that the
Paris Climate Agreement
is successfully implemented. Hack4Climate is held with the support of the UN Framework Convention on Climate Change (
UNFCCC
) Secretariat in Bonn, Germany - during the COP23 climate conference in November 2017. It is financed by public and private sponsors, and organised as part of the Climate Ledger Initiative (
CLI
), an international, multi-stakeholder initiative at the intersection of climate and DLT.
DLT minds/practitioners from all across the world will come together with one mission: to fight climate change with disruptive innovation. 
Already 1,300 highly motivated individuals are involved as part of 17 prep-workshops held in global centres - from MIT/Boston and London, to Bangalore and Suriname.
So far, hundreds of applications have been received. Nick comments: "We are positively surprised by the high quality of the applications. We have gifted individuals literally from ever continent, teams from the leading universities, and from high profile companies". 
Hack4Climate will announce invited participants by 15/10/2017.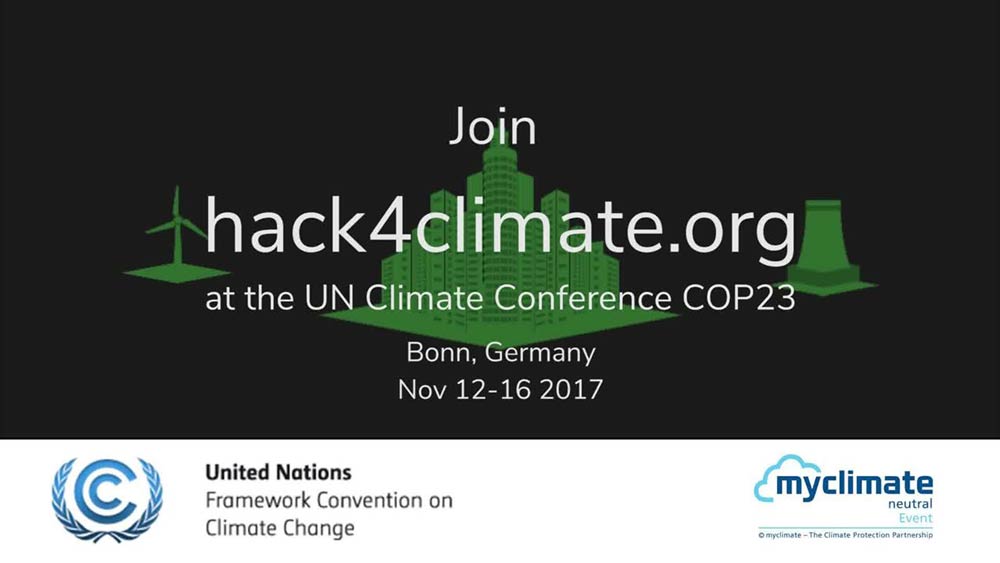 Connect4Climate is a global partnership program dedicated to climate change communication. Connect4Climate's goals are to connect and amplify climate change initiatives, to engage the most diverse sectors with innovation and creativity, and to take on climate change by promoting solutions and action. 
Since its launch, Connect4Climate has built an aggregate online community of
a million fans engaged in climate change
dialogue and resource-sharing, and a coalition of
more than 450 partners
committed to climate change communication and action. Current Connect4Climate partners include UN organizations, climate-related programs at leading universities, private sector organizations, media organizations, and grassroots national and international NGOs involved in youth and environmental work. For a full list of partners, visit:
http://www.connect4climate.org/participate/our-partners
.