September 24, 2018 (All day) to September 30, 2018 (All day)
New York City,
United States
Climate Week NYC
is the time and place where the world gathers together to showcase amazing climate action and discusses how to do more.
Taking place between September 24-30, 2018, in New York City, Climate Week NYC is one of the critical summits in the international calendar and has been driving climate action forward since
The Climate Group
first launched it in 2009.

Climate Week NYC is a global event, run by The Climate Group in coordination with the
United Nations
and the
City of New York
, which happens annually during the
UN General Assembly
. Climate Week NYC hosts government ministers, investors, governors, CEOs, and mayors from across the world; they are shaping markets and setting policy to make climate action a reality.
Businesses, governments, academic institutions, arts and music organizations, and NGOs are invited to participate in this week, through the Climate Week NYC Events program. From panel discussions to concerts, exhibitions, and seminars, organizations and individuals can play a pivotal role in advancing the debate, driving awareness, and keeping climate action at the top of the global agenda. Climate Week NYC 2017 was host to more than 140 affiliate events.
Climate Action and Clean Cookstoves: Lessons Learnt and Opportunities
Monday, September 24, 2018 - 6:30–8:30 PM EDT
Organized by CO2logic + The New School​
Tishman Auditorium - 63 5th Avenue, New York, NY 10003, United States
In 2018, for nearly 3 billion people each day, cooking is conducted on open fires or rudimentary cookstoves that are fueled by coal or unsustainable wood. At a time when pressure to take climate action is increasing, supporting clean cookstoves climate protection projects is ranked as one of the most efficient solution to stabilize our climate and make a positive impact in the world. In addition to the climate benefits associated with their use, clean cookstoves and fuels support vulnerable communities around the world in ways that can be life-changing: empowering women and girls, providing new local jobs, improving health and protecting biodiversity.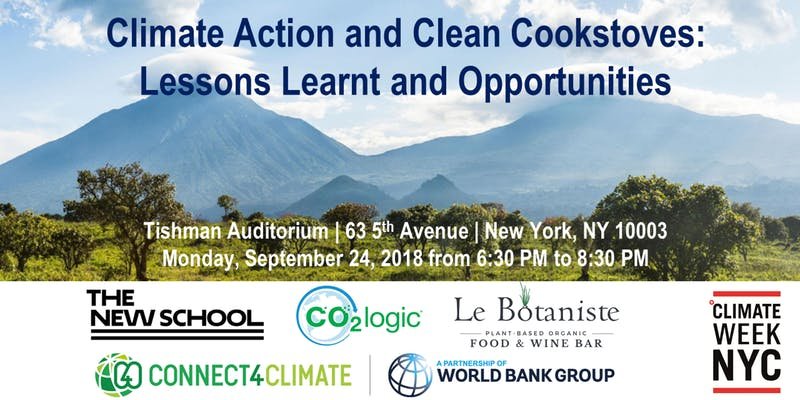 This panel discussion organized during Climate Week NYC will present best practices developed to date and then launch into thoughtful discussion around other strategies and tactics that might help businesses, foundations and other non-profit organizations create the most value in their strategy to implement the Sustainable Development Goals. In addition, speakers will also explore the whole range of benefits awaiting those taking decisive actions: boosts in trust, quality of stakeholder relationships, and newly-created social value along the value chain.

Featuring:


  Introduction -
Arnaud Brohé
, CEO US, CO2Logic and board member of the Global Sourcing Council

Panel discussion:


Jean de Barrau
, Sustainable Agriculture Director, Danone 


Sandra Genee
, Director Partnerships, Gold Standard


Katie Pogue
, Manager, Environment and Climate at Global Alliance for Clean Cookstoves


Hugh Locke
, Co-Founder and President, Smallholder Farmer Alliance


Max Thabiso Edkins
, Climate Expert, Connect4Climate Program, World Bank Group


Bhawani Venkataraman
, Associate Professor, The New School (moderator)

CO2LOGIC + THE NEW SCHOOL
CO2logic
is a pioneer in climate change and sustainability advisory. CO2logic specializes in calculating, reducing and offsetting carbon emissions and other environmental impacts. Today, more than 100 global organizations use CO2logic's services to develop and implement their sustainability and low carbon strategies. Our main offices are in Brussels (Belgium) and New York.
The New School in NYC
is the only university where a world-renowned design school comes together with premier undergraduate and graduate programs and colleges to seek out ways to create a more just, beautiful, and better-designed world.