October 13, 2017 (All day) to October 15, 2017 (All day)
Washington, DC
United States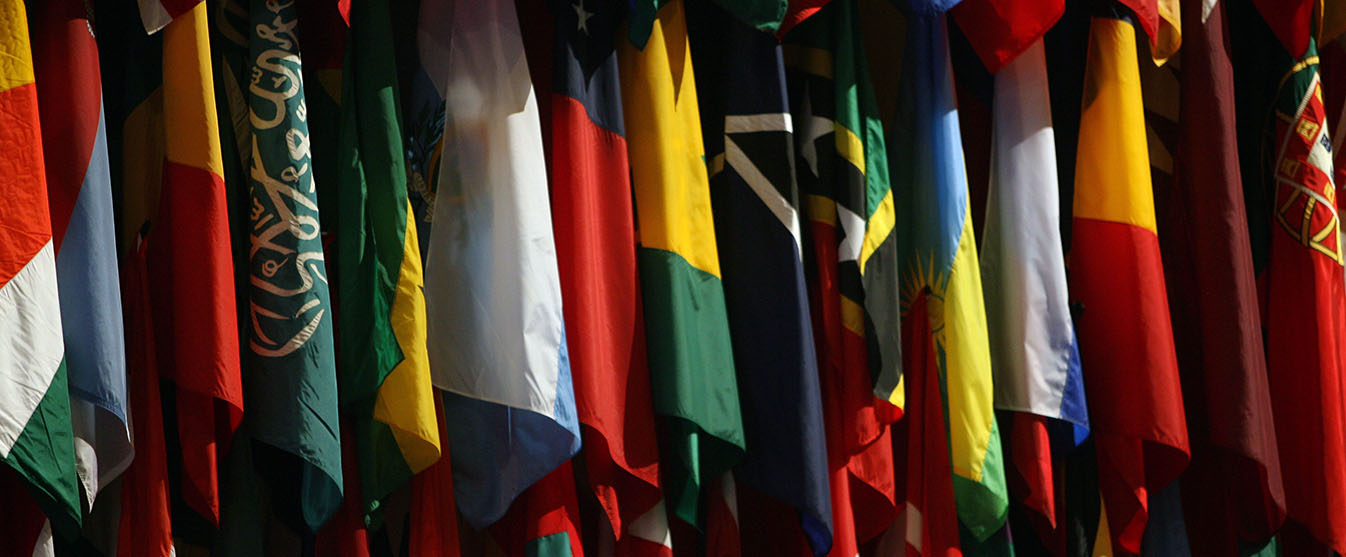 Each autumn, the Boards of Governors of the World Bank Group and International Monetary Fund (IMF) hold Annual Meetings to discuss a range of issues related to poverty reduction, international economic development and finance. The Annual Meetings provide a forum for international cooperation and enable the Bank and Fund to better serve their member countries.
The Annual Meetings traditionally are held in Washington two years out of three and, in order to reflect the international character of the two institutions, every third year in a different member country. In addition to the meetings of the Boards of Governors, the Development Committee and the International Monetary and Financial Committee (IMFC) are officially convened. The Development Committee and the IMFC advise the Boards of Governors on issues of global concern, including the world economic outlook, poverty eradication, economic development, and aid effectiveness.
The World Bank Group headquarters in Washington, D.C. Photo Credit: Deborah W. Campos / World Bank
Around these meetings, the Bank and the IMF organize a number of fora to facilitate the interaction of governments and World Bank-IMF staff with civil society organizations, journalists, private sector executives, academics and representatives of other international organizations. Indeed, every effort is made to ensure that the Annual Meetings provide an effective forum for explaining to the public -- directly and through the media -- the activities, challenges and achievements of both institutions. The meetings also aim to open up the meetings to the public through live-streamed events and online conversations on World Bank Live, Twitter and other platforms.
About 10,000 people attend the meetings, including about 3,500 members of delegations from the member countries of the Bank and the IMF, roughly 1,000 representatives of the media, and more than 5,000 visitors and special guests drawn primarily from private business, the banking community and NGOs. In addition, Bank and IMF staff participate in the meetings with officials of government delegations.
At each Spring and Annual Meetings, the joint Bank-IMF Development Committee and the IMF's International Monetary and Financial Committee hold meetings to discuss progress on the work of the Bank and Fund. Also featured are seminars, regional briefings and press conferences, focused on the global economy, international development, and the world's financial markets. Plenary sessions of the World Bank and the IMF's Boards of Governors are only scheduled during the Annual Meetings in the autumn.
Banner Photo Credit: Simone D. McCourtie / World Bank
2017 Annual Meetings Program of Events

  Wednesday, October 11, 2017 - 9:30 - 10:30 am EST - Future Harvest: Who Will Grow Tomorrow's Food? 


Featuring:


Pedro Diniz
, Founder and CEO, Fazenda da Toca, Brazil


Shelly-Ann Dinnall
, Poultry Farmer, Jamaica


Brian Ndyaguma
​, Entrepreneur, Uganda


 Katrina Sasse
​, Wheat Farmer, Australia
Moderator:


 Femi Oke
, International Journalist
Global food demand is projected to skyrocket in the future, creating vast economic opportunities. But who will seize them? The future of farming is in jeopardy. In most regions of the world, farmers are ageing and young people dream of moving to the city. This event will give voice to young people who are bucking the trend and bringing their commitment and business skills to agriculture.
Join the conversation: #FutureHarvest

  Thursday, October 12, 2017 - 2:30 - 3:30 pm EST - Sustainable Mobility @ James D. Wolfensohn Atrium, World Bank 

Featuring:


Kristalina Georgieva
, CEO, World Bank


Michelle Yeoh
, UN Ambassador and Actress


Jean Todt
, President, Fédération Internationale de l'Automobile


Raj Rao
, CEO, Ford Smart Mobility LLC


Sahar Nas
r, Minister of Investment and International Cooperation, Egypt
Moderator:


Helene Speight
, Ambassador, Prince's Trust
The Panel will discuss why transport and mobility are fundamental to realizing the 2030 agenda and the SDGs- from achieving a zero-fatality, zero-emissions world, to using technology to improve efficiency and leaving "no one behind." It will also highlight the World Bank's role and commitment to this agenda including major areas of challenge such as road safety.
Join the conversation: #Sum4All

Thursday, October 12, 2017 - 3:00 - 4:30 pm EST
 - Harnessing the Power of the Private Sector in Support of Sustainable Development @ IFC Auditorium, IFC 


Featuring:


Bambang Brodjonegoro
, Minister of National Development Planning, Indonesia


Anne-Marie Chidzero
, CEO, Alitheia Identity; Board Member, Africa Enterprise Challenge Fund, Making Finance Work for Africa, and Women's World Banking


Hans Peter Lankes
, Vice President, Economics and Private Sector Development, International Finance Corporation (IFC)


Susan Lund
, Partner, Mckinsey Global Institute


Matthew T. McGuire
, Managing Director, The Abraaj Group Luis Fernando Mejía, Director-General, National Planning Department, Colombia
Moderator:


Caroline Heider
, Senior Vice President and Director General, Independent Evaluation Group (World Bank Group)
In order to meet the Sustainable Development Goals, countries will need to mobilize trillions in new investments at a time when global growth is slowing and development assistance is declining. This event will explore emerging opportunities and trends for tapping private capital to advance the 2030 agenda. Speakers include government officials and experts from international organizations and the private sector.
Join the conversation: #InvestinDSGs

  Thursday, October 12, 2017 - 4:00 - 5:30 pm EST - Localizing the Implementation of the Sustainable Development Goals @ Preston Auditorium, World Bank  


Panel 1:


Mahmoud Mohieldin
, Senior Vice President, World Bank Group


Mauricio Cardenas
, Minister of Finance, Colombia


Maria Alejandra Gonzalez Perez
, EAFIT University in Medellin, Colombia


Javier Esteban Agudelo Vallejo
, Representative of youth Communa 13, Medellin, Colombia


Olga Patricia Castaño Diaz
, Vice President for Strategy Interconexión Eléctrica S.A. E.S.P ISA, Colombia


Maria Emma Mejia Velez
, Permanent Representative of Colombia to the United Nations


Jorge Familiar Calderon
, Vice President, Latin America and the Caribbean Region, World Bank
Panel 2:


Mahmoud Mohieldin
, Senior Vice President, World Bank Group


Imad Fakhoury
, Minister of Planning and International Cooperation, Jordan


Bambang Brodjonegoro
,
Minister of National Development Planning (Bappenas), Indonesia


Ulla Tørnæs
, Minister for Development Cooperation, Denmark


Martyn Parker
,
Chairman, Global Partnerships, Swiss Re Achim Steiner, UNDP Administrator


Achim Steiner
, Administrator, UNDP
This seminar will highlight the perspective of partners working at the local level to achieve the SDGs. The  first 30 minutes will showcase Colombia's efforts to integrate SDG targets into the National Development Plan and Peace Agreement, as well as to meet their international commitments (including the Paris Climate Agreement, OECD Accession, SDGs). The second portion (60 minutes) will highlight country perspectives from various regions around the world, along with global leaders who are deeply involved in SDG implementation efforts. The event will also highlight World Bank Group efforts to help our client countries apply local solutions to address global challenges, including in areas related to urban, rural, social development, resilience, governance, and research and data.
Join the conversation: #localizeSDGs

Friday, October 13, 2017 - 11:00 am - 12:15 pm EST
 - Resilience Dialogue: The Disaster That Never Happened—How Resilient Infrastructure Will Save The World @ Preston Auditorium, World Bank 


 [Part 1]  

 [Part 2]
Opening Remarks:


Koichi Hasegawa
, Senior Vice President, Japan International Cooperation Agency (JICA)
Featuring:


Richard Branson
, Founder, Virgin Group


Aris Papadopoulos
, Former CEO of Titan America and author of Resilience: The Ultimate Sustainability


Kamal Kishore
, Member of the National Disaster management Authority, India


Christiana Figueres
, Former Executive Secretary of the United Nations Framework Convention on Climate Change
Moderator:


Ede Ijjasz-Vasquez
, Senior Director for the Social, Urban, Rural and Resilience Global Practice, World Bank
There will be a special edition of the Resilience Dialogue on October 13—the International Day for Disaster Reduction. This important and timely discussion on the role of resilient infrastructure in addressing rising climate and disaster risk will feature a keynote from Sir Richard Branson, and leading voices from the industry and government partners.
Join the conversation: #ResilienceDialogue
Join
World Bank
President Jim Yong Kim and a panel of experts from the Washington D.C. community, media and civil society
Civil Society Policy Forum

  Thursday, October 12, 2017 - 2:00 - 3:30 pm - Youth, SDGs and Action: Using Data and Programming to Influence Change  

Panellists:


  Kate Ezze, Senior Director, Plan USA


  Tatiana Landysheva, Manager, Youth4GG, AIESEC


  Douglas Ragan, Chief, Youth and livelihoods, UN Habitat


  Albert Motivans, Head of Data and Insights, Equal Measures 2030
Youth is a crucial civil society actor as they are the ones who will be most impacted by the success or failure of the SDGs. This session will explore how young people themselves benefit from and contribute to inclusive development through data, programming and advocacy.
Sponsor: AIESEC International with Equal Measures 2030, UN Habitat and Plan International

  Friday, October 13, 2017 - 2:00 - 3:30 pm -  Forests, Climate, and Land Rights: How Can Policy Lending Address the Major Challenges of Development 


Panellists


  Frank Heemskerk, ED, Cyprus / Israel / Netherlands, World Bank) (Moderator (TBC)


  Nezir Sinani, Director, Rights and Environmental Sustainability, BIC


  Vanessa Torres, Manager, Infrastructure and Sustainable Energy, AAS


Ricardo Perez
, Advocacy Specialist, DAR


Joseph Bobia
(TBC)
This side event will provide an introduction to the World Bank's Development Policy Financing (DPF), presenting initial findings from research from Colombia and discussing ways forward to address some of the weaknesses in DPF's current focus and structure, so that DPF can help incentivise progress towards social and environmental goals. Also, the panel will present lessons learned from previous DPLs from other regions (Mozambique, Egypt, Perú, and Indonesia).
Sponsor: Asociación Ambiente y Sociedad (AAS) with Bank Information Center (BIC) and Derecho, Ambiente y Recoursos Naturales (DAR)