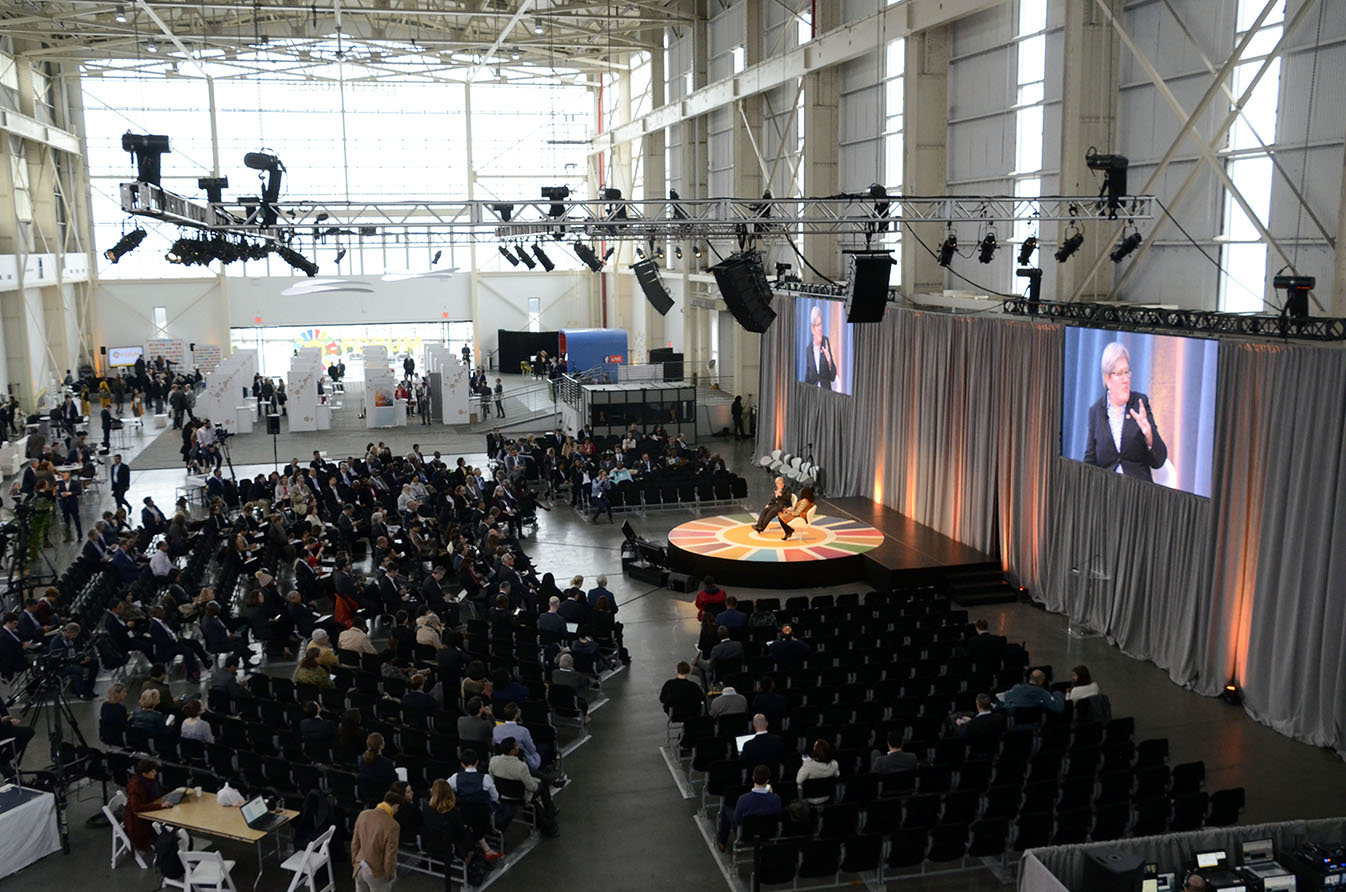 Scaling clean energy solutions is less about technology and more about policies, financing, and local people skills. East Africa is a hot spot for scaling off-grid renewables and there are lots of reasons why. With dozens of iconic companies now going 100 percent renewable, REN21 asks the question, 'Why not the entire world'? "We'll arrive at 100 percent renewable energy. The only question is when," REN21 Executive Secretary Christine Lins told another packed audience.
Christine Lins Executive Secretary REN21, interviewed by Max Thabiso Edkins, Climate Change Expert, Connect4Climate, World Bank Group, at the Sustainable Energy for All Forum
Cheers for Technology
Don't blame technology for the lackluster progress on achieving the sustainable energy development goals by 2030. Across the board, no matter the region, renewable energy costs are plummeting, especially for solar photovoltaics (PVs), which have dropped in half since 2012. In places like Chile and Dubai in the past year, solar projects are shattering record lows. "They're outcompeting fossil fuels even without subsidies," said Ethan Zindler, Head of Americas at Bloomberg New Energy Finance. All regions are benefitting, including Caribbean Islands like Jamaica and Bonaire off Venezuela, which are forsaking high-polluting diesel fuel for cheaper wind power and battery storage. Kenya, Tanzania, and Rwanda are also benefitting, mostly with pay-as-you-go household solar systems from companies like Off Grid Electric, M-Kopa Solar and Mobisol. Bangladesh is seeing the biggest upside of all.
Thomas Duveau Head of Business Development at Mobisol, interviewed by Max Thabiso Edkins, Connect4Climate
Ivan Shumkov, CEO, Build Academy, interviewed by Benjamin Steinlechner, Communications & Partnerships Strategies, Connect4Climate, at the Sustainable Energy for All Forum
Why East Africa is Working
The SEforAll forum is flooded with solar companies and funders who are finding big success in Kenya, Tanzania, and others East African countries. Most are solar off-grid providers who are taking advantage of ubiquitous mobile phones and mobile money in East Africa to sell their systems. "Mobile money is a key element for our business model," said Thomas Duveau, head of business development at Mobisol, which has sold 75,000 solar systems in Tanzania and other parts of East Africa. Business-friendly governments are another key. A new Power for All report identifies key national energy policies in Kenya, Tanzania, Bangladesh and two other countries that have helped unleash decentralized solar. "We call them policy accelerators," report co-author Rebekah Shirley said, citing supportive policies like low tariffs and import fees, local financing support and clear energy access goals.
Other Intangibles for Success
Local capacity and local people skills came up time and time again. Nigerian banker and Dangote Foundation CEO Zouera Youssoufou said Nigeria's sustainable energy movement needs more women leaders and more local financing from African banks. David Lecoque, policy and development manager at the Alliance for Rural Electrification, talked about local capacity building. "Governments have an important role in developing soft skills, local capacity, so there's an understanding of these (sustainable) technologies," he said. Several speakers suggested that foundations support such capacity building. 
"If you look at all the money that's growing into funding renewables and sustainable energy types of things, very little of that funding is African. When you come from the outside and try to tell us what to do or encourage us to do the right thing, you have to make sure that we're also part of the story," Nigerian banker and Dangote Foundation CEO Zouera Youssoufou said
A 100% Renewable Future?
In the wake of the ambitious Paris Climate Agreement, REN21 posed the provocative question: "Is a 100 percent renewable energy future feasible by 2050?" The results of its new report, based on interviews with more than 100 energy experts, are both illuminating and inspiring. Among the key takeaways: 71 percent agreed a transition to 100 percent renewables is feasible and realistic; 72 percent expect at least a tripling in renewable energy, over 50 percent, by 2050; 63 percent expect decentralized renewable energy will dominate over centralized renewable power by 2050.
Announcement
Five new cities and districts joined the Building Efficiency Accelerator (BEA), a public-private collaboration that now includes over 35 global organizations and 28 cities in 18 countries. Buildings account for one-third of global energy demand and over one-quarter of global GHG emissions.
You may be interested in reading this:
Sustainable Energy for All Forum: Day 1 highlights