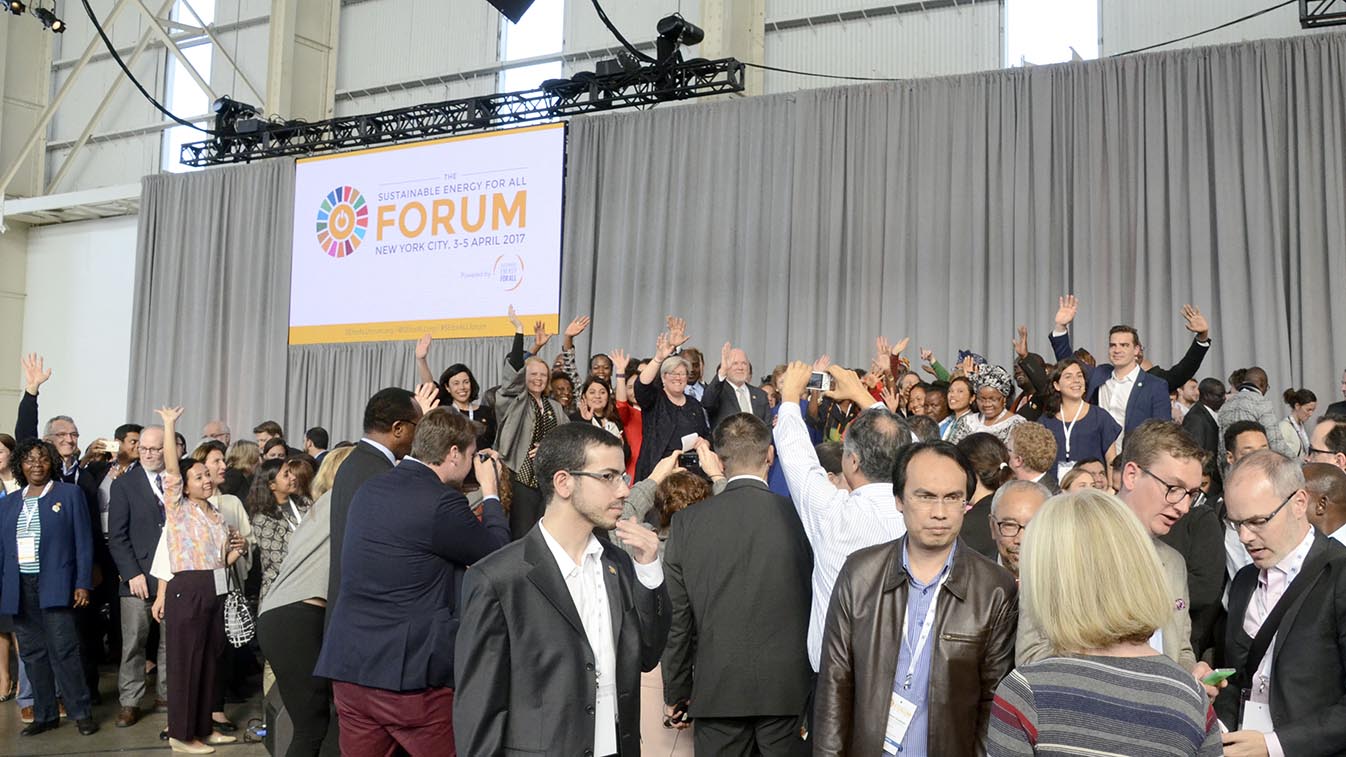 The energy access dividend: Our final day of the 2017 Sustainable Energy for All Forum focused on the energy access dividend, with sessions focusing on exploring the dividends that accrue with energy services and the case for going further, faster – together. From looking at the 'new market' and assessing whether the private sector can really service the bottom of the pyramid, to how energy providers are increasing productivity through decentralized solutions, the final day of the Forum addressed core issues in how we ensure an energy transition for all, and as Mary Robinson said in a press conference, "how we reach those furthest behind, first."
Mary Robinson, President and Chair of the Board of Trustees at the Mary Robinson Foundation – Climate Justice, interviewed by Benjamin Steinlechner, Connect4Climate
During the day, 9 of our speakers lined the Forum circular stage to reveal plans for a new people-centered accelerator to advance gender equality, social inclusion and women's empowerment in the sustainable energy sector. Through this accelerator, partners will work together to progress action towards these three goals, while working with leaders to promote an energy transition supports these people-centered aims and leaves no one behind. The accelerator is due to formally be launched later in the year.
During her closing speech, Rachel Kyte, Chief Executive Officer of Sustainable Energy for All and Special Representative of the UN Secretary-General for Sustainable Energy for All (SEforALL), said "We built this Forum – and every session in it - on an evidence base: a foundation hewn from the latest Global Tracking Framework, the dashboard that we use to measure progress on Sustainable Development Goal #7. It shows us that there are many extraordinary things happening – and happening all around the world. And those things are happening – in very large part – because of the work you, here at this Forum, are doing. And together, we've had the courage to interrogate the latest evidence. Because that's what real movements do."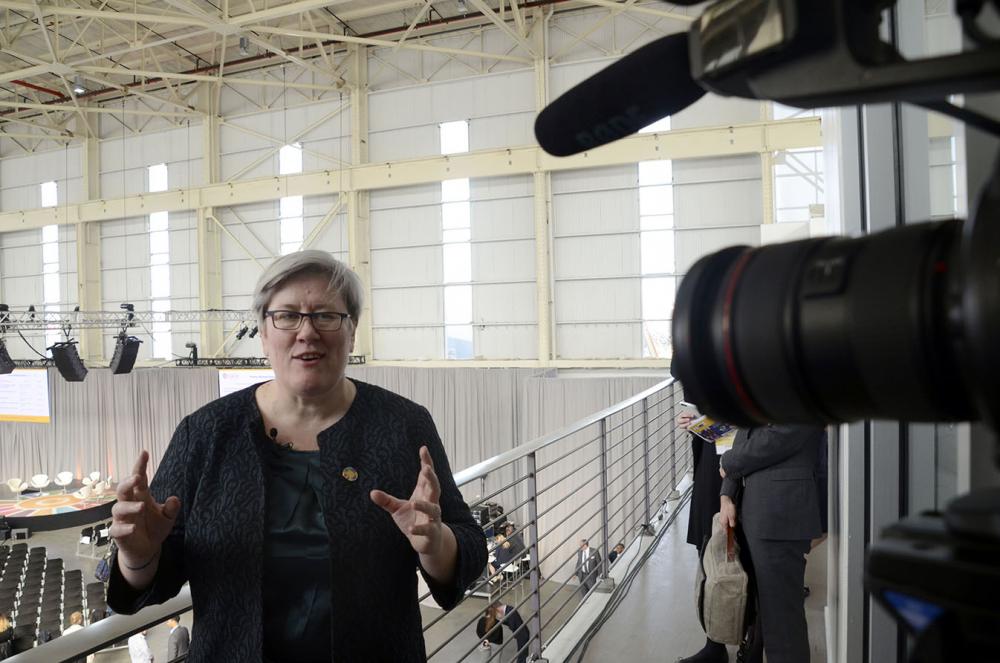 Rachel Kyte talked to Connect4Climate. Photo Credits: Max Thabiso Edkins
Inspirational voices
ENERGIA presented the Women Entrepreneurship Awards to five inspirational winners from across Africa and Asia in our final afternoon – with successful entrepreneurs, leaders in their communities and role models for other entrepreneurs all being named winners. The awards recognize outstanding work and encourage the winners to perform even better in the future. Each winner will now receive 1,000 euros for the strengthening of their capacities to run an energy business or for enhancing the profitability of their business.
Shine
An emerging global campaign on energy access, Shine: Investing in Energy Access for All, was also revealed during the final day of this year's Forum, focusing on diversifying the sources of finance to support energy access. The campaign will unite partners from the faith, development and philanthropic sectors to commit to mobilizing new forms of capital, scaling resources and generating momentum to achieve universal access to clean, affordable and reliable energy by 2030 and support Sustainable Development Goal 7. It was also confirmed during the day's press conference that the World Council of Churches – which brings together churches, denominations and church fellowships in more than 110 countries and territories throughout the world, representing over 500 million Christians – had committed to join the campaign.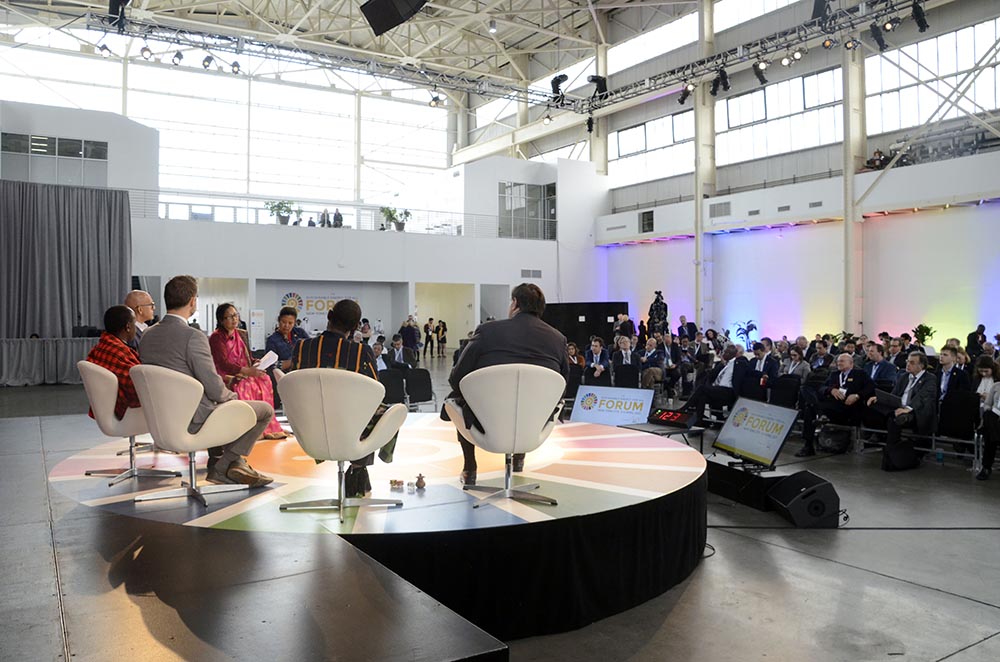 Sustainable Energy for All Forum venue in New York City. Photo Credits: Max Thabiso Edkins/Connect4Climate
Announcements
The Poor People's Energy Outlook (PPEO) report from Practical Action was launched during the final day, and showed how reforming energy financing can radically hasten energy access. Results showed that poor families in developing countries are being denied access to basic technology and services by financial systems which fail to bring them modern energy.
You may be interested in reading this:
Sustainable Energy for All Forum: Day 2 recap​
More multimedia content
Day 3 Opening Wake-Up Call
A conversation with Laura Tuck, Vice President, Sustainable Development, World Bank; Martin Shearman, Ambassador for Development and Human Rights, United Kingdom; Thomas Gass, Assistant Secretary-General for Policy Coordination and Inter-Agency Affairs, UN DESA; and Steve Howard, Co-Chair of We Mean Business, campaigner, business leader, and former Chief Sustainability Officer at the IKEA Group.
Hon. Dr. Chitalu Chilufya interview
Hon. Dr. Chitalu Chilufya, Minister of Health of the Republic of Zambia, interviewed by Benjamin Steinlechner, Communications & Partnerships Strategies, Connect4Climate
H.E. Peter Thomson interview
H.E. Peter Thomson, President of the 71st Session of the UN G eneral Assembly, interviewed by Max Thabiso Edkins, Connect4Climate
Sustainable Energy for All Forum Summary
"I am full of hope because you brought stories here. You told stories, you shared stories. Off those stories there is a commitment to event greater action. This is us. This is the "we" in "we the people's determined." This is sustainable energy for all. This is what it is going to take. This is getting it done. This is going faster, further, together." - Rachel Kyte, Chief Executive Officer of Sustainable Energy for All, and Special Representative of the United Nations Secretary-General for Sustainable Energy for All.