On August 12, the world celebrated International Youth Day, an occasion to celebrate and mainstream youth's invaluable contributions to the #ClimateAction movement and an opportunity to brainstorm ways to enhance their participation in high-level conversations on the pressing issues shaping their lives and their future.
In this spirit, Episode 3 of the #Youth4ClimateLive Series, slated for August 28 at 10:00 AM EDT/4:00 PM CEST, is themed around "Driving Youth Action."  The episode will bring young climate champions from India, Italy and Fiji together with Jayathma Wickramanayake, the UN Secretary-General's Envoy on Youth, for a proactive discussion on how barriers to meaningful youth participation in climate decision-making can be overcome and how young people's innovation and input can be more effectively amplified and implemented.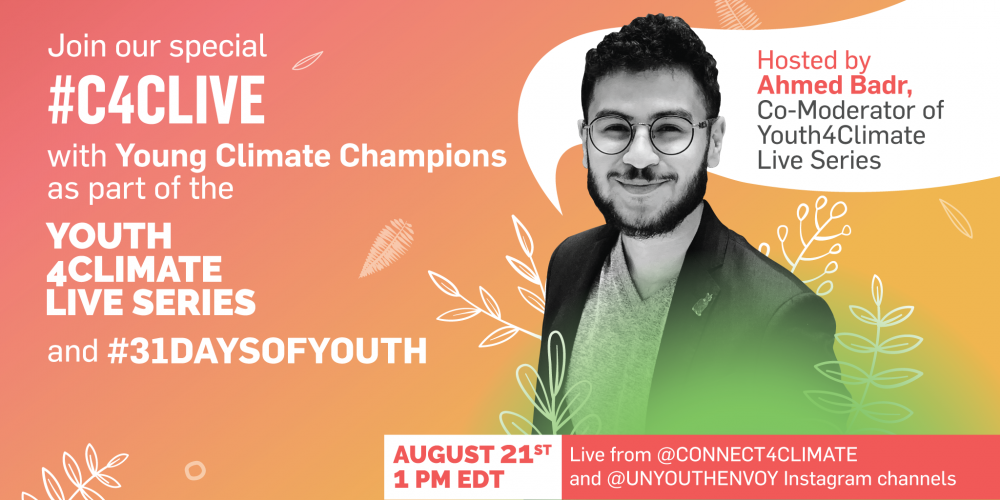 Setting the stage for Episode 3 will be a friendly Instagram Live chat this Friday, which you're invited to join on our channel at 1:00 PM Eastern. Our #Youth4ClimateLive moderator Ahmed Badr will be sitting down with Climate Talk podcast host Seyifunme Adebote, National Geographic Explorer Malaika Vaz, and EducAcción founder Claudia Taboada to talk about their inspiring work within the larger #Youth4Climate movement.
Register here to participate in "Driving Youth Action"!
"Driving Youth Action" will give center stage to three young guests of its own: Heeta Lakhani, an Indian educator committed to teaching the next generation of change-makers what climate change is and how to fight it; Rachele Rizzo, Policy Advisor for the Italian Climate Network and a champion of sustainable business practices; and Ernest Gibson, a Fijian student of politics and international affairs serving on the UN Secretary-General's recently established Youth Advisory Group.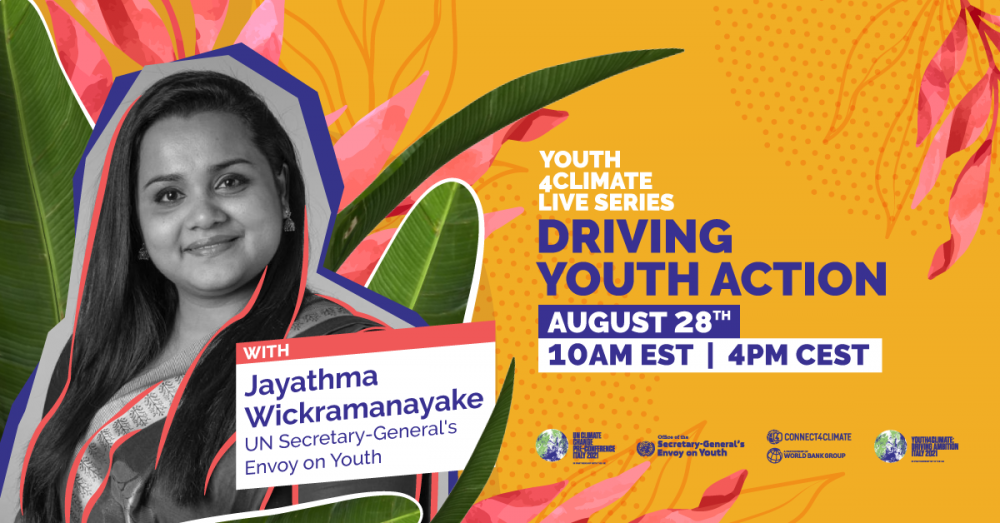 The UN Youth Envoy will join these young leaders in direct conversation on what they're doing to ensure youth voices are heard and how they can all work together to give more young people like them a chance to meaningfully engage with decision makers on climate policy. This episode will also provide ample opportunities for audience participation, inviting those tuning in to share their own thoughts via polls and submit questions to be answered live by the panel.
You won't want to miss it! We look forward to seeing you on August 28 for this dynamic discussion on the future of our planet and the role of young people in driving ambitious action that will safeguard that future for their generation and generations to come.