Every August 12, the United Nations marks International Youth Day, an occasion both to celebrate the achievements of young people worldwide and to amplify their innovative ideas for building a sustainable future. This year's Youth Day theme, Youth Engagement for Global Action, is all about giving the young leaders of the world the tools and resources they need to bring their brilliance to bear on pressing issues like the climate crisis.
As tech-savvy digital natives, young people have not let the COVID-19 crisis stop them from connecting with their peers, and this Youth Day will be no exception. Are you a young person looking to make your voice heard? Here are five simple but effective ways to get involved virtually for this year's event: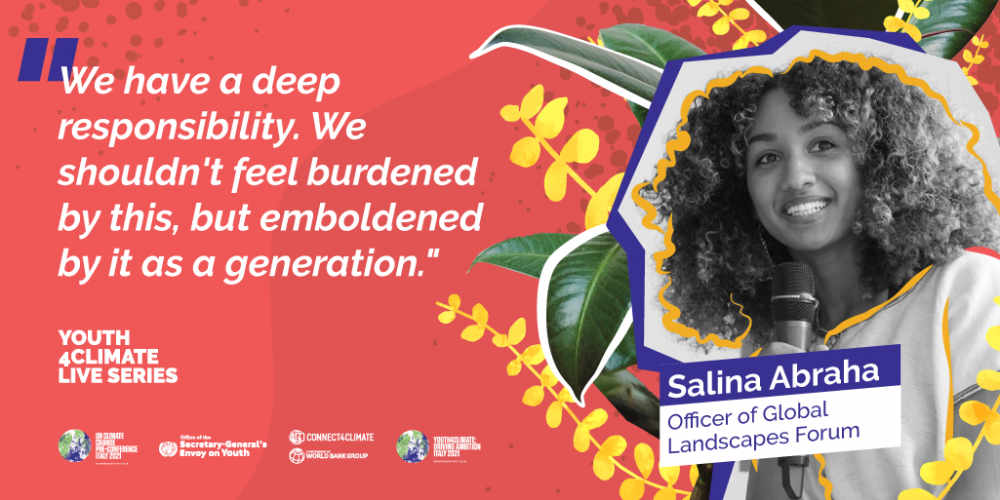 1. Participate in the UN Youth Envoy #31DaysofYOUth Campaign
Throughout August, UN Youth Envoy Jayathma Wickramanayake is leading a #31DaysOfYOUth campaign that anyone—including you!—can participate in directly. Share the issues you're passionate about and the steps you're taking to address them, using the #31DaysofYOUth hashtag. There's lots of time left! The UN will also be using this hashtag to describe the steps it's taking to include young people in its vital work around the world.
2. Join Us for Episode 3 of the #Youth4ClimateLive Series
The focus of International Youth Day this year meshes perfectly with the theme of this month's #Youth4ClimateLive episode: Driving Youth Action! The series is all about building momentum towards Pre-COP26 in Milan, where youth will play a vital role in the Youth4Climate: Driving Ambition event. You can catch up on past sessions here.   Episode 3 will explore how young people and governments can foster meaningful youth-led climate action and further enhance youth participation in decision-making processes domestically and at the international level. Register today for the August 28 event!
3. Keep Up the #FridaysForFuture Momentum Online
#COVID19 might be keeping us housebound for now, but the #FridaysForFuture movement continues apace on social media. Make a poster and join your climate-conscious peers in solidarity using the hashtags #FridaysForFuture and #ClimateStrikeOnline. It's a great way to get to know other young people pushing for climate reform and find inspiration for your own future advocacy! Not sure which youth accounts to follow first? Check out this handy starter list prepared by the Earth Day Network.
4. Join Online Youth Groups & Brainstorm Solutions
No one can solve the climate crisis alone. This Youth Day, consider reaching out to the climate champions you admire on social media and starting discussion pages where you can work together on the projects you're most passionate about. Discord, WhatsApp, Slack, FaceTime, Zoom… There are more ways to communicate and collaborate now than ever before! If you're looking to join an existing community, check out Youthtopia and the UNDP's SparkBlue hub. And if you'd like to be a part of our very own #Youth4Climate WhatsApp group, just shoot us a DM on our Instagram or Twitter.
5. Do Some Letter-Writing
A humble letter can go a long way. Our partners at Reserva: The Youth Land Trust are holding a 1 Million Letters Campaign to support their efforts to safeguard Ecuador's biodiverse rainforest. For every letter composed, Reserva will dedicate $3 to its Ecuadorian nature reserve project, and all letters submitted will be presented to UN leaders at the upcoming UN Biodiversity Conference. Also consider writing letters directly to the officials in your government overseeing climate strategy, and remember to make your voice heard on climate issues come election day!