This page aims to feature the most relevant initiatives and events Connect4Climate has organized over the years, and so it will be continuously updated. All events are listed in chronological order.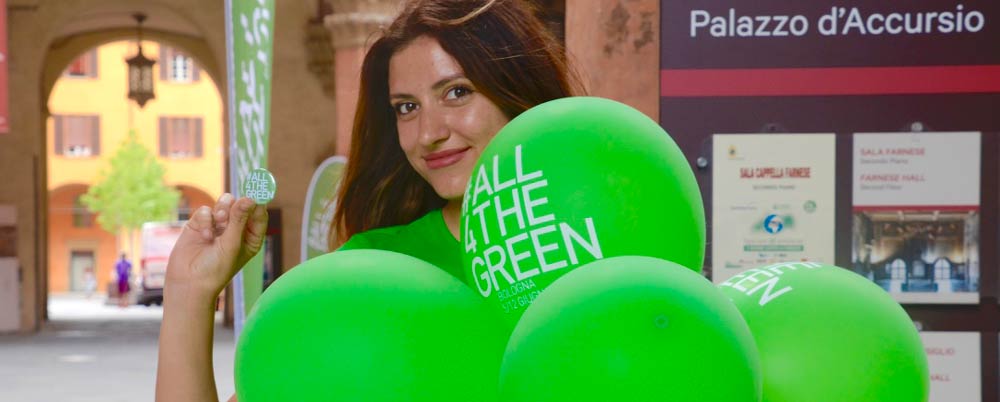 #All4TheGreen week of activities in Bologna, Italy. Photo Credits: Sharon Carrasco
Uniting4Climate International VR/360Video Pitch Competition 2017
165 video pitch submissions from 55 countries. Connect4Climate is delighted to give a chance to everyone to share their climate stories and messages with #Uniting4Climate by adopting new, inclusive trends to communicate climate change on a global scale. 
Meet 'X-Ray Fashion,' the Uniting4Climate Competition winning video pitch


The Academy Award winning director Louie Psihoyos (The Cove & Racing Extinction) announced the jury for the Uniting4Climate International VR/360 Video Pitch Competition at the Venice Film Festival - La Biennale di Venezia. 
Participants were asked for a pitch – a proposal for a VR production in the form of a 400-word description and a 1 minute sample video – to use the particular qualities of VR to illustrate and explain to best effect climate solutions and action, inspiring the unity behind solving the climate challenge. 
Philanthropist Paul G. Allen's Vulcan Productions is the exclusive production partner of the competition, and will produce the VR video of the winning concept. 
All4TheGreen Photo4Climate Competition 2017
More than 660 photos, from 43 countries. The #All4TheGreen Photo4Climate Contest received entries from five continents, clearly, a worldwide response underlining the importance and necessity of protecting the Planet for present and future generations, and also stressing the beauty and vibrancy of the environment. A picture can indeed say more than a thousand words.

The #All4TheGreen Photo4Climate Contest asked our community to use a camera as an instrument for change, a tool to explore the beauty and importance of our planet, whether it is a natural landscape, a water resource, your local forest, an ocean, a cultural heritage site, or a city environment. The entries had to work as a visual message to raise awareness about environmental issues and climate change, encourage action, and also propose potential solutions to protect these places.
This Photo4Climate contest happened in the lead-up to the
#All4TheGreen
G7 Environment Week in Bologna - a week dedicated to discussing and celebrating the environment during the G7 Summit.
The 
#All4TheGreen Photo4Climate Contest
 included a Special Blue (Water) Prize 2017. Probal Rashid was presented as the winner at the
UN Ocean Conference SDG Media Zone
in New York City, who connected live with the All4TheGreen Media Zone held in Bologna. 
Rashid
, a documentary photographer,
won a trip to New York City
to participate on
High-Level Panel on Water at the 72nd Session of the UN General Assembly (UNGA) 
in 2017. 
#Photo4Climate 2.0: Can an image stop climate change? 2017
In 2017, Connect4Climate re-introduced the #Photo4Climate Instagram Challenge - this time with an edgier and bolder twist added to it. Photography has the power to capture moments, disclose realities and to convey messages to the world. It carries this responsibility throughout time, long after people have forgotten about the event.
Photo4Climate 2.0 represented an opportunity for everyone to tell their stories, by showcasing how the impacts of climate change directly affect their lives.

Film4Climate Global Video Competition 2016
An unprecedented 860 entries from 155 different countries were received for the 2016 Film4Climate Global Video Competition. The competition called on filmmakers to explore Climate Action, the 13th goal under the UN Sustainable Development Goals, emphasizing individual and community actions that offer solutions and inspire positive change to combat climate change and its impacts.
The Film4Climate Global Video Competition 2016 winners were announced at the United Nations Climate Conference (COP22) at a day celebrating the power of youth, cinema and the creative industries to generate climate action and tackle climate change.

Read the World Bank press release for the winner announcement
High School Game 2016
High School Game
(HSG) is the
main educational event
that takes place in high schools and in exclusive locations of many Italian provinces, in collaboration with the Italian Ministry of Education, Universities, and the private sector. The central activity is a
quiz between Italian High Schools classes
that rewards the best students from the fourth and fifth year.
It aims at stimulating learning, also on specific issues of interest as climate change, through the use of new technologies and innovative training systems based on edutainment. Students and teachers show a high level of participation and enthusiasm and are particularly receptive to messages to help guide their choices.
Since 2016 Connect4Climate took part into HSG competition with a
specific line of quiz based on climate change issues
. 2017's final challenge about climate change took place in Bologna during the
#All4theGreen events
.

Sustainable Worlds on Minecraft 2016
Young people were invited to use the
Minecraft gaming platform to design a sustainable world
, and to showcase their innovative ideas on transport, food production and renewable energy. Supported by Connect4Climate, the competition, which is being run by Television for the Environment (
tve
) and is part of the UN Framework Convention on Climate Change's
Action for Climate Empowerment
and
Momentum for Change
initiatives, will culminate in a high-profile awards ceremony at COP 22 Marrakech.

#Photo4Climate Instagram Challenge 2016
We asked you to take a photo related to the weekly theme, and share it on Instagram. The challenge was unique: capture that moment, landscape, idea, solution or person that is raising awareness and taking on climate change, and get a chance to be featured on our Instagram page.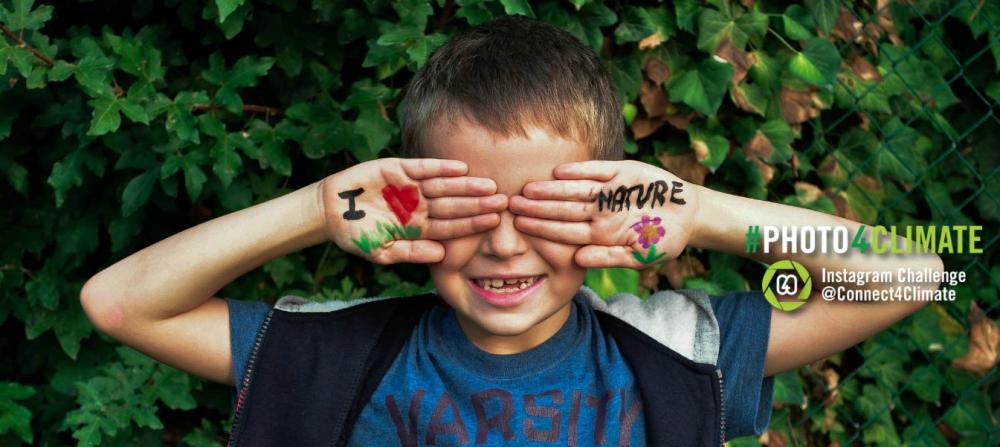 Film a #Day4Climate Action Challenge 2015
Jakarta Urban Challenge 2015
The Jakarta Urban Challenge was a USD $20,000 contest launched by the New Cities Foundation and Connect4Climate in March 2015 in order to champion effective solutions to Jakarta's mobility problems while building a lasting legacy beyond the New Cities Summit. As Jakarta grows, mobility is becoming increasingly challenging while congestion is worsening, an issue that many large metropolises face. The Challenge was designed to find local solutions to improve mobility in Jakarta, one of the world's most congested cities.
In total, 226 applications were received between March 16 and May 8, 2015.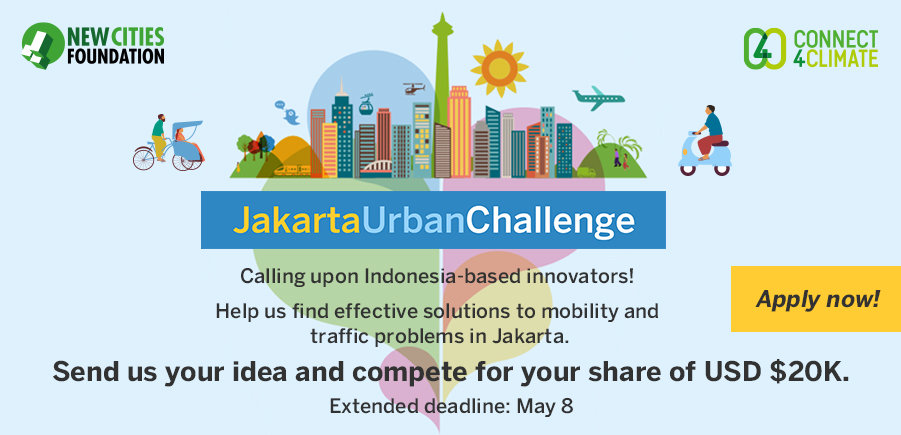 Action4Climate Competition 2014
Ten young film crews from ten different countries were chosen as winners in the Action4Climate documentary competition. Their outstanding and unique films inspire the world to take action on climate change.
The Action4Climate competition was launched in early 2014. It attracted hundreds of entries from all around the world. Italian film director and screenwriter, Bernardo Bertolucci, chaired a renowned jury of film makers tasked with choosing winning films in two age categories.
iChange Competition 2013
iChange independent panel of judges evaluated 248 entries from students studying at 165 universities located in 66 different countries.
Connect4Climate team members with iChange finalists. Photo Credits: Leigh Vogel/Connect4Climate
Voices4Climate Competition 2012/13
What does climate change mean to you? This was the question Connect4Climate and MTV asked young people from around the world at the launch of "Voices4Climate", a global photo, video, and music video competition focused on amplifying the voices of youth on the issue of climate change. 
Creative young people from around the world shared or sang their personal stories about climate change for the chance to win prizes and receive international recognition at the UN Conference on Climate Change in Doha (
COP18
).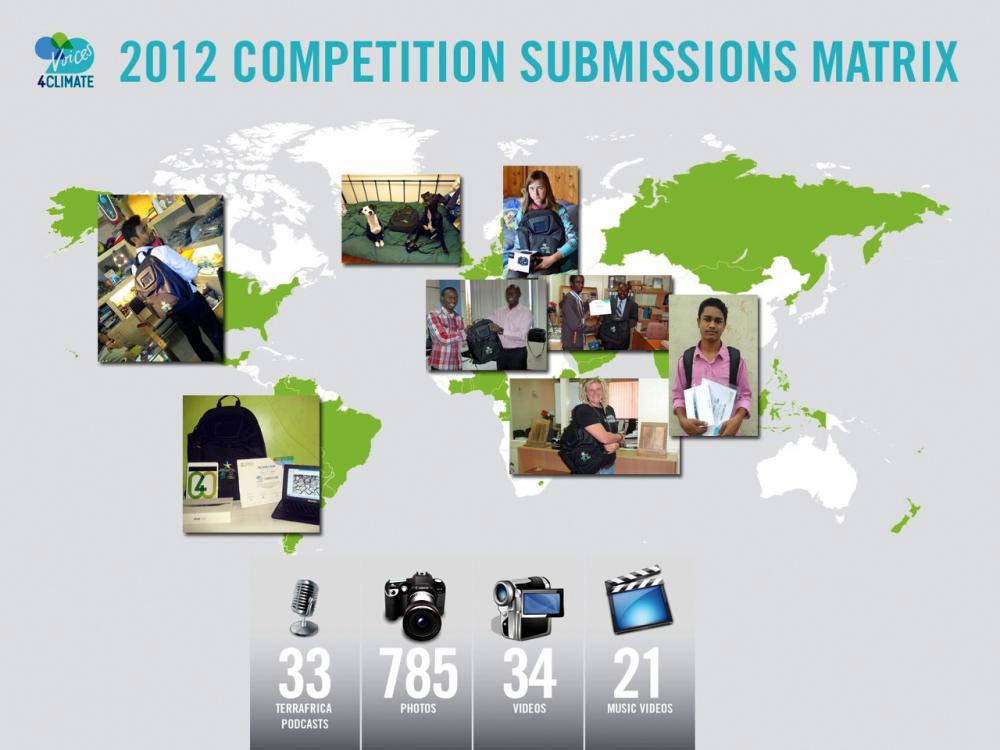 Build the Change 2012
Participants were asked to think what an environmentally friendly city could be like, and so to build a LEGO model of new city spaces to work, play, and live sustainably and write a brief description of the design.
Selected submissions were exhibited at the 10th Ecocity World Summit on Sustainable Cities in Nantes, France alongside a series of local Lego® "BuildTheChange" workshops. The workshops brought together several thousand children and families as well as professional planners to design and build their own models of sustainable urban spaces.
Africa Connect4Climate Competition 2011
In the run-up to the United Nations Conference on Climate Change (COP 17) in Durban, South Africa, participants shared with us how climate change is affecting their lives, families, communities and environments. The selected winners were announced at a high-profile award ceremony at COP17 in Durban.  World leaders and prominent climate change thinkers will got a chance to look, listen, and learn about these climate stories.