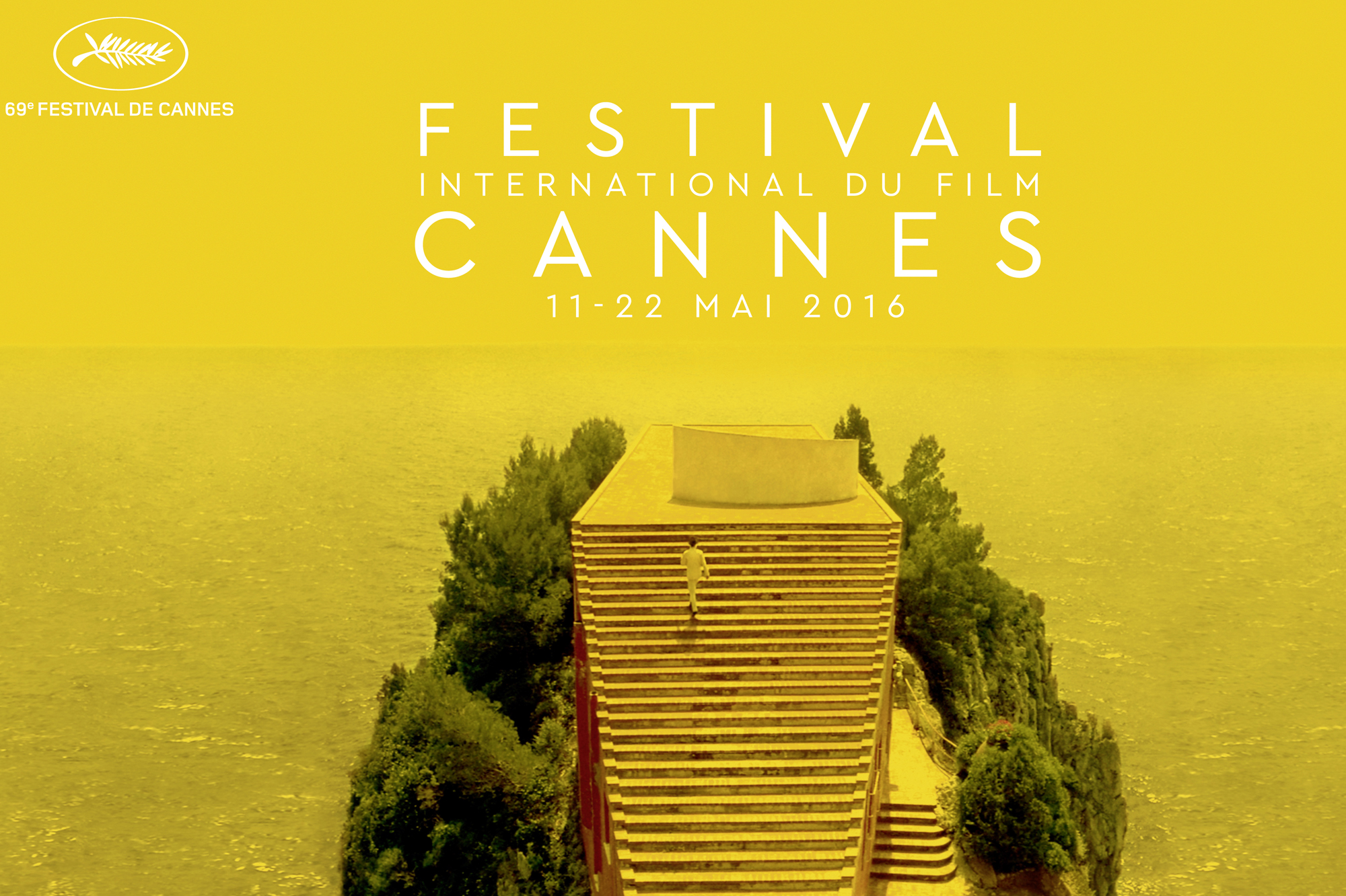 Connect4Climate's film arm, Film4Climate, is attending the 69 edition Cannes Film Festival to solidify and build on work done in recent years to green the silver screen by enlisting further support for more sustainable film production and encouraging the inclusion of climate action in content creation.
Thanks to the long-standing partnership with the Festival's Marché du Film, Connect4Climate will be present at the festival with a robust program that includes a presence ar the new Doc Corner space, which gives greater focus and attention to factual film making as it becomes increasingly acknowledged and respected as a mainstay of visual storytelling in the industry. 
Over the next days, Connect4Climate will announce new global projects connecting creative industries and civil society. Follow us to know more soon!
If you are in Cannes, please come see us! 
For more information: film4climate@worldbank.org
Connect4Climate events at Cannes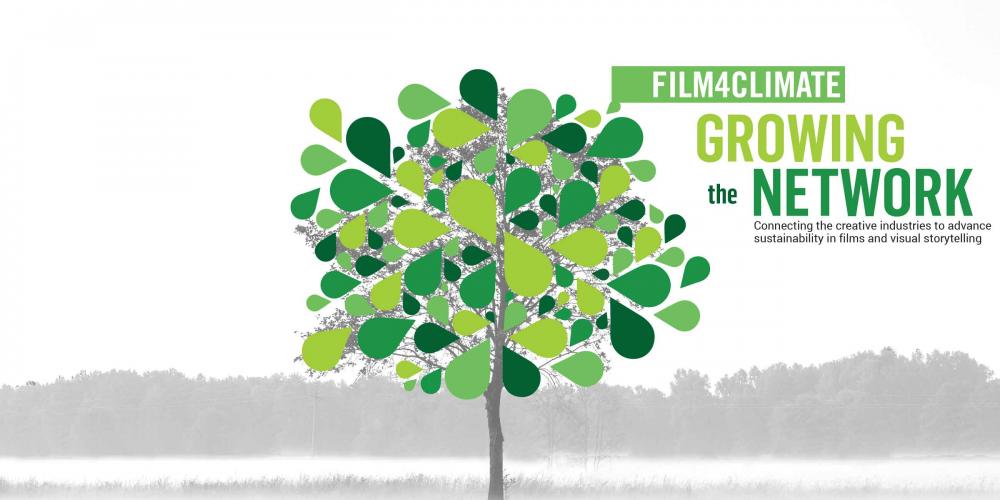 An Inconvenient Youth - Special Presentation
May 13, 1:30 pm – 3:00 pm at Doc Corner's New Screening Room - Riviera
A conversation with Daniel Bekerman – Producer: An Inconvenient Youth, The Witch, Backstabbing for Beginners
An Inconvenient Youth is a coming of age story about the rise of the global youth climate movement, from flood-ravaged villages in Nepal to international conferences in Cancun and the riots of Copenhagen and Paris. A true story about the power of personal connection and the worthiness of keeping hope in the face of incredible challenges, director Slater Jewell-Kemker has created a personal documentary of epic perspective, her own story evolving within the ongoing crisis of climate change on the world stage.
Be sure to RSVP ahead of time to secure a seat (just 21 seats available per session!), and enter the Doc Room!
Our Common Home – Projections and Virtual Reality at the Vatican
May 14, 9:30 am – 11:30 am @ Doc Corner's New Screening Room - Riviera
Last December, the World Bank Group's Connect4Climate initiative brought together a humanitarian coalition comprised of Paul G. Allen's Vulcan Inc., the Li Ka Shing Foundation, Okeanos, The Oceanic Preservation Society, and Obscura Digital to present a gift of contemporary public art entitled "Fiat Lux: Illuminating our Common Home" to Pope Francis on the opening day of the Extraordinary Jubilee of Mercy. At this unprecedented and historic event, beautiful images of our shared natural world were projected onto the façade of St. Peter's Basilica in a contemporary work of public art that told the visual story of the interdependency of humans and life with the planet, in order to educate and inspire change around the climate crisis across generations, cultures, languages, religions and class.
Be sure to RSVP ahead of time to secure a seat (just 21 seats available per session!), and enter the Doc Room!
Film4Climate Working Group Conference
May 16, 10:00 AM to 1:00 PM @ Plage Royale, Boulevard De la Croisette
The Film4Climate Working Group Conference will bring together our 160+ partners, producers, and industry's representatives to strengthen our community and develop further ideas on how best to green the silver screen. Big announcements will be made at the event, stay tuned!
RSVP here.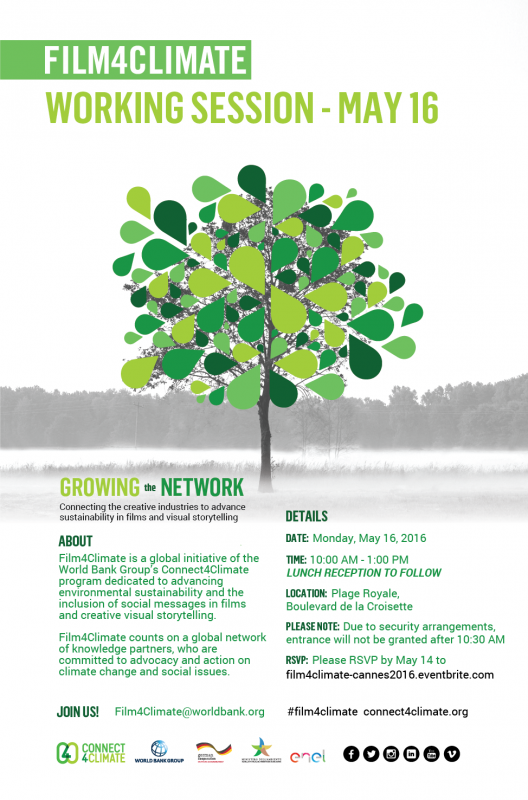 Doc Day Conference
May 17, 3:00 to 5:00 PM @ Cinema Olympia 1
Connec4Climate is proud to support the first "Doc Day Conference" focused on social justice and documentary filmmaking. The event, organized by the Ford Foundation's Just Films Program and the Marche' du Film in collaboration with La Scam and Connect4Climate, will open with a keynote from Fire At Sea director Gianfranco Rosi. Risk director Laura Poitras, Children 404 director Askold Kurov, and Clouds Over Sidra director Gabo Arora will present excerpts from their latest films before sharing their views about advancing social change. This will be followed by an event on connecting impact-making documentaries with global audiences. Daniela Elstner (Doc & Film International), Josh Braun (Submarine Entertainment), Signe Byrge Sorensen (Final Cut For Real) will all take part in the discussion, which will be moderated by Wendy Mitchell (Screen International). C4C's Program Manager Lucia Grenna will deliver the closing remarks.
Doc Lovers Mixer Networking event 
May 17, 6:00 PM @ Plage des Palmes