Grocery runs deep in my genetic code, but all I ever wanted to do was work for my hometown congressman. I was a two-issue girl, and I decided early to devote my life to campaign finance and energy policy – two areas I felt were poised for progress. I spent every summer of college interning and eventually landed a job as a legislative aide responsible for campaign finance and environmental issues. I spent the better part of the next decade working for Democrats, Independents and Republicans, who prioritized both (with a brief stop at the Justice Department, suing companies for violating the Clean Air Act). Most recently, I worked in the Senate on the American Power Act, the last major Congressional effort aimed at capping greenhouse gas emissions and creating a domestic clean energy economy.  
When that effort failed, I took a hard look at the prognosis for legislative progress, and my conclusions were bleak. But that didn't weaken my resolve.  I decided to start a business that would make climate change progress incrementally or, as we say at Glen's Garden Market, one bite at a time.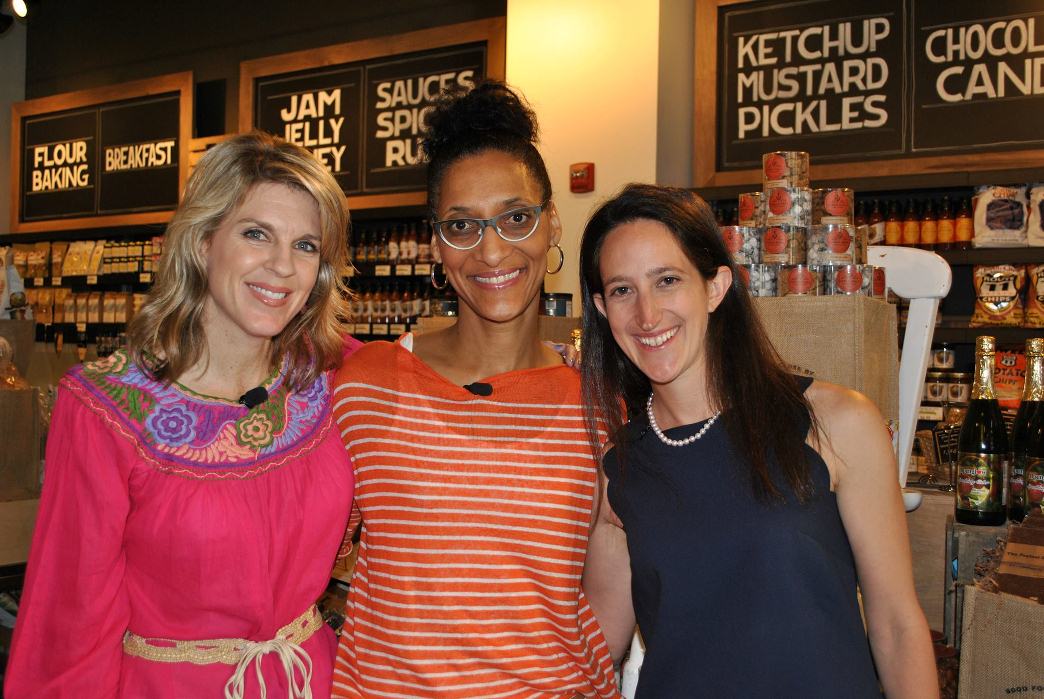 Television reporter Holly Morris, Chef and television host Carla Hall, and Glen's Garden Market founder Danielle Vogel. 
My father was a grocer. His father was a grocer, and so was my great grandfather. My mom's dad owned supermarkets too. It wasn't entirely counterintuitive that when it came time to start a business of my own, grocery would be my avenue of choice. But unlike my (actual) forefathers, my approach would be entirely mission driven.
Every single decision we make at Glen's Garden Market in Dupont Circle is made with the environment in mind.
Foremost, we source our food from the states of the Chesapeake Bay Watershed; and so we cut transportation and refrigeration emissions by bringing our food in from very close by. 
We seek out thoughtful, meticulous producers who treat their land, their animals and their ingredients with respect.
We built our store with old cattle fencing that had been discarded by one of our vendors in West Virginia.
Our countertops were constructed from compressed, post-consumer recycled paper.
We offer only reusable bags (what sense would it have made to send plastic right back into the watershed that provides our nourishment?).
Our lights and equipment all meet the most rigorous efficiency standards.
We retrofit our display cases to include doors to prevent the unnecessary waste of ultra carbon-intensive hydrofluorocarbons.
We installed showers in our team's bathrooms and bike racks in our break room to encourage our folks to bike, walk or run to work – and most of them do.
Our kitchen operates under a no-waste mandate.
We recycle and we compost, aggressively. 
But the thing we spend the most time on is helping other small businesses grow along with our own. In the 17 months since we opened, we've helped launch 17 food businesses. Seventeen companies have seen their products on a grocery store shelf for the very first time here. Often, those products come in through our front door in the arms of the person who made them. And after that happens, we promote them aggressively and help grow their brand. It's one of my greatest pleasures to eventually find them on the shelves in our competitors' stores – not just because it means their businesses are maturing, but because I know how thoughtfully those products were made. I want to see them displace demand for industrially produced food, which is exactly what they're doing when they bump less carefully-crafted items off the shelves in other stores.
The notion of a "green" business is so ubiquitous these days that it's trite. We don't make the choices we do because we need the "you're vaguely progressive, finger snaps for you" t-shirt. We make them because this business exists, fundamentally, to make progress toward addressing climate change. We do it by growing small, local businesses that create food thoughtfully, by being conscious of the real costs of food waste and working to mitigate them, by sourcing locally – not "whenever possible" but always. Even when that means our produce department includes little more than apples, potatoes, onions and kale in the cold months. And by working to create a space where only good food choices can be made. 
Glen's Garden Market is very much a grocery store and killer craft beer bar with $4 pints all the time, and a heck of a sandwich and pizza shop, but it's also a small business incubator, a community participant and a mission-driven progress-mobile.
It's not an economy-wide climate change bill, but it's progress, one bite at a time.