We at Connect4Climate are very excited to announce our new partnership with Orange Fiber, an innovative and cutting-edge textile company based in Italy that makes sustainable fabric from fruit. Thats right. Fabric from fruit.
This companys concept for textiles is just plain genius: Take the "waste" from citrus transformation - what happens to the orange peels when producers make orange juice, anyway? - and turn it into sustainable textiles. Cellulose is extracted from the leftovers that would normally be discarded after pressing an orange, then treated with a special process using nanotechnology and essential oils, and applied to fabric. Wearing products made out of Orange Fiber is like wearing a vitamin cream; its nourishing for the skin - and the effects are guaranteed for twenty washes - for now. Orange Fiber creators are working on a way to refresh the textiles with softeners.
The idea is the brainchild of Sicilian Adriana Santanocito, who wrote about creating a vitamin-enriched textile from citrus waste in her university dissertation while she was studying fashion design at the Afol Institute in Milan. She shared her idea with Enrica Arena, a fellow Sicilian and communications postgrad, and they began Orange Fiber. In 2013, they patented the innovation in Italy and, in 2014, received their international patent. With help from investors, they opened for business and now have two headquarters one in Catania, on the east coast of Sicily, and one in Rovereto, in northern Italy.
Santanocito and Arena view Orange Fiber as a continuation of Italian tradition. "We want to transform citrus wastecurrently valuing 700,000 tons just in Italy - into a sustainable and vitamin - enriched textile that would represent a brand new opportunity for Italian tradition in high quality textiles and fashion", they write on their website. They are also using one of the most familiar products of their homeland of Sicily - oranges! Each year more than 25 percent of Italys oranges are not even harvested because the cost of collection exceeds the sale price.
Connect4Climate is thrilled to have such innovative, socially responsible entrepreneurs on our partnership team and we look forward to joining forces to help them with their effort towards creating a more sustainable fashion industry.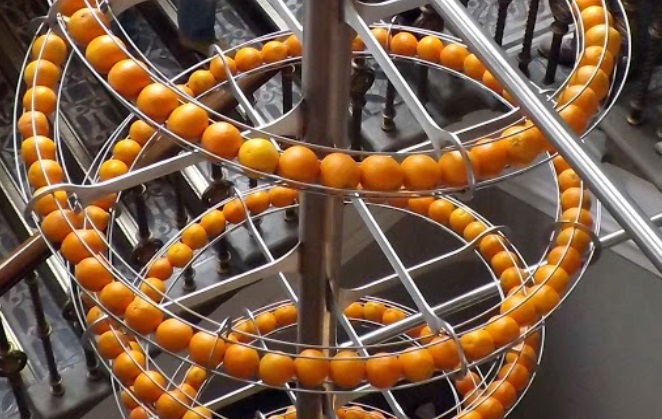 Oranges being used for Orange Fiber process. Photo by Orange Fiber