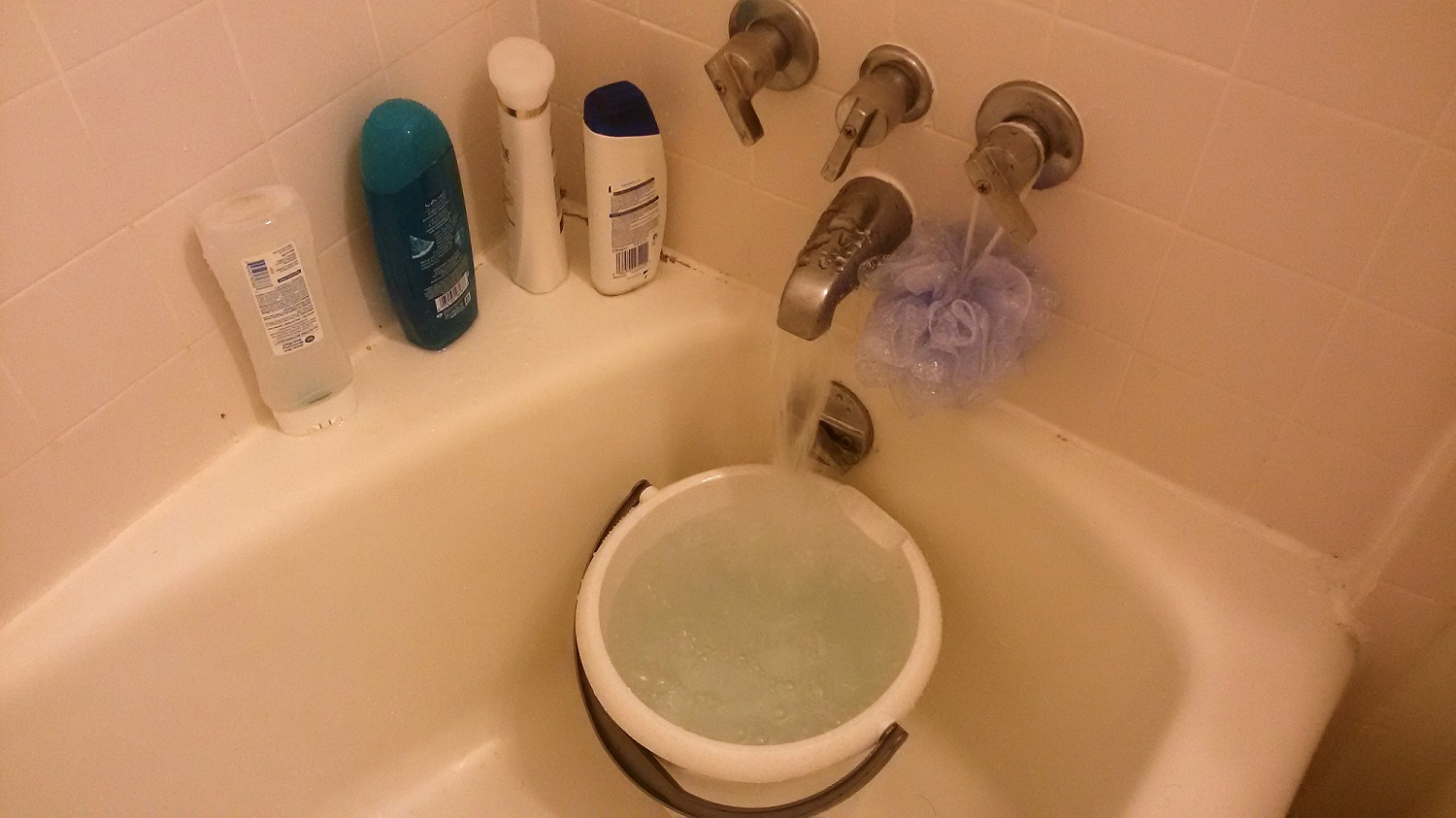 "We need to have a more sustainable way of life." This is a message that we hear almost every day from multiple environmental sources. However, most of the time this message is so generic, we don't listen.
Think about water. It's one of the five Earth elements we waste the most. From morning until night, water is in our lives. As I am writing, I'm realizing that 99 percent of my water-related activities are performed in the bathroom. Sometimes a simple and tiny action can make a real difference.
For instance, I know that sometimes I wake up late, and my main focus is only how to get to the office on time. I do everything quickly and don't pay attention to details. I use to set the alarm fifteen minutes before I was supposed to wake up, but the "snooze" button is often irresistible. But even waking up a bit late I still have enough time to get a bucket.
A bucket? For what? Well, I really don't like to take a shower with cold water (who does?), so I wait for the water to get warm, and fill my bucket with the initial cold water. Can you imagined the quantity of water we use for absolutely nothing? The bucket is the solution! I can use that water to flush the toilet or to even to clean the bathroom.
Some people do not turn off the tap when brushing teeth. I still can't imagine why people need that water! Perhaps to have a different soundtrack when brushing teeth? Please turn off the tap! The U.S. Geological Survey offers a calculator with which you can measure how much water you use when brushing teeth. Their website also indicates that "generally newer bath faucets use about 1 gallon (3.79 liters) per minute, whereas older models use over 2 gallons (7.58 liters)." That's a lot!
When taking a shower, do you usually turn off the tap while soaping up? In this case, we can save money on two things – water and soap. When soaping do you really need to feel the water on your skin? It's useless and makes the soap ineffective.
Also, consider washing cars. I used to wash mine quite often, and wasted a lot of water and money in the process. Your car doesn't need to be so clean that you can see your face on it (though I confess I once thought so). In most cases those car wash machines are enough to clean off the dust and dirt, and hit the road. "A home car wash can go through 80 to 140 gallons (300 to 530 liters) of water, whereas a wash at one of its garages will take about 30 to 45 gallons (115 to 170 liters)," according to Kaady Car Washes, a chain on the American west coast, cited in Scientific American. Numbers such as these are enough to make anyone think twice, don't you agree?
The meat industry also uses high levels of water. I don't eat meat, so I am contributing to a more sustainable way of life. I know it is not easy to stop eating meat in just one day. This decision doesn't need to be radical – the transition to a meatless way can be gradual. Or you could commit to simply eating less meat. National Geographic's website calculated how much water it takes to allow you to eat your favorite hamburger. Producing one pound (0.5 kilograms) of beef uses 1799 gallons (6810 liters) of water. One pound (0.5 kilograms) of chicken uses 468 gallons (1773 liters) of water. On the other hand, one pound of soybean (tofu's most important ingredient) needs 216 gallons (818 liters) of water, one apple consumes 18 gallons (70 liters) of water, and one orange requires 13 gallons (50 liters) of water.
Why is it so important to focus our attention on water consumption? In the United States, it is now possible to see the practical effects of water scarcity. The massive drought in California is a wake-up call and it should inspire us to undertake efforts to use water in a more conscientious way.
Think about these little things. I think you will feel better, not only because you will save money on your water bill but you will save the planet for your beloved ones and for the future generations. They also deserve to live in a decent world.
Daniel Pinto Lopes is an intern at Connect4Climate. He is originally from Covilhã, central Portugal.