Action on climate change needs people. The People's Climate March that took place in New York and other major cities around the world at the weekend is the best possible example of this. At a time when the clicking of a like-button can give the tempting illusion of having done something, we need to remind ourselves that nothing replaces the physical presence of people, together in the same space, demanding the same thing. However, the key ingredient for creating action is communication. I have recently become involved with the Adopt a Negotiator project and I am one of about 300 people who are engaged in the #Call4Climate writing challenge in preparation for this year's climate change negotiations in Lima and the crucial negotiations in Paris at the end of 2015. For the most part, it is a virtual activity as we all set out to blog, write for online news papers, and cook up some viral posts on twitter and social media. As part of the #Call4Climate, we are climate communicators. This is a hard task and here I set out to reflect on it. I argue that it is about people, people, and people.
Effective climate communication, by that I mean communication that leads to action, is hard. The recently published Don't even think about it: why our brains are wired to ignore climate change makes this point eloquently and is depressingly convincing. Generally, research from the social sciences and psychology suggests that moving people to act on climate change is difficult. Most importantly, we learn that knowing does not equal acting. The focus should not be on how to present more facts in the hope that people will finally change. The science is clear and this is important. But science does not translate straight into action. This is where we need to think and think harder to find approaches that work.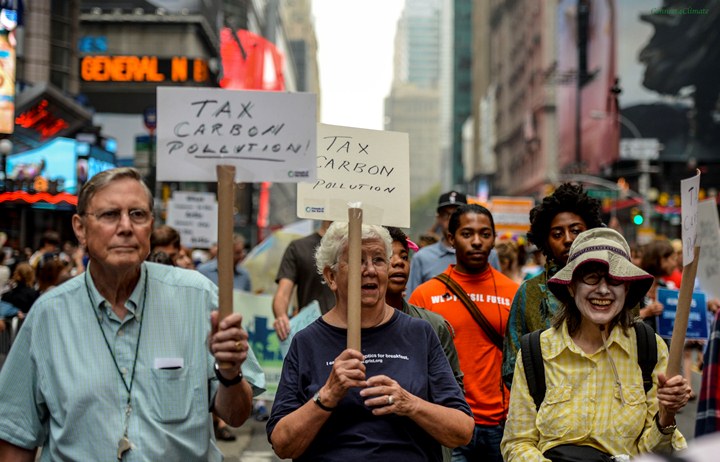 People I Though, as part of Adopt A Negotiator, we are not marching together in the streets, we are working on the same issues and offer virtual support. We share each other stories with our own networks, we share on twitter and meet online for skill-ups where we talk through various options of how to create effective messages. Being part of a community, even as it is virtual, is tremendously important. A group, people next to you doing the same thing, is irreplaceable in keeping momentum and keeping motivation throughout challenging times. This is the first sense in which climate communication is about people.
People II Climate change is incredibly abstract and feels incredibly far away from most of us, most of the time. We need to remember that we create messages for people, about people. Looking at what my fellow Adopt a Negotiator trackers have published so far, many stories are about the plights people face as a result of climate change. This is the second sense in which climate communication needs to be about people.
People III I think that there is a third aspect that we haven't fully tapped into yet. We all have heard and seen the stories of people affected by climate change. We have heard stories of catastrophes and remarkable human resilience and ingenuity in the face of it. But what about those people who work on climate change? Let me be clear, I am not suggesting that activists, scientists, and diplomats are as important as the people most affected by climate change. However, what I am suggesting is that by looking at the people who spent their lives mobilizing for climate change, researching climate change, and negotiating climate change, we can learn a lot and we can be inspired. They might not be as sexy as a celebrity delivering a one-liner on why we need to address climate change but they are the ones actually doing something.
We live as people in a world of people; we are social beings all the way down. How our fellow women, men, and children are doing matters. It affects us; we feel compassion and are, hopefully, moved to act. What they are doing matters just as much. I am suggesting that seeing and understanding the people who already work on finding solutions to climate change can move others to become involved as well. We are moved by what moves other people.
Why have the various organisers and supporters of the climate march spent night after night preparing for this event? Why are some protesters willing to face arrest to support their cause, as it happened at the Copenhagen summit in 2009? Why does the scientist continue to research and publish despite receiving hate mail and even death threats? And why does the diplomat return to the negotiation table despite knowing that her room for manoeuvre is small because she has nothing to offer but a moral appeal and that coming from a small island state she is vastly outnumbered in the negotiations unable to face "negotiation by exhaustion" effectively? I think that these are the questions we should be asking.
One recent project that follows this direction is "Scared Scientists" by Nick Bowers whose portraits of climate scientists combined with their statements on what they fear the most about climate change are beautiful and haunting at the same time. The logic is this: if these people are so deeply moved to do something, why shouldn't I be? If it matters for them, shouldn't it also matter for me? Let's bring on these kinds of stories and make climate communication ultimately about people, people, and people.
Katharina Hone is part of the #call4climate writing challenge at Adopt a Negotiator. With DiploFoundation she has been teaching online courses on climate change diplomacy since 2008 and was recently involved in running a capacity development program for participants from Pacific Island States. On twitter: @kathone