Since 1997 ClimateCare has specialised in projects that tackle climate change and deliver sustainable development outcomes. Winners of a Queen's Award for Sustainable Development, ClimateCare recently announced targets to cut 20 million tonnes of CO2 and improve the lives of 20 million people by 2020. CEO Edward Hanrahan shares his thoughts about what makes a successful climate and development programme.
1. Use a business approach
There are many excellent initiatives out there, but to be most effective we must take a business approach, selecting solutions that deliver the best return on investment for people and the environment.
Rigorous assessment of value for money has demonstrated time and again that enormous synergies are possible if you tackle multiple issues such as health, poverty and climate change together.
And whilst innovation is interesting and newsworthy, focusing on proven, low risk, cost effective and scalable solutions (which are admittedly not always the most exciting), can often deliver the greatest results in the shortest time.
2. Unlock mainstream private sector investment
Why? There simply is not enough public sector budget available to meet the scale of the challenges we face. Unlocking mainstream, private sector investment and developing blended public/private finance is essential.
At ClimateCare, this is a major part of our work and we have pioneered new funding mechanisms, like carbon finance, that offer investors a low risk, results based payment method and a measurable return.
As an industry, we need to apply this type of thinking more broadly. The issues that we tackle are emotive, but to be successful in tackling them our response has to be objective and measured.
3. Connect people
Public/Private sector partnerships are much discussed, but for many years our work has relied on connecting private business, financial markets, policy makers, NGOs and project partners worldwide, to design and deliver integrated climate and development projects.
What have we learnt?
That you need a focus on shared results and that someone has to make the first move, acting as a catalyst and partnership broker to make things happen. Once they do, the results speak for themselves. Our partnerships with major global enterprises such as The Swedish Energy Agency, DFID, Aviva, Jaguar Land Rover and The Co-operative mean we now run some of the largest and most successful climate and development programmes in the world.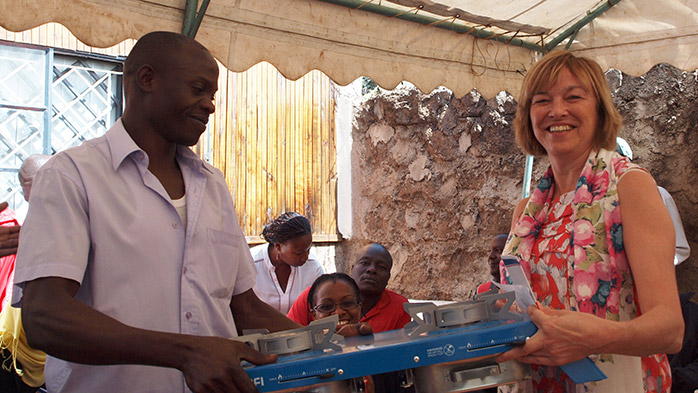 Wycliffe Omoga receives a new ethanol cooker from DFID's Lisa Phillips at the launch of a programme to kick-start a market for clean cooking, that will save lives and help tackle climate change. Photo by ClimateCare
4. Design in robust measurement at the outset
Businesses and investors want to see results that stand up to scrutiny. This means agreeing deliverables up front and designing a project around this.
One example is the world-first LifeStraw Carbon for Water project. ClimateCare partnered with manufacturer Vestergaard to distribute simple water filters to the entire Western Province of Kenya, providing over 4 million people with safe drinking water. Emissions are reduced because people no longer need to boil water on open fires to make it safe to drink.
The project was designed according to a UN approved methodology and every year, filter usage is monitored at a household level. Results are independently verified so that carbon reductions can be calculated and reported. The monitoring and reporting continues year on year, as the project is paid by results – based on the carbon reductions achieved.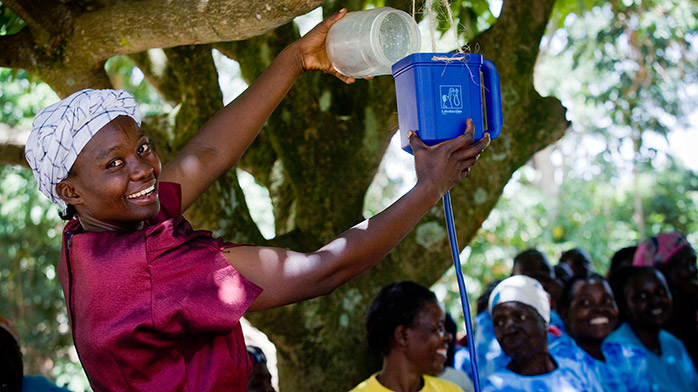 The LifeStraw Carbon for Water programme provides safe drinking water to more than 4 million people in Western Kenya, and cuts carbon emissions. Photo by ClimateCare
5. Make activity relevant to funders
Increasingly we are working on bespoke programmes that meet multiple targets, for example designing projects to meet an organisation's carbon neutrality, environment and CSR targets in a cost effective way, while at the same time building supply chain resilience, supporting development in emerging markets and building skills for future growth.
Making projects relevant to a business increases buy in and allows different departments to work together and pool budgets. The end result is greater value for people and the environment.