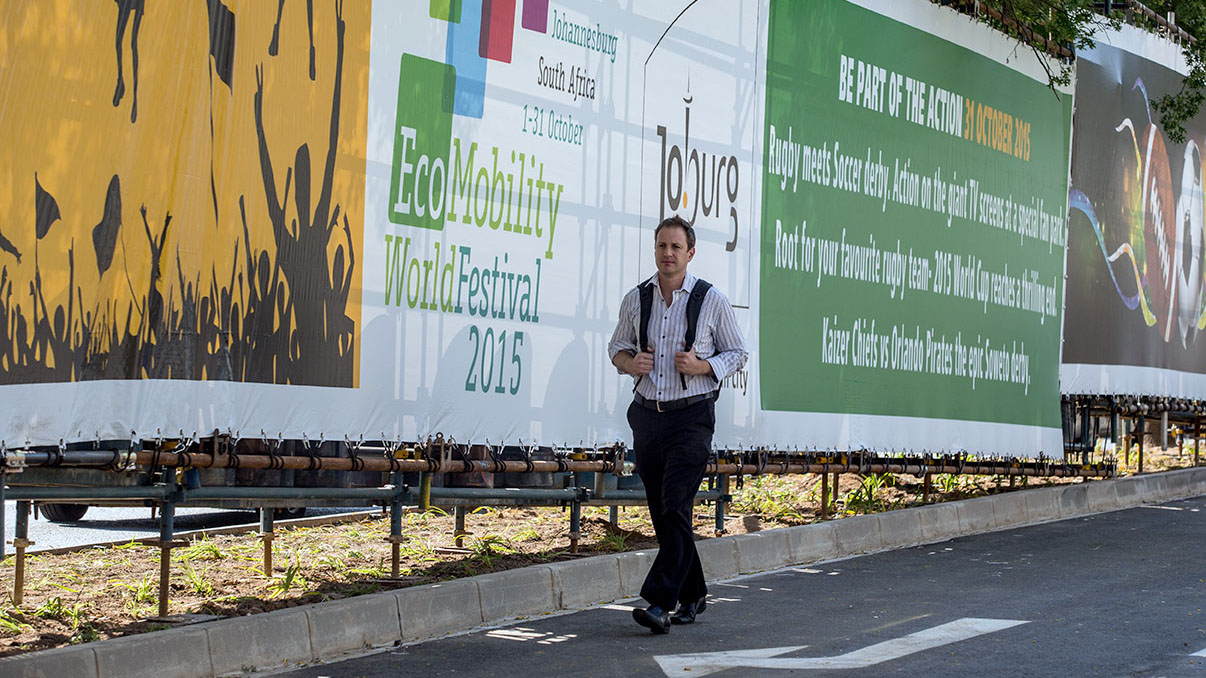 A commuter walking on Sandton's West Street, half of which has been closed to cars. Credit: Simphiwe Nkwali (City of Johannesburg)
Johannesburg may be a city built on the profits of gold, but Mpho Parks Tau, Mayor of South Africa's largest city, has a green dream. His dream is to make "public transport, walking and cycling more accessible, safe, attractive and cool."
"For our economy to grow and flourish, we need to decongest our roads and have fewer people spending time in their cars stuck in traffic," he said at the launch of Africa's first EcoMobility World Festival on Oct.4.
During the festival, Sandton central business district–also known as Africa's richest square mile–is partially closed to private cars and converted into an ecomobile zone, not just for a car-free day as in Paris, but the entire month. Leading by example, the dynamic 45-year old mayor encourages the city's 4.8 million residents to go ecomobile as well and "show that is possible for the residents of Joburg to break away from the habit of using private vehicles."
Transport accounts for 31% of South Africa's energy consumption and 16% of its CO2 emissions. A relevant share of it comes from transport in urban areas. The promotion of ecomobility, which means prioritizing walking, cycling, public transport and shared mobility, is a key part of the city's action on climate change, air pollution and social inequalities.
The city's forward-thinking initiative puts Johannesburg on the world map of city-driven climate change action. The opening of a new bike path between Sandton and the township of Alexandra and the "Streets Alive – Jozi W-R-1" parade underlined the link between ecomobility and social inclusion.
"Cycling should become a way of life, our municipalities must become sustainable," said South Africa's Transport Minister Dipuo Peters, announcing further national policies in support of ecomobility. South Africa is not only Africa's largest economy, but also the continent's biggest polluter, ranking among the 15 largest CO2 emitters worldwide.
"We contribute to climate change systematically through carbon emissions, and the reliance by Joburg commuters on single-passenger vehicles is an inefficiency we must confront," Mayor Parks Tau declared in his State of the City address in May.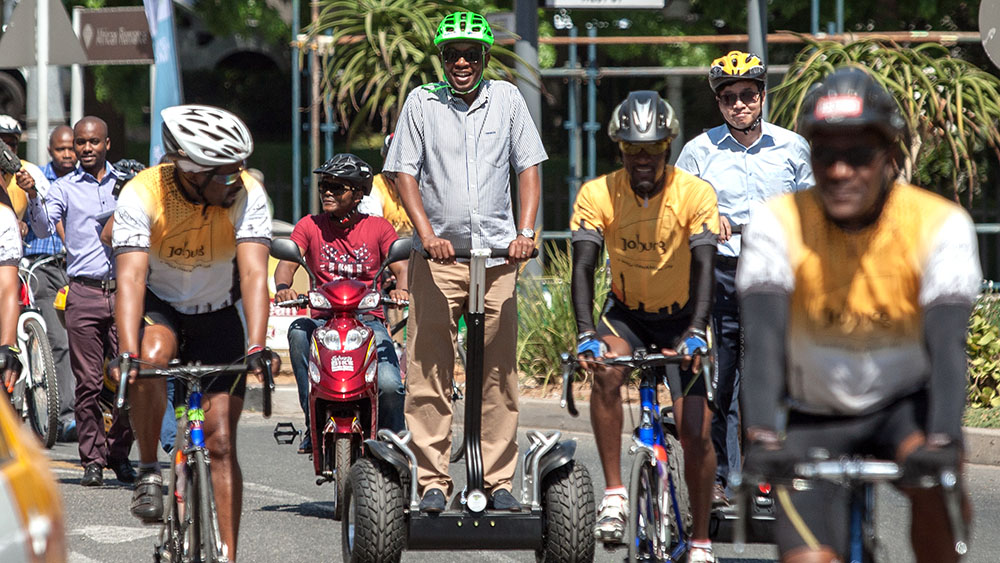 Johannesburg's Executive Mayor Parks Tau (with green helmet) amongst riders of bicycles and other ecomobility vehicles heading off from Sandton CBD, Adfrica's richest square mile, to the low-income township of Alexandra. Credit: Simphiwe Nkwali (City of Johannesburg)
Johannesburg Declaration
By 2050, two thirds of the world population will live in cities. No greenhouse gas emissions reduction strategy will be successful without addressing low carbon urban transport solutions. Nearly 500 South African and international mobility experts and local government leaders affirmed this at the conclusion of the EcoMobility Dialogues (Oct.5-9) in Sandton by releasing the Johannesburg Declaration on Ecomobility in Cities. It calls on all spheres of government to adopt policies that replace car-centered cities with people-friendly ones, invest in lower carbon and zero carbon energy for vehicles and engage with residents and employers to discourage the use of private vehicles.
Tau will bring the declaration to world leaders at the UN Climate Summit, conveying the message that urban transport is a key to address climate change. "We cities are not going to Paris to say that climate change is a complex issue to solve. We'll bring solutions", he said.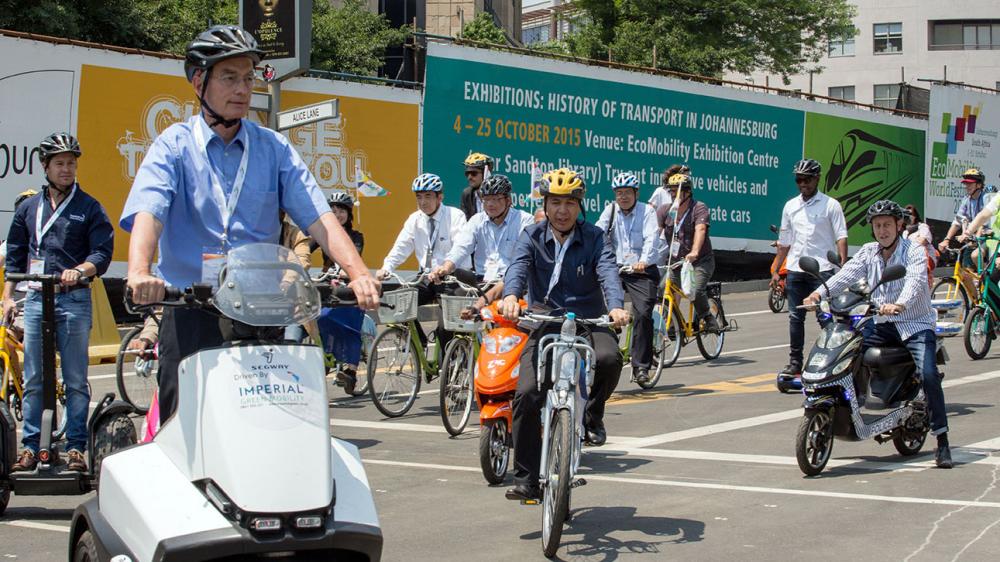 Creative Director of EcoMobility World Festivals, Konrad Otto-Zimmermann, heading the Mayors EcoMobility Ride, one of the parades organised to showcase urban mobility options without cars. Credit: Simphiwe Nkwali (City of Johannesburg)
Reclaiming the streets from cars
During Johannesburg's month-long EcoMobility festival, the streets of Sandton are closed or semi-closed to cars, while new bicycle lanes and pedestrian walkways, a public transport loop, a park & ride system and a mini-bus shuttle service offer alternatives to residents. Joburgers are still able to use their private vehicles, but are encouraged to change the way they move and try out extended Rapid Transit Bus service.
The first edition of EcoMobility experiment took place in 2013 in Suwon, South Korea. ICLEI- Local Government for Sustainability is a network of over 1,000 cities, towns and metropolises committed to building a sustainable future.
The hosting City of Johannesburg, selected this time the affluent business district of Sandton, one of the most congested areas in South Africa. Sandton is home of the JSE Securities Exchange and major banks, an opulent shopping mall and gated residential estates. More than 75,000 cars drive in and out of Sandton each day.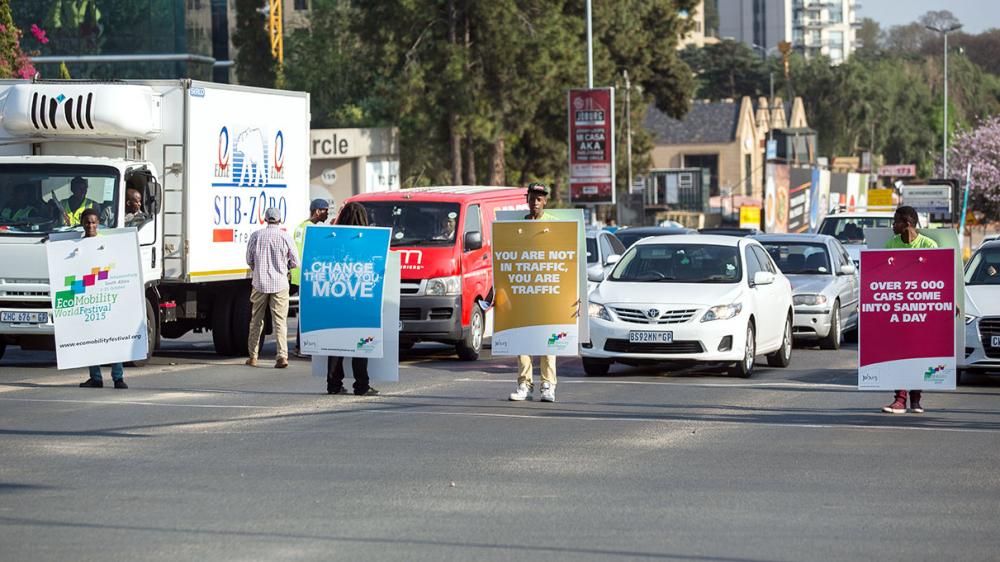 A series of so-called activations was organized to inform citizens about the upcoming EcoMobility Festival and to motivate commuters to change the way they move, specifically to walk, cycle and use public transport. Credit: Simphiwe Nkwali (City of Johannesburg)
According to city officials, the number of commuter traffic in the precinct has increased 3.4% per year. There is no more road capacity to accommodate growth of this rate. "With more office, hotel and shopping capacity being built, Sandton will become a huge parking lot", Tau explained.
He says the first festival week has been a success. There has been an 8% increase in the Gautrain bus and train use and the city received positive feedback from cyclists testing the new cycle infrastructure. Local media reported mixed reactions from commuters.
In the buzzling financial hub, the festival is less an event of people enthusiastically pouring out into the streets as in Suwon's residential neighborhood or at the Open Streets Days in Cape Town. The Vaya Moja mobile app was developed to alleviate concerns and give details of bus and train schedules, bike share spots and events. In addition to an exhibit where people can test drive innovative ecomobile vehicles, the festival features a series of street events, such as a carnival, a public viewing of the Rugby World Cup final and a freedom ride with about 4,000 cyclists last Sunday.
While recreational and collective cycling is becoming more trendy among younger Joburgers, the ridership is still miniscule compared to European cities. Ahead of the Festival, students of the University of Johannesburg conducted interviews with cyclists in the recently revitalized hipster Braamfrontein neighborhood. They complained about the car-centric culture, traffic safety and lack of bike lanes in other districts.
Our impression is that change is in the air, because people realize that a continuation of car traffic and related congestion increase cannot work. Giving priority to walking, cycling and public transport benefits all, not only richer people in cars.
The aim of the EcoMobility Festival is to create a platform for public dialogue, exchange of ideas and raising awareness. Mayor Parks Tau has a clear strategy for transforming the local transport system and the festival helps the city to launch a new phase of it.