The crossover of food and fashion is becoming increasingly common, with bio-based textiles gaining entrée into the new realm of sustainable fashion. Among the most commonly used organic materials are seaweed, coffee grounds, corn, pineapple and spoilt milk.
With a percentage of biomass mixed with cellulose or recycled polyester, one can lessen the impact of virgin polyester and help reduce deforestation caused by the demand for wood pulp for cellulose.
Many of today's garments are woven from threads of plastic-based acrylic, nylon or polyester – materials that are synthetically produced and non-biodegradable. And when a piece of clothing wears out or goes out of fashion, it often gets tossed in the trash: clothes make up nine percent of all municipal solid waste produced in the U.S.
The European Commission has also linked modern clothing industry practices – often described as "fast fashion" due to the speed and volume at which garments are produced and marketed – to high energy and water use, significant greenhouse gas emissions and water pollution.
Bio-based textiles are defined as those containing at least twenty percent renewable carbon content and include natural materials such as cotton, wool and silk. When it comes to biosynthetic fabric, there are many possibilities: we need only the imagination to see them.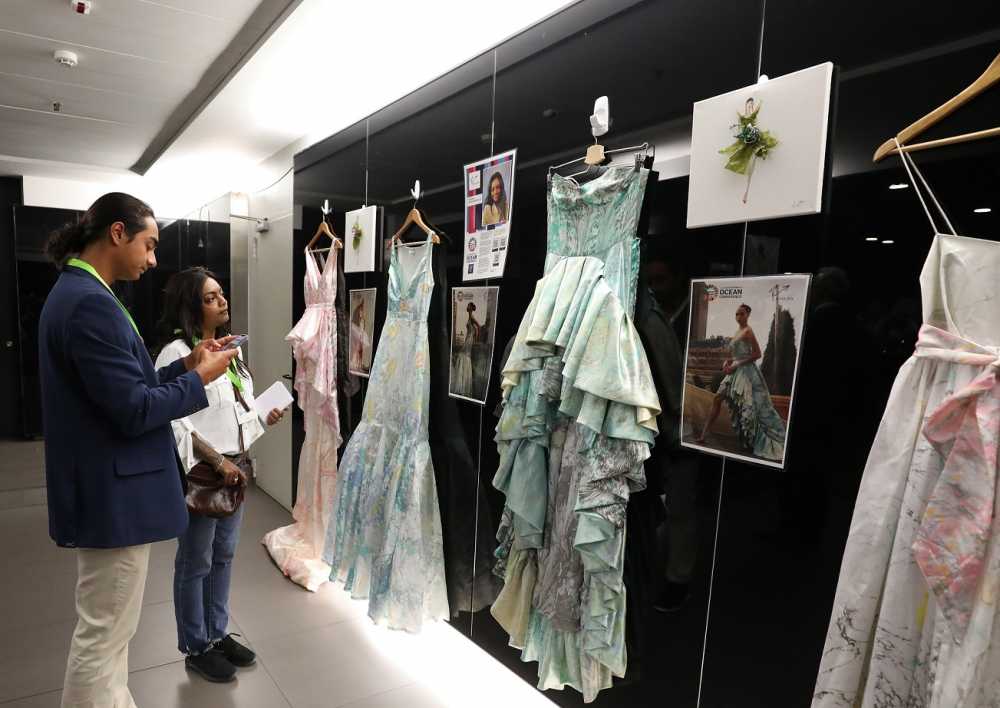 Seaweed dresses on display at the UN Ocean Conference in Lisbon.
The main difference between bio-based textiles and conventional synthetics lies in the raw materials used. Conventional synthetics such as polyester, nylon and acrylic are derived from fossil fuels including petroleum, natural gas and coal, while biosynthetic fibers are sourced from fully or partially bio-based resources.
The few biosynthetic materials commercially available today come from starches, sugars, and lipids extracted from corn, sugar cane, sugar beets, and plant oils. Various technologies are under development to produce biosynthetic fibers from biomass and waste from agriculture, forestry, and even food.
As stated in an assessment carried out by the European Commission, bio-based products (including biofuels) represent approximately 57 billion euros in annual revenue and 300,000 jobs, and they're now involved in nearly 22% of all chemical sales.
National policies have already been signed in forty-five countries to help the bio economy develop, and the research field is expected to find exciting new sustainable polyamide opportunities in the years ahead.
One bio-material that has always appealed to me, both artistically and with an eye to sustainability, is seaweed.
Seaweed as a Sustainable Fiber
The cultivation of seaweed has a long history. A dietary staple in Japan, Korea and China since prehistoric times, it has also featured in Icelandic sagas and been enjoyed in Wales since the 1600s. Now seaweed is eaten by billions and is popular all over the world.
But when did it make the jump from food to fabric? Records indicate that the first evidence of seaweed fabric points to World War I, when textile manufacturers got experimental with materials in response to dire scarcity.
Seaweed fabric is made by using algae from the sea. Brown algae, commonly known as Knotted Wrack, tends to be the go-to choice. Wrack is a family of seaweed with many strains that grow all over the world.
The process of manufacturing seaweed fabric differs from one manufacturer to the next, with different varieties having distinct percentage blends of seaweed, wood pulp and cellulose.
Manufacturing seaweed fabric entails breaking down the cellulose but maintaining its chemical structure. The material goes through a process of washing, retting, filtering and finally spinning to produce yarns which are either woven or knitted.
It's worth bearing in mind that seaweed plays a key role in marine ecology. Its status as a carbon sink makes it an appealing climate change mitigation strategy for biosequestration of carbon dioxide, while its tendency to reduce local nutrient pollution and ocean acidification and its role as a habitat for aquatic species represent additional benefits.
Seaweed is similarly versatile in the context of industrial applications: it can serve as food for humans or for cattle, a chemical reagent, a fertilizer, edible packaging, and, of course, a sustainable fashion choice.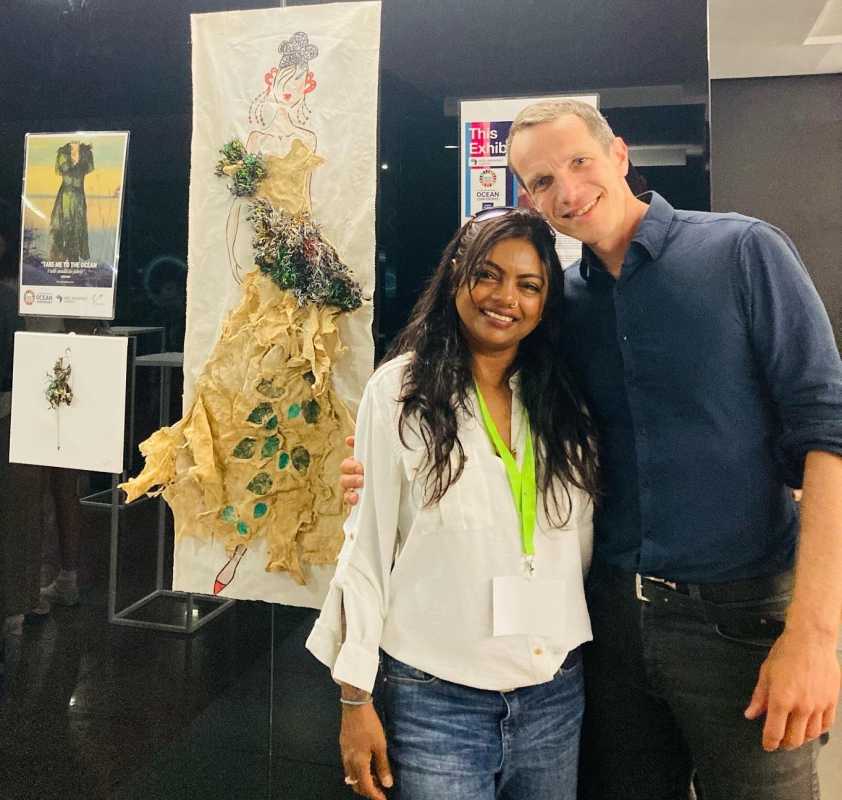 Runa Ray and Vincent Doumeizel.
I had the pleasure of meeting with Vincent Doumeizel, Director of the Lloyd's Register Foundation Food Programme and Senior Ocean Advisor for the UN Global Compact, to discuss the potential of seaweed during the UN Oceans Conference held in New York City in February 2020.
I had recently used carrageenan, a derivative of seaweed, to create a sustainable fashion collection, which was to be showcased at the Ocean Conference in Lisbon as an example of how fashion is stepping up in the realm of sustainability and helping drive the blue economy.
Mr. Doumeizel and I discussed the increasing importance of sustainability in industrial processes and the emergence of seaweed as a model organism in bio-manufacturing and beyond. "We all must move back to more natural and sustainable material and reconnect with the ocean where it all began," he told me.
We came to agree on a heartening point: we have only just begun to harness seaweed's vast potential. "[It] is the greatest untapped resource we have on the planet," Doumeizel said.
This humble plant, swaying in the ocean waves, may well hold elusive answers to the challenges of world hunger – and the future of sustainable fashion to boot.
Runa Ray is a fashion environmentalist and interdisciplinary designer who uses fashion-as-activism to advocate for policy change. She is a featured speaker at the United Nations, The National Institute of Fashion Technology, IUCN Youth, Nuclear Age Peace Foundation and Rutgers University as well as a column writer for the CFDA, IOC Unesco and the Deccan Herald. Her exhibitions, shows and designs have been featured in the New York Times, HuffPost, Vogue, ID, WWD, the Daily Mail and Harper's Bazaar.
Banner photo courtesy of Benjamin Davies.