As the fashion community gathers in New York for the opening of this year's fashion week, the 2.5 trillion USD industry is experiencing a significant transformation. With the help of the UN, more and more corporations are making the shift to sustainable business models which can help fight climate change and achieve the Sustainable Development Goals.
The fashion industry, including the production of all clothes which people wear, contributes to around 10% of global greenhouse gas emissions due to its long supply chains and energy-intensive production.  The industry consumes more energy than the aviation and shipping industry combined.
Shifting practices in the fashion industry to reduce carbon emissions is key to limiting warming to as close to 1.5°C above pre-Industrial Revolution levels, in line with the goals of the Paris Agreement on Climate Change.
To celebrate fashion designers and international companies that promote sustainability, UN Climate Change, in cooperation with the Italian Ministry of Environment and other partners, regularly hosts an alternative fashion show called the "Green Fashion Week." Its 7th edition took place in Dubai earlier this year and illustrated how sustainable fashion brands are already setting the paths towards less destructive business models.
In addition to its carbon-intensive supply chain and production processes, the fashion industry consumes a great deal of other precious resources.
To make just one pair of denim jeans, 10,000 liters of water is required just to grow the one kilo of cotton needed for the pair of jeans. In comparison, one person would take ten years to drink 10,000 liters of water.
Cumulatively, the fashion industry produces about 20% of global wastewater. Furthermore, 85% of textiles end up in landfills or are incinerated when most of these materials could be reused.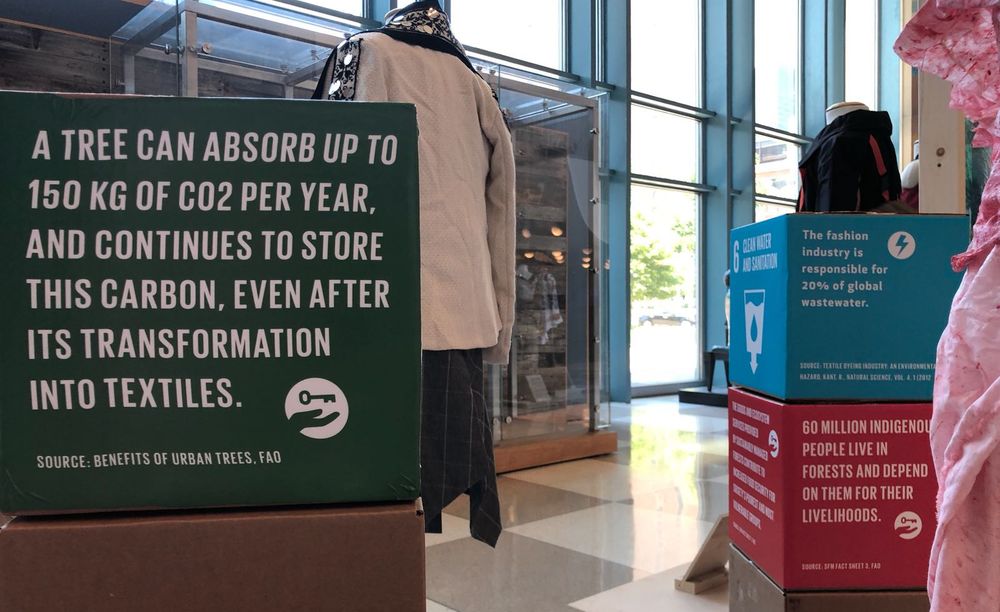 One good example of how ambition to tackle climate change is growing in the fashion industry is a collaborative initiative called the UN Alliance for Sustainable Fashion,  co-sponsored by 10 UN organizations including UN Climate Change.
The World Bank contributes to the alliance through its Connect4Climate initiative, a partnership that brings together more than 500 actors around the world to support climate leadership. Most recently, the initiative launched the virtual reality project "X-Ray Fashion VR" which takes the audience through the lifespan of garment production and highlights the adverse impacts on our climate and environment.
To help build awareness around fashion's impact on the environment, UN Development Program Goodwill Ambassador Michelle Yeoh explains the use of forest-based materials for sustainable fashion in this video "Made in Forests."
UN Climate Change encourages sustainable fashion through its Climate Neutral Now (CNN) campaign which connects organizations that want to offset carbon emission with investments in carbon emissions reductions across the developing world.
Lindita Xhaferi-Salihu, who works for Climate Neutral Now, described CNN's involvement with sustainable fashion as "kick-starting a multi-stakeholder initiative to mobilize fashion around climate action through three work streams: enabling "within sector" collaboration; facilitating engagement with policymakers; and catalyzing action and providing recognition."
At last year's major UN Climate Change Conference in Bonn, Germany, the fashion industry outlined which steps it is taking to support the goals of the Paris Climate Change agreement.
For example, the fast fashion retailer H&M shared their strategy to be 100% run on renewable energy by 2040 with a fully circular production model, where the by-product of one industry serves the objective of another.
Other Inspiring Examples of Climate Action in the Fashion Industry
The 2018 Pulse of the Fashion Industry Report also contains positive news. There was a 6% increase in general sustainability efforts across the entire garment industry since last year's report. The weakest points in the industry are small and medium-sized enterprises in the entry- to mid-price segments which comprise just over 50% of the entire industry, pointing to issues of scale in implementing general sustainability measures. However, new data presented in the 2017 report shows that a failure to implement sustainability measures into garment production will cause companies to lose out on a 2% increase in earnings by 2030. 
Additionally, the famous blue jean manufacturer Levi, Strauss & Co has announced a new climate change action plan. Using Science-Based Targets, the company plans to reduce greenhouse gas emissions by 40% across its global supply chain by 2025. The plan also includes a 90% reduction in greenhouse gas emissions in all owned-and-operated facilities, which will be achieved by investing in onsite renewable energy and energy efficiency upgrades.
Banner and thumbnail photo: Eco Fashion Week, Vancouver, BC. Credits to Flickr, Wesc - Aveda Eco Fashion Week