Last night the Mayflower Hotel, in Washington D.C., turned green again. Following on the Climate Action 2016 summit, just a week before, the 2016 Climate Leadership Gala night by Earth Day Network awarded two outstanding leaders on climate change.
The engaging evening was emceed by Kathleen Matthews, former Marriot International Executive VP of Global Communications and Public Affairs, and featured special interventions by members of Earth Day Network including Kathleen Rogers, President, Gerald Torrer, Chairman of the Board, Denis Hayes, Chairman Emeritus, and Karuna Singh, Country Director for India, as well as Melanne S. Verveer, former US Ambassador-at-Large for Global Women's Issues and Executive Director of Georgetown Institute for Women, Peace & Security. The ceremony included also the speech of Virginia Tech's Dr. Amy Pruden, who helped uncover the water crisis in Flint.

The main honor of the gala, the Climate Visionary Award, was given to Mindy S. Lubber, the president of Ceres. Mindy Lubber has served as an environmental advocate for her entire career, emphasizing the crucial actions that companies and investors must take and advocating for strong climate and clean energy policies in the US and abroad. Ceres is a non-profit organization that promotes investment policies that are environmentally, socially, and financially sound. The Ceres Company Network has nearly 70 members representing more than 20 industries who have committed to protecting the earth, using energy and resources wisely and sustainably, minimizing waste, and selling safe products and services.
In her acceptance speech Mindy emphasized that "Climate change is about our future. It is not a political issue". She also noted that changes are taking place: "Companies are going 100% renewable, but we also need policy shifts", ambitious enough to encourage a low-carbon resilient future.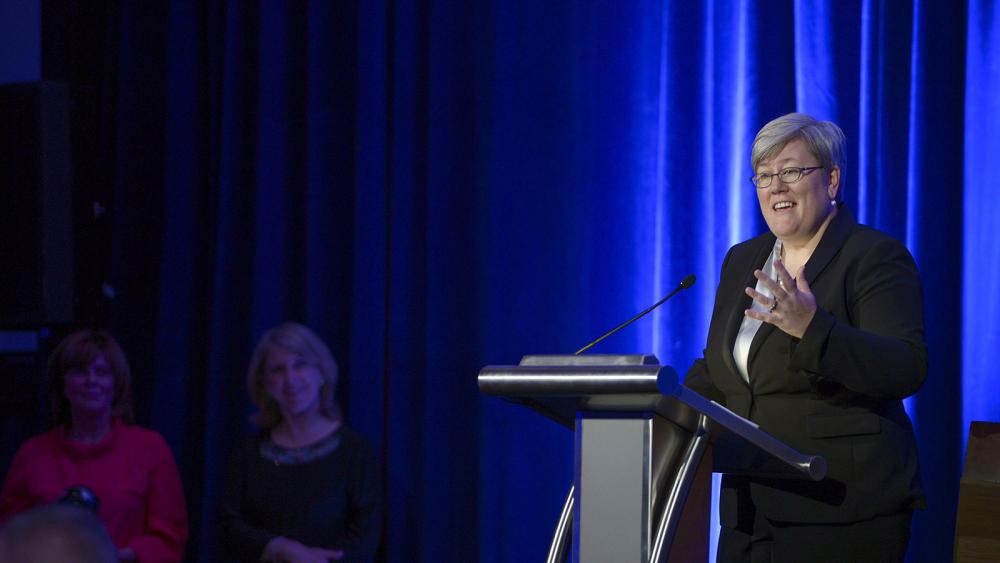 Rachel Kyte, Special Representative of the United Nations Secretary-General and CEO of Sustainable Energy for All, awarded at the Climate Gala. Photo credit: Leigh Vogel
The evening also featured the Women and the Green Economy (WAGE®) Leadership Award given to Rachel Kyte, Special Representative of the United Nations Secretary-General and CEO of Sustainable Energy for All.
As the World Bank Group's Special Envoy for Climate Change, Rachel Kyte was pivotal to the success of the Paris Climate Agreement by bringing awareness to the urgency and necessity to move forward with a meaningful framework. In her new role, she is focused on affordable, reliable and sustainable energy as the key to combating both poverty and climate change.
"I'm just a small part of a grown movement. Together we have very broad shoulders", Rachel Kyte highlighted the role of multiple leaders to address the climate challenge. She also presented a future world, in which women, as the drivers for sustainability, were the responsible leaders of companies and organizations.
The Climate Leadership Gala celebrated two women in front of an audience of world leaders of industry, government, and NGO community. Connect4Climate, the global partnership program of the World Bank Group, was given a special recognition for our engaging climate work, and the renewable energy company Building Energy was presented as a special partner to the evening. In addition, other organizations advancing sustainability and taking decisive actions to address climate change were recognized.
The 2016 Earth Day Network Leadership Gala was an opportunity to celebrate achievements and forge a path to a post-carbon future. It certainly was an evening of celebration and inspiring presentations.
Denis Hayes words leave a lasting impression: "There is no lasting sustainability without justice. We are one Earth."
Denis Hayes at the Climate Leadership Gala. Photo Credit: Leigh Vogel