All4TheGreen opened its fifth day, June 9, with the final High School Game, a student competition designed to stimulate climate literacy as a foundation for creating more conscious and responsible citizens. Students from all over Italy gathered at the Stabat Mater Library of Bologna to compete on environment and climate literacy challenges. Students of the UC Scient Galilei school left the room as the winners of the High School Game's fifth edition, with honor they will be given the chance to meet Pope Francis.
Congrats UC Scient Galilei - winners of the @HSG_Italia. These students will have the chance to meet @Pontifex. #all4thegreen pic.twitter.com/yH3D8Xtm8t

— Connect4Climate (@Connect4Climate) June 9, 2017
We are #All4TheGreen! Final @HSG_Italia students sending a message to the world: we need #ClimateAction! RT if you agree. pic.twitter.com/Ky4W6ISIRA

— Connect4Climate (@Connect4Climate) June 9, 2017
Separately, as part of the All4TheGreen week, religious leaders gathered to urge the G7 Environment Ministers to boldly act on climate change and environmental protection. Faith representatives engaged in dialogue about how their faith traditions call for environmental protection and to express the importance of protecting our Earth, our Our Common Home, and to highlight the important role religions can take in tackling climate change. "Never stop looking for consensus among governments to protect Our Common Home," said S. E. Mons. Matteo Maria Zuppi, Archbishop of Greater Bologna, during the Interfaith Dialogue.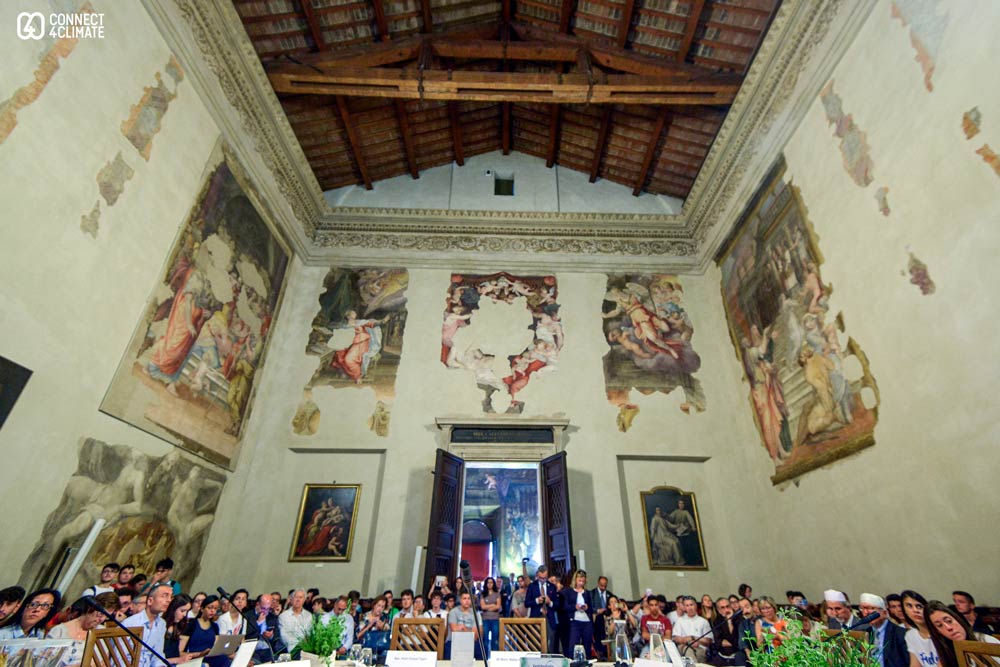 Inside Cappella Farnese in Bologna. Photo Credits: Leigh Vogel/Connect4Climate
In a letter sent to the Interfaith Dialogue, H.H. Bartholomew I, Ecumenical Patriarch of Constantinople, wrote: "Let us remind our nations that the earth is not a possession but a partner on our journey." His words were shared with the leaders present in Cappela Farnese where a message from Pope Francis was also delivered. "Action is the key word in order to transform this desert into a forest", reminded the Holy Father.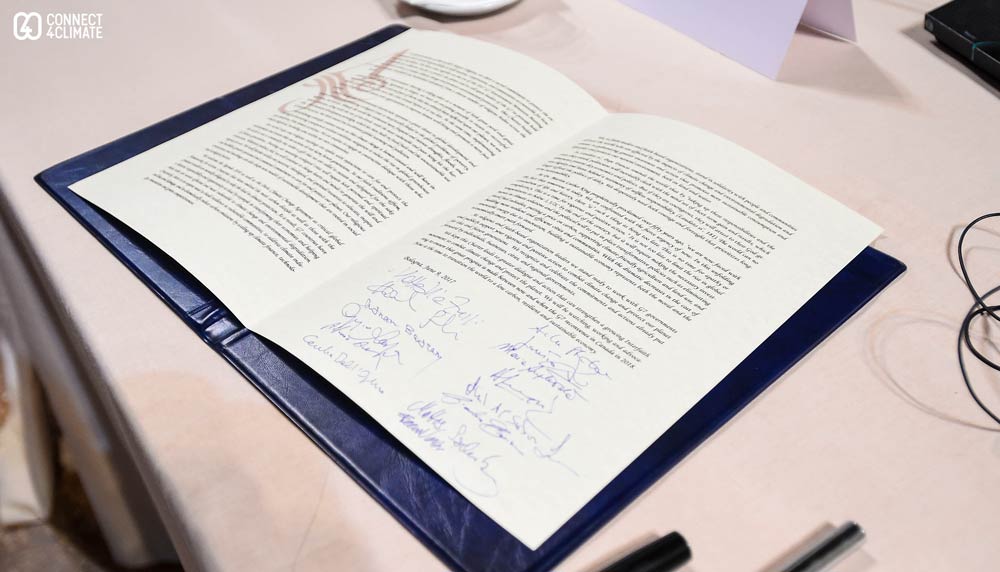 The "Bologna Interfaith Charter: Living Our Values, Acting for Our Common Home" signed by the religious representatives. Photo Credits: Riccardo Savi/Connect4Climate
During the Interfaith Dialogue, the multi-religious leaders, in a call for world leaders to act on climate change, emphasized the urgency of developing a global green economy and building a more efficient, conscious and mindful society in order to end poverty. As Reverend Russel emphasized, "we cannot address poverty without addressing environmental protection and climate change."
#All4TheGreen: Religious leaders sign a letter to be delivered at @g7 Environment asking the ministers to protect the Planet. #ClimateAction pic.twitter.com/1tdGNVGG70

— Connect4Climate (@Connect4Climate) June 9, 2017
The faith representatives also underlined the imperative for humanity to moderate its consumption and conserve a healthy environment for all living beings. "Mankind has an obligation to make the planet a better home for all", stressed Alfonso Arbib, President of the Assemblea Rabbinica dell'Unione delle Comunità Ebraiche Italiane.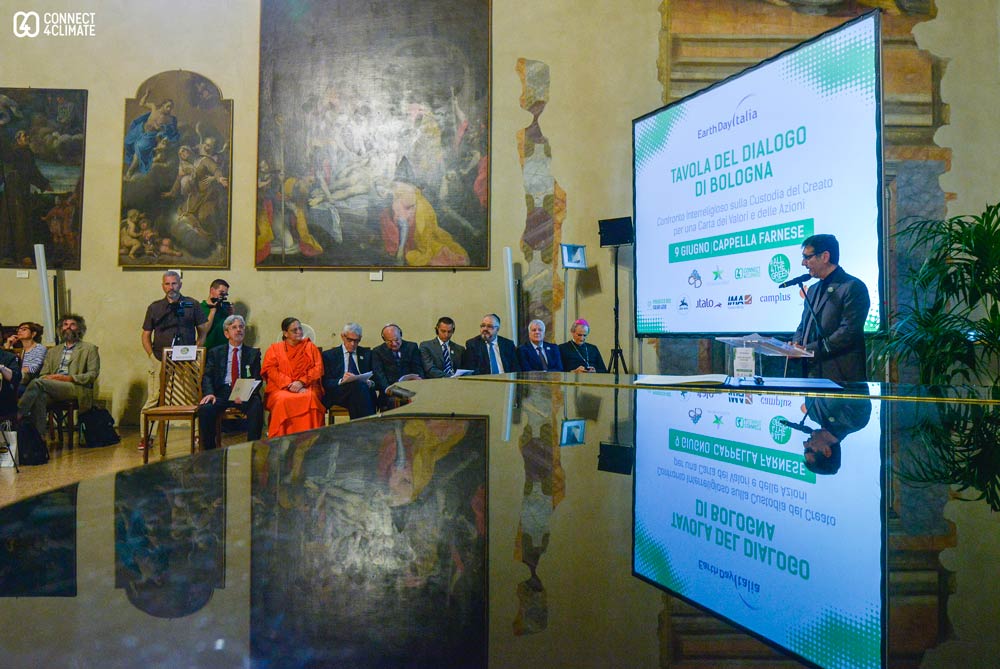 "The Dialogue Table of Bologna - Interfaith Forum on Environmental Protection: A Charter of Values and Actions" at Cappella Farnese, Palazzo D'Accursio, Bologna. Photo Credits: Leigh Vogel/Connect4Climate
As a result of this meeting, the Religious representatives signed the "Bologna Interfaith Charter: Living Our Values, Acting for Our Common Home", which will be delivered to the G7 Environment Ministers on the opening day of their meeting. The Charter states that "The Bologna G7 Environment Meeting is taking place at a moment of both great peril and great promise. With the Paris Agreement in danger, we must do everything possible to ensure its successful implementation. Due to the scale and pace of harm that has already been inflicted upon our planet, we are the last generation who can turn this crisis around before it is too late. At the same time, implementing climate change solutions creates new opportunities to improve human well-being and promote a more just economy."  
Adam Taylor presenting the @WorldBank commitment to work with #faith organizations to tackle #climate #change #All4TheGreen @EarthDayItalia pic.twitter.com/aiDJ8Nnz0d

— Connect4Climate (@Connect4Climate) June 9, 2017
As a convener of the Interfaith Dialogue, the World Bank Group committed to further collaboration with religious and faith-based organizations to address climate change, promote environmental protection and end extreme poverty.