Amid the mad rush of holiday shoppers, street hawkers, and gridlock traffic in New York City's Times Square, something very special happened on December 18, 2012.
On two huge screens flanking the Viacom Building at 1515 Broadway, Connect4Climate's 25-second video played every two minutes throughout the day above the thousands of people who walk and ride through this world-famous intersection every day.
The video opens with a quote from World Bank President Jim Yong Kim and features a musical collaboration between American rap star Eminem and Kenyan hip hop group TS1, who created "Me and My Bike," winner of Connect4Climate's video competition in 2011.
"We cannot address climate change without reaching out to broader audiences. We have to go beyond business as usual and be creative, bold and inclusive: Connect4Climate does just that. Its focus on youth, behavioral change, and creating unusual partnerships has helped us reach and listen to new and diverse voices," says Jim Yong Kim.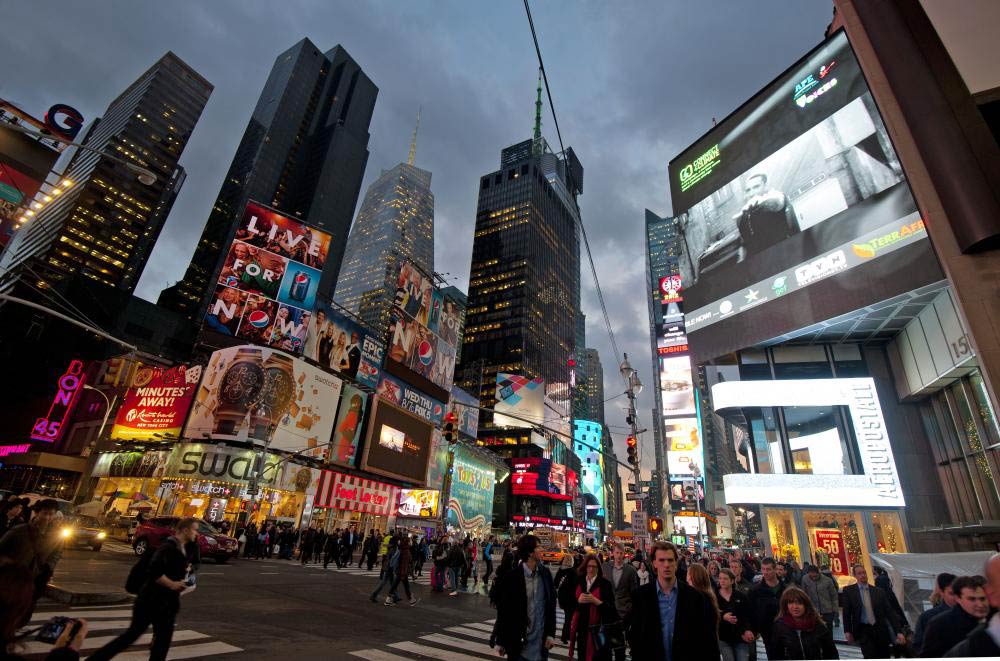 Connect4Climate video featuring Eminem and Kenyan hip hop group TS1 appears in Times Square on December 18th. Photo: Leigh Vogel/Connect4Climate
Connect4Climate combines knowledge sharing, social media, partnerships, and grassroots activism to address climate change. Its online community, approaching half a million people, is engaged in a global conversation to drive local action on climate change.
But Connect4Climate's exposure didn't stop there. The following weekend, a longer version of the Connect4Climate/Eminem video was screened on more than 125 screens in 68 stores in 14 major US airports. It reached an estimated 5 million people.
These incredible pro bono outreach opportunities were made possible by Connect4Climate's partnerships with MTV, Autogrill, and Artists Project Earth – a UK-based NGO that produces the Rhythms del Mundo charity album series whose proceeds go to climate change projects around the world. The video, a remix of Eminem's "Not Afraid" with TS1 is featured on the recently launched Rhythms del Mundo: Africa CD. It also includes tracks by Beyonce, Coldplay, Bruno Mars, Mumford & Sons, and many more.
Voices4Climate is Connect4Climate's latest competition for the world's best climate photos, videos, and music videos. It was launched in partnership with MTV last September. The deadline for entries was December 31, 2012. Over 1,000 entries from 116 countries were judged by an esteemed jury which includes Bob Marley's daughter Cedella Marley, who is director of the Marley Foundation, 1love.org, and Ghanaian reggae star and humanitarian Rocky Dawuni.
"We are thrilled to be working together in creative partnership with MTV and other 150 public and private collaborators," says Lucia Grenna, Connect4Climate Program Manager. "Through the combined strength of our networks and the Connect4Climate community, we can help reach large global audiences to raise awareness about climate change."
Moreover, Grenna says the young rappers of Rhythms Del Mundo (who are from Nairobi's Kibera slum) are a powerful example of youth empowerment. "The TS-1 rappers know firsthand how climate change and poverty impact their lives, and are using their creative talents and passionate voices to inform and inspire behavior change. It is quite empowering to have their local story elevated to a global audience."
Magda Lovei, sector manager in the World Bank Sustainable Development Network for the Africa region and Manager for TerrAfrica, a key Connect4Climate knowledge partner and sponsor of the Voices4Climate podcast category (winners were awarded at COP18 in Doha, see blog post here) said, "President Kim, has asked us 'What will it take to end poverty?' Ending land degradation would help us take a big step toward that goal. We need to find and scale up solutions, and strengthen our partnerships like TerrAfrica and Connect4Climate to advance our shared goals of combating land degradation and climate change in Africa."
Voices4Climate TerrAfrica Podcast Competition winners Pilirani Tambala and Nelson Ndjenga Hakeenah attend at a COP18 event in Doha, Qatar
This creative public/private collaboration is just one of many in the wide spectrum of Connect4Climate's coalition of more than 400 knowledge partners that has worked to amplify the voices of local stakeholders who have stories to tell about climate change.
If you haven't already, now is the time to add YOUR voice!