Earlier this year, International Biodiversity Day brought global attention to the urgency of safeguarding plant and animal life, rallying champions of sustainability young and old around the slogan Our Solutions Are in Nature. Now, with the UN's High-Level Summit on Biodiversity just around the corner on September 30, we're returning our spotlight to Nature-Based Solutions with the fourth episode of #Youth4ClimateLive!
Plant and animal populations around the world have dropped precipitously in recent decades, reflecting poorly on the overall health of Earth's ecosystems. To turn this harmful trend around will require intergenerational coordination, robust climate action, and a willingness to harness the power of nature for the better. #Youth4ClimateLive Episode 4, in the spirit of previous installments, will facilitate this collaboration by bringing together policy veterans and #Youth4Climate leaders for a dynamic and interactive discussion on September 25. Register now!
Dr. David Nabarro, the WHO Special Envoy for COVID-19, will open this Friday's episode with a timely knowledge drop on how biodiversity loss is correlated with the emergence of novel threats to human health. Global Optimism founder and former UNFCCC Executive Secretary Christiana Figueres will then lay out a strategy for reflecting the importance of biodiversity in international policy, setting the stage for our accomplished young climate champions: Vanessa Nakate from Uganda, a Young Leader for the SDGs and founder of the Rise Up Climate Movement; Archana Soreng from India, a member of the UN Secretary-General's Youth Advisory Group on Climate Change; and Claudel Pétrin-Desrosiers from Canada, Junior Doctor and Board Member of the Canadian Association of Physicians for the Environment (CAPE).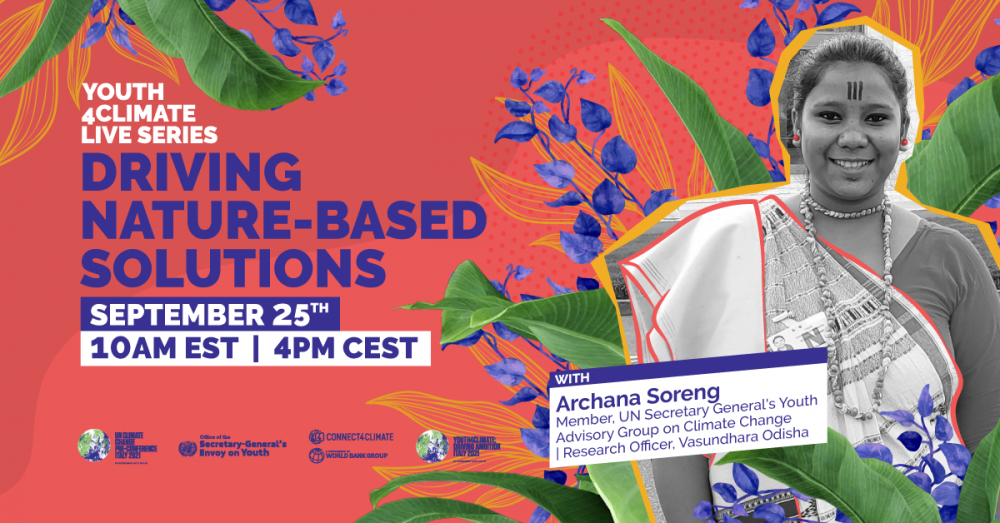 In typical #Youth4ClimateLive fashion, these talented and wide-ranging guests will build off one another's ideas to tackle the complex topic of "Driving Nature-Based Solutions." You can help shape the conversation too by submitting questions for our speakers and adding your voice to audience polls and word clouds.  Sign up now to participate!
As we carry the #Youth4ClimateLive momentum forward to next year's Pre-COP and COP26 activities, we'll be continuing to accept submissions for our #SumItUp competition, whose winner will get the chance to attend the first-of-its-kind Youth4Climate: Driving Ambition event taking place in Milan just before the Pre-COP. All you have to do is encapsulate your key takeaways from your favorite episode of #Youth4ClimateLive with an infographic or one-minute video. Good luck!