Sizing up the (Worthwhile) Challenge of Green Living
Green living entails more than just lifestyle adjustment; it is a mindset, and until you believe in what you are doing, you'll never be able to fully follow through. Many decry the sacrifices or inconveniences associated with green living, but if you genuinely believe the lifestyle is the correct one for you, these sacrifices will not feel like sacrifices, and these inconveniences likewise.
Cultivating a green home is not easy, but once you have committed, you will reap many rewards—including significant financial savings as well as the hard-won feeling that you are doing your part to secure a sustainable future for your family and your planet.
Selecting a Site for Your Green Home
When deciding on a site for a green home, you will need to put in some research. If possible, choosing a home in close communion with the natural world can be a great first step. Properties with ample shade trees can make cutting back on heating and cooling costs easy, and properties with gardening space offer many exciting opportunities.
Keeping your roof out of the shade, however, will enable you to implement solar panels and pivot away from electricity from the power company. And if you're interested in any form of wind power, make sure you select an area with favorable geography and frequently high wind velocity.
To cultivate your own fruits and veggies, you'll need fertile ground. Determining the suitability of any given property to long-term green gardening can be trickier than you might think, so bringing an expert adviser aboard is a wise move.
You'll also need to think about where you want your water to come from. Taking advantage of natural fountains and boreholes can be a viable strategy if you put in the time to pinpoint locations with readily accessible water.
Last but not least, try not to move too far from your workplace, especially if you travel to and from work by car. The pollution that comes with lengthy auto commutes every day will run counter to all the good you're doing at home.
Building a Strong Foundation
When deciding on the foundation for a green home, bear in mind your heat retention needs. Materials like plywood and aluminum are slightly more expensive than others, but they can pay off in the long run in terms of saving you costs on heating.
Judicious use of precast concrete can prevent rainwater from breaching the house and can help guide rainwater on the property to a central location where you can make use of it. Insulating your basement against moisture is also a key step, as the costs of dealing with mold growth can be very dear.
What Materials Should You Consider for Your Roof and Walls?
If you're not overly worried about your home getting too cold, recycled steel is a sturdy and modern choice that will protect the structure against strong winds and other forces no problem. Plant-based polyurethane foam can be used to help insulate the structure against the chill of winter.
Precast concrete is a tried and true option that is somewhat more eco-friendly than non-precast. As with recycled steel, you'll find yourself paying extra for the eco-friendliness, but if you can manage the costs it will pay off in the long run.
Bamboo is a natural material with extremely high tensile strength and a bold look to boot. It is well-suited to windows—key for ventilating your green home—and does not require too much maintenance (though do be sure to have any sustainable woods in your home treated regularly to avoid pest issues).
How Should You Use Your Rooftop Space?
The roof is an exciting place in a green home, offering many sustainable living options to homeowners.
If you ensure it gets regular exposure to direct sunlight, your roof can be a great place for a vegetable garden. It is also the ideal spot for solar panels, which can take in solar energy during the day that will be available to you at night.
Speaking of the sun, bear in mind that darker-colored roofs will retain much more heat than light-colored roofs. Bear the location of your home in mind when choosing a color to save on heating/cooling expenditures.
Installing a sunroof that can admit sun directly into the home when desired is another fine way to regulate the temperature in your green residence.
Living Sustainably
Getting your green home set up is only half the battle: green living is a mindset, remember, and you must hold on to this mindset once your new home is ready for action if you want the project to be a success.
If you chose the property with solar power and/or wind power in mind, be sure to follow through on implementing these technologies once you move in to capitalize fully on the advantages of the house. Raise as much of your own food as you can through gardening. You can use the leftover water from bathtubs and showers to help your plants grow, as well as collected rainwater.
If you've done all the hard work needed to create an eco-friendly home, you should have no problem seeking out Energy Star-certified sustainable appliances and LED lighting fixtures (where affordable). And be sure to compost and recycle what you can to cut back on waste!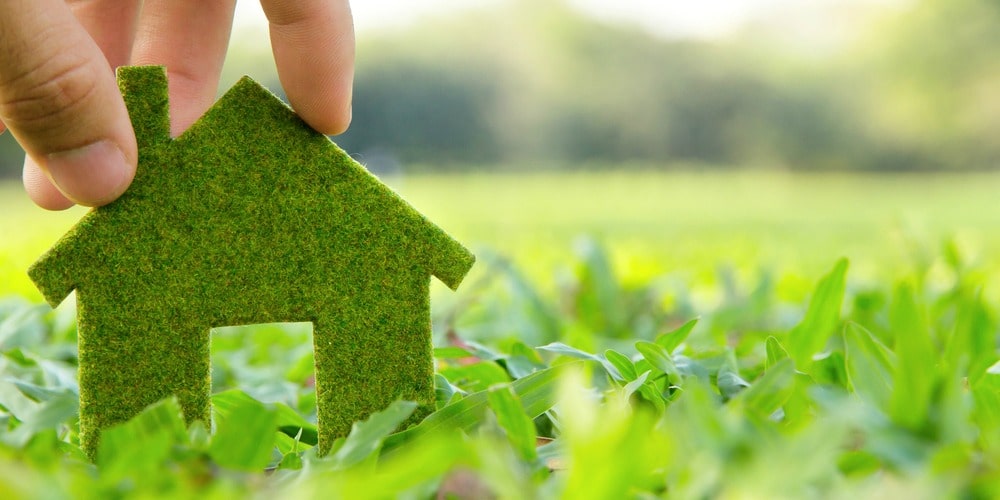 Is Going Green Worth It?
The answer to this all depends on you, your beliefs, and your financial situation. If you believe passionately in sustainable living and looking out for the environment, think you can maintain this mentality moving forward, and have the money to create a green home from the ground up, why not?
It's worth bearing in mind too that while this article details ways in which you can sculpt a green home from ground zero, the many tips and suggestions included here can also be applied in isolation if you lack the means or motivation to overhaul your current housing situation. Solar panels, rooftop gardens, rainwater management, etc. can all make for more sustainable living, regardless of whether you optimize every last thing.
At the end of the day, it's up to you to decide how radical a change your looking for, and to make that change happen in the interest of the health of Mother Earth.
Images taken from Amanda Brown's original article.