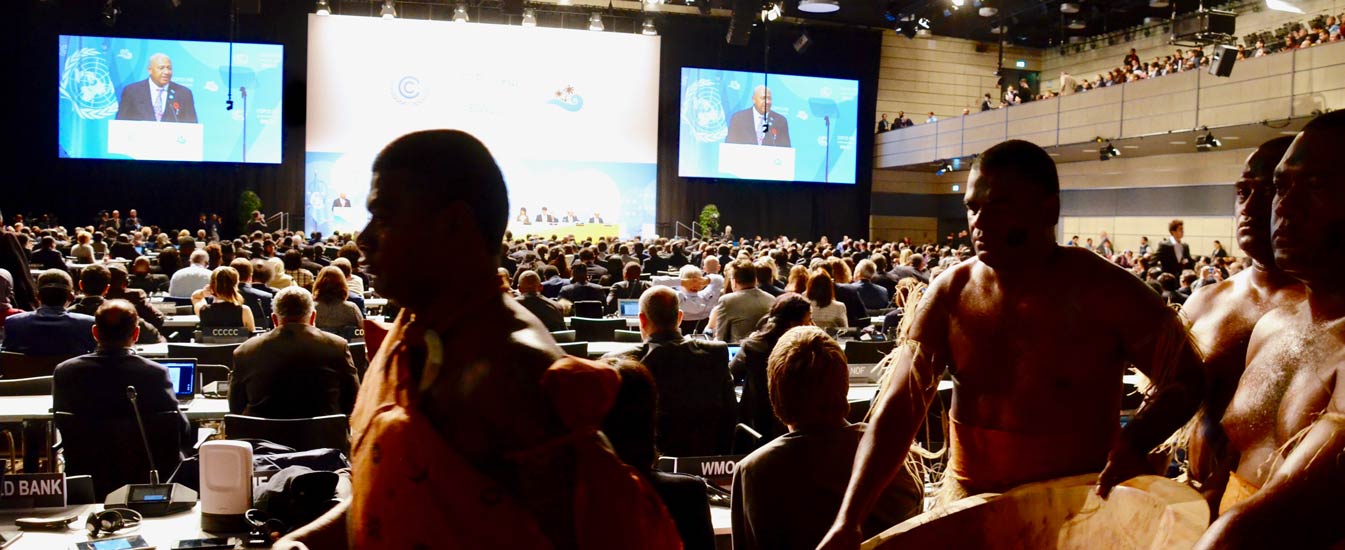 The inspiring slogan of the UN Climate Change conference CCOP23 "
Uniting for Climate Action – Further Faster Together
" still reverberates in my daily thoughts. The World Bank Group partnered with the Fijian Presidency, the German hosts and numerous partners to spread the message of unity, and the urgent need to increase ambition and action.
See our summary video
The World Bank Group pavilion featured more than thirty Facebook live interviews under the Uniting4Climate message, see the full recordings
here
. Climate solutions were discussed by global leaders, media and influencers and the program featured
World Bank Group related work
on transport, energy, forests and landscapes, gender, cities, education and much more.
Lord Nicholas Stern
emphasized that climate action is fundamentally about "sustainable growth," largely achieved through investments in climate-smart infrastructure with the participation of the private sector.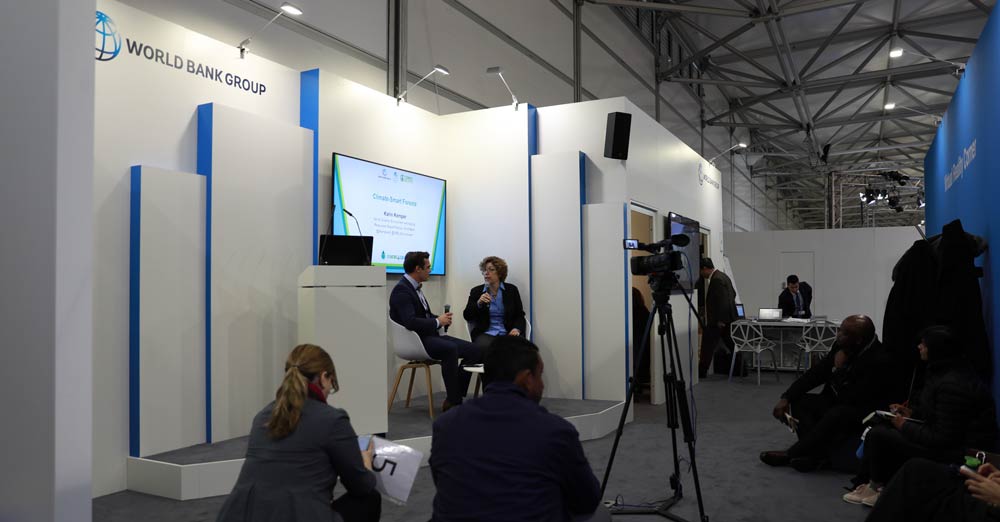 The World Bank Pavilion at COP23. Photo Credits: Kaia Rose/Connect4Climate
On November 6, for the opening of COP23,
Minister Inia Seruiratu of Fiji launched the pavilion program conversing
with three
Pacific Voices in Unison
youth climate ambassadors from different Pacific nations. Minister Seruiratu, High-Level Climate Champion for COP23, emphasized that climate change affects all, not only the Pacific Islands, that "we are all in the same boat" with the aim of limiting warming to 1.5C degrees above pre-industrial levels. Key to climate action would be the leadership of young people as exemplified by the
Pacific Voices in Unison
, who shared their journeys of resilience in light of climate change with personal statements.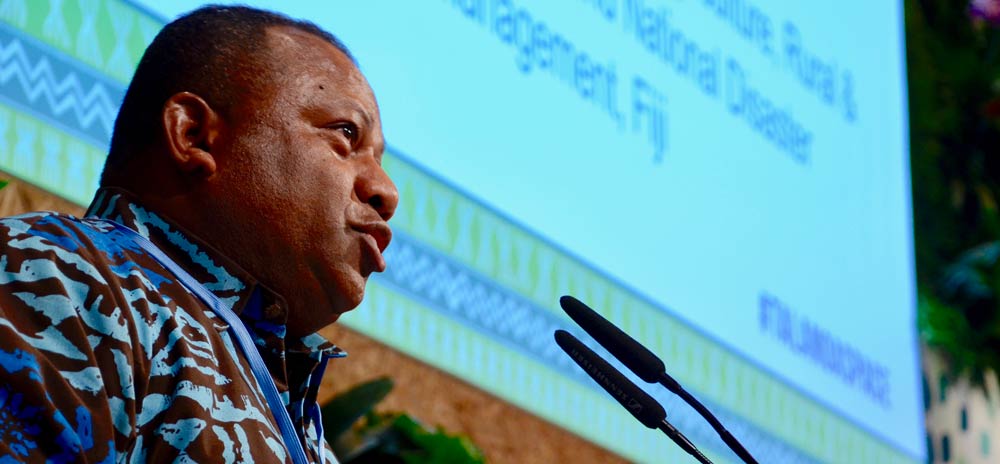 Minister Inia Seruiratu at COP23. Photo Credits: Max Thabiso Edkins/Connect4Climate
Youth leadership was celebrated around COP23 under the slogan:
Youth Uniting4Climate Action – Further Faster Together
. The World Bank's Connect4Climate program partnered on the
Youth Climate Action Awards
to highlight that today's youth are already feeling the impacts of climate change and they are the generation energized to find opportunities in climate action and building a low-carbon resilient future. My
message to the youth audience
was simple: "As we heard over this conference that the climate is changing rapidly, but that is actually our generation's biggest opportunity. We are in the midst of a radical ecological and economic transformation that will shape our future and we are a part of the solution."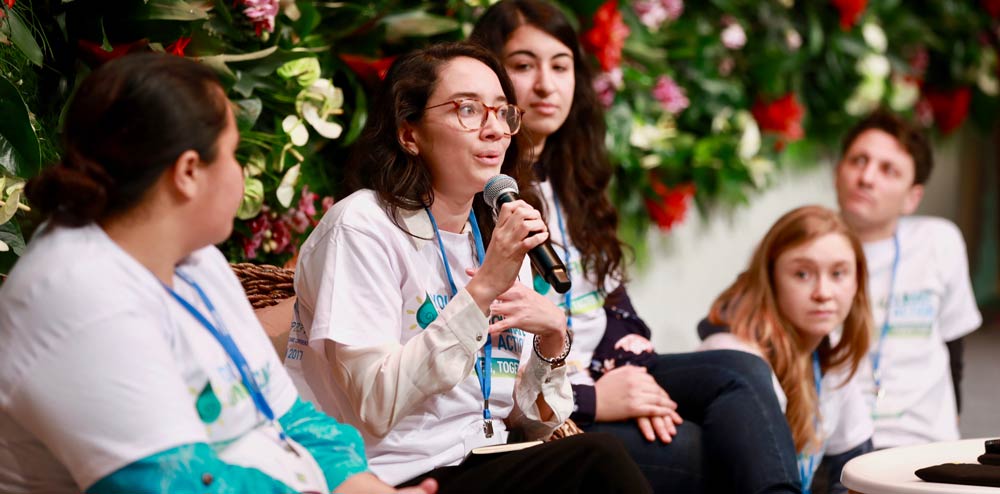 Taking on climate change is young generation's biggest opportunity. Photo Credits: Kaia Rose/Connect4Climate
Climate action is set to be one of our greatest opportunities, with an estimated investment of US$ 90 trillion in new infrastructure needed by 2030, according to the
New Climate Economy
. Much climate action is already taking place, and solutions were presented and promoted throughout the conference. The
Momentum for Change Awards
highlighted projects already supporting the achievement of the Paris Agreement, and the
Climate Summit for Local and Regional Leaders
emphasized action at the local scale. 

Momentum For Change Awards Ceremony. Photo Credits: Giulia Camilla Braga
COP23 emphasized the need for climate literacy to help train innovators and technology-developers for the green economy.
James Close, Director of Climate Change, World Bank, highlighted
: "We need to transform our society and our economy and we all have a role to play. Education gives us the opportunity to touch young minds and frame their thinking and problem-solving by giving them tools, evidence and data to come up with their own conclusions about what to do and how to do it."

James Close, Director of Climate Change, World Bank. Photo Credits: Max Thabiso Edkins/Connect4Climate
Numerous activities happening in parallel to COP23, such as
Hack4Climate
,
Sustainable Innovation Forum
,
United for Efficiency
and others, helped underline the need to connect, raise ambition, and support the advancement of solutions within everybody's sphere of influence. This was also made clear to the public at the KlimaTour event hosted by the City of Bonn and at the Climate Planet exhibit promoted under the #Uniting4Climate hashtag.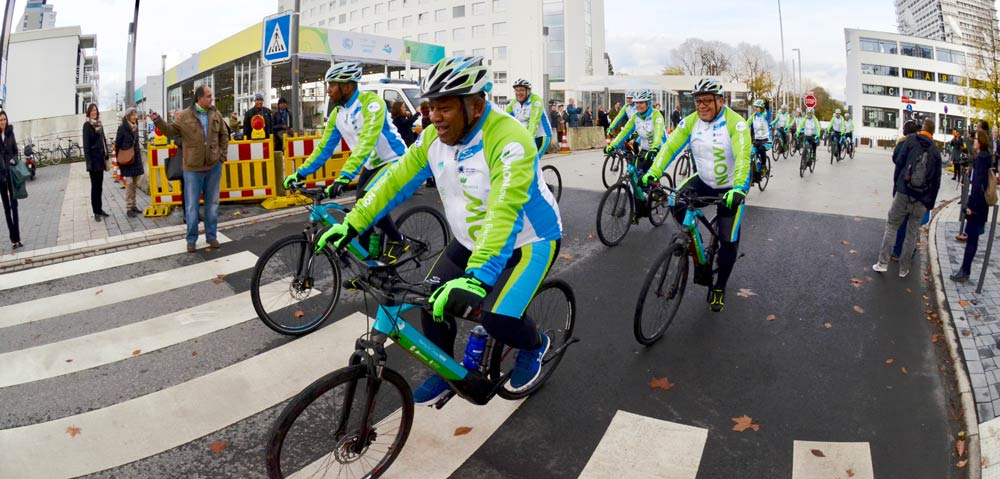 Minister Inia Seruiratu biked to the COP23 venue within the KlimaTour initiative. Photo Credits: Max Thabiso Edkins/Connect4Climate
Not only did we connect with audiences in Bonn, we also brought the voices and culture of Fiji to COP23 with
two Fiji Live to COP23
: Uniting for Climate Action
broadcasts on the COP23 Facebook page during the high-level days, November 15 and 16. As a historical first the live shows were shown on all screens across the COP venues, including in the Plenary, and were watched more than 100,000 times. Hosted by Fiji's Youth Climate Ambassador and Miss Pacific Islands, Anne Dunn, and featuring a special address by the Fijian President, George Konrote, the shows underscored the urgent need for the negotiations to support ambitious climate action.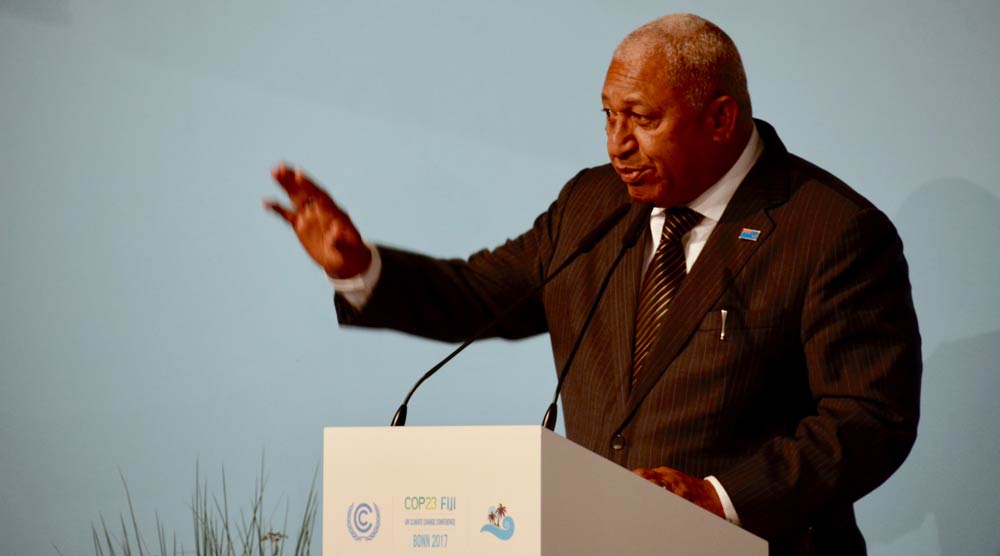 Prime Minister of Fiji, Frank Bainimarama. Photo Credits: Max Thabiso Edkins/Connect4Climate
The world has embarked on an unstoppable movement to building a low-carbon resilient future, supported by all sectors of society, across all parts of the globe. Act now, uniting for climate action to protect our one planet!
Watch our video highlights from COP23:


Welcome to COP23:


Rosario Dawson on Uniting for Climate Action:


We are Uniting for Climate Action at COP23:


The Power of VR 'Our Home, Our People' at COP23:


We are Uniting for Climate Action – Further Faster Together (COP23 Recap):
COP23 on Twitter
New wave of #ClimateAction announced at @UN Climate Change Conference in Bonn #COP23 https://t.co/41htzyU0r3 Major initiatives include funds to support the poorest and most vulnerable #GlobalGoals pic.twitter.com/4FtbpS57W4

— UN Climate Change (@UNFCCC) November 17, 2017
#QuoteOfTheDay: The fight against climate change is the major combat of our times. The #ParisAgreement is a starting point that we will not stop @EmmanuelMacron #COP23 #Uniting4Climate pic.twitter.com/xLX1iL58nY

— Connect4Climate (@Connect4Climate) November 16, 2017
We ned to transform our society & our economy to deal with #climatechange. We all have a role to play. Have to communicate the opportunity to 10 friends, and they talk to 10 and 10 more…let's do it through education. - James Close @WorldBank #EduDay #COP23 #Uniting4Climate pic.twitter.com/B8c6YasBft

— Connect4Climate (@Connect4Climate) November 16, 2017
.@minambienteIT DG @flacamera remarks on the importance of children #education for #ClimateAction at @UN #COP23 #Uniting4Climate Education pic.twitter.com/QggyEMpcHm

— Connect4Climate (@Connect4Climate) November 16, 2017
"Governments alone will not be able to deliver. It's only with the involvement of all stakeholders that we can succeed. We need to do more. Way more." @antonioguterres #COP23 #Uniting4Climate pic.twitter.com/omOUvH2W6z

— Connect4Climate (@Connect4Climate) November 15, 2017
"Addressing #climatechange cannot be a top down process, it takes cities, businesses, initiatives, organizations & individuals to work towards #climateaction; that's what @Momentum_UNFCCC is all about, celebrating them!" @PEspinosaC #Uniting4Climate #COP23 #Innovate4Climate pic.twitter.com/bIvuOtGIG8

— Connect4Climate (@Connect4Climate) November 14, 2017
"Here is hope in the #Bonn Zone, because there is passition commitment & #Action" @SeruiratuCOP23 for #Global #ClimateAction Agenda closing at #COP23 "We need to develop #climate-smart, low-carbon & without compromising the future. We are #Uniting4Climate Further Faster Together" pic.twitter.com/rrDii20Mbj

— Connect4Climate (@Connect4Climate) November 14, 2017
.@JohnARoome @WBG_Climate >> #COP24 #Poland is going to be a very important because it will start setting the stage for greater ambition on the #NDCs for the stocktake to try and drive this ambition forward! #Uniting4Climate #COP23 pic.twitter.com/iWmPHT5vJY

— Connect4Climate (@Connect4Climate) November 14, 2017
"Our development plans must be #climate sensitized" - #Fiji launch their 5-year Development Plan at #COP23. "We cannot leave any Fijians behind."



We are #Uniting4Climate Action - Further Faster Together! @WB_AsiaPacific pic.twitter.com/ktaqybg42w

— Connect4Climate (@Connect4Climate) November 14, 2017
Inspiring #ClimateAction at #COP23 where we are #Uniting4Climate Further Faster Together with @Schwarzenegger @lordstern1 @PEspinosaC @JohnARoome @MikeBloomberg & many other #Leaders4Climate.



See more pictures: https://t.co/WlkOwVy6LX pic.twitter.com/dRMjffHe5l

— Connect4Climate (@Connect4Climate) November 13, 2017
Ingrid-Gabriela Hoven @BMZ_Bund "We have to step up, scale up to support developing countries tackling #climatechange" #Uniting4Climate #COP23 pic.twitter.com/MjiiMVSo3d

— Connect4Climate (@Connect4Climate) November 13, 2017
.@TomSteyer: #Climatechange is not an intellectual exercise, people's lives are at stake! We need a broad coalition for sustainable #innovation. We need to all get together! #SIF17 #COP23 #Uniting4Climate pic.twitter.com/Ke3PODzxRv

— Connect4Climate (@Connect4Climate) November 13, 2017
"I never pay much attention to the doubters and no-sayers. I have been known as a #Action hero. I am not going to wait on #ClimateAction or on #Pollution." @Schwarzenegger "We put the fire out! Act now!" #Uniting4Climate #COP23 https://t.co/oGIl5QpTaV pic.twitter.com/wa8Efmc2Ce

— Connect4Climate (@Connect4Climate) November 12, 2017
Mayors committed to #ClimateAction at all levels. "We are key players in the fight against #climatechange" #Uniting4Climate at #COP23 for the Climate Summit of Local and Regional Leaders.



Follow live: https://t.co/oGIl5QpTaV pic.twitter.com/U0OMXoxf3f

— Connect4Climate (@Connect4Climate) November 12, 2017
"Let's get serious about #ClimateJustice at #COP23!" - @climatemorgan



"We need a big further boost to #renewables" Turner



"Germany needs to deliver as a front-runner." Flasbarth



"We need to do more to accelerate ambition" @LaurenceTubiana #TalanoaSpace #Uniting4Climate pic.twitter.com/wIununWqbd

— Connect4Climate (@Connect4Climate) November 11, 2017
.@Bloomberg commits to $50 million to #EndCoal: #RenewableEnergy is on the rise globally! #TalanoaSpace #COP23 #Uniting4Climate "Call your representative to get rid of coal now!" @MikeBloomberg "Stand up for a better life for us, our grandchildren." pic.twitter.com/nCkTSzgXwh

— Connect4Climate (@Connect4Climate) November 11, 2017
"Nobody should have to live in fear in there places that they call home!" @VarshPrakash on #climate impacts at #TalanoaSpace #Uniting4Climate at #COP23 #ClimateAction pic.twitter.com/139BxsCLP9

— Connect4Climate (@Connect4Climate) November 11, 2017
.@PEspinosaC supports #Youth #Uniting4Climate Action - Further Faster Together! Join #YFGD at #COP23: #ClimateAction is our generation's opportunity https://t.co/S2jHrZdFVG pic.twitter.com/GqcTOwOjMl

— Connect4Climate (@Connect4Climate) November 9, 2017
.@rosariodawson: "Time to stand up and recognize that the environment is extremely important" #COP23 #Uniting4Climate pic.twitter.com/6gFvJmRd1D

— Connect4Climate (@Connect4Climate) November 8, 2017
We all have a role to play in tackling climate change. Here's how some #COP23 attendees are reducing their footprint @PEspinosaC @COP23 pic.twitter.com/V45WKLPo1Q

— UN Climate Change (@UNFCCC) November 8, 2017